Head YOUTEK Graphene Speed MP Racquet Review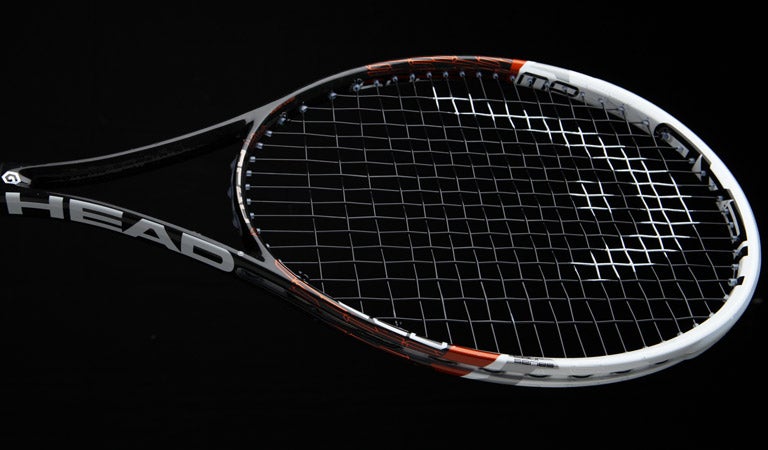 Head YOUTEK Graphene Speed MP Scores
Comfort
79
Touch/Feel
83
Serves
78
Groundstrokes
82
Returns
79
Slice
78
Topspin
81
Volleys
82
Overall
80
Upsides
Control
Bigger sweetspot than the previous version
Maneuverability
Spin potential
Downsides
Not as much plow through as its predecessor
Summary
We put the new Head YOUTEK Graphene Speed MP into the hands of four of our finest to get their thoughts on the racquet. From their first hit, our team found this racquet to offer a nice blend of power and control from all areas of the court. The maneuverability and feel shone for all the playtesters, and most of the team felt dialed in to all the shots in their arsenals. The Graphene Speed MP was easy to swing, and it performed well on return of serve and around the net, where it was easy to get into position. Our playtesters were left with a longing for more heft when playing against heavy hitting opponents, especially in the hoop of the racquet, since we found the racquet got a little pushed around. However, that was the only consistent negative. Otherwise, this was a very enjoyable playtest of a racquet that is easy to use, easy to swing and comfortable from all areas of the court.
Groundstrokes - Score: 82
Our playtest team found this racquet super easy to use when hitting groundstrokes, as it possesses an excellent balance of power and control. Karly really enjoyed the feel and maneuverability. She said, "Rallying with the Graphene Speed MP was great! I loved how simple the racquet was to use. It was lightweight and very maneuverable, which helped make changing the direction of the ball really simple. Not to mention the feel was top-notch -- the racquet felt solid, and my shots felt crisp. The maneuverability and feel made it a very comfortable racquet to hit with, but my favorite aspect was the combination of power and control. With my style of play I was able to get a pretty even balance of both, and I don't think one stood out more than the other. The only thing I thought could've been improved was the plow through. There were times when I felt like I was being pushed around when hitting against harder hitters, and I couldn't take control of the points. Even if I was in control a little more weight would've been nice to help drive through the ball more. Aside from the lack of plow through, I thought it was an all-around great racquet to hit with!"
Echoing that sentiment was Brittany, who also enjoyed the blend of power and control but wanted a little more heft to help drive through the ball. She said, "When I first started playtesting this racquet I noticed how easy it was to play with. I found an excellent combination of power and control. While I thought this racquet was a little bit more on the control-oriented side, I was still able to find plenty of pop on my groundstrokes. Another positive for me was the comfortably sized sweetspot. It wasn't so big that I felt I was getting too much power, and it wasn't so small that I had to hit the direct center to get the power/control combination I look for. I did miss a little plow through on my slice, and I didn't feel like my ball was staying as low as I would have liked."
Jason liked the pop and maneuverability but was also left yearning for more plow through. He said, "It had some really nice pop for a racquet that only weighs 11 ounces. The sweetspot was pretty big, and I thought the racquet provided excellent ball pocketing. This doesn't play like the racquet it's replacing; this one has more power and is more user friendly. Swingweight is always a big area of concern for me, and I thought this racquet felt fast and easy to swing. I was finding easy access to spin on my shots, whether I was hitting my normal topspin shot or slicing off my backhand side. Even though the sweetspot was generous, it was noticeable when I hit outside of it because of the lack in weight. I did love the feel -- it's much more responsive and crisp than the previous model."
Rounding out the crew was Sean, who found great access to spin but wanted more plow through and stability. He said, "I found that this racquet hit well from the baseline, which I found from IG version as well. I liked the noticeably bigger sweetspot that this version offered, and I had the ability to control the ball nicely with a good blend of power and spin when hitting shots from both wings. I was impressed with the access to spin, which allowed me to bring my groundstrokes down into the court with consistency. That being said, this racquet did have a lighter overall static weight than the previous model, and I found that it lacked some stability, especially against big hitters."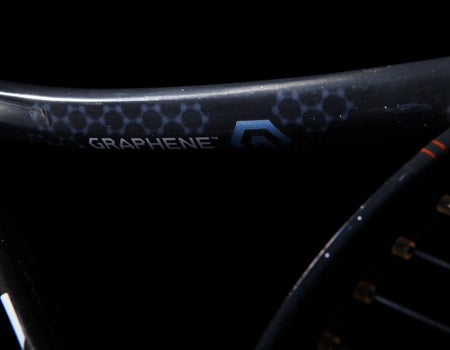 Volleys - Score: 82
Similar themes were evident around the net with the YOUTEK Graphene Speed MP. Our playtesters loved the feel, maneuverability and pop of the stringbed, but desired a little more heft for stability. Sean felt dangerous at the net with this racquet, but he felt it got pushed around a bit against harder hitters. He said, "This racquet proved to be a great all-around racquet, and I had a lot of success wielding it at the net. My volleys felt very crisp, and I especially liked the powerful feel, which gave me the ability to drive the ball deep into the court without too much hassle. I was able to keep control of the point once I made my way forward due in part to the racquet's added pop. I also found a surprising amount of touch for more precise volleys. The lighter weight was again an issue when volleying harder hit shots, but the fast, maneuverable feel of the frame more than made up for it at net."
Karly loved the feel but didn't like the instability. She said, "This racquet shone at net. My volleys were crisp, and the maneuverability made it very easy to get the racquet on the ball. I loved coming up to volley with this racquet because of the maneuverability and feel. I could get great pop off my volleys with decent control. However, I did think the racquet was a little more unstable up at net. When I hit outside of the sweetspot the racquet wasn't as forgiving and my shots felt dead. However, that wasn't too much of an issue because the racquet had a fairly large sweetspot."
Sharing similar opinions was Jason, who found a nice blend of power and control but was left wanting more plow through. He said, "I felt like I was hitting my volleys very well with this racquet. There was control when I needed control, and when I had an opportunity to put away a shot there was enough power to do it. I could get my racquet into position for almost every shot. The only thing that I didn't like so much were the all out stretch volleys. I wanted more overall mass in the racquet to help stabilize it."
Brittany thought the racquet helped unlock her touch shot arsenal when she ventured forward to the net. She said, "Feel and maneuverability stood out at the net. The crisp feel allowed me to consistently place my volleys anywhere on the court. I found success hitting short angle volleys as well as volleys that I punched deep into the court. I enjoyed playing doubles with this racquet because the maneuverability allowed me to make many quick reflex volleys, as well as volley back balls that were hit with a lot of pace and spin."
Serves - Score: 78
There were varied feelings about the new YOUTEK Graphene Speed MP when it came to serving. Brittany struggled to serve consistently with the racquet. She said, "Reviews for me were mixed on serve. The maneuverability again allowed me to get good racquet head speed. I found my best first serve was a flat serve up the T on both sides. I struggled with my consistency sometimes on my first serve and often relied on a more spin-friendly body serve. This carried over to my second serve, and there were times I was hitting the same first and second serve."
Sean didn't particularly like serving with this racquet, and he just never felt totally dialed in with it. He said, "I enjoyed this racquet from other areas of the court, but I was never able to get my bearings when it came to my serve, which is usually a strong part of my game. This racquet had decent power and good spin production but really lacked the weight and plow through to deliver the ball through the service box. I found myself relying more on the placement of my serve, which I could never pinpoint. I was forced to put the ball in play rather than take control of the point early. I used more slice and kick serves to keep my opponent off balance and used the racquet's access to spin to my advantage."
On the other hand, Jason enjoyed hitting serves. He liked how easy it was to generate racquet head speed with the Graphene Speed MP. He offered, "Nice access to both spin and power on my serves. I could generate good racquet head speed to get my serves in with depth and bite. I thought I could control the directional placement of my serves well. No complaints here."
Karly also liked serving with this racquet. She enjoyed the maneuverability but once again desired a bit more plow through. She said, "Serving with this racquet was great. There was an exceptional combination of power and control. I was able to generate some good pace behind my serves, while the maneuverability made it easy to control which direction I wanted the ball to go. I also thought that the maneuverability made adding spin really simple, and I could get a ton of topspin on my kick serves. I thought the racquet could've used a little more mass in the head to help with plow through. I felt like my racquet stopped more than usual after making contact, and I think a heavier balance would've helped me drive through my follow through more."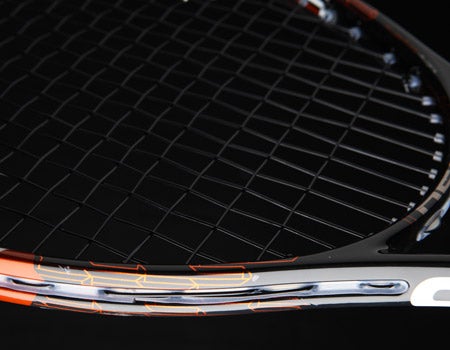 Serve Returns - Score: 79
The maneuverability of the racquet really stood out when we hit returns, but once again, more plow through was desired when on the stretch. Finding plenty of control on her returns was Brittany, who said, "Maneuverability was the star when hitting returns with this racquet. I was able to get my racquet into position very quickly and take big cuts at the ball on both first and second serves. With the control I received from this racquet I was able to place my returns anywhere I liked. In doubles I was able to keep the return cross court and low to my opponent's feet."
"The maneuverability and the lightweight feel was perfect for returns," said Karly. "I enjoyed how easily I could change directions, along with adding good control and pace behind my returns. I had more confidence in my shot placement and was able to hit my returns where I wanted because of the great combination of maneuverability, control and power. As with my other strokes, I really think the racquet could've used a little more mass toward the head to help with the plow through. However, the lack of plow through wasn't really a problem unless I was playing against hard servers, and even then I felt like I could get decent control."
Jason was able to go for a little more on his returns because of the extra spin he could generate. He offered, "Solid. I'm not the biggest returner so my goal is to always try to get the ball back deep. I was able to do that on a semi-consistent basis with this racquet. I loved being able to take a rip at second serves because of the spin I could put on my shot."
Sean felt the lack of heft in this racquet was most evident when returning serve. He said, "This is the area where I most missed the added mass from the previous model. I found it difficult to find my range and my shots seemed to find their way either long or short if I couldn't time the return well. I was usually able to handle slower serves with more confidence, and I could keep the ball deeper in the court while still being able to drop it in with some extra topspin. I did hit a few surprisingly good stretch returns thanks to the larger sweetspot and the added pop, although I had trouble hitting consistently for most of my play."
Overall - Score: 80
Likes
Jason - "Improved feel. The power, spin, maneuverability."
Brittany - "I liked the combination of power, spin and maneuverability, and the crisp feel."
Sean - "Maneuverable and fast, with good pop and access to spin."
Karly - "I thought there was a pretty equal blend of power and control; I didn't feel like one outshone the other."
Dislikes
Jason - "If I could keep the specs the same but add about 0.6 ounces of weight, this racquet would be ideal."
Brittany - "Nothing major, but if I had to find one thing I would say plow through was lacking at times."
Sean - "Unstable and lacking the plow through to contend with harder hitters."
Karly - "The lack of plow through. It was fairly easy to be pushed around when playing against harder hitters."
Comparing the racquet to others they've tried, our testers said:
Jason - "It has similar playing characteristics to the old Head YOUTEK IG Instinct."
Brittany - "I think this played very similarly to the Donnay Formula 100. While the Donnay is slightly more powerful, they had a similar feel and were equally easy to use. I enjoyed both racquets up at net, especially in doubles."
Sean - "I found this frame very close in feel to both the Head IG Instinct and the Dunlop Biomimetic 500 Tour."
Karly - "The combination of power and control reminded me a lot of the Babolat AeroPro Drive GT 2013 racquet, but I thought the Graphene Speed MP had better feel and was more comfortable on the arm."
Technical Specifications

Length
27 inches
69 centimeters
Head Size
100 square inches
645 square centimeters
Weight
11.0 ounces
312 grams
Balance Point
13.1 inches
33 centimeters
3 Pts Head Light
Construction
22.5mm / 22.5mm / 21.5mm
Composition
d30 / Graphene
String Pattern
16 Mains / 19 Crosses

Babolat RDC Ratings

Score

Grade

Flex Rating
66
Range: 0-100
Swing Weight
320
Range: 200-400
Scores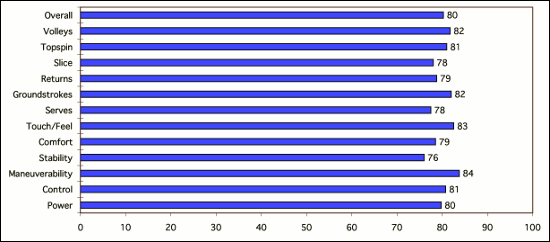 (Scores are determined by averaging individual play test scores)
Jason's Scores
Power
8
Serves
8.2
Control
8.2
Groundstrokes
8.1
Maneuverability
7.8
Returns
8
Stability
8
Slice
7.9
Comfort
8
Topspin
8.3
Touch/Feel
8.7
Volleys
8
Overall
8.1
Brittany's Scores
Power
8
Serves
7.6
Control
8.2
Groundstrokes
8.2
Maneuverability
8.6
Returns
8.1
Stability
7.7
Slice
7.8
Comfort
7.8
Topspin
7.7
Touch/Feel
8.5
Volleys
8.5
Overall
8.1
Sean's Scores
Power
7.6
Serves
7
Control
7.5
Groundstrokes
8
Maneuverability
7.6
Returns
7
Stability
7
Slice
7.2
Comfort
7.4
Topspin
8
Touch/Feel
7.5
Volleys
7.8
Overall
7.5
Karly's Scores
Power
8.3
Serves
7.6
Control
8.4
Groundstrokes
8.2
Maneuverability
8.6
Returns
8.1
Stability
7.9
Slice
7.8
Comfort
8.2
Topspin
7.7
Touch/Feel
8.3
Volleys
8.5
Overall
8.1
Playtester Profiles
Jason: 4.0 baseliner with a semi-western forehand and two handed backhand. Currently using a Wilson Steam 99 S.
Brittany: Open level player with a semi-western forehand and a two-handed backhand. She currently plays with the Yonex V-Core 100S.
Sean: 4.5 baseliner using the HEAD Youtek Prestige Pro. Sean has a semi-western forehand, 1 handed backhand.
Karly: 4.0 baseline player currently playing with the Wilson nCode nTour. She hits with a semi-western forehand grip and uses a two handed backhand.

Review date: February 2013. If you found this review interesting or have further questions or comments please contact us.
All content copyright 2013 Tennis Warehouse.