Head Graphene Radical Pro Racquet Review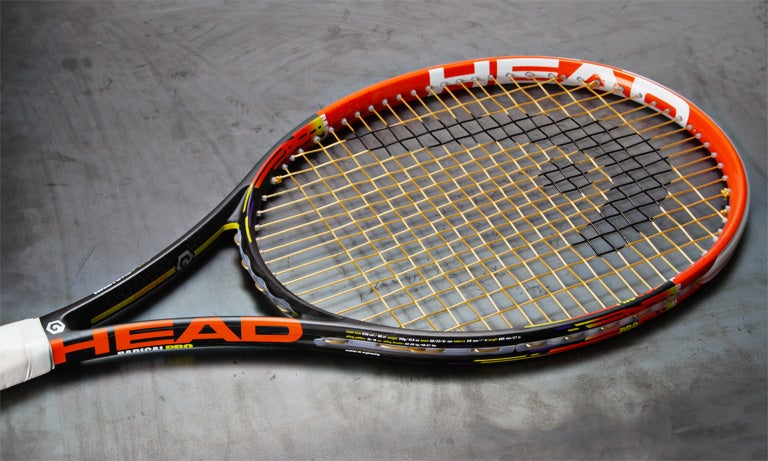 Head Graphene Radical Pro Scores
Power
82
Comfort
78
Touch/Feel
80
Serves
84
Groundstrokes
87
Returns
85
Slice
85
Topspin
86
Volleys
86
Overall
86
Upsides
Maneuverable
Feel
Balance of power and control
Stable
Summary
Get ready for something radically different from Head! The new Graphene Radical Pro replaces the soft, plush feel that the Radical line has typically possessed with something crisper, livelier and more modern. The addition of Graphene technology aims to improve the maneuverability and rock solid feel of the the YOUTEK IG Radical Pro, and all our playtesters agreed that this Radical Pro is easier to swing yet is still ultra stable from all areas of the court. The perfect blend of power and control is almost there. Access to spin is easy, and although it's a little stiffer and crisper, there's still plenty of feel and responsiveness off the stringbed at contact. Chris might have put it best: This could be the gem of the new Head racquet line for 2014! Aggressive baseliners and all-court players who can handle some heft need to take note of the new Graphene Radical Pro.
Groundstrokes - Score: 87
Our playtesters found the Graphene Radical Pro felt quite different than the version it replaces -- in a good way. There was an almost perfect balance of maneuverability and stability. "I immediately noticed a huge difference between this version of the Radical Pro and the one it replaces -- and the change was good," said Chris. "While the YOUTEK IG Radical Pro felt too powerful and tough to control, this one felt great. This version feels faster and more responsive, yet it feels just as solid at impact. I was able to control the ball much better, and that gave me a huge boost in confidence off the ground. I really liked the response of the racquet on topspin shots. I found I could get the racquet through contact very quickly, which enabled me to accelerate up the back of the ball to inject added pace and spin at will. Because the racquet was so easy to accelerate I could hold passing shots to the last instant and disguise the direction I was going to hit. When hitting my slice backhand I could hold the ball and choose direction based on the angle of my wrist. With pretty much the same swing I could pick from down the line, cross court or a short drop shot, and I could make that choice at the last possible instance to keep my opponent guessing. That made it a very fun racquet to hit with."
Troy was also surprised by the new feel, while enjoying the spin and control. He said, "Initially, I was taken aback by the feel of this racquet. It wasn't the fact that I didn't like the feel, but it was completely foreign in comparison to any Radical I have played with. Whether it is the addition of Graphene or the change in the beam thickness and shape, this racquet felt much firmer and crisper. This racquet felt light and whippy, while at the same time solid and stable. I enjoyed the stable response and I was getting good control and spin. I found the feel of this racquet to be pretty similar to the Graphene Speed Pro, but with this racquet I was getting a bit more access to spin and close to equal control. I liked that this racquet was more forgiving on groundstrokes than my Wilson Six.One 95, but this one didn't quite pack the plow through of my racquet."
The racquet is not quite what Michelle would normally choose to play with, but she quickly grew to love it on her groundstrokes. She said, "I was hesitant starting this playtest. I wasn't sure if this racquet would pair well with my game, and I don't usually enjoy the more control-oriented racquets. I was pleasantly surprised when I stepped onto the court with the Radical Pro. I went without knowing the specs, but I could tell within 5 minutes that the specs of this racquet were in my wheelhouse. Hitting groundstrokes felt great -- I was able to access more than enough power to put balls away and found ample spin, as well as some control my game often lacks! The racquet was super maneuverable and stable. I found it so easy to go for a reaching slice when stretched out wide, and I consistently came up with a solid shot that helped get me back into the point. I definitely will be moving this racquet into my top 5!"
The weight distribution and balance initially gave Andy some trouble, but by the end of the test he was just as enamored with this racquet as the rest of the team. He offered, "It took me a bit of time to get used to the heft and what initially felt like almost even balance of the Radical Pro. When I first used it against big hitting opponents I had trouble getting the racquet around my body and would get a bit 'slappy' at times. However, after a while I really started to enjoy this racquet from the baseline. It's very forgiving and stable, and it offers some good power and spin without much of a loss in control. It was a bit stiff and jarring at times when I made contact outside the sweetspot, but by the end of the playtest I was completely dialed in on my forehand and backhand."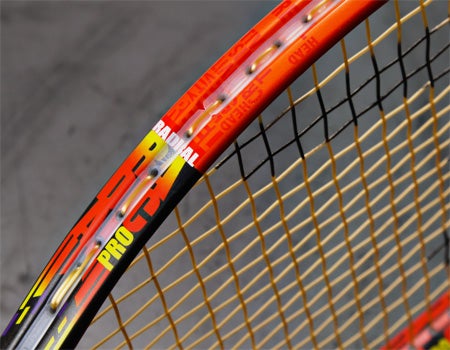 Volleys - Score: 86
The Graphene Radical Pro continued to impress our playtesters around the net, offering plenty of maneuverability and enough heft to stick volleys effectively. This was one of Andy's favorite racquets of late to volley with. He explained, "I liked this racquet from the baseline, but I think I liked it even more at net. The weight in the hoop made it super solid and stable. Even with all the new technology, it still has the classic responsive feel that we've come to expect from the Radical. Lots of control, plenty of feel and rock solid - that's a nice playing stick at net!"
Chris found this latest version to be a vast improvement over the previous one at net. He said, "The Graphene Radical Pro was very easy to maneuver. Again, the power was SO much easier to control compared with its predecessor. I felt way more confident going for aggressive volleys, and I loved punching through the ball with this racquet. I would have liked a tad more stability on volleys from deep in the court or off my shoe laces, but that is an easy fix with some lead (or tungsten) tape. Touch and feel were good, and I always felt well connected to where my shots were going."
"The stability and maneuverability were amazing at the net," exclaimed Michelle. "It was simple to hit deep, penetrating volleys, and touch was there when I needed it. I felt really confident coming to the net with this racquet because even when I was lunging for a volley I was able to get it back and stay alive in the point."
Troy appreciated the maneuverability and solid feel, but he preferred the previous Radical's softer feel on his finesse shots. He said, "The maneuverability of this racquet helped me to feel confident when holding down the net in doubles. I could easily react and get this racquet into place when the opponent hit a heavy groundstroke in my direction. I was getting good pop and depth on my volleys, and I had the control to place my volleys anywhere on the court with good precision. The one area where I preferred the more flexible feel of the previous generation was on feel-oriented drop volleys. I didn't quite get the feel that I favored with the IG Radical Pro."
Serves - Score: 84
The love affair continued while serving, and the Graphene Radical Pro continued to offer easy access to racquet head speed, power and spin, with plenty of control. Troy was able to swing fast and get tons of action on his growing variety of serves. He explained, "I was serving with lots of pace and spin with this racquet. I found that the lighter weight of this racquet (compared with my hefty Six.One 95) was allowing me to attack with my flat serve down the middle, with some good heat on the ball. There was enough maneuverability to snap the kick serve and get the ball to jump off the court. There was enough mass to get good pace on my serves and enough maneuverability to get a boost on the spin serves! All in all, this is one of my favorite racquets on serve."
Michelle also had access to her whole arsenal of serves. She said, "This was a great racquet to complement my bigger first serves and kicking second serves. I could execute whatever serve I wanted to with this racquet. There was ample access to slice for my 'T slicer' on the ad side. It was great because I could start the point off offensively whether I was hitting hard, flat serves or big kicking second serves."
Chris couldn't miss a serve even if he tried with this racquet. He said, "The same ease of accelerating this racquet through contact that I found off the ground rang true on serves as well. I was getting good pace and spin from this racquet because I could snap it through contact. My first serve had good consistency, so much so that on my initial hit with it I had to hit some second serves as first serves just so I could get a feel for the racquet when adding more spin! I can hit a bigger serve with the older model, but my consistency was much better with the Graphene Radical Pro."
"This racquet packs a punch on serve!" exclaimed Andy. "Once I got the racquet moving I could put some heavy power and spin on whatever serve I chose to hit. I didn't feel like I could be as precise as I normally am, but I've certainly had less control with other recently tested racquets."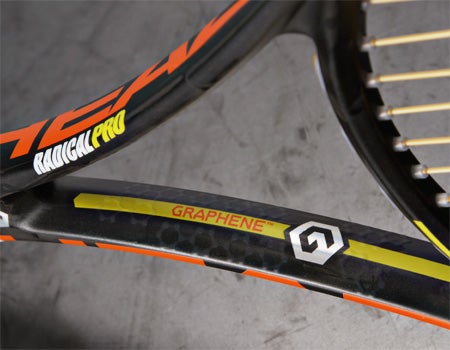 Serve Returns - Score: 85
There was a nice blend of power and control from the Graphene Radical Pro, allowing our playtesters to return serve aggressively and confidently. It worked really well for Michelle. She offered, "I really enjoyed this racquet when returning. The stability, maneuverability and control were, yet again, perfect for my game. I felt like I could take big cuts and place my returns where I wanted them to start points out aggressively. It was fast enough to get around on my backhand return, which is where I normally notice sluggishness from frames when returning serve."
"I really enjoyed returning with this racquet," raved Chris. "I was able to get it moving quickly, which allowed me to inject pace and spin, as well as hold the direction of my shot. I found myself being very aggressive on returns in singles and in doubles. I loved taking a big cut at anything left hanging because the blend of power and control was very, very good. I used the racquet strung with various poly strings and found the bite and spin with that kind of setup to be perfect for aggressive cuts at the ball."
Andy has a long history with the Radical line of racquets, particularly because of how much he enjoyed them while returning serve. This version reminded him why he's always loved them. He said, "I've always loved returning with the Radical, and this iteration of the Radical Pro is no exception. It's a bit tough to maneuver at times with the even balance, but the racquet still provides good control, stability and forgiveness when hitting aggressive returns. Also, it's great for chipping returns back deep in the court."
Troy was able to be very aggressive with his service returns as well, but he would've liked a bit more heft to get easier access to depth. He said, "I was enjoying the maneuverability on my serve returns. This was a big benefit when playing doubles, helping me to attack the returns and keep them away from the net man. The control allowed me to hit some returns into the corners of the court, putting my opponent on the defensive early on in the point. I found a good amount of pop off the stringbed that helped me hit some powerful returns, although I wasn't getting the easy access to depth that my hefty Six.One 95 offers me."
Overall - Score: 86
Likes
Chris - "A very easy-to-accelerate racquet, which made it easy to add spin, add pace or change the direction of play. I could also hold passing shots longer to disguise direction. I thought this was a huge improvement over the previous version because it offers way more control."
Troy - "Racquet-head speed came with ease. A nice crisp feel with good control, and spin was evident from all areas of the court."
Andy - "I eventually got completely dialed in from the baseline and always loved it at net. It's got good pop and spin potential, nice control and a responsive feel. It doesn't get pushed around at all by big hitters."
Michelle - "I was pleasantly surprised with this racquet -- I loved it! I can honestly say that I've never enjoyed the 'feel' of a Head racquet until now. This racquet just felt right in my hands on groundstrokes. I could hit volleys consistently well because of the stability of this racquet, and it was easy to access what I wanted when serving. Slices were consistently solid off both wings (even on my squash-slice forehand)!"
Dislikes
Chris - "None really. I would likely add a little weight, but it would be minimal."
Troy - "The Graphene Radical Pro may take some getting used to for those Radical lovers who are looking for that low powered, plush-feel."
Andy - "It took me a little while to get used to how heavy it feels, and it's also a bit jarring outside the sweetspot. That doesn't happen too much, though, because the feel is so solid."
Michelle - "In all honesty, I'm a bit surprised to say that there was nothing I didn't like about this racquet! Besides the Speed Pro (which I don't love at the net), I've never really felt connected to any Head racquets, but I really enjoyed this one!"
Comparing it to other racquets they've used, our testers said:
Chris - "Way more control than the previous version without being far off the power level. While I can't serve quite as big with this one, a lot more of my serves found their target. It offers more power and stability than the Midplus version, yet isn't much harder to swing. This could very well be the gem of the Head lineup, as it is going to be tough to beat -- it really is that good."
Troy - "I found some similar aspects of the Graphene Speed Pro; this Radical possess a bit more access to spin without sacrificing much control. This racquet reminded me a lot of the old Babolat Pure Control racquets that had the stiffness RA in the upper 60s. Good control and pop, somewhat like the Dunlop F3.0 Tour."
Andy - "It's similar to the YOUTEK IG Radical Pro in weight and balance. However, it's noticeably stiffer and easier to swing. This isn't the same traditionally soft Radical from yesteryear, but the crisp, lively feel packs a big punch."
Michelle - "I guess the obvious comparison here would be to the previous model, the YOUTEK IG Radical Pro. However, every time I've picked that racquet up I haven't enjoyed it and didn't end up using it for very long. A racquet I am more familiar with that I would compare the Graphene Radical Pro to would be the Babolat Pure Storm GT. They both have a stable, solid feel all around the court."
Technical Specifications

Length
27.0 inches
69 centimeters
Head Size
98 square inches
632 square centimeters
Weight
11.5 ounces
326 grams
Balance Point
12.75 inches
32 centimeters
6pts Head Light
Construction
20.5mm / 23.5mm / 21.5mm
Composition
Graphene
String Pattern
16 Mains / 19 Crosses

Babolat RDC Ratings

Score

Grade

Flex Rating
68
Range: 0-100
Swing Weight
326
Range: 200-400
Scores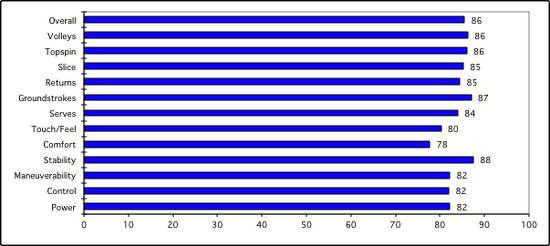 (Scores are determined by averaging individual play test scores)
Chris' Scores
Power
8.1
Serves
8.3
Control
8.3
Groundstrokes
8.4
Maneuverability
8.3
Returns
8.5
Stability
8
Slice
8.3
Comfort
8.2
Topspin
8.5
Touch/Feel
8.4
Volleys
8
Overall
8.2
Troy's Scores
Power
8.6
Serves
9.3
Control
8.5
Groundstrokes
8.9
Maneuverability
8.8
Returns
8.3
Stability
8.5
Slice
8.3
Comfort
7.9
Topspin
8.9
Touch/Feel
7.7
Volleys
8.5
Overall
8.5
Andy's Scores
Power
8.7
Serves
8
Control
8
Groundstrokes
8.5
Maneuverability
6.8
Returns
8.5
Stability
9
Slice
8.5
Comfort
7
Topspin
8.5
Touch/Feel
8
Volleys
9
Overall
8.5
Michelle's Scores
Power
7.5
Serves
8
Control
8
Groundstrokes
9
Maneuverability
9
Returns
8.5
Stability
9.5
Slice
9
Comfort
8
Topspin
8.5
Touch/Feel
8
Volleys
9
Overall
9
Playtester Profiles
Chris: 5.0 all-court player currently using the Wilson Six.One 95S. Chris uses a full-western forehand grip, has a fast swing style and hits a one-handed backhand.
Troy: 5.0 lefty all-court player with a full Western Forehand and a two-handed backhand. Troy currently plays with a Wilson BLX Six.One 95.
Andy: Open level all court player with a semi-western forehand grip and a two handed backhand. Andy currently using a Wilson Blade 98 18x20.
Michelle: Open level baseline player with a semi-western forehand and a two handed backhand. She currently plays with the Babolat Pure Drive Roddick.

Review date: October 2013. If you found this review interesting or have further questions or comments please contact us.
All content copyright 2013 Tennis Warehouse.