HEAD MicroGEL Instinct Racquet Review
HEAD has continued to develop the Instinct racquet by adding its patented MicroGEL technology, which (according to HEAD) creates a more solid feel by distributing the impact of the ball around the entire frame. The Instinct has been a well-rounded racquet throughout its evolution from Liquidmetal to Flexpoint, being popular with intermediate players all the way to the professional ranks. The new MicroGEL Instinct is Head's attempt to make a good racquet even better.
The MicroGEL Instinct is still lighter than a traditional player's racquet at 11.0 ounces (strung), and we found the feel to be noticeably more maneuverable than previous Instincts. We wanted to see if this third generation Instinct followed its predecessors as a versatile racquet that's suitable for aggressive play from the backcourt and at the net.
So, should you trust your instincts, or in this case, trust the MicroGEL Instinct? Here's what our playtesters had to say after swinging the MicroGEL Instinct with a 17 gauge multifilament at 59 pounds.
Groundstrokes
Looking at the specs, the MicroGEL Instinct promises to be a very spin-friendly frame, and our playtesters had no problem creating spin with it. Chris not only found spin, but also found he liked the feel of the newest Instinct better than the Flexpoint or Liquidmetal versions. "I really enjoyed this stick off the ground. As with previous versions of the Instinct, maneuverability was excellent. I was able to generate lots of racquet head speed, which resulted in lots of spin and pace. Out of all the Instincts so far, I liked the feel from this one the most. It felt solid and slightly more dampened than the Liquidmetal and Flexpoint versions. I was also very impressed with the stability of this racquet. For its weight, this racquet was very stable. If I brought this racquet up to my usual weight and balance, I think it would have been an even better fit for my game. Even in stock form, it was a fun racquet to playtest." Tiffani found a nice balance of spin and power. "The racquet felt comfortable right away, and I was immediately confident with my swing. With the relative light weight of the racquet, I was worried that I might feel bullied around the court, but it felt solid for me. I got decent racquet head speed, which allowed me to hit with more spin than I usually generate, and adequate power when I wanted. When it was in my strike zone, I got good pop off both sides. The only time I felt I wanted a bit more power was when hitting high balls."
Spencer found the spin but wished for more heft. "Though it took a bit of time getting used to the light weight of the racquet, I enjoyed the control on groundstrokes. The forehand was easy to dial in, while the backhand was a bit tougher to get the timing down, affecting directional control. Access to spin was easy, but the depth of my shots was many times shorter than I would have liked. I found it easy to casually hit this one from the baseline, but I prefer a stick that hits a more penetrating shot." Also finding the light weight of the racquet to have pros and cons was Jason. "I found this racquet to produce great spin, both from the backhand and forehand side. With how maneuverable the racquet is, hitting sharp angles was just a flick of the wrist away. I thought the racquet could've used more weight, though. The lack of weight showed on the depth of my shots, especially from the forehand side. I also found the racquet to be a bit unstable at times when trying to return hard-hit balls. What surprised me was the fact that I liked this racquet more from the backhand side than the forehand. Because I use a one-handed backhand, I had a better appreciation for the mobility of the racquet." Ryan S. found all kinds of spin but had to adjust his strokes to the racquet's lighter swingweight. "The first thing I noticed when hitting groundstrokes with this racquet was the lack of power and the generous amount of spin I could generate. I found tremendous spin potential, but it felt very low powered for a 'tweener racquet. Also, the racquet had a very fast swingweight. It felt like I was ahead on groundstrokes until I adjusted. Once adjusted to these things, I was able to get good control and spin, hitting to anywhere on the court."
Volleys
The playtesters all agreed that the MicroGEL Instinct was great at net. Spencer found the racquet's responsiveness at net to be one of its strengths. "I loved the maneuverability I found at net. I was able to make good contact with a lot of balls. It offered nice punch on put-a-ways and had good touch when angling or hitting short volleys. A definite strong point of this racquet." Finding the power level spot-on for his volleys, Ryan S. loved net play with the MicroGEL Instinct. "Volleying was a cinch with this racquet. I loved to punch 'em with this racquet. It was very maneuverable and the 100 square inch headsize was very helpful on reflex volleys. The lack of power I felt in the groundstrokes wasn't an issue with the volleys. It was a very effective racquet on volleys for me."
With the racquet's maneuverability, Tiffani was more confident with her volleys. "I was able to get more volleys back than usual. I could easily move the racquet head around. It also had a nice solid feel with good control. Even when I mis-hit a ball, there wasn't much vibration." Jason was also impressed with the mobility of the racquet at net. "I really enjoyed this racquet at the net, and that's coming from a baseliner. I was impressed with how easily I could maneuver the racquet. The lack of weight didn't seem to affect the volleys much; I was still able to get some good stability on the harder passing shots. I also liked this racquet for my touch volleys. It seemed to me that I could softly put the ball where I wanted most of the time with this racquet. "
Chris was happy with the control at net. "I found the racquet to be very mobile at net. I volleyed well and was able to find my targets consistently. Again, the feel was solid and comfortable. At net, I was finding a tad more crispness to the response, and I was impressed with the ball speed off the stringbed. The 17 gauge multifilament string we use for testing felt like an excellent match for the racquet. The string and racquet combo had me feeling very connected to my volleys."
Serves
Spin was evident again for the playtesters when serving with the MicroGEL Instinct. For Jason, ease of placement also stood out. "I wasn't able to get much power out of my serves with this stick. I think the lack of weight showed here, not having as much plow-through. I did have success, however, placing serves out wide or down the middle. There was plenty of spin on my slice serve and I think that really helped make up for the lack of speed. The action on the ball didn't allow for the returning player to tee off on my serve all the time. " Having fun with spin when serving was Ryan S. "The spin potential of the MicroGEL Instinct was impressive. I had a great time hitting serves with this racquet. The extra spin generated totally offset the low power level I found. Control was actually very good too, mostly due to the low power, I'm sure. I had the confidence to go for the corners, which makes a big difference in a match situation."
Finding the racquet comfortable for her service motion was Tiffani."I don't hit a blistering serve to begin with, so I wasn't surprised that I couldn't generate tons of power. I got enough power to keep my opponents from stuffing the return down my throat, though, and I was really able to find good spin on my serves. I also felt like I could keep on serving and serving without getting tired." Chris also found the MicroGEL Instinct a fun racquet to serve with. "I've always enjoyed serving with the Instinct line of racquets, and this latest version impressed me as well. Just like on groundstrokes, easy mobility resulted in plenty of speed and spin. I was able to move the ball around the service box with lots of variety and keep my opponents guessing. I enjoyed serving with this one and felt there was still room for me customize it with some added weight, and find an even better fit for my game."
Spencer was not quite as confident on serve. "I felt the power was decent, but it did seem to max-out on velocity at a certain point. I had difficulties with consistency on both first and second serves. After awhile, I found myself taking a little off the first serve and focusing on placement. When it came to the second serve, I was just trying to kick one in, aiming to the middle of the service box. Retreating confidence put me on the defensive far too often when serving with this racquet."
Serve Returns
The maneuverability of the MicroGel Instinct was a big factor for our playtesters' service returns. For Tiffani, that meant she could be more aggressive. "I felt great returning serve. I had enough confidence to stand in closer and take the ball earlier because I could get the racquet around quickly enough. I also often found good depth on my returns." Chris found the MicroGEL Instinct to be especially lethal on returns. "I continued to enjoy the mobile, yet solid, response of this racquet, especially when hitting returns. I was able to take a good cut at the ball and found lots of pace and spin as a result. I really enjoyed stepping inside the court and taking the ball early with this racquet. When playing doubles, I was returning very early and able to close the net for my second shot. I was working the ball low and angled on returns and often was able to steal the offensive from the serving doubles team."
Spencer was impressed by the maneuverability. "This is where I had the most success with the MicroGEL Instinct. The great maneuverability and generous sweetspot made it easy for me to hit returns with both pace and direction. This was especially welcome when playing doubles, and having to return more precisely."
Jason took full advantage of the low swingweight of the racquet. "I had some fun returning serves with this racquet. The lack of weight and good control allowed me to take full swings at slower serves. The generous amount of spin put on the ball helped my shots land in even on returns hit high above the net. When I was playing doubles, I noticed that I could place some sharp angled balls inside the lines on the return."
Wishing for a bit more heft, though, was Ryan S. "I had a tendency at first to mis-hit a lot of returns. The racquet was coming around faster than I was anticipating, even on heavy, hard-spinning serves. Service returns are also the one area where a little more weight could've been helpful. On heavy kick serves, this racquet felt over powered. So, if you're not quite at that level of tennis, you will be fine. However, if you are, you might want to add a little heft. Overall, I was very pleased with the control and spin I was able to generate with this racquet."
Overall
Longtime Instinct fans will appreciate the added stability of the MicroGEL Instinct over its predecessors. Those players new to the stick will immediately find it very maneuverable and spin friendly. The versatility of the MicroGEL Instinct makes this a good choice for intermediate to advanced, aggressive all-court players, who are looking for control and low to moderate power. Its light weight might be better suited for the intermediate level, but with plenty of room for weight customization, this racquet could please the heavier hitters, too.
The "Likes" of the racquet.
Spencer"Maneuverability, along with the control were assets that proved successful, especially when playing doubles."

Tiffani"It's a really comfortable racquet all around. I could swing the racquet quickly and take a pretty good cut at the ball when I was in a good position to put the ball away. It had a pretty generous sweetspot, so I could stay in those long rallies, too."

Jason"I found this racquet to play differently than the listed specs. It was much more maneuverable than the 3 points head light suggested. So, hitting angled shots was not as difficult. The spin was also something I really enjoyed, both at the net and from the baseline."

Chris"I liked the mobility, access to spin, solid feel and all-court playability of this one. I found it to be a very versatile racquet and had a lot of fun testing it."

Ryan S."Spin potential, control on serves, volleying."
The "Dislikes" of the racquet.
Spencer"The lack of heft and plow-through when striking the ball left many shots short."
Tiffani"I would change the grip or use an overgrip because it felt slick after a couple of hours of play."
Jason"The racquet felt a bit too light, especially on the hard hitting shots. I think that the lack of weight translated to a lack in torsional stability. I was also surprised at the absence in power. I believe that most of these problems can be remedied with the addition of lead tape to specific parts of the racquet."
Chris"None that come to mind. Not my ideal spec out of the box, but still a very enjoyable hit."
Ryan S."Power level. Stability on return of serve. Pinging noise without dampener."
Head MicroGEL Instinct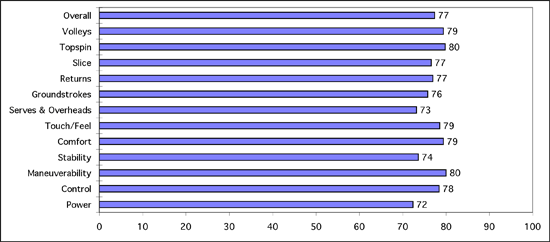 (Scores are determined by averaging individual play test scores)
Technical Specifications

Length
27 inches
69 centimeters
Head Size
100 square inches
645 square centimeters
Weight
11 ounces
312 grams
Balance Point
13.125 inches
33 centimeters
3pts Head Light
Construction
23 - 25 - 21 Tapered Beam
Composition
Microgel / Graphite
String Pattern
18 Mains / 19 Crosses

Babolat RDC Ratings

Score

Grade

Flex Rating
64
Range: 0-100
Swing Weight
321
Range: 200-400
Playtester Profiles

Chris
5.0 baseline player currently using the Babolat Pure Drive Roddick. Chris uses a full-western forehand grip, has a fast swing style and hits a two-handed and a one-handed backhand.
Tiffani
4.0 level baseliner with a semiwestern grip on the forehand and hits a two-handed backhand. Currently playing with the Babolat Pure Drive Team Standard.
Jason
4.0 baseliner currently using a Head Microgel Radical Midplus. Jason has a fairly aggressive semi-western topspin forehand and hits a one-handed backhand.
Ryan S
4.5 all court player currently using a Slazenger Pro Braided Henman racquet. Ryan uses a semi-western forehand grip, a one-handed backhand and has a long swing style.
Spencer
4.5 Baseline player currently using a Wilson K-Blade Tour. Spencer uses a full-western forehand grip, and hits with a one-handed backhand.

Review date: Dec 2007. If you found this review interesting or have further questions or comments please contact us.
All content copyright 2007 Tennis Warehouse.