Head YOUTEK Graphene Instinct MP Racquet Review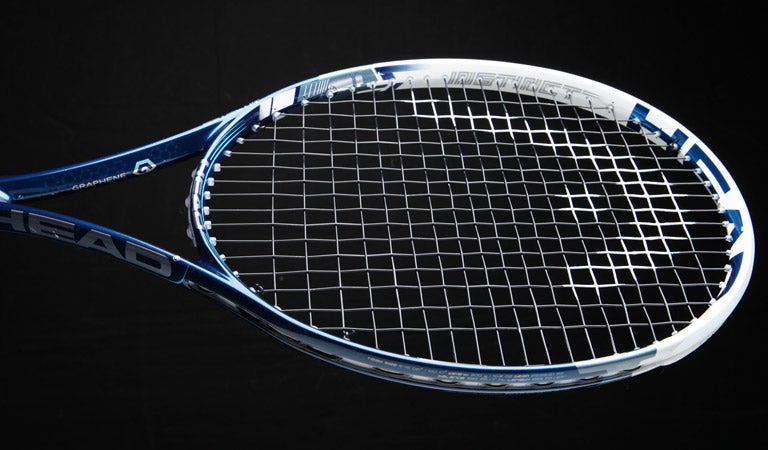 Head YOUTEK Graphene Instinct MP Scores
Comfort
81
Touch/Feel
81
Serves
84
Groundstrokes
82
Returns
81
Slice
80
Topspin
83
Volleys
81
Overall
82
Upsides
Easy power
Spin potential
Comfort
Maneuverable
Summary
Head updates the Instinct line with the introduction of Graphene, its newest technology. According to Head, Graphene is the lightest and strongest material in the world. Inserting Graphene into the throat of the racquet helps redistribute the weight of the frame toward the ends, making the racquet more solid and easier to swing. Our playtesters did indeed find this newest version of the Instinct MP easier to swing from all areas of the court. It was easy to get in position when hitting volleys and returns, and it was easy to generate power and spin on groundstrokes and serves. Our only issue came when we hit the ball off center, and the racquet didn't provide the desired amount of stability and plow through. With that said, the team found the racquet easy to use and definitely worth a demo. Read on to hear our thoughts on Maria Sharapova and Tomas Berdych's newest racquet of choice.
Groundstrokes - Score: 82
Our playtesters enjoyed hitting the new YOUTEK Graphene Instinct MP from the baseline, finding it easy to use and extremely maneuverable. Brittany loved the easy access to power and spin off both wings. She said, "First off, I loved how easy this racquet was to swing. I was able to generate a lot of power and depth off both my forehand and backhand. There was also plenty of spin when I was on the defense and needed to spin the ball back deep in the court to get back into a neutral position. I thought the racquet was very comfortable to play with even with a full bed of poly, and when I accidentally hit an off-center shot. However, I did miss a little 'oomph' (or bite) on my slice, and I was having trouble keeping the ball low."
Karly needed little time to adjust to this racquet and echoed Brittany's thoughts on the easy power and spin. She said, "I loved how quickly I adjusted to this racquet. It was so easy to use from the get-go. The racquet felt extremely light and swinging it took very little effort. I also really enjoyed its easy access to spin. Whether it was topspin or slice, I felt like I could easily put a good amount of spin behind my shots. I thought the racquet was a little more power oriented; it was simple to produce pace, though I didn't think that power was too overbearing. The user friendliness was a great plus with this racquet, but I thought the response could've been a little better. If I hit outside of the sweetspot the racquet felt very dead and unforgiving. I also thought the racquet felt fairly stiff and the comfort could've been better."
Mike found effortless racquet head speed from the baseline. He offered, "Forehands with this racquet were awesome. I was able to really whip the ball and hit with tons of pace, but still control the ball and be more consistent than usual. I was also able to generate power on my backhands, but still hit angles that I wouldn't normally hit, putting my opponents on defense with ease. This was a very easy racquet to adjust to."
Chris enjoyed the maneuverability but felt this new update of the Instinct was a little less solid and stable than the previous one. He said, "This was a very light and fast racquet off the ground. I found it to feel and play better the faster I swung it. When I was taking a good cut at the ball the racquet felt pretty solid, and I was getting good spin. I was also impressed by the comfort. I thought the racquet lacked some stability on slower swings, and got pushed around a little. With that in mind, I tried to keep the racquet tip speed up and swing aggressively through most shots, though it was tough to do in certain defensive situations. I would definitely add some weight to this one; it did not feel as solid as the previous version. Everything else was there, though, and I was getting good spin and control on my aggressive swings."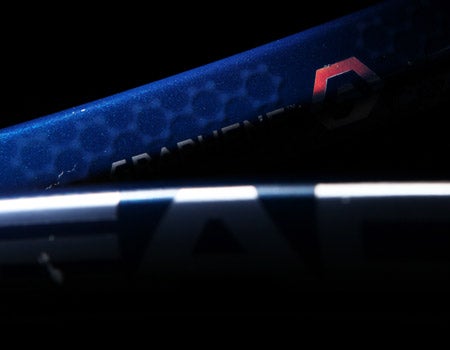 Volleys - Score: 81
The maneuverability was very apparent around the net for our playtest squad, but unfortunately, so was the instability from the lack of weight in the racquet head. Chris thought the comfort was better, but he had issues with instability. He offered, "I continued to be impressed by the comfort of this racquet at net. It felt more comfortable than the previous version. As from the baseline, it was a very easy racquet to maneuver, and I felt very fast with it in my hands. I could punch volleys deep with good pace and found ample control. Again, stability was the one issue I had with this racquet. I found the racquet fluttered too much when I was off center or up against a heavily hit shot."
Karly liked how easy it was to get the racquet in position, but if she didn't hit it just right she had the same issues as Chris. She said, "Maneuverability was top-notch up at net. The racquet made volleying really simple because it was so easy to swing. It felt very light, and I could move it with little effort. I also thought the racquet had better touch when coming up to net. I could easily change the pace on the ball and was more confident if I wanted to hit a drop shot with it. I thought it was a great racquet to maneuver and direct my shots when volleying. While the maneuverability was superb and the touch improved up at net, volleying with the racquet was where I felt the most instability. I thought it felt too stiff, and unless I hit in the sweetspot the racquet felt unstable and dead."
Echoing the same opinions was Brittany, who found positive and negatives about the racquet's light weight. She said, "My volleys didn't feel as solid as I would have liked. I felt like I was missing a little mass in the head, and I thought the racquet played lighter than its weight. On the positive side, the racquet was very maneuverable and I was able to get my racquet into position early."
Mike loved the new Instinct around the net. He said, "This was one of my favorite racquets to hit with at net. Controlling and placing the ball with this racquet was very easy, and I was hitting drop shots and using finesse like my life depended on it. Volleying isn't usually one of my strong points, but with this racquet it felt like it was."
Serves - Score: 84
Maybe the favorite shot among the playtesters to hit with the new YOUTEK Graphene Instinct MP was the serve, where the added maneuverability helped our team generate tons of racquet head speed. "This was a great all-around racquet for serving," said Karly. "I found a good combination of control, power, maneuverability and spin. I could serve with a lot of pop without sacrificing control, it was lightweight so my arm didn't tire out as quickly, and if I needed to go for a second serve I was able to put a ton of kick behind the ball. Talk about an easy-to-use frame for serves! I just would've liked a little better feel. If I hit outside the sweetspot the racquet felt very unstable."
Holding a similar opinion was Brittany, who felt the racquet helped her with all of her different serves. She said, "Serves were hands down my favorite shot to hit with this racquet. I enjoyed hitting serves because I found a great combination of power, spin, maneuverability and placement. I was very confident hitting a flatter first serve because I was able to generate a lot of racquet head speed with ease. Additionally, I could tap into a more spin-friendly kick second serve that was consistent and well placed. Both of these serves allowed me to start the point on the offense."
Mike was loving how easy it was to generate racquet head speed and power on all his serves. He said, "Maneuverable, maneuverable, maneuverable! I loved this racquet for serving. I was hitting angles, and my flat serve -- as fellow tester Mark Boone would say -- was 'top notch, border-line incredible.' The racquet head speed I could generate made serving and getting free points so much easier. I didn't have to bend my legs as much to get the power I'm used to getting."
Chris used the extra racquet head speed to generate spin and bite on his serves. He said, "This racquet felt great on serves. I liked the spin I was getting, and the racquet felt very easy to whip through contact with pace. I was able to get some nice curve on my slice serves, either pulling my opponent wide or carving the serve into their body. I found the same attributes to ring true on overheads, and the maneuverable feel made it easy to snap the ball away. Again, comfort was very impressive, and it seemed the stringbed always offered some nice pocketing, no matter which string we put in it."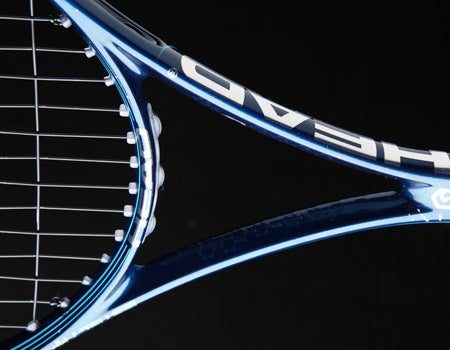 Serve Returns - Score: 81
Similar themes rang true on returns. Our team found the maneuverability to be a plus but the lack of stability to be a negative when returning serve. Chris liked the racquet when returning offensively, but wanted more heft for his chip returns. He said, "Faster was better for me when it came to my swing speed on returns. I found if I wanted the racquet to feel solid I had to swing it fast. While a high swing speed suits the modern player and felt great when I was on the attack, I thought this racquet was slightly lacking when I tried to block the ball back. I would have liked some additional stability off center -- especially on a slower, more compact swing that a well placed serve can force me to use."
Karly found it easy to get the racquet into position on returns, but she had to hit it just right to be successful. She said, "The maneuverability was a great aspect that came into play while returning serve. I loved how simple it was to get the racquet on the ball. I was confident I could easily get the ball back into play when hitting against harder servers. I also felt like I could produce a lot of power with no sweat. All I needed to do was make contact with the ball to hit a powerful return, which was easy because of the exceptional maneuverability. However, I thought if I hit outside of the sweetspot the racquet felt especially unforgiving and unstable. There was very little comfort if I didn't hit in the center of the stringbed."
"I struggled at times with stability on returns," said Brittany. "When returning a harder than average serve, like TW playtester Andy's, I felt the racquet being pushed around and almost twisting in my hand. When I was returning a second serve or average first serve it wasn't as much of an issue, and I was able to take aggressive cuts at the serve."
Once again, Mike loved this racquet and felt totally dialed in returning serve. He said, "Returning was a piece of cake! I was consistent and could place the ball wherever I wanted, and I was surprised at how good the returns were that I was hitting. The feel was very comfortable, so that made it easy to really focus and make contact with the ball. I felt as if the ball stuck to the racquet for a longer period than normal, allowing me to really feel the ball on the stringbed."
Overall - Score: 82
Likes
Chris - "I liked the spin, the level of power, the comfort and the general feel of the racquet. I felt like I always knew where my shots were going, and I was finding my targets well."
Brittany - "I liked how easy and comfortable this racquet was to use, and how maneuverable it was."
Karly - "I loved the maneuverability and easy access to spin. Swinging this racquet was a cinch!"
Mike - "Feel, maneuverability, volleys... I loved everything about this racquet."
Dislikes
Chris - "Just not enough stability for me, and I'd be looking to add some weight to this one."
Brittany - "I found a lack of stability at times, which was especially noticeable on volleys and serve returns."
Karly - "The racquet felt too stiff for my taste."
Mike - "Nothing. Everything about the racquet works for my game."
Comparing the racquet to others they've tried, our testers said:
Chris - "My favorite Instinct is still probably the Liquidmetal version. That racquet felt more solid than this one. I thought the YOUTEK IG version felt good but was not as comfortable as this one. While this racquet isn't as solid and crisp as the Babolat Pure Drive or AeroPro Drive, it did offer a softer and more comfortable feel."
Brittany - "I found it had a similar feel to the Head YOUTEK IG Instinct S, and both were very maneuverable. Additionally, I found it had similar characteristics to the Head YOUTEK IG Extreme 2.0 S and the Donnay Formula 100."
Karly - "I thought it played really similarly to the Head YOUTEK Graphene Speed MP racquet; both were extremely easy to use. They were maneuverable, felt very light and had a good combination of control and power. The main difference between the two is the power. I thought it was easier to generate power with the Instinct MP, and the Speed MP offered better control."
Mike - "I never actually used the previous version, but maybe I should since I loved this frame. Of all the racquets I've tested, the feel of this racquet was my favorite. I loved this racquet."
Technical Specifications

Length
27 inches
69 centimeters
Head Size
100 square inches
645 square centimeters
Weight
11.0 ounces
312 grams
Balance Point
13.1 inches
33 centimeters
3 Pts Head Light
Construction
23mm / 24.5mm / 22.5mm
Composition
Graphene
String Pattern
16 Mains / 19 Crosses

Babolat RDC Ratings

Score

Grade

Flex Rating
70
Range: 0-100
Swing Weight
310
Range: 200-400
Scores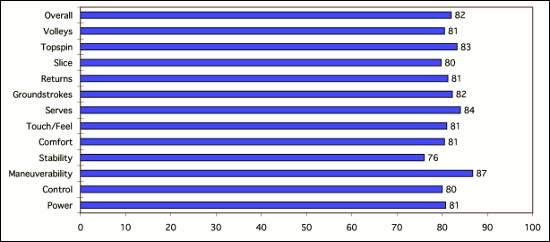 (Scores are determined by averaging individual play test scores)
Chris's Scores
Power
7.8
Serves
7.8
Control
8.1
Groundstrokes
7.7
Maneuverability
8.6
Returns
7.5
Stability
7
Slice
7.7
Comfort
7.9
Topspin
8
Touch/Feel
7.8
Volleys
7.5
Overall
7.7
Brittany's Scores
Power
7
Serves
8.5
Control
7.8
Groundstrokes
8.4
Maneuverability
8.8
Returns
7.8
Stability
7
Slice
7.6
Comfort
7.8
Topspin
8.4
Touch/Feel
7.9
Volleys
7.6
Overall
8
Karly's Scores
Power
8.5
Serves
8.4
Control
8
Groundstrokes
8.1
Maneuverability
8.3
Returns
8.3
Stability
7.8
Slice
8.2
Comfort
7.7
Topspin
8.3
Touch/Feel
7.9
Volleys
8.1
Overall
8.1
Mike's Scores
Power
9
Serves
8.9
Control
8.1
Groundstrokes
8.7
Maneuverability
9
Returns
8.9
Stability
8.6
Slice
8.4
Comfort
8.8
Topspin
8.6
Touch/Feel
8.8
Volleys
9
Overall
9
Playtester Profiles
Chris: 5.0 all-court player currently using the Volkl C10 Pro 2012. Chris uses a full-western forehand grip, has a fast swing style and hits a one-handed backhand.
Brittany: Open level player with a semi-western forehand and a two-handed backhand. She currently plays with the Yonex V-Core 100S.
Karly: 4.0 baseline player currently playing with the Wilson nCode nTour. She hits with a semi-western forehand grip and uses a two handed backhand.
Mike: 5.0 baseliner with a semi-western forehand and two-handed backhand. His current racquet of choice is a customized Prince Triple Threat Warrior.

Review date: February 2013. If you found this review interesting or have further questions or comments please contact us.
All content copyright 2013 Tennis Warehouse.