Head Hawk String Review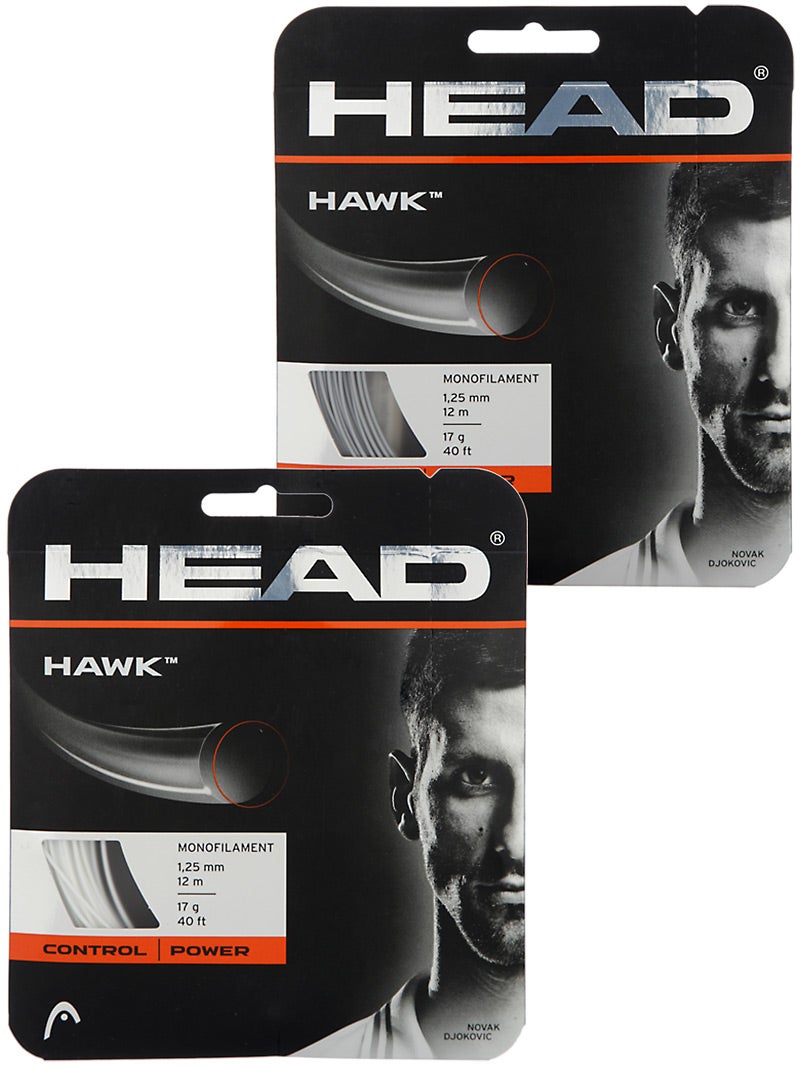 Head Hawk String Scores
Power
37
Spin
85
Comfort
56
Control
84
Feel
82
String Movement
93
Playability Duration
82
Durability
90
Overall
79
Downsides
Too underpowered for beginners
Summary
Developed with input from top touring pros, Head Hawk is a round co-poly that specializes in the art of giving big hitters the needed control to attack the ball. In contrast to many basic polyesters, this string's core was designed with a more dampened and comfortable feel. The upshot for our playtest team was a string that provided the exceptional control of a stiff poly without ever feeling harsh. The most salient feature of Hawk was its phenomenal predictability, a fact that gave us the needed confidence to swing bigger when more spin was needed. And although it lacked the grip of our favorite shaped polys, we had no problem bending and shaping the trajectory of our shots. In the end, our biggest swings always seemed to go where we wanted them to go. For this reason we think Hawk is a great option for any player who wants a very dependable co-poly without any huge downsides.
Power - Score: 37 / Control - Score: 84
For our team, Hawk delivered exceptional control and allowed our biggest hitter, Andy, to reach his top stroke speed without a hitch. He said, "Head Hawk felt like a low-to-medium powered poly that allowed me to really swing out on my shots. No matter how hard I swung, I never felt the ball would fly unexpectedly. This is more of a control-oriented poly for players who enjoy producing their own power."
This co-poly made all the right compromises for Chris. He said, "I liked the blend of power and control I found with this string. In typical poly fashion, this was more of a control string. It allowed me to supply the power, which is just the way I like it. I also liked the consistent feel I got across the stringbed. There was no sudden drop-off in power when I hit outside of the sweetspot with this string. I was able to take full cuts at the ball and rely on the control I got from the string to keep my shots within the lines. I hit this string in at least eight different racquets -- all varying in weight, headsize and power -- and it felt good in all of them."
Spin - Score: 87
While Hawk doesn't have quite the grip of a Sonic Pro Edge, Chris was plenty satisfied with the spin potential. He said, "Spin was solid with this string. It is not the most spin-friendly string I've ever hit, but spin was impressive, nonetheless. I was able to get my shots to dip nicely inside the lines, and I was getting some good action on the ball. The amount of spin I was getting varied according to the racquet I was using, but in all the racquets I tried it in the level of spin always felt consistent and predictable. As with control, the strongest point for me was the predictable response that allowed me to swing confidently."
Andy also had no trouble getting spin from Hawk, saying, "Hawk offered above average spin for a round poly. It reminded me a lot of Wilson Ripspin, in that it's slick and snaps back at impact, producing a boost in spin. I felt like I could generate a lot of topspin and slice, especially because I had no fear swinging with a little more racquet head speed due to the lower-powered response of the string. Spin is definitely a strength for Hawk!"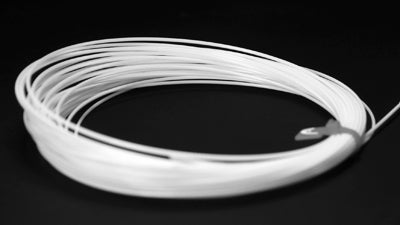 Comfort - Score: 56
Although Hawk is quite firm, neither of our players complained of shock or discomfort. In fact, Andy found it to be on the softer side. He said, "For as low powered as it is, I found Hawk very soft and never uncomfortable on the arm. I found myself slugging away shot after shot without any discomfort. It has a soft and dead feel, similar to Yonex Poly Tour Pro or Wilson Ripspin."
Not finding it quite as soft as Andy, Chris said, "I found this string to play with a medium firmness. While it is not the stiffest poly I've hit, it is far from the softest. While it is not a comfort string, I wouldn't categorize it as overly stiff, either. I found the response to feel solid in every racquet I hit it in. I did not have any comfort issues with this string at all. I'm also a fan of stiff polys, so this string was well within my comfort limits."
Feel - Score: 82
Built of firm material, Hawk is designed for advanced players who require a high level of feedback so they can feel exactly where the ball is on the stringbed. For Chris, the firm feel was definitely there, but it seemed more muted than crisp. He explains, "I would say the feel was a tad too muted to be called crisp. The string felt firm and predictable, but I have felt more connected to the ball with crisper strings, such as Kirschbaum Evolution. I'm not sure if this string has a tad more dampening quality built into it or if it was sliding around more, but the feel lacked the crispness of some of the other polys I've hit. I definitely got more feel for the ball than with Wilson Ripspin, and I would compare the feel somewhat to Luxilon Savage White."
For Andy, this string managed to deliver the control and connectedness of a stiff control string without ever feeling harsh or unresponsive. He was impressed, saying, "Hawk is a soft, plush feeling string with a more deadened, controlled response. It's also very responsive and leaves you feeling very connected to the ball as it hits the strings. This is tough for a polyester string to capture, and I felt that Head did a great job achieving that sensation with Hawk. Feel is another outstanding attribute of this string."
Playability Duration - Score: 82
Hawk held up quite well for our playtesters. For Chris, it started and finished with the same reliable response. He said, "I found the tension to feel pretty good throughout the test. As with control, this string seemed to be all about delivering a consistent response. I found throughout the test that the launch angle and power level remained pretty consistent."
"Pretty standard here for a poly," said Andy, who had no surprises to report. He added, "It passes the standard two-week test, maintaining tension and playability as long as it needed to."
Overall - Score: 79
What type of player would you recommend this to?
Chris - "As with most poly-based strings, this one is suited to advanced level players looking for control and durability. If you like to take a big swing at the ball, this string offers a predictable response that will give you the confidence to do so."
Andy - "This is a great string for any poly user to try, especially those who like a low-powered response to generate their own power. This is also a good option for poly players with arm issues looking for something soft and spin-friendly."
Likes
Andy - "I liked the control and spin potential of Hawk. I also liked how responsive it was and how connected to the ball I felt with it."
Chris - "I liked the solid and consistent response. The level of spin I was finding was also pretty decent."
Dislikes
Andy - "It's a little soft and dead for my liking, but that's just personal preference. Overall, it's a very good string."
Chris - "Not as crisp and precise as some competing co-polys."
Comparing the string to others they've tried, our testers said:
Andy - "The feel and response reminded me a lot of Yonex Poly Tour Pro and Wilson Ripspin, although it has better feel and response than Ripspin. It's soft and dead, with lots of spin potential. It's not going to grab the ball liked a shaped string will, but you'll feel the snapback and boost in spin at impact like you do with Ripspin."
Chris - "I would compare this to Luxilon Savage White and Becker Bomber. I'm not a huge fan of white based polys, as they lack some feel for me. I'd be very interested in hitting this string in black, as that color tends to soften polys for a little more ball pocketing, and typically a little less power."
Scores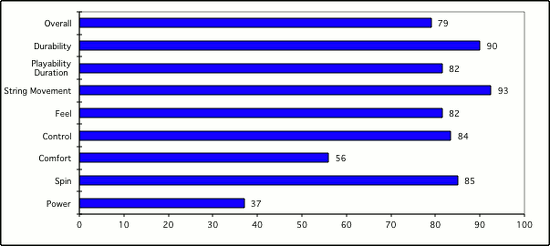 (Scores are determined by averaging individual play test scores)
Andy's Scores
Power
3
Playability Duration
8
Spin
9
Durability
8.5
Comfort
5
Control
8
Touch
8.5
String Movement
9
Overall
7.8
Chris' Scores
Power
4.4
Playability Duration
8.3
Spin
8
Durability
9.5
Comfort
6.2
Control
8.7
Touch
7.8
String Movement
9.5
Overall
8
Playtester String Setups
Andy:
Playtest Racquet: Head YOUTEK IG Extreme Pro 2.0
Playtest Tension: 54 lbs
Typical String: ALU Power Spin 16L
Chris:
Playtest Racquet: Wilson Six.One 95S
Playtest Tension: 55 lbs
Typical String: Volkl Cyclone 16

Review date: January 2014. If you found this review interesting or have further questions or comments please contact us.
All content copyright 2014 Tennis Warehouse.