Gamma RZR 95 Racquet Review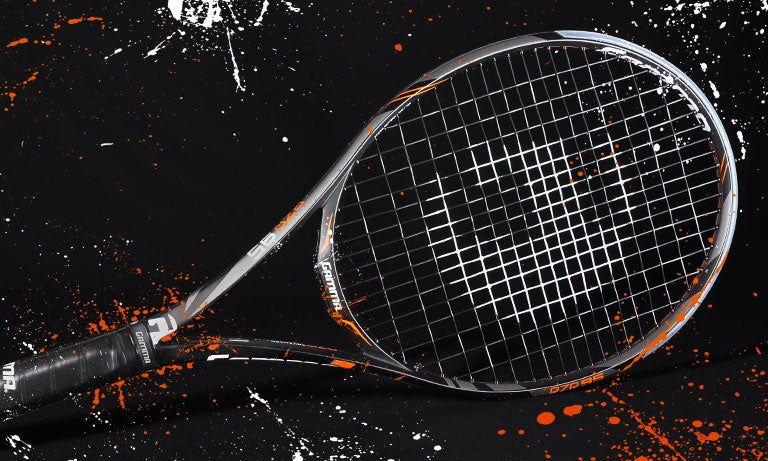 Gamma RZR 95 Scores
Comfort
60
Touch/Feel
68
Serves
80
Groundstrokes
77
Returns
76
Slice
79
Topspin
84
Volleys
70
Overall
77
Upsides
Extreme spin potential
Maneuverable
Downsides
Inconsistent response
Small sweetspot
Summary
Our playtesters had some fun playing with the razor-like qualities the Gamma RZR 95 has to offer. A fast, precise, maneuverable response is what we found to appreciate throughout our month-long playtest. We also found amazing access to spin from the baseline and when serving. The extra bite made it easy for our playtesters to swing big and generate some pace. This racquet was quick at the net but lacked some mass when it came to precise volleying. When serving, our playtesters found the ability to add extra spin, kick and slice with an extra amount of power. The biggest issues were the stiffness of this racquet and the slightly smaller sweetspot, although neither was a deal breaker. Overall, this solid all-court racquet is a good fit for players seeking a very fast player's racquet that is also big on spin.
Groundstrokes - Score: 77
When it came to banging balls at the baseline, the Gamma RZR 95 had a fast feel off the ground. Chris felt like he could really whip it through contact and generate a lot of racquet head speed. He said, "On occasion I even found myself ahead of my shot, such was the fast feel of this racquet. Topspin was my favorite, as I tend to favor heavier racquets to hit a penetrating slice. When coming over the ball I was getting enough spin to roll a nice angle or help a hard hit down the line shot land inside the lines. I found enough power on approach shots to aggressively approach the net and the spin continued to help me find my targets. On shots hit off center the racquet felt a little brassy, and I would hope some added weight would improve the comfort."
Michelle found this racquet to be pretty maneuverable at the baseline, and she enjoyed the extra access to spin. Unfortunately, she also found the stiffness to be a little out of her comfort zone. She said, "This Gamma proved to be super fast from the baseline, but there wasn't a huge sweetspot on this racquet and off center contact wasn't always comfortable. It was a great racquet for easily hitting extra topspin, and I felt like I was consistently hitting with more spin. I also really enjoyed slicing with this racquet. I liked how the racquet helped add some bite to my ball to keep the slice nice and low."
"Right from the start, the maneuverability stood out the most to me," said Karly. "I have a hard time believing the specifications because it plays so fast for an 11.5 ounce racquet. The racquet was very easy to swing, so hitting late was rarely an issue. In addition, I thought it was very spin friendly, especially for having a midsize head. I think the fast, whippy characteristic helped me access spin and made generating topspin or slice a piece of cake. I could make exaggerated loopy topspin forehand shots to keep the ball from sailing long, or hit aggressive slice backhands if I had a hard time getting to a ball." Like Michelle, Karly also experienced some stiffness from this racquet, adding, "The RZR 95 may have been easy for my arm to swing, but I thought the racquet was extremely hard on my arm. Even though it has an average stiffness rating, it was easily one of the stiffest feeling racquets that I've hit. The inconsistent response didn't help either. The sweetspot was very small and if I hit outside of it my shots felt completely dead. It was tough to play consistently because the stringbed played so erratically."
Andy summed up his groundstroke experience by touching on what our other playtesters seemed to find true, saying, "I really enjoyed using this racquet from the baseline because of it's light weight and the beam is aerodynamic in design, making it extremely maneuverable and easy to swing. Power and spin were easy to come by because of how easy it is to generate racquet head speed. The 95 square inch head also offers a good deal of control. The only downside for me was that it was a bit uncomfortable when I made contact outside of the sweetspot, which did happen somewhat frequently given the smaller head size."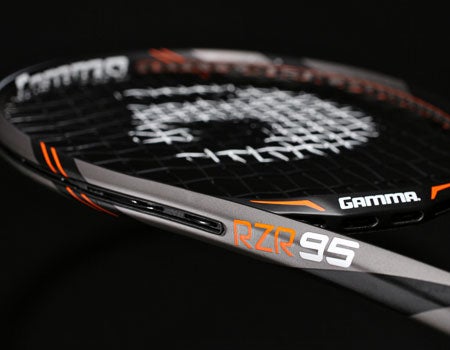 Volleys - Score: 70
Our playtesters struggled a bit when it came to using the Gamma RZR 95 at the net. It's maneuverability was a definite plus, however, the frame was lacking some mass and stability. Andy said, "I had mixed feelings up at net with the RZR 95. The crisp feel and maneuverability made it easy to wield, but I would've liked a little more weight in the hoop to provide more stability. The lack of mass really came into play when volleying, as I found the racquet twisting and turning a bit too much at contact."
Karly didn't enjoy coming up to the net too often with this racquet, saying, "I thought it was the area it lacked the most stability, and combined with its stiff feel, it felt really uncomfortable on my arm. The frame felt too rigid and was really shaky when making contact. I do have to say that, like at the baseline, the maneuverability of the racquet was top-notch. I barely had to put any effort at all into moving the racquet back and forth. I loved how easy it was to swing. Plus, I personally found a higher level of control on my volleys than my groundstrokes."
Michelle was also uncomfortable at the net with this racquet, saying, "Because of the lighter head weight I had the tendency to push my volleys, and I was really craving some extra mass. I found a bit of discomfort and could feel my forearm tightening up at contact. Although, this racquet was easy to maneuver up at net, I just didn't feel the response I would have liked."
"A very easy and fast racquet at net, I was able to get this racquet in position quickly," added Chris. "I also felt like I had ample time to cup under the ball or add a little side spin to help get my volleys away or make them harder to reach. For its weight, the racquet felt decently solid. However, I like a little more mass to my racquet for volleying and would definitely add weight to this one. I especially enjoy added weight on touch shots, as it allows for a looser grip on the racquet and some added feel. With this racquet being so light I had to punch my volleys a little more to make up for the lack of mass."
Serves - Score: 80
While our playtesters didn't love the RZR 95 at net, they did find it to be a joy to serve with. "Serves were easily my favorite shot with this racquet," Karly said. "Again, that tremendous maneuverability made it so easy to swing that I didn't have to put much effort into my stroke. This was also the shot where I found the most power. The racquet made it simple to swing and generate power without putting much effort into my stroke. Spin was another thing that came naturally, which was especially great for my second serve. I barely needed to brush over the top of the ball to give a good kick to my serve. However, the comfort needed improvement. The stiffness took away from the feel of the racquet."
Chris really found the extra pace and spin on his serve to be one of the strengths of this RZR. He said, "I was getting the racquet head through contact very quickly and was able to translate that racquet speed into good action on the ball. I couldn't serve as hard with this one as I could with the RZR 100 or 105 since the 100 brought more power from its weight and the 105 from its headsize and length, however, I was more than happy with the pace and spin I was getting."
This racquet was easy to swing for Andy who found power and spin to come naturally, saying, "I liked the RZR 95 on serve! I found that when hitting a slice or kick serve I was able to be really precise with it, but when I tried to flatten out a first serve I lost a bit of control. A little more weight in the hoop could've helped with the power, but overall I enjoyed this racquet on serve."
This racquet's strong points really came out on Michelle's serve. She said, "The Gamma RZR 95 added a bit of extra pop and extra movement to my serves, which was a nice perk. I found added kick on my second serves, as it was really easy to accelerate and brush up through the ball. It was also easy to snap through bigger first serves and add a few mphs on my flatter serves."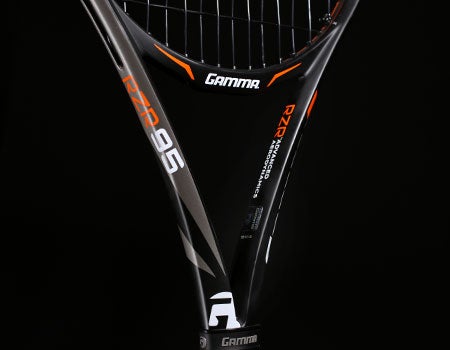 Serve Returns - Score: 76
Despite the awesome maneuverability from this Gamma RZR 95, Michelle didn't feel like her returns were as solid as they normally are with a 100 square inch frame. She said, "I like to take big cuts on my returns, especially off the second serve, and I wasn't able to consistently return with this racquet. If I made contact off center I could definitely feel the vibrations up through my arm. I didn't have to worry about the racquet being pushed around, but I struggled to consistently find the sweetspot and hit a clean return. However, this racquet worked well when I hit my chip returns, helping me keep the ball nice and low."
Andy appreciated this RZR's qualities on his return, saying, "This racquet had all the qualities I love when returning, as long as I didn't hit off-center. I loved the maneuverability and the control, which made it easy to take the ball early and use my opponent's pace to block returns into the corners aggressively. When I made contact off-center I noticed the discomfort again, but for the most part I really liked returning with it."
The erratic response and instability was troubling for Karly when returning. She said, "If I didn't hit directly in the sweetspot my shots felt extremely dead and I wasn't able to hit consistent returns. The racquet was just too stiff and shaky when making contact for it to feel comfortable on my arm. On the positive side, I didn't have to worry about not making contact when hitting against big servers. That great mobility and easy access to spin shone through again on returns. The low, low swingweight made it simple to get a handle on the ball and I could easily add variety to my shots with all the spin."
Chris had the most success with the RZR 95. He explained, "On slower swings, like a block return, there was some instability. However, when taking a good cut at the ball the racquet felt great. As on groundstrokes, I liked hitting topspin returns the most. I was successful both when driving the ball deep with topspin and when hitting angles. I liked the racquet on fast swings, as the crisp response translated into precise feel. When taking a good rip at the ball I felt very dialed in with this racquet."
Overall - Score: 77
Likes
Andy - "I liked the maneuverability, precision, access to spin and crisp feel. It's a very easy racquet to use."
Michelle - "I really liked slicing with this racquet. I also enjoyed the fact that it added some control to my game and made it really easy for me to put spin on my groundstrokes."
Chris - "I liked the maneuverability, spin potential and the power level."
Karly - "There's no way the Gamma 95 could weigh 11.5oz. It swung as if it was a 10oz frame! Talk about an extremely maneuverable racquet."
Dislikes
Andy - "It's easy to lose control of the tip of the racquet because it's so light, and it's also a bit uncomfortable on off-center hits."
Michelle - "I didn't like the stiffness of this racquet at all. I'm usually ok with a stiff set up, but this racquet did begin to aggravate my arm a bit. I also couldn't get a consistent feel from this racquet. I wish the racquet had a little more mass behind it for volleys."
Chris - "The feel was too crisp for me when hitting off center. I really liked the spin and control of a full bed of poly in this racquet, but would opt for a poly/multi hybrid to improve comfort."
Karly - "The frame felt way too stiff for me."
Comparing the RZR 95 to other racquets they've used, our testers said:
Andy - "This was a very interesting racquet because it's so unique. It has the aerodynamic design and crisp feel of the Babolat AeroPro Drive, the control from the 95 square inch headsize of the Six.One 95 and the lightweight feel of the Tecnifibre TFight 315 Ltd. I think if you enjoy the feel of an APD but want a little more control, this would be a great racquet to get and customize to the specs that you want."
Michelle - "I didn't have a chance to playtest the previous Gamma racquets and I haven't played with anything recently that feels similar to this racquet. It's definitely a different feel than most of the racquets I have been playing with lately (Donnay 100, Dunlop F5.0 Tour, Babolat Pure Drive)."
Chris - "This racquet reminded me of the Dunlop Biomimetic 100 and 300 Tour in that it has a player's racquet headsize and response, but in a lighter, faster package. Like both of those racquets, this one responds best on a full fast swing, as it helps improve stability. All three also make great platform racquets for customization since they offer the advanced player lots of room to add weight."
Karly - "It had a very similar feel to the Gamma RZR 98. Both racquets have an average stiffness rating, however, that's not how they played. They felt drastically stiffer than their ratings state."
Technical Specifications

Length
27 inches
69 centimeters
Head Size
95 square inches
613 square centimeters
Weight
11.5 ounces
326 grams
Balance Point
12.5 inches
31.75 centimeters
8pts Head Light
Construction
20mm / 20mm / 21mm
Composition
Graphite / Texalium
String Pattern
16 Mains / 18 Crosses

Babolat RDC Ratings

Score

Grade

Flex Rating
65
Range: 0-100
Swing Weight
303
Range: 200-400
Scores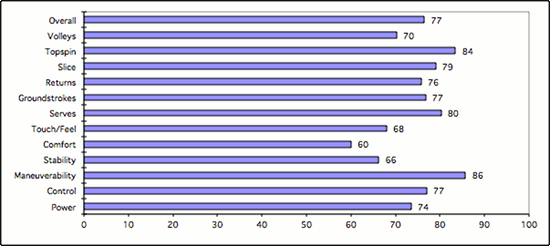 (Scores are determined by averaging individual play test scores)
Andy's Scores
Power
7
Serves
8
Control
7.5
Groundstrokes
8.5
Maneuverability
9.7
Returns
8.5
Stability
6
Slice
8
Comfort
6
Topspin
8.5
Touch/Feel
7
Volleys
7.8
Overall
7.8
Michelle's Scores
Power
7
Serves
8
Control
7.5
Groundstrokes
7
Maneuverability
7.8
Returns
6.8
Stability
6
Slice
8
Comfort
5.8
Topspin
8.5
Touch/Feel
5.8
Volleys
6
Overall
7.8
Chris' Scores
Power
7.9
Serves
8.3
Control
8
Groundstrokes
8
Maneuverability
8.5
Returns
7.9
Stability
7.6
Slice
7.9
Comfort
6
Topspin
8.5
Touch/Feel
7.8
Volleys
7.9
Overall
7.8
Karly's Scores
Power
7.5
Serves
7.8
Control
7.8
Groundstrokes
7.2
Maneuverability
8.3
Returns
7.1
Stability
6.9
Slice
7.7
Comfort
6.2
Topspin
7.9
Touch/Feel
6.6
Volleys
7.2
Overall
7.2
Playtester Profiles
Andy: Open level all court player with a semi-western forehand grip and a two handed backhand. Andy currently using a Yonex RDiS 100 Mid.
Michelle: Open level baseline player with a semi-western forehand and a two handed backhand. She currently plays with the Babolat Pure Drive.
Chris: 5.0 all-court player currently using the Volkl C10 Pro 2012. Chris uses a full-western forehand grip, has a fast swing style and hits a one-handed backhand.
Karly: 4.0 baseline player currently playing with the Wilson nCode nTour. She hits with a semi-western forehand grip and uses a two handed backhand.

Review date: May 2013. If you found this review interesting or have further questions or comments please contact us.
All content copyright 2013 Tennis Warehouse.