Gamma RZR 105 Racquet Review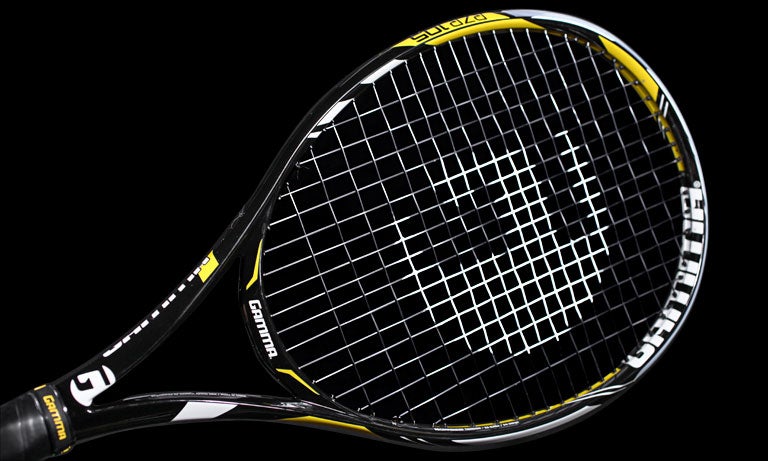 Gamma RZR 105 Scores
Comfort
67
Touch/Feel
75
Serves
80
Groundstrokes
82
Returns
75
Slice
79
Topspin
76
Volleys
70
Overall
76
Upsides
Extreme spin potential
Maneuverable
Downsides
Inconsistent response
Small sweetspot
Summary
The Gamma RZR 105 is a powerful, easy to swing racquet suitable to a wide variety of players. All of our playtesters really enjoyed the easy access to power and spin from all areas of the court. Our team was able to generate pace on their flat serves and spin on their slice and kick deliveries. The large headsize and excellent maneuverability also made it easy to swing with confidence, especially from the baseline. Our team liked the crisp, lively feel, but they also felt the racquet got a bit stiff and jarring when they missed the sweetspot, with playability dropping off a bit. Other than that, this easy to swing RZR offers tons of power, loads of spin and makes a great choice for aggressive players of all levels.
Groundstrokes - Score: 82
Our playtest team liked the solid and powerful feel of the RZR 105 from the baseline, but a couple of the testers thought that the playability dropped off quite a bit when contact was made outside of the sweetspot. Chris enjoyed the lively response, saying, "I really liked the power and spin I found from this racquet off the ground. I was getting extra pace and I was still finding the control needed to hit my targets. The power of this racquet was perfect when I had to generate my own pace or needed to hit a clean winner. The string pattern felt lively no matter how we strung it, but it also offered lots of bite on the ball. A co-poly string worked well in this racquet, as it provided even more control for the powerful response. However, the RZR 105 played fairly firm for me and I didn't think the comfort level was the best, even though it does offer a large sweetspot."
Granville also loved the easy power from this racquet, as he said, "The RZR 105 provides a very solid feel at impact, with good power and touch from all corners of the court. With the overall balance close to even, it provides a high degree of power for its 10.6 ounces. The 105 headsize gives me a little margin for error, and I took full advantage, ripping my forehands without thinking about hitting long. I think I could dial this in for my game by varying the tension and string type."
Brittany immediately noticed the extra power in her game, as well as less comfort and control. She said, "This racquet has tons of power. This power was definitely apparent in my groundstrokes, as I found I could take big cuts at the ball off both wings. I had no problems hitting deep, aggressive groundstrokes when practicing and playing matches. I was amazed at how stable this racquet was at only 10.6 ounces. I didn't feel like the racquet was being pushed around, even when playing against hard-hitting opponents. However, the sweetspot was slightly smaller than I expected, and I found I lost a portion of my power, as well as comfort, when hitting outside the sweetspot. I did struggle at times with control due to it being such a powerful racquet with a slightly smaller sweetspot."
Mike enjoyed the forgiveness of the larger head size but really had to make sure he was being precise with his shots. He said, "The racquet offered tons of power off both wings. The head size and sweetspot are both bigger then what I'm used to, which made it easy for me to hit the ball. On off-center forehands and backhands the racquet was a bit unstable, forcing me to focus on controlling the ball instead of generating pace."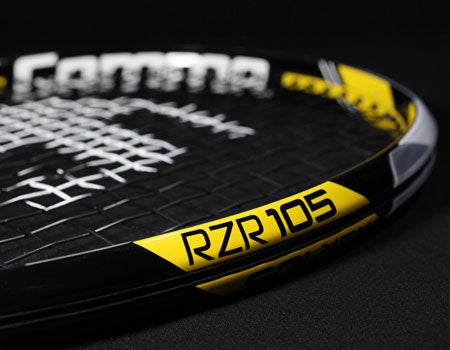 Volleys - Score: 70
For the most part, our playtesters really enjoyed the crisp, lively feel of the RZR 105 at net. Granville felt the racquet opened up the entire arsenal in his net game, as he said, "Volleys with the RZR 105 were crisp, with good feel. Nothing extra here, which I liked. I settled into hitting my regular game seamlessly, no longer thinking about the new racquet in my hand. The racquet had that nice feathery touch to it on precision shots, and I was able to deliver some heat when the time came to drive the ball deeper into the court. It offered a very healthy sweetspot, which could be further enhanced with a different string set-up."
"This was my favorite shot to hit with this racquet," said Brittany, adding, "The combination of maneuverability and stability made it really easy and enjoyable to hit volleys, especially in doubles. Since the racquet is more on the powerful side, I found it very easy to hit deep put-away volleys. A bonus for me was that there was enough ball pocketing for me to hit shorter, angled volleys successfully."
Chris loved the lively feel, especially in doubles, saying, "This racquet felt very fast and very crisp at net. It proved to be a great option for doubles since it handled easily yet remained pretty solid during heavy hitting. Anything high could be snapped away, and I again found myself putting the power level to good use. I also felt well connected to my touch volleys. I was putting the spin potential to good use as well. Cutting under the volley added a lot of spin to the ball and allowed me to drop it short or angled to prevent my opponent from reaching it."
On the contrary, the racquet didn't offer a solid feel around the net for Mike, who explained, "This was probably my least favorite stroke with this racquet. It didn't offer me the stability I like, which made it tougher to place my volleys and forced me to focus on placement. I would probably add some weight to the top of the frame to give it a little more mass."
Serves - Score: 80
The easy power and maneuverability helped our team generate lots of pace and spin on their serves. Brittany was able to hit a wide variety of serves with this racquet. She said, "Like my groundstrokes, I definitely found access to power when I was serving. Like previous racquets I have playtested in the RZR line (the 98 and 100), I found enough spin potential to hit a variety of serves. I found the most success serving out wide on the deuce side to pull my opponent off the court, and I was able to get enough kick on my second serve to keep from being put in a defensive position to start the point."
"This was a great racquet for me to serve with," Chris said. "I loved the pace and spin, and I felt like I was serving better because of it. I was able to put more pressure on the returner with my first serve and found I could vary both pace and spin with ease. Combined with the solid response at net, this became a good racquet for me to serve and volley with. I also liked the added leverage when serving out wide, and I was getting some good action on my slice serves."
Granville found more than enough precision with the RZR 105 to help out his service game, as he explained, "This racquet offers no surprises - and that is a good thing! It's light enough to get the racquet moving yet massive enough to get good pop on the ball. The beam offers the right amount of flex for high accuracy with good comfort. I was not able to really serve 'heaters' due to shoulder surgery recovery, but I have no doubt that Andy could! At this point service accuracy is as important to me as speed, and I was able to hit either service line with consistency."
Mike found easy power, but not enough accuracy. He said, "It's a very maneuverable racquet, which made it easier to get power but a little tougher for my kick serve. The bigger sweetspot gave me a little more room for error."
Serve Returns - Score: 75
There were mixed feelings from our playtest team when it came to returning serve with the RZR 105. Mike enjoyed the easy access to power when he made good contact, but he also thought the racquet was a bit too unstable and uncomfortable when the ball missed the sweetspot. He said, "I felt like I was being pushed back with this racquet, most likely due to how light the racquet is. When I got ahold of the ball and hit it directly in the sweetspot the racquet generated the power for me, which felt great. However, off-center shots hurt my arm a little bit."
Chris had a similar opinion, sharing, "The return was another area where I really liked what I could do with the ball with this racquet. When I had time take a full swing I could crush my forehand. On more compact swings I was able to use the power of the racquet to maintain a good level of pace. The spin-friendly response upped the control and made it easy to keep all that power on target. The only time I didn't like this racquet on returns was when I caught a heavy serve off-center. There was too much jarring at times, which spoiled an otherwise impeccable response."
Granville was also left wanting a bit more heft in order to stabilize the racquet on returns. He said, "While I was able to hit just about any shot in the book with the RZR 105, at 10.6 ounces it just does not have the mass to really crush the ball. At this point, I need a bit more mass to really 'get a hold' of the ball on a return. That being said, preparation and execution are on on the player, not the RZR 105."
Brittany enjoyed the maneuverability of the RZR 105, but didn't particularly feel that she returned all that well with it. She said, "This, unfortunately, was probably my least favorite shot to hit with this racquet. For some reason, I could never fully get in a groove on my return, and I consider my return one of my best shots. I could definitely attack the serve, but I lacked the control to place the ball where I wanted it to go. I will say, though, that the racquet was extremely maneuverable and I had no problems getting my racquet back in time for every serve."
Overall - Score: 76
Likes
Chris - "I loved the power, spin and maneuverable feel. I was finding more pace off the ground and on serve, yet getting all the spin and feel I needed for control. This was a very fun racquet to hit with in that sense. This was the best serving racquet I've used outside of a Babolat Pure Drive Plus, AeroPro Drive Plus or Roddick."
Granville - "Nice sweetspot, especially when ripping forehands. Good compromise between weight and swingweight. Maneuverable and comfortable."
Brittany - "I thought the maneuverability, stability, and power all shone with this racquet."
Mike - "Power, power, power!"
Dislikes
Chris - "The feel was too firm and crisp -- to the point of jarring at times. I played so well with this racquet I would be strongly considering switching to it if it were more comfortable."
Granville - "I'd prefer a more head light frame for maneuverability at the net."
Brittany - "I struggled at times with control, and I felt it was too stiff."
Mike - "The lightness of the frame. I did not particularly like volleying with it, either."
Comparing the RZR 95 to other racquets they've used, our testers said:
Chris - "The Pure Drive and AeroPro Drive Plus racquets compete with this one, as they all offer great spin and power. They also all feel crisp, but both Babolats bring a tad more comfort to the table than this one."
Granville - "This is my favorite Gamma racquet of all time."
Brittany - "I found this racquet to be very similar to the Gamma RZR 100 in almost every aspect. I would say that I found the RZR 105 to be a tad bit more powerful and faster. I liked the 105 a little better on groundstrokes and volleys."
Mike - "This was a little bit different from other racquets I've playtested. It was too light for me, and I would definitely add a lot of weight to stabilize the feel of the racquet. I liked the bigger headsize, as it made it easier for me to hit the sweetspot most of the time."
Technical Specifications

Length
27.25 inches
69 centimeters
Head Size
105 square inches
677 square centimeters
Weight
10.6 ounces
300.5 grams
Balance Point
13.45 inches
34 centimeters
1pt Head Light
Construction
224mm / 26mm / 23mm
Composition
Graphite
String Pattern
16 Mains / 19 Crosses

Babolat RDC Ratings

Score

Grade

Flex Rating
67
Range: 0-100
Swing Weight
322
Range: 200-400
Scores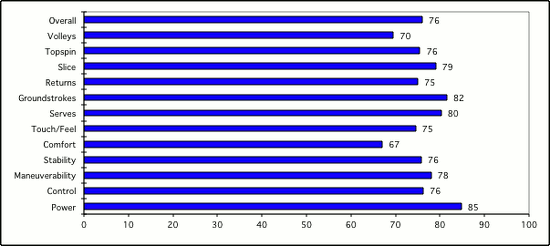 (Scores are determined by averaging individual play test scores)
Chris' Scores
Power
8.9
Serves
8.9
Control
8.1
Groundstrokes
8.7
Maneuverability
8.4
Returns
8.5
Stability
8.1
Slice
8.4
Comfort
5.8
Topspin
8.6
Touch/Feel
7.9
Volleys
8.3
Overall
7.8
Granville's Scores
Power
7.5
Serves
7.8
Control
8
Groundstrokes
8.3
Maneuverability
6.8
Returns
6.8
Stability
7.5
Slice
8
Comfort
8
Topspin
8
Touch/Feel
7.8
Volleys
6.8
Overall
7.5
Brittany's Scores
Power
8.5
Serves
7.4
Control
6.5
Groundstrokes
7.4
Maneuverability
8
Returns
7.3
Stability
8.2
Slice
7.6
Comfort
6
Topspin
7.6
Touch/Feel
7.1
Volleys
7.7
Overall
7.5
Mike's Scores
Power
9
Serves
8
Control
7.9
Groundstrokes
8.2
Maneuverability
8
Returns
7.4
Stability
6.5
Slice
7.6
Comfort
7
Topspin
6
Touch/Feel
7
Volleys
5
Overall
7.6
Playtester Profiles
Chris: 5.0 all-court player currently using the Volkl C10 Pro 2012. Chris uses a full-western forehand grip, has a fast swing style and hits a one-handed backhand.
Granville: 5.5 all-court player currently using a Babolat Pure Drive 107. Granville is an aggressive player who uses an eastern forehand grip and goes continental on everything else, hits with a flat swing and a one-handed backhand.
Brittany: Open level player with a semi-western forehand and a two-handed backhand. She currently plays with the Yonex V-Core 100S.
Mike: 5.0 baseliner with a semi-western forehand and two-handed backhand. His current racquet of choice is a customized Prince Triple Threat Warrior.

Review date: June 2013. If you found this review interesting or have further questions or comments please contact us.
All content copyright 2013 Tennis Warehouse.