Head Graphene Prestige Pro Racquet Review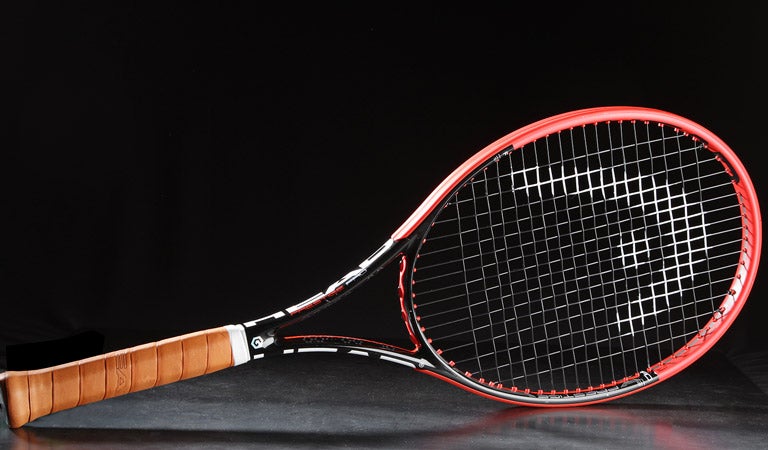 Head Graphene Prestige Pro Scores
Power
75
Comfort
73
Touch/Feel
80
Serves
85
Groundstrokes
82
Returns
81
Slice
86
Topspin
83
Volleys
80
Overall
79
Upsides
Livelier than previous models
Control
Spin friendly
It's a looker!
Summary
A longtime favorite, the Prestige Pro, gets an update in 2014 with the addition of Graphene. Weighing in at just under 12 ounces strung, this maneuverable racquet felt stiffer to some of our playtesters, while not stiff enough to others. While our playtesters differed on what they liked and didn't in this Prestige, they did all agree that this update managed to be precise while still offering power. Our playtesters also noticed the new feel in the Graphene Prestige Pro. With the addition of a dynamic string pattern, which is a tighter pattern in the center and more open on the edges, this Prestige offers a more forgiving feel outside of the sweetspot. From all over the court, our team enjoyed the accuracy they found from an open string pattern that gave them ample access to spin and power.
Groundstrokes - Score: 82
There were several positives when it came to hitting groundstrokes with the Graphene Prestige Pro, including directional control, plow through and a solid feel. In typical Prestige fashion, this racquet felt just like an extension of Andy's arm. He began, "I felt like I could be creative and take total control of all my shots from the baseline. The open string pattern also gave the racquet a lively, spin-friendly feel that allowed me to manipulate the ball almost at will. I did find it a bit light at times, and if I didn't find the sweetspot the racquet would really twist in my hand. Toward the end of the playtest I was getting a better feel for the racquet and was finding the sweetspot more and more."
Troy was swinging freely and loving the control he found on his groundstrokes with this updated Prestige Pro in hand. He thought that the IG version of this racquet was lacking a bit of plow through, so he really enjoyed this update. He said, "Just like I noticed in the Graphene Radical Pro review, this Graphene update to the Prestige Pro is noticeably stiffer and creates a different feel. When connecting on a hard hit forehand or backhand, I enjoyed the slight bit of added power that the stiffness provided as well as the added plow through from the higher swingweight. The downside was that the sweetspot was smaller than the super-plush feel of the IG version; this was noticeable to me as I hit these two racquets side-by-side throughout most of the playtest. I'm typically a fan of dense (18x20) string patterns, but this playtest made me realize that the open (16x19) pattern is really starting to grow on me. I was hitting some heavy cross-court shots with lots of spin, and it didn't feel like there was less control than my current racquet's 18x20 string pattern. I was striking the ball well with this racquet on groundstrokes, but when I missed the sweetspot the feeling wasn't nice and plush like it is with the IG version."
After finding a short adjustment period was needed to get used to the denser 16x19 string pattern, compared to his open Wilson Steam 99S string pattern, Mark found himself becoming very comfortable with the Prestige Pro off the ground. He said, "After 30 minutes of warm-up I was confident enough to start playing tie breakers and groundstroke games. The results were great point wise, and the quality and variety of my groundstrokes off both wings left me feeling more than satisfied. The Graphene Prestige Pro really shone for me in the groundstroke department."
After falling for the new Graphene Radical Pro, Michelle really wanted to like the new Graphene Prestige Pro, but it wasn't a match made in heaven for her from the baseline. "I found this racquet to be slightly sluggish off the baseline as well as being noodle-y with some flex in the racquet, which isn't what I normally enjoy," she said. "I really had to force myself to get inside the baseline, get on top of the ball and attack it, otherwise I felt like my ball was flying because my racquet wasn't coming around fast enough. I don't mind heavy racquets or high swingweights (I have no issues swinging a 12.6 ounce Pure Drive Roddick with a 332 swingweight), so that wasn't my issue. I didn't seem to gel well with the weight distribution in this frame - it just wasn't working with my game. The sweetspot also felt small to me. However, the one shot that I did enjoy with this racquet was the slice. Head racquets always feel so stable to me when slicing, and I love that I can rely on that shot defensively. Overall, it just didn't feel like a perfect match in my hands when it came to striking my groundstrokes. I struggled to find a rhythm and felt like I had to be cautious when hitting my bigger groundstrokes."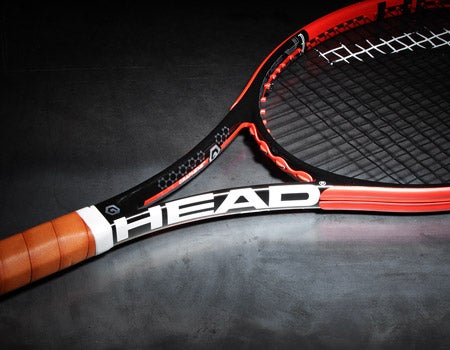 Volleys - Score: 80
Precision, control and maneuverability were standout features when it came to volleying with this racquet. While Michelle didn't find perfect chemistry with the Graphene Prestige Pro from the baseline, she did find the net to be an area she could wield this racquet effectively. She explained, "The net was probably my favorite place on the court with this racquet. I found it easy to hit precise, controlled volleys. It was very maneuverable, with a crisp feel. I felt comfortable following short balls forward to finish out points with a volley or two."
Mark found ample weight and maneuverability at net, but he did continue to notice the added stiffness in the throat of the racquet. "With the racquet I used had an 11.7 ounce strung weight and a swingweight in the low 330s; suffice it to say that there was plenty of mass to keep the frame stable on the volley."
Finding good control and depth when volleying with this racquet was Troy, who said, "The Prestige Pro felt crisp and solid when hitting my volleys, even against heavy shots being drilled at me. I'm accustomed to heavier racquets, so I found decent maneuverability at the net with this one. I was able to react with and maneuver this racquet well when forced to, which worked great when I was playing doubles. I enjoyed the stiffer feel of this racquet because it was stable and created easy depth on my volleys. The downside for me was that I didn't feel quite as connected to the ball when going for a deft drop volley or acute angle; on these types of volleys I preferred the plush feel of the previous version."
"Volleys hit in the sweetspot felt crisp and solid, and once again I was in total command of the ball," said Andy. "There aren't many racquets that can stand up to a Prestige in terms of control and feel, and this was really evident around the net. It felt fast and maneuverable, but the instability was even more apparent around the net than it was at the baseline. Anything remotely close to the frame caused the racquet to twist and turn and the ball to drop short."
Serves - Score: 85
When it came to starting the point with their serves, the whippy Prestige Pro complemented most of our playtesters' games. Troy found himself bringing some heat! After giving the new Graphene Radical Pro high scores on serves, Troy thought this new Prestige performed even better. He said, "On the recent review of the Graphene Radical Pro I said that it was one of the best serving racquets on that I've tested, but this one tops it! This racquet feels whippy on serve compared with my beefy Six.One 95 and the Pro Staff 90 that I am currently testing. With this updated Prestige Pro I was popping first serves up the middle with confidence. I found this racquet to be most impressive on topspin and kick serves. I was able to snap my wrist with ease and my spin serves were jumping off the court, forcing my opponents to hit returns outside of their wheelhouse. I was holding my serve pretty consistently when serving with this racquet."
Andy also really liked serving with the Prestige Pro and found the weight and balance to feel great. He said, "I was able to go up after my serve aggressively, get lots of racquet head speed and generate lots of pace and spin. I felt I could hit my spots consistently, too. With a little more heft I might've been able to hit some heavier serves, but the racquet head acceleration allowed for plenty of access to pace and spin."
"The first time I served with the Prestige Pro I was already pretty tired from running and swinging during long groundstroke games, so I was not able to really apply any gas to the serve," began Mark. "The next several times around I was pretty fresh, so I was able to apply some real effort on serve and felt very connected on my first serve. Not a lot of spin on either first or second serves, but I noticed that quite a few of my serves were not coming back over the net, which is always a mood enhancer."
While Troy made it known that he would pick the Graphene Prestige Pro over the Graphene Radical Pro, Michelle chose otherwise for her game. "Unlike Troy, I don't like whippy racquets when serving, but serving with this racquet was still a positive experience. It was easy to hit my targets, add pace, add spin, etc., but there wasn't anything setting this racquet apart from other racquets for me. I wanted a bit more out of this racquet when serving."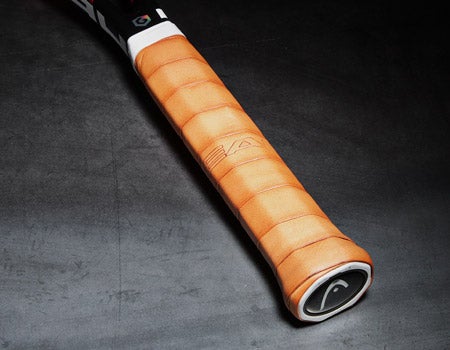 Serve Returns - Score: 81
For Mark, this iteration of the Prestige Pro felt great when returning. He said, "Although the overall weight is a bit lighter than its predecessor, it has plenty of stability with the 330-range swingweight, which benefits my chip return. Admittedly, it was a bit heavy for me to consistently produce topspin on the return."
Michelle, who enjoys a stiffer racquet, was again craving a bit more from this racquet when returning. She struggled with her big returns and explained, "Sometimes it just wasn't accelerating quickly enough to make my return effective. I wasn't expecting this issue because I'm used to a racquet with a higher swingweight, but this one was just coming around slowly for me. Luckily, as I mentioned, this racquet handles well when slicing, so chip returns worked out well for me. I just wasn't as successful with my big offensive returns that I try to hit."
Andy felt pretty dialed in from the get-go on the return of serve, saying, "Oddly enough, I found myself chipping a lot more returns with the Prestige Pro, mostly because slices felt really good with it. The feel and responsiveness allowed me to place my chip return on a dime. I also liked hitting over my returns, taking them early and using the server's pace like I normally do. The great maneuverability was very apparent here, but if I missed the sweetspot my returns would drop short."
Continuing to vibe with the racquet, Troy was hitting returns with good precision and easy depth. He said, "The maneuverability helped me return serves when I was stretched out, and the mass helped me hit heavy returns when the ball was in my strike zone. I was able to knife through the ball on slice backhand returns with ease. Overall, the control and plow through made this an impressive stick on returns."
Overall - Score: 79
Likes
Andy - "I liked the crisp, lively feel of this version, along with the control and feel that is typical of a Prestige. I felt totally connected to every shot I hit, for better and for worse."
Troy - "I felt my serve was enhanced with this racquet. The increased swingweight was right where I like it. I typically don't favor the rectangular grip shape on Head racquets; this test racquet was a 4 1/4 or No. 2 grip, and I really enjoyed it because the rectangular shape was less pronounced."
Mark - "Loved it off the ground, and the look of the new red grommet is great; very distinguishable from five or more courts away. This Graphene version of the Prestige Pro felt firmer to me than the Prestiges of the past, and even with the measured RA of 63, I thought I was playing with a more power-oriented racquet. I played with full sets of poly, but it seems like it would be a good match for a variety of different string and tension configurations. Technology aside, I thought the combination of the higher swingweight with the under 12 ounce strung weight served me very well."
Michelle - "Slices (off both wings) and volleys were my shots to hit with this racquet. I really like the new cosmetic as well."
Dislikes
Andy - "The racquet twisted and turned quite a bit when I made contact outside the sweetspot. I would've liked a little more weight to fix this and also allow me to hit a heavier, more penetrating ball."
Troy - "The drop in power outside the sweetspot when hitting groundstrokes. I prefer the plush feel of the previous IG version."
Mark - "I suppose if I have to moan about something, it would be the lack of the traditional CAP grommet. I like the extra durability it affords the player, and it sort of mutes the sound of the ball coming off the stringbed more than the current grommet. The new red grommet is raised above the profile of the frame (good idea), but it does not entirely cover the beam the way the CAP grommets do."
Michelle - "The weight distribution felt a little sluggish to me. Combined that with the noodle-like flex and I just wasn't enjoying this racquet on groundstrokes. Maybe my judgment is slightly clouded as I think I'm still in the honeymoon phase with the Radical Pro."
Comparing it to other racquets they've used, our testers said:
Andy - "It's crisper and livelier compared to the previous Prestige Pro. Some people (like me) prefer this, while other purists might prefer the soft, plush feel of previous versions. It felt pretty similar to the Dunlop F3.0 Tour, but the open string pattern gave the Prestige a livelier feel. It also felt similar to my Wilson Blade 98 because of the control and responsiveness, but the Prestige doesn't have the same heft and solid feel."
Troy - "I found the control and spin potential to be similar to previous versions of the Prestige Pro. I found it much firmer and more head-heavy than previous models. The only racquet that felt somewhat similar to me was my old Dunlop M-fil 300, which I customized to specs similar to this Prestige Pro."
Mark - "This new Graphene Prestige Pro is right in there with the likes of the Pure Storm Tour, the Dunlop first generation Biomimetic 200 (the newer Bio 200 too, but it is stiffer), the new Prince Response 97, the Volkl Organix 10 MP, the Pro Kennex Ki Q5 (315), the Wilson BLX 6.1 95 (open pattern) and the Pacific X Feel Pro 95. Without a doubt, I could convert this Graphene Prestige Pro into my next racquet. I think I would go with a full set of poly at a slightly lower tension, and perhaps try a hybrid setup to really dial it in. A top-notch frame choice for the player who is looking for control and stability with a good blend of maneuverability."
Michelle - "Lately, when I think Head tennis all I can think about is the Radical Pro, so comparing it to this Prestige Pro is my first instinct. The Prestige has more flex and is not as stiff as the new Radical. The Prestige Pro also comparable to the Speed Pro; I'd give the edge to this Prestige Pro at the net but I like the Speed Pro better for groundstrokes because it really comes through well on my groundies!"
Technical Specifications

Length
27.0 inches
69 centimeters
Head Size
98 square inches
632 square centimeters
Weight
11.7 ounces
332 grams
Balance Point
12.87 inches
33 centimeters
5pts Head Light
Construction
22mm Straight Beam
Composition
Graphene
String Pattern
16 Mains / 19 Crosses

Babolat RDC Ratings

Score

Grade

Flex Rating
63
Range: 0-100
Swing Weight
328
Range: 200-400
Scores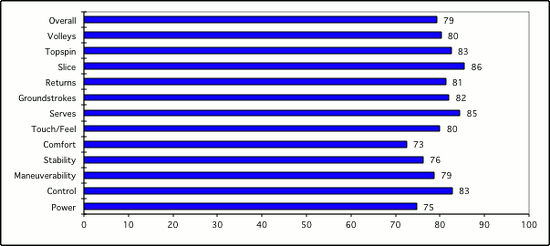 (Scores are determined by averaging individual play test scores)
Andy's Scores
Power
7
Serves
8.5
Control
8.3
Groundstrokes
8
Maneuverability
8
Returns
8
Stability
6
Slice
8.7
Comfort
7
Topspin
8.5
Touch/Feel
9
Volleys
7.5
Overall
7.8
Troy's Scores
Power
7.9
Serves
9.8
Control
8.8
Groundstrokes
8.8
Maneuverability
8
Returns
9
Stability
8.5
Slice
8.5
Comfort
7
Topspin
9
Touch/Feel
7.5
Volleys
8.2
Overall
8.4
Mark's Scores
Power
8
Serves
8
Control
8.5
Groundstrokes
9
Maneuverability
8
Returns
8
Stability
8.5
Slice
8.5
Comfort
7
Topspin
8
Touch/Feel
7.5
Volleys
8
Overall
8.2
Michelle's Scores
Power
7
Serves
7.5
Control
7.5
Groundstrokes
7
Maneuverability
7.5
Returns
7.5
Stability
7.5
Slice
8.5
Comfort
8
Topspin
7.5
Touch/Feel
8
Volleys
8.4
Overall
7.3
Playtester Profiles
Andy: Open level all court player with a semi-western forehand grip and a two handed backhand. Andy currently using a Wilson Blade 98 18x20.
Troy: 5.0 lefty all-court player with a full Western Forehand and a two-handed backhand. Troy currently plays with a Wilson BLX Six.One 95.
Mark: 5.0 lefty all-court player with a one-handed backhand. He currently plays with the Wilson Steam 99S.
Michelle: Open level baseline player with a semi-western forehand and a two handed backhand. She currently plays with the Babolat Pure Drive Roddick.

Review date: December 2013. If you found this review interesting or have further questions or comments please contact us.
All content copyright 2014 Tennis Warehouse.