Gamma Tour 340X Racquet Review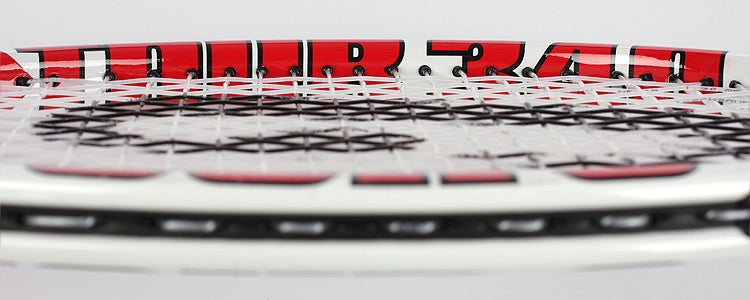 Tennis players can be forgiven for thinking about strings when they hear the name Gamma. After all, Gamma has been a major player in performance strings for many years.
Mention Gamma racquets, and many will think of the Big Bubba. Famous for its huge headsize and extra-long length, the Big Bubba is the big daddy of all game improvement racquets.
However, here we review something from Gamma that is completely different.
It is called the Tour 340X, and it might just change your entire perspective of Gamma.
Why so? Well, this new Gamma player's racquet impressed our testers so much, they are hailing it as the best Gamma racquet ever. It is a racquet that is all about one thing, performance. Gamma has designed the Tour 340X to perform for the true player. Those with the skills and strength will find the Tour 340X to be a deadly weapon.
This hefty stick offers a classic shaped, midsize head, with true player's specs. On paper, this racquet promises low-powered control from its tight string pattern, as well as plenty of heft for stability and plow through. When Gamma added a head light balance for better maneuverability, we should have known we had a winner on our hands.
Read on for the results of our month-long test to see just how impressed our crew was with the Gamma Tour 340X.
Groundstrokes - Score: 77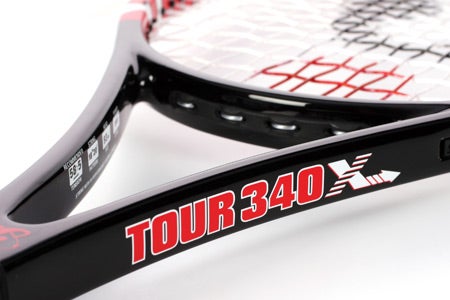 Our playtesters found this racquet to be a true player's stick, offering excellent stability, plow through and control. There was plenty of mass to penetrate the court, yet plenty of precision, due to the lower power level, to help our testers control aggressive swings. Extremely pleased with this offering from Gamma was Chris. He said, "Let me start off by saying this was the best Gamma racquet I've ever hit. I found a ton of control and feel from this racquet. It looks very Prestige-like in its design, and that was backed up by a similar feel on court. The tight string pattern offered so much feel I could stay on the gas and always be confident I wouldn't over hit. It offered a ton of mass for plow through, and I was hitting a heavy ball with this racquet. I loved the racquet on slice backhands, as I found lots of bite on the ball and the racquet just felt rock solid. When given time to set up, I could really unleash some powerful groundstrokes."
Granville liked the classic, performance-inspired feel. He noted, "This was a very nice surprise. It was soft and comfortable and had some mass to back it up. Off the ground, this racquet had a solid performance feel. It feels like a cross between a Six-One and a Radical Midplus. The soft flex lacks some of the crispness of similarly spec'd racquets, but it did add comfort. It required a bit more oomph to get it to the target. My first few groundies landed short, so I needed to adjust my targeting to overcome that. It was the same when hitting down the line; the flex was pushing my ball a bit wide (latent flex). Once I was dialed in, I forgot about the racquet, which is a sure sign I had a winner in my hand."
Troy found excellent control from the baseline. He stated, "The weight and balance of this racquet felt great from the first time I picked it up. I was initially finding a solid feel on my groundstrokes, with a firmness that I enjoy from racquets with a mid to high stiffness rating. The main problem I had was that I wasn't consistently finding enough depth on my heavy topspin grounds, which has been typical for me when using racquets with sub-95 square inch head sizes. I felt the control aspect was great and was able to dial in my angles and hit down-the-line shots with ease. The classic graphite feel, mixed with an 18x20 string pattern, provided top notch control and feel. I would have preferred the balance to be slightly less headlight, which I think would have helped my groundstrokes land a little deeper in the court and provided more plow through."
Experiencing good stability and plow through was Spencer, who said, "This is a fantastic feeling racquet from the baseline. It offers tremendous stability and plow through. Much like a Prestige mid or Six-One Tour, the Tour 340X is most beneficial for the higher level player. My forehand and both topspin and slice backhands were all penetrating. An easy swing and letting the mass of the racquet work for me made it enjoyable."
Volleys - Score: 85
The headlight balance kept this hefty stick quite maneuverable at net. With the maneuverability and stability offered, volleys were handled well and kept on line. Granville felt this racquet delivered when at net. He said, "On volleys, the soft feel was a big plus. I found great touch and maneuverability. With my favorite string and tension, I could definitely play with this racquet."
Feeling a surgeon's precision when at net was Troy. He said, "This stick had that scalpel-like feel when at net. Initially, I had to get used to the smaller sweetspot, being that I typically use a 98 square inch headsize. Once I was able to adjust to the headsize I found outstanding precision, and I was able to knife the ball. The stiffness combined with the mass resulted in a solid feel and provided good torsional stability; not giving me any uncomfortable twisting on contact. I didn't have any problems at net with depth, finding the mass to give me good penetration. Touch and feel was easy to find when going for drop volleys and short angles. Overall, this racquet had great precision at the net."
Chris enjoyed the heft of this racquet when volleying. He said, "The level of control at net was superb. This racquet was just so solid; I felt completely dialed in with my volleys. The feel I found from the baseline was there, and I was making some really nice touch volleys. I tend to favor heavier racquets at net, and this one was a perfect fit."
Also noting the stability at net was Spencer, who said, "Once again, the stability of this stick really shined at net. There wasn't a whole lot I needed to do with this racquet when volleying. The racquet does all the work, making maneuverability less of a factor because there isn't much motion needed for strong, concise volleys."
Serves - Score: 77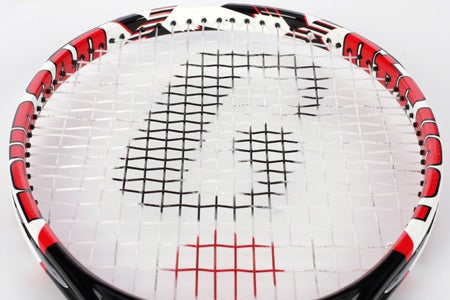 Though many of the testers enjoyed the weight and pace this hefty racquet could produce on serve, not all had the same level of success. Granville felt at home serving with this racquet, saying, "As expected, this is a nice serving racquet. I experienced excellent targeting, spin and control. This racquet also offered that nice 'thwapping' sound I like so much."
Producing a heavy ball when serving was Chris. He stated, "My serves were really penetrating with this racquet. I received lots of compliments on how heavy my serves were. I found the more I could relax, the more pace I could find from this racquet. There was so much mass coming through the ball I just tried to let the racquet do all the work. It took me longer to find my angles, as it was easier to let the racquet plow through the ball and push it straight. Getting the ball to curve with spin was a little harder, but once I got it all dialed in I was good to go."
Spencer touted serving as one of his favorite aspects of this racquet. He said, "Like other player's sticks I've hit, I really enjoyed serving. The weight and stability coming through the ball helped create a more difficult serve to return. It usually makes for a heavier ball, and I was definitely achieving that. Serves and volleys were the two aspects I enjoyed most playing with this stick."
Troy experienced a drop in power when serving. He said, "Once again, control proved to be this racquet's best aspect. I was able to place my serves very well, whether going for the kick, the slice, or the flat one down the T. With that being said, I found no added power on my serves. I felt that I was losing about 10 mph on my serves compared to my own racquet. With the string pattern being so dense I wasn't generating as much spin as I typically do when hitting my lefty slice serve. The lack of power and spin potential made me less confident in holding my serve consistently."
Serve returns - Score: 75
The weight of this racquet was advantageous in helping keep shots on target when returning. Chris had good success returning serve. He said, "Again, the mass of this racquet did the work for me. I was able to take very little backswing and return with good pace and accuracy. It was easy to tap into the server's pace and turn it around and use it against him. Bite from the stringbed was good and I was getting good topspin and slice with this racquet. The weight of the racquet also helped to keep things comfortable when I caught the ball late or was forced to stretch and hit outside of the sweetspot."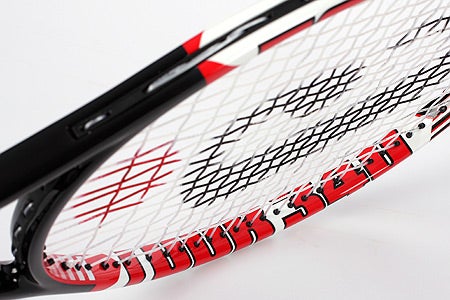 Enjoying the plow through and soft feeling flex was Granville, who said, "Another example of a great spec and how it applies to the serve return -- the racquet is 12+ ounces, so it has the mass to really affect the ball with great plow through. The soft flex allows you to really take a good swing at it. If you like taking the offensive on service returns then you will like this racquet. The racquet was very forgiving even if I didn't hit my best shot."
Troy felt the lack of power made him struggle, stating, "The power level of this racquet seemed to affect my level of play the most on returns. I was having a hard time getting good depth and penetration, which was similar to my experience with groundstrokes. During match play I found myself in a defensive position much earlier and much too often. I felt like if I wasn't being super aggressive and going for broke my returns were landing short and setting up my opponent with an easy second shot approach. When the serves were placed in my wheelhouse I found good stability and control, but with the racquet being under-powered for me, I just couldn't put up results that were beneficial to my game."
Using the mass of the racquet to create penetrating shots was Spencer. He said, "The Tour 340X was excellent for chipping and blocking returns deep. Short backswings were the key to good returning for me. If I tried winding up too much I was often hitting late or mishitting."
Overall - Score: 81
The Gamma Tour 340X impressed our players from all areas of the court. It provided plenty of heft and plow through to come through the ball with minimal torquing, while a head light balance offered good maneuverability for most of our testers. Though it takes some strength to wield this racquet, the reward is sweet. Whether it's a ball from the baseline, a serve or a volley at net, the Tour 340X provides good penetration. Many of our testers tout this racquet as not only Gamma's best racquet offering, but also compare it to the Head Prestige Mid, as well as other proven player's sticks.
Likes
Chris "I loved the control, feel, spin, stability and comfort, but most of all, I loved the plow through I found on my shots. As you can tell, I was very impressed with this racquet."
Granville "I liked the weight and balance (very head light), and the \$149 price makes it a nice alternative to higher priced frames."
Troy "This racquet possesses top-notch control as well as that classic graphite feel. A high-quality player's racquet that I feel compares to the Head Youtek Prestige Mid, Dunlop Aerogel 4D 200 and the Wilson KBlade Tour."
Spencer "The solid feel and plow through."
Dislikes
Chris "I'm not digging the cosmetic that much. I can live with it, but it didn't draw me to the racquet at all when I first saw it."
Granville "A little too soft for my tastes. I prefer a more crisp string and tension than tested."
Troy "The overall lack of power. I would have liked a slightly higher swingweight, without increasing the overall mass."
Spencer "The lack of forgiveness."
Technical Specifications

Length
27 inches
69 centimeters
Head Size
93 square inches
600 square centimeters
Weight
12 ounces
340 grams
Balance Point
12.625 inches
32 centimeters
7 points Head Light
Construction
20mm/19.5mm/20mm
Composition
Graphite
String Pattern
18 Mains / 20 Crosses

Babolat RDC Ratings

Score

Grade

Flex Rating
65
Range: 0-100
Swing Weight
329
Range: 200-400
Scores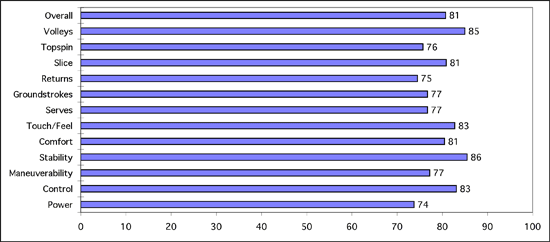 (Scores are determined by averaging individual play test scores)
Troy's Scores
Power
7
Serves
7
Control
9
Groundstrokes
7.2
Maneuverability
8.7
Returns
7
Stability
9.2
Slice
8.2
Comfort
8.3
Topspin
7.3
Touch/Feel
8.7
Volleys
9
Overall
8
Chris's Scores
Power
7.7
Serves
8
Control
8.4
Groundstrokes
8.2
Maneuverability
7.3
Returns
8.2
Stability
8.3
Slice
8.4
Comfort
8
Topspin
7.8
Touch/Feel
8.4
Volleys
8.4
Overall
8.1
Granville's Scores
Power
7
Serves
7.5
Control
7.75
Groundstrokes
7.5
Maneuverability
8
Returns
7.5
Stability
8
Slice
7.75
Comfort
8
Topspin
8
Touch/Feel
8
Volleys
8
Overall
8
Spencer's Scores
Power
7.8
Serves
8.2
Control
8.1
Groundstrokes
7.8
Maneuverability
6.9
Returns
7.1
Stability
8.7
Slice
8
Comfort
7.9
Topspin
7.2
Touch/Feel
8
Volleys
8.6
Overall
8.2
Playtester Profiles
Granville:5.5 all-court player currently using a Wilson K Factor Six-One Tour 95. Granville is an aggressive player who uses an eastern forehand grip and goes continental on everything else, hits with a flat swing and a one-handed backhand.
Spencer: 4.5 Baseline player currently using a Wilson Kobra Tour. Spencer uses a semi-western forehand grip, and hits with a one-handed backhand.
Chris: 5.0 All court player currently using the Volkl Power Bridge 10 Mid. Chris uses a full-western forehand grip, has a fast swing style and hits a one-handed backhand.
Troy: 5.0 lefty all-court player with a full Western Forehand and a two handed backhand. Troy currently plays with the Wilson K-Blade 98.

Review date: November 2010. If you found this review interesting or have further questions or comments please contact us.
All content copyright 2010 Tennis Warehouse.