Fila Sentinel Women's Shoe Review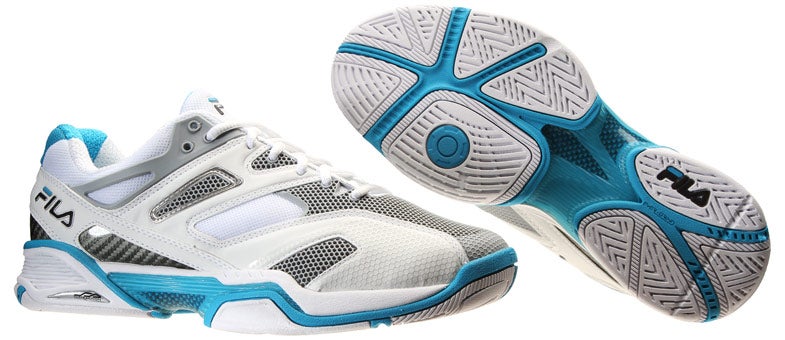 Fila Sentinel Women's Shoe Scores
Comfort
3.2
Ventilation
2.6
Arch Support
3.3
Foot Support/Stability
3.7
Overall Sole Durability
3.5
Toe Durability
3.7
Traction
3.5
Weight
2.7
Overall
3.0
Upsides
Stabillity
Durability guaranteed
Excellent traction
Summary
The Sentinel, the newest shoe offering from Fila, comes in a modern package while offering solid support for quick movers on the court. Worn by touring pros Julia Goerges and Jelena Jankovic, the Sentinel raised our playtesters' curiosity. They laced up their Sentinels, took to the courts and quickly found that Fila hit the nail on the head when it comes to support, stability and durability. With fresh color options and a six-month outsole guarantee, Fila Sentinel proves to be a great choice for players looking for a stable shoe.
Comfort - Score: 3.2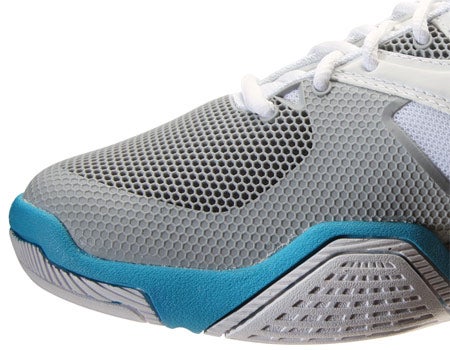 First things first with these Fila Sentinels. They do require a bit of a break-in. All three of our playtesters agreed that it took a minimum of two hours to open these shoes up and find optimal comfort. Brittany said the break-in period allowed the shoes to "mold around my feet, and let the upper loosen up a bit." She added, "I found these shoes to have a good amount of cushioning throughout the shoe, especially under the heel and around the ankle. I would describe the cushioning as very plush and pillowy."
"No wonder Fila went with the name Sentinel for this shoe," began Karly. "They sure kept an eye out for the comfort of my feet. With all the padding, comfort was easily the standout feature of this shoe. I never experienced any rubbing or pinching, and I was really happy with the soft feel of the shoe. There was just a slight break-in needed, but it only took about two hours for most of the stiffness to go away."
Disagreeing slightly was Michelle. She felt the cushioning was adequate, but she didn't consider it a plush shoe. She said, "I never felt like it lacked cushioning, but it wasn't as soft or pillowy as some of the shoes we have recently playtested. I did experience some rubbing on the outside of my big toe on both feet. I also wanted to note that I experienced a bit of knee soreness after wearing these shoes, which isn't normal for me, and is part of the reason why the comfort score is on the lower side."
Ventilation - Score: 2.6
Our playtesters agreed ventilation was not a strong suit for the Sentinel, even with the added mesh in the shoe's upper. Karly said, "It didn't take much time for me to want to take them off once my hit was over. Ventilation was missing from this shoe entirely. The shoes felt very hot once I got my heart-rate up and started to sweat. The temperature turned into a real distraction."
"The ventilation was not great in these shoes, but that's never a deal breaker for me," Michelle commented. However, she did have an issue because the lack of ventilation caused her feet to sweat. She noted, "The colorway that I wore (white/teal/grey) did bleed through onto my socks and some of the white parts of my shoe. Again, it wasn't a deal breaker for me, but I did have to start wearing black socks because these shoes turned several pairs of white socks blue."
Chiming in about the lack of ventilation, Brittany added, "I struggled with the ventilation of this shoe. While there is a fair amount of mesh on the upper, I didn't find a lot of air circulation and my feet were definitely heating up. As soon as I finished playing tennis I had to remove my shoes and change my socks. We are playtesting these shoes in the summer, and that makes the lack of ventilation even more noticeable."
Arch Support - Score: 3.3
The Sentinels provided good support for Michelle's high arches. She said, "I enjoyed how this shoe felt a bit snug around the arches and gave me a supportive feel in that area. I felt like the shoe held my foot well in the arch area."
However, Brittany struggled with the arch supports, explaining, "For some reason, the arch support of this shoe did not work for my medium arches. I thought that the support on my inner arches was a tad on the low side and wasn't giving me enough support. On the other hand (or should I say foot), the lateral arch support was too high, making my outer arches ache."
Karly added, "I usually don't have any issues with arch support, and I didn't here. The support was just fine for me. My arches never ached, so no complaints from me!"
Foot Support/Stability - Score: 3.7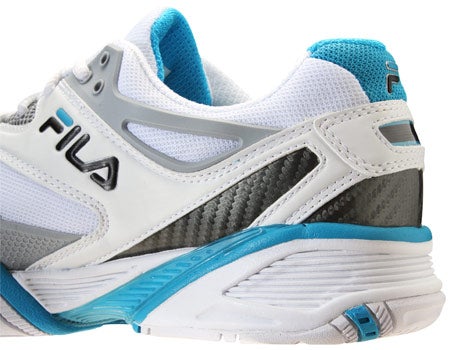 Although the Sentinel lacks ventilation, it made up for it in the area of support and stability. All of our playtesters found this shoe to be very stable, and it gave them the right amount of support on the court. "For me, the support and stability were the best features of the shoe," said Brittany. "I thought that the ankle collar held my ankle in place when I was making aggressive cuts, and I felt very confident moving all over the court. I thought the fit was more glove-like and kept the middle and front of my foot in place. I had some heel slippage, but that was fixed with a retightening of my laces. I will note that the toe box is a little wide, but it didn't pose any major problems on my narrow width foot."
The stability was solid for Karly, who stated, "I was able to move in any direction, or start and stop quickly without worrying about hurting myself. The shoe was a little roomy in the toe box so I experienced some sliding within the shoe, but I felt like it didn't affect the stability at all. There was enough material to brace my foot so I wouldn't roll an ankle."
Michelle found the Sentinel's strength to be its support and stability. She said, "The sock-like fit of this shoe ensures a stable and supportive ride. It provided a solid feel on the court, and I was never worried about twisting an ankle. Like Brittany and Karly mentioned, the toe box is a bit wide, but my feet didn't slide inside the shoes, and I thought they were very stable shoes."
Overall Sole Durability - Score: 3.5
The Sentinel comes with a six-month outsole warranty, and our playtesters had a lot of confidence in the outsole Fila has put on this shoe. All our players began to see some wear after significant use, but they were confident that the shoe's outsole would last longer than expected. Karly started to notice some smoothing of the outsole after about 15 hours of play, but thought it was nothing to worry about. She said, "The soles held up just fine and still have a ton more time left on of them. From the wear I've experienced so far, I'd say the Sentinel's durability is about average compared with most of today's shoes. They're not the toughest shoes out there, but they'll last long enough to get a good amount of play out of them."
Michelle echoed those comments, saying, "After two weeks of wearing just these shoes on the court (playing around 15 hours) I began to see some wear on the outsole under the toe, which is where I normally wear out my shoes. However, they are still holding up OK after a month of solid use. I love that if needed, I would be able to take advantage of the six-month durability guarantee with these shoes -- definitely an added benefit for me."
"The sole durability held up about average compared with other shoes of similar weight and stability," commented Brittany. "I could see the start of some wear in the normal places under my big toes. However, I thought a real added bonus of this shoe was the six-month outsole durability guarantee."
Toe Durability - Score: 3.7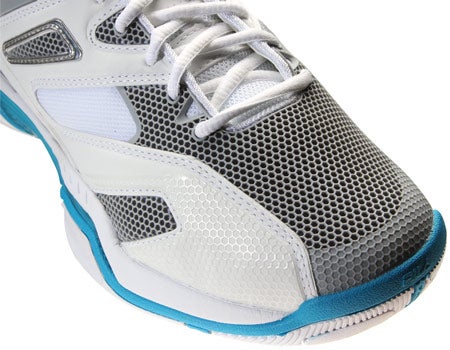 Our toe draggers, Karly and Brittany, found the toe bumper on these shoes held up pretty well to their vigorous on-court movement. Brittany said, "I thought there was medium durability on the toe. I saw some smoothing on the toe bumper within the first couple hits. The material above the toe bumper did not look as durable for those heavy toe draggers."
Karly added, "I have a tendency to drag my toes from time to time, but that didn't faze the Sentinels at all. The front of the shoe held up just fine, and I didn't see any significant damage. There is plenty of coverage around the front of the shoe to keep it well protected."
Traction - Score: 3.5
Michelle found the Sentinel offered the type of traction that she likes from her shoes, and described it by saying, "They gripped the court really well, and I could easily start and stop and change direction with no problems. It's definitely one of the stronger features of this shoe."
"The traction was good, especially for how heavy the shoes felt," said Karly. "They allowed just enough give so I didn't feel too stuck to the ground, and they were just tacky enough to get a good grip on the ground. I was able to get a good feel for the court with the exceptional traction."
Brittany agreed and added, "The traction on this shoe was a little above average for me. I thought the shoe gripped the court well enough, even though it was on the heavier side. It didn't have too much grip, so I never felt like I was stuck when changing directions. Additionally, I never felt the outsole was too slick. I never slipped when starting or stopping on the court."
Weight - Score: 2.7
Fila has built the Sentinels to be durable and stable, so naturally they have a bit of added weight. In fact, they are one of the heavier shoes on the market. When it comes to the weight of a shoe, Brittany gravitates toward a lighter, faster shoe. With that being said, she commented, "I put these shoes on and tried to guess the weight. They felt and played heavier than their actual weight. I didn't feel like I was moving as quickly as I could on the court, and the shoes felt a little bulky. They are also a little higher off the ground, which contributed to the clunky feel."
Michelle agreed that this shoe felt like it was on the heavy side. She said, "It felt a little heavy and bulky on the court for me. I don't usually mind heavier shoes because they have built-in support and stability, but this shoe didn't feel as quick as some of the other shoes in the same weight range."
Karly said, "When I first saw their actual weight I was expecting to see a number much higher than what was listed. The Sentinels were one of the clunkiest shoes I've ever worn. My movement on court felt much slower and louder than usual, and after playing in them my knees generally ached from making the heavy starts and stops. I think Fila could've easily sacrificed some of the extra padding to make these shoes feel lighter."
Overall - Score: 3.0
Likes
Karly Ð "All the padding and the solid feel provided great stability."
Brittany Ð "I liked the stability and the sole durability (especially with the six-month guarantee)."
Michelle Ð "Stability, support and traction."
Dislikes
Karly Ð "The heaviness took a toll on my movement. I couldn't move as fast in the Sentinels."
Brittany Ð "I didn't like the lack of ventilation, and the shoe felt a tad clunky for me."
Michelle Ð "These shoes bothered my knees a bit and felt a little slow and heavy on the court."
Comparing this shoe to others they've worn, our testers said:
Karly Ð "The Sentinels played a lot like the KSwiss Bigshot IIs -- both were very padded, offered similar stability and could have improved on ventilation and weight."
Brittany Ð "I would compare this shoe to the Babolat Propulse 3. The solid amount of stability and support were similar between the two shoes, as was the heavier, bulky feel. Additionally, I struggled with the fit of both shoes."
Michelle - "These felt pretty unique to me, and I can't say that I have worn anything that reminds me of these shoes."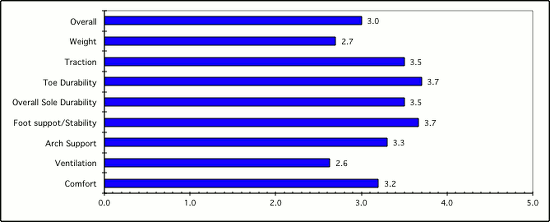 Playtester Foot Types:
Karly - Medium width, Medium-low arch
Brittany - Narrow width, Medium arch
Michelle - Medium width, High arch

Review date: August 2013. If you found this review interesting or have further questions or comments please contact us.
All content copyright 2013 Tennis Warehouse.