Tecnifibre E-Matrix String Review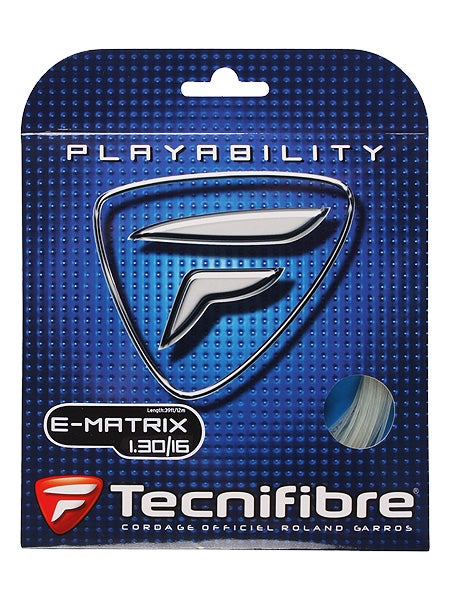 Tecnifibre E-Matrix String Scores
Power
90
Spin
69
Comfort
89
Control
73
Feel
73
String Movement
52
Playability Duration
68
Durability
76
Overall
74
Upsides
Comfort
Power
Price
Great hybrid cross
Downsides
Not enough spin for heavy topspin players
Not enough control and durability for big hitters
Summary
E-Matrix is a lesser known multifilament string from Tecnifibre, the company that manufactures NRG2 and X-One Biphase, two of the most popular and well-constructed multifilaments ever made. According to our playtest team, E-Matrix has the arm-friendly response and explosive kick of its more famous siblings, if not quite the gut-like feel. What impressed our team most, however, was the price-to-value ratio. This string gives consumers the lively playing experience of an arm-friendly multi at an almost unbelievably low price. While the spin potential and control are not likely to be sufficient for advanced polyester players, we think consumers will be hard pressed to find a more affordable combination of power and comfort. (Psst… players looking for an inexpensive but quality multi to complement a poly based hybrid could do a lot worse.)
Power - Score: 90 | Control - Score: 73
Like the majority of multifilaments we've hit, E-Matrix proved to be quite powerful. For Brittany, the powerful response of the string really stood out. She said, "If you are ever looking to add some power to your game, E-Matrix will definitely do the trick. I found easy access to power; too much power at times. I found myself hitting very deep in the court, sometimes in front of the baseline, sometimes significantly past it. I definitely had to dial back on some of my more aggressive shots. With so much power there wasn't much control. This wasn't a bad thing when I was just practicing or rallying, but when it came down to playing points I found myself aiming for big targets and dialing back my aggressive play."
Tiffani also found plenty of power. She said, "E-Matrix swung to the side of power for me. I played it in a couple of different racquets and each time I found the string to offer more power than control. It was especially noticeable because both of the racquets I used are power oriented. It was at 60 lbs in my Babolat Pure Drive and 58 lbs in the new Head Graphene Extreme Lite, and with both setups I initially had issues with hitting the ball slightly long. It took me a while to reel in my shots. With the added power from the string I didn't need to swing as hard to get nice pop off the stringbed."
Spin - Score: 69
Aimed at consumers who want comfort and power, E-Matrix is not designed with the stiff feel, sharp bite and slippery snapback found in the best spin strings. This explains why Tiffani yearned for more spin from this string. She said, "This was my least favorite aspect of the playtest. Perhaps it was because I don't naturally hit with loads of spin, but it was hard for me to add spin with E-Matrix. As I mentioned earlier, I had some issues with hitting my shots long. I adjusted, for the most part, on my topspin groundstrokes, but I never got a feel for my slice shots. I couldn't feel much pocketing and was very inconsistent with this shot."
"Being a poly user, I was definitely missing some spin when hitting with this string," said Brittany, adding, "With so much power I had a hard time getting my shots to drop inside the baseline. I was also missing the spin when I went for sharper angles. I had to make a very conscious effort to add extra spin to my shots so they would stay in play."
Comfort - Score: 89
With its army of flexible filaments, E-Matrix gave our playtest team amazing comfort. Brittany was impressed, saying, "One of the biggest positives of this string was the comfort. No matter what tension I strung it at, I always found it comfortable. It didn't matter if I was hitting in the sweetspot or closer to the frame, I never had any unwanted vibrations or pain. I would definitely say that E-Matrix is easy on the arm and great for anyone with arm issues."
No matter how tightly she strung it, E-Matrix still gave Tiffani a big, comfy sweetspot. She said, "Even at higher tensions in the stiffer racquets I hit with for the playtest, E-Matrix offered plenty of comfort for me. It never felt jarring, even on off-center hits. This was a nice break from all the co-polys I hit with on a regular basis."
Feel - Score: 73
Though our team didn't have any major complaints about the feel of E-Matrix, both playtesters wanted a slightly crisper response. Tiffani said, "The feel of E-Matrix fell in between Tecnifbre's NRG2 and X-One Biphase. It wasn't as soft as NRG2 and it didn't have as clean a feel as X-One Biphase. Personally, I prefer something crisper."
Brittany also wanted a crisper feel. She said, "I wanted a little more from this string when it came to feel. While there wasn't anything wrong with it, I wanted a little more crispness. If I had to rank it, it would fall somewhere between mushy and crisp."
Playability Duration - Score: 68
As with the majority of nylon-based synthetics, we think players will definitely have to do some string straightening with E-Matrix. Aside from that, this string held up pretty well for Brittany. She said, "I found this string to have around average durability compared to similar strings. After two weeks of playtesting I found no major changes in performance. Since this is a multifilament string I did experience a ton of string movement. I was fixing my strings every couple of minutes because they were moving all over the place."
"The tension maintenance was decent, maybe even slightly better than some other pricier multis on the market," said Tiffani. "I didn't feel like the playability changed a whole lot through the playtest. There was quite a bit of string movement, however, and as the strings got worn it got more difficult to straighten them out."
Overall - Score: 74
What type or player would you recommend this to?
Brittany - "I would recommend this to a player looking for power and comfort in a string. This is perfect for a player that is on a budget. It would also be a great cross string for a poly/multi hybrid."
Tiffani - "This string is a nice option for players who want a string that's easy on the arm and affordable. This is a great price point for players who don't break their strings too often and are looking for some power."
Likes
Brittany - "I liked the power, comfort and price of this string."
Tiffani - "The price-to-performance ratio is great. At less than $5 a set, E-Matrix offers plenty of power and comfort."
Dislikes
Brittany - "I would have liked a crisper feel and more spin."
Tiffani - "There wasn't much spin to be found with E-Matrix, so I struggled to find a groove off the ground. There's a lot of string movement that requires straightening the strings after every point."
Comparing the string to others they've tried, our testers said:
Brittany - "I would compare it to Tecnifibre X-One Biphase. They both are comfortable and powerful. X-One Biphase has a slightly better feel in my opinion, but E-Matrix has a price that can't be beat."
Tiffani - "This is a good value string. Looking at the Tecnifibre multifilament lineup, E-Matrix isn't quite as comfortable as NRG2, and it doesn't have as much feel as X-One Biphase. Then again, it's not nearly as pricey, either."
Scores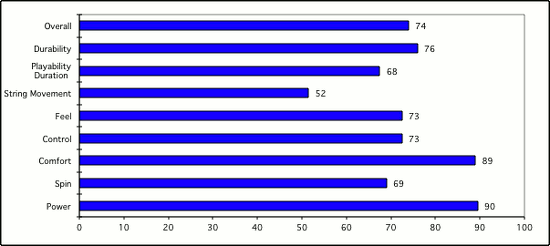 (Scores are determined by averaging individual play test scores)
Brittany's Scores
Power
9
Playability Duration
6
Spin
6.5
Durability
8.5
Comfort
9
Control
7.5
Feel
7
String Movement
4.3
Overall
7
Tiffani's Scores
Power
8.9
Playability Duration
6.7
Spin
7.3
Durability
7.5
Comfort
8.8
Control
7
Feel
7.5
String Movement
6
Overall
7.8
Playtester String Setups
Brittany:
Playtest Racquet: Yonex EZONE Ai 100
Playtest Tension: 52 & 58 lbs
Typical String: Volkl Cyclone 16
Tiffani:
Playtest Racquet: Babolat Play Pure Drive
Playtest Tension: 58 & 60 lbs
Typical String: Tecnifibre X-One Biphase 16

Review date: July 2014. If you found this review interesting or have further questions or comments please contact us.
All content copyright 2014 Tennis Warehouse.