Donnay Pro One Racquet Review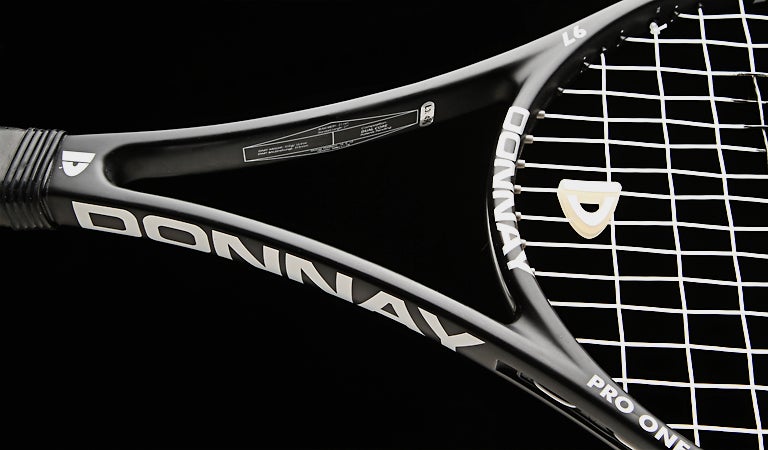 Donnay Pro One Scores
Comfort
82
Touch/Feel
80
Serves
80
Groundstrokes
80
Returns
80
Slice
81
Topspin
84
Volleys
81
Overall
80
Upsides
Impressive power
Access to spin
Stability
Solid feel
Downsides
May feel sluggish compared to similarly weighted racquets
Summary
We're big fans of the Donnay Pro One heritage. So big, in fact, that we brought two versions of the racquet back to the market a few years ago. With those gone from our shelves, we were beside ourselves to see another new Pro One come to the market, and we just had to test it. Though weighing in at 11.5 ounces strung -- light by traditional player's racquet standards -- our TW testers found that this racquet played heavier than its listed weight. That was a delight to those playtesters used to racquets in the 12-ounce range, but required some adjustments for our testers who are used to racquets weighing around 11.5 ounces. Once adjusted, all of our testers enjoyed the power, stability and control offered by the Pro One from all areas of the court. While offering a different response to the X and X-Dual Series, the Pro One offers the high level of feel we've come to expect from Donnay. This Pro One pleased our baseline players and our all-court players. They found little to dislike and recommend this racquet for players looking for easy power and excellent control.
Groundstrokes - Score: 80
The Donnay Pro One impressed our team with its great access to spin and power. The racquet provided Chris with plenty of pop from the ground. He said, "I found impressive power with easy access to spin. I enjoyed hitting topspin off both wings and found the ball to really jump off the racquet. Compared to the X-Dual Donnays, this racquet felt very lively. When given the opportunity I was able to step in and really crack the ball with this racquet. I wouldn't say it had Youtek IG Radical Pro power, but it gets close. It does have better feel, though, and I enjoyed good touch on angles and drop shots. My slice was decent, but I think I could have found more bite from a tighter string pattern."
Mark was able to hit with nice variety. He said, "With an average static weight of 11.5 ounces, the Donnay Pro One is not extremely heavy for a player's racquet, but there is enough weight toward the tip of the frame that it was stable against my oppent's pace and depth. The first several swings with it were not the most rewarding, but within 10 minutes of hitting groundstrokes I began to benefit from what I feel it is designed to be: a player's racquet that is just heavy enough to provide good plow through without inhibiting maneuverability. I was able to change pace, spin and direction on the ball like dialing a volume control, regardless of what was being launched over the net at me."
Needing time to adjust to the swingweight was Jason. He said, "I had to get used to the swingweight, along with the power that came with it. It's not necessarily a high swingweight, but it was higher than I'm used to. At first, I was hitting late on a lot of my shots or hitting them deep. But once I realized I needed to prepare earlier, it was great. I was hitting with a lot more power than I was used to. It definitely plays heavier and with more plow through than most mid-11 ounce racquets I've used. Spin production was top notch as well. The directional control was just a small issue because I'm not accustomed to that 330 swingweight."
Spencer agreed, adding, "When I first saw the specs I felt like it would be a good fit for me. During my first hit with it I thought, either I'm feeling a bit depleted or this racquet plays heavier than the specs indicate. The latter happened to be the case here, as confirmed by some others who have played with it. Once I was used to the weighty response I was thrilled with the stable feel, along with the control and spin. I found I could hit a variety of shots, and the racquet responded well to all of them. Power and precision were well balanced on the forehand side, and I felt comfortable coming over the top of my backhand, both crosscourt and down the line. It was the backhand slice, though, that I liked best. The directional control was fantastic and the mass within the frame plowed through the ball for good drive and low bounces."
Volleys - Score: 81
For the most part our testers enjoyed using the Donnay Pro One up at net. The feel was what stood out most for Spencer. He said, "The mass of this racquet allowed me to hit solid volleys without having to do much of the work. Even though it was nice to be able to end points with a solid punch volley, I should mention the touch and feel as well. I felt more confident feathering or hitting placement volleys than I do with other racquets with these specs."
As he did from the baseline, Mark found success at the net. He said, "It was the same scenario with volleys as it was with groundstrokes. There's enough mass to keep the racquet stable at contact, and just barely enough maneuverability to get it there on time."
An easy racquet to maneuver at the net, it also produced some really useful punch, said Chris. "I was able to snap high volleys away with ease. I liked the level of power and found I could be aggressive without fear of overhitting. I also found good touch and feel from this racquet. I was able to hit some nice angled volleys, as well as drop volleys. I found this to be a great serve and volley racquet."
Jason was never able to get in a groove. He said, "I struggled a bit with this racquet up at net, but I struggle up at net most days. I just never got too comfortable with it, and I don't think it was just because of the swingweight. I did like how it was fairly stable torsionally, so when I hit volleys off-center they still had enough pop and control to go where I wanted them to go."
Serves - Score: 80
Our playtesters agreed that the Donnay Pro One provided solid stability and impressive power on serves. The added power was great for Jason, who said, "I'm pretty sure I was hitting my serves harder than I have in a while, but I'd like to take out the radar gun to confirm my feelings. It was nice to be able to get a few more free points on my first serve. I liked the spin on my second serve, especially with a polyester. That sluggish feel wasn't nearly as evident in this area."
Spencer served well. He said, "I really enjoyed serving with this racquet, for both its power and consistency. I felt comfortable serving to both sides of the box. When I used a fluid motion, which allowed the racquet to come through the ball, my serve was effective. When looking for a little extra zip, the Pro One responded."
Serving with ease was Mark. He said, "I'm accustomed to swinging racquets that are a bit heavier, so developing racquet head speed was almost a breeze with the Pro One. The sweetspot was generous; I never once thought the headsize was too small. Access to pace and spin on the serve was easy and predictable."
Chris was pleased with the power and spin on his serves. He said, "Again, good pace and spin were there for the taking on serve, just as I found from other areas of the court. I was happy with the pace on both first and second serves. Adding a little brush to the back of the ball resulted in ample spin. I was getting some good slide on my slice serve out wide and enough kick on topspin serves. I liked the comfortable feel, and the racquet seemed to come through the contact well with some nice stability."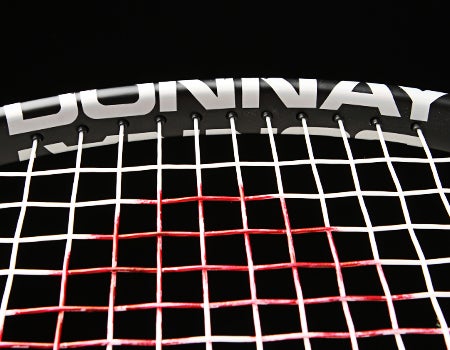 Serve Returns - Score: 80
With its slightly higher swingweight, the Donnay Pro One got mixed reviews from our team on returns. Mark was able to hit a variety of returns. He said, "The firm beam, weight, and balance of the new Pro One provided versatility, whether I sliced, punched or applied topspin on a return."
Chris was also able to hit a nice variety of returns. He said, "I could snap this racquet around quickly, which enabled me to be aggressive on my returns. The racquet responded well to an aggressive swing, with good power and plenty of spin. Comfort was impressive, and the racquet felt pretty forgiving even on off-center shots. I was able to drive the ball deep, roll an angle or float a slice. With so many options, I had fun returning with this racquet."
Jason struggled to return serves from the bigger hitters. He said, "I had my ups and downs here. When it was a big first serve I just couldn't get my timing right. I was late on a lot of returns because I just wasn't used to the higher swingweight, but when I was either going after a slower serve or blocking back a big serve, I liked it. It had enough mass to get the ball back deep and with some spin."
Spencer wasn't able to find his groove. He said, "This was my least favorite category, especially on forehand returns. With the swingweight running a tad high for me, I really had to be cognizant of using a shorter swing for better timing and control. I didn't feel like I could attack much off returns, though I was happy with the depth I was getting when chipping or blocking the ball back."
Overall - Score: 80
Likes
Chris - "I liked the power, spin and comfort."
Mark - "Versatility is the word that I would use, if I could only use one to describe the new Pro One. With a low tensioned poly, I was able to rely on it within a short amount of time. Access to pace/spin was no issue, and the stock swingweight was enough to keep me from wanting to modify it with much extra weight. The dark, monochromatic color scheme works for me as well."
Jason - "The soft, solid feel. Plenty of power and plow through for its weight. Nice access to spin."
Spencer - "The overall solid feel, as well as the control."
Dislikes
Chris - "The racquet played great, but the string pattern wasn't an ideal fit for me -- for that reason I can't wait for the 18x20 version."
Mark - "There wasn't much I didn't like about this racquet, as it complemented my style nicely. This is splitting hairs, but if it weighed closer to 11.9 ounces, and a 330ish swingweight, it could be my personal Hattori Hanzo sword, so to speak."
Jason - "Too high of a swingweight for me."
Spencer - "The maneuverability wasn't quite where I like it."
Comparing the Pro One to other racquets they've hit, our testers said:
Chris - "I thought it offered that effortless level of power I found with the Youtek IG Radical Pro. The Radical Pro is slightly more powerful for me, but this one gets close. This racquet had a different feel compared to previous Donnays I've hit. I liked a lot about it, but it was just missing the magic of my current Youtek IG Prestige Midplus. I'm thinking the 18x20 version will get me very close to perfection. This racquet felt firmer and more solid in response compared to the X-Series and even the X-Duals, but it didn't have quite the feel I enjoy from a tighter stringbed."
Mark - "It reminded me of the BLX Blade 98, from Wilson, but a bit more forgiving with the open string pattern."
Jason - "It swings like the Head Youtek Radical Pro or Speed Pro, but with a softer feeling response."
Spencer - "It reminds me a bit of the IG Youtek Radical Pro, as the higher swingweight, combined with its other specs, makes for a solid feel with good depth and put-away power."
Technical Specifications

Length
27 inches
69 centimeters
Head Size
97 square inches
626 square centimeters
Weight
11.5 ounces
326 grams
Balance Point
13 inches
33 centimeters
4pts Head Light
Construction
21.5mm Straight Beam
Composition
Xenecore
String Pattern
16 Mains / 19 Crosses

Babolat RDC Ratings

Score

Grade

Flex Rating
64
Range: 0-100
Swing Weight
327
Range: 200-400
Scores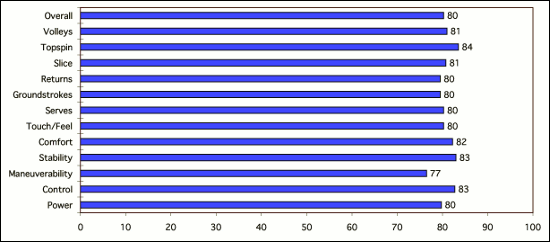 (Scores are determined by averaging individual play test scores)
Chris's Scores
Power
8.3
Serves
8.2
Control
7.8
Groundstrokes
8
Maneuverability
7.8
Returns
8.1
Stability
7.9
Slice
8.1
Comfort
8.3
Topspin
8.3
Touch/Feel
7.9
Volleys
8.1
Overall
7.9
Mark's Scores
Power
7.5
Serves
7.5
Control
9
Groundstrokes
8.8
Maneuverability
8.5
Returns
7.5
Stability
8.5
Slice
7.5
Comfort
7.5
Topspin
8.5
Touch/Feel
8
Volleys
8.5
Overall
8.3
Jason's Scores
Power
8
Serves
8
Control
7.5
Groundstrokes
7.5
Maneuverability
7
Returns
7.6
Stability
8.3
Slice
8.2
Comfort
8.5
Topspin
8.3
Touch/Feel
8.2
Volleys
7.5
Overall
7.6
Spencer's Scores
Power
8.1
Serves
8.4
Control
8.8
Groundstrokes
7.5
Maneuverability
7.3
Returns
8.6
Stability
8.5
Slice
8.5
Comfort
8.6
Topspin
8.3
Touch/Feel
8
Volleys
8.3
Overall
8.3
Playtester Profiles
Chris: 5.0 all court player currently using the HEAD Youtek IG Prestige Midplus. Chris uses a full-western forehand grip, has a fast swing style and hits a one-handed backhand.
Mark: 5.0 lefty all-court player with a one-handed backhand. He currently plays with the Dunlop Aerogel 4D 200.
Jason: 4.0 baseliner with a semi-western forehand and two-handed backhand. Currently using a Boris Becker Delta Core London.
Spencer: 4.5 baseline player currently using the Prince EXO3 Tour 100 16x18. Spencer uses a semi-western forehand grip, and hits with a one-handed backhand.

Review date: April 2012. If you found this review interesting or have further questions or comments please contact us.
All content copyright 2012 Tennis Warehouse.