Dunlop M4.0 Racquet Review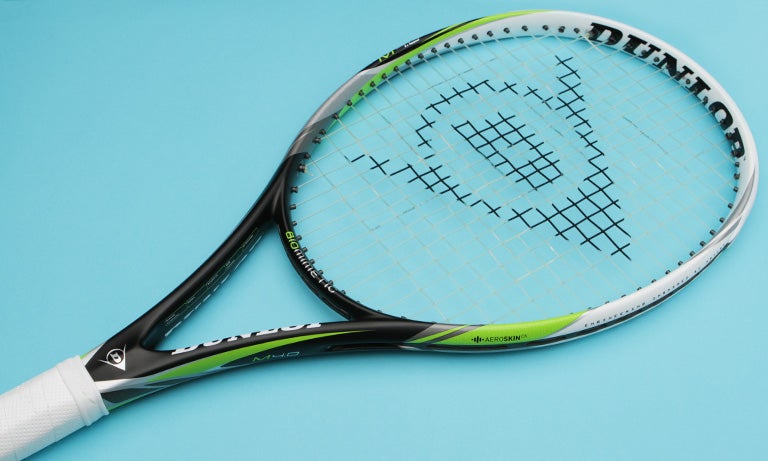 Dunlop M4.0 Racquet Scores
Power
78
Comfort
75
Touch/Feel
79
Serves
80
Groundstrokes
78
Returns
79
Slice
79
Topspin
82
Volleys
76
Overall
78
Upsides
Improved stability
Fast swinging
Spin-friendly
Downsides
Unforgiving out of sweetspot
String sensitive
Summary
The specs of the Biomimetic M4.0, Dunlop's update to the Biomimetic 400, had us expecting a stable, yet lively and fast racquet. We had four of our playtesters spend a solid month getting to know the M4.0, and they quickly found that it lived up to its promise of being fast and maneuverable, while they also found a very spin-friendly response. When it came to hitting groundstrokes, our entire team enjoyed the extra access to spin and power, and they found these qualities to be amplified (in the best way possible) when hitting aggressive service returns. This racquet was also good for starting a point off with a big, flat serve or hitting a spin second serve. At the net this quick moving racquet made volleys easy to block back or carve into the court. The added stability, spin and maneuverable response (in a comfortable and light package) make this an excellent update to the Biomimetic 400.
Groundstrokes - Score: 78
Access to spin was a standout feature from the baseline for our playtesters when using the Dunlop M4.0. It was simple for Chris to generate a lot of spin, and the very light and fast feel enabled him to brush aggressively up the back of the ball to get his groundstrokes jumping. He said, "I found it easy to cut around the ball to hit a curving slice or roll a topspin angle. The racquet felt so fast that my first time out with it I found myself ahead of the ball several times because my timing off slightly. The rest of the month-long test got me in better tune with the racquet. I was able to hit with several string setups, and I found a low tensioned co-poly to work the best. This racquet was a little unforgiving outside of the sweetspot and a low tension helped provide a more forgiving response. The co-poly also helped grab the ball for even more spin. With that setup I could step inside the court and take the ball early. The racquet's maneuverable response allowed me to maintain good contact, and the spin allowed me to be aggressive and change the direction of play at will. I think a little added weight would make this racquet feel more solid, more forgiving and even better suited to aggressive play."
This was the second racquet in the 400 series that Brittany has playtested, so she had a good idea of what to expect when taking this one out to the courts. "When I played with the previous version (the Biomimetic 400) I was impressed with the power and maneuverability. With this update, I was again treated to a quick swinging racquet with a lot of power. Along with the maneuverability, I was able to generate a lot of spin. This was very beneficial, as part of my game plan is to pull my opponents off the court, especially on the forehand side. When I was on defense I was able to hit low slices to help me stay in the point."
Jason decided that there were two standout characteristics for him: the spin and the maneuverability. He explained, "I felt like I could whip this racquet around quickly, which was especially helpful when picking up shots hit at my feet. With the open string pattern I was generating tons of spin from both wings. The downside for me was that the stringbed felt erratic. Some shots provided great pop and spin, while other shots I hit just slightly off center had no power or spin. It did feel like the M4.0 got pushed around a bit when I was hitting with the big hitters on the playtest team."
"I was really happy with how the Biomimetic M4.0 performed off the ground," began Tiffani. "I've found Dunlops to be lower powered, but this one offered easy pace for my groundstrokes. The M4.0 feels more powerful and consistent than the Biomimetic 400 I tested a while back. This one has a crisp and comfortable feel even when strung with full beds of poly, and it swings very easily. I could whip it through the contact zone when needed, and I felt pretty confident adding both topspin or slice to my shots. I enjoyed that crisp feel because it helped me feel in command of my shots, with good directional control."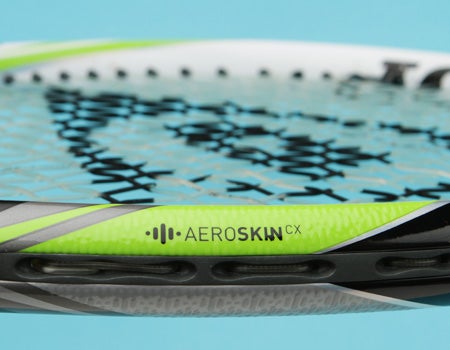 Volleys - Score: 76
Our playtesters seemed to find a good balance when volleying with the M4.0. The stability from the added mass paired with the standout maneuverability of this racquet, which made it easy for our playtesters to block back big balls and be creative with their volley selection. Tiffani said, "I felt pretty comfortable at net, but nothing stood out to me. The racquet did move into position easily, and like with groundstrokes, I found easy pop off the stringbed. This was my least comfortable area of the court, but I didn't shy away from the net with the M4.0 in my hands."
"Again, maneuverability was the story with this racquet," stated Chris. "It was very easy to get the M4.0 into position, and it worked well on high put-away shots, overheads and anytime I wanted to add a little swing to my volley stroke. The downside was stability. I would have liked more weight in the head of the racquet for more stability, and to help me punch deep volleys. When looking for touch I had to hold the racquet firmer than I'd like to help keep it stable. However, I was getting lots of bite from the stringbed, and it was easy to add spin to my shots."
Brittany found that the added mass in the head of the racquet added some stability that she thought was lacking in the previous version. She explained, "I found the extra weight helpful up at net, as the racquet was solid and stable. I was not getting pushed around when hitting with players who hit bigger, heavy shots. The crisp feel also helped out at net, and I was able to place the ball wherever I wanted, whether it was deep or angled."
The feel and response up at net was good for Jason. He said, "Because of the low swingweight, getting the M4.0 into position to hit a volley was easy, but I struggled up at net because of the lack of mass in the hoop. A lot of my volleys went into the net because the M4.0 couldn't handle the pace if I didn't catch the ball cleanly. Overheads were much better, though."
Serves - Score: 80
Our playtesters found the M4.0 helped them add variety to their serves, and targets were easy to hit with their flat and spin serves. The serve was Jason's favorite shot with the M4.0. He said, "I was able to serve at a high percentage and put plenty of spin on my shots. I also felt like I could control the direction of my serves easier than I could with most of the other racquets I've tried. Not a lot of power here, but that didn't bother me since my service style is more about spinning the ball in rather than hitting aces."
Hitting big flat first serves was a breeze with this racquet for Brittany. The combination of power and maneuverability really helped generate some solid serves with this racquet. She elaborated, "The racquet was a tad stiffer and helped add a little extra oomph when I was really going after my first serve. While nothing really stood out when serving with this racquet, I didn't have any problems hitting my targets consistently."
Chris, who has been putting a lot of work in on his service game, also served pretty well with this racquet. "I was getting decent pace and lots of spin. I never felt like I was blowing opponents off the court, but the amount of pace I was getting helped me sneak the ball past returners for a couple of aces here and there. The spin I was getting helped me keep faster serves inside the lines, while the feel was decently crisp and precise. When hitting second serves I was able to get the ball to move around some thanks to all the spin I was getting. I was having a lot of success sliding the ball wide on the deuce side."
Rounding out the positives on serve was Tiffani. She said, "Perhaps it's the stiffness of the racquet helping me out here, but I did like the M4.0 on serve. I usually find heftier racquets or extended length racquets to be the only ones that help me out on serve, but even though I wasn't serving huge (never do), I did feel like I was getting some decent pace and easy spin on serves."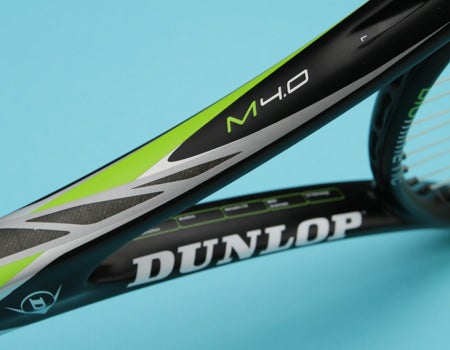 Serve Returns - Score: 79
With its maneuverability and stability, the M4.0 helped our playtesters crush their returns when swinging aggressively. Tiffani said, "It swings fast, making it easy to get my racquet on most serves. The stability was on par with other racquets in this same weight category, so I was happy in that regard. I felt confident that I could get myself into points, and even attack weaker second serves."
"For some reason, returns felt much better than groundstrokes," said Jason. "Because of how whippy it was, I could step in, take the ball early and hit shots and angles I don't normally hit. It was a bit of a crapshoot when I had to block a shot back because sometimes It would sail long by 3 feet and other times it would land 3 feet inside the service line. Perhaps it wouldn't have happened so often if I were a better player and could hit my returns cleaner."
"Being a player who chooses to return when I win a coin toss, a racquet that performs well on serve returns is very important to me," began Brittany. "This racquet had enough maneuverability for me to get it in place whether I was returning a first or second serve. While the stability has improved from the previous version, I was still wishing for a tad more weight when I had to return heavier serves that kicked above my shoulders. I had a little bit better luck returning second serves, as I was able to step in and take the ball on the rise to start the point on offense."
Chris liked the response of the M4.0 when he was able to keep the racquet moving quickly with an aggressive swing. He said, "A faster swing seemed to assist with stability, and the choice of a lower string tension helped make the racquet more forgiving. I continued to get lots of spin, and I found it easy to get my shots to dip inside the lines. On slower swings, such as block returns, the racquet got pushed around a little too much. Again, I'd be adding weight to give it both a more solid feel and some added pop."
Overall - Score: 78
Likes
Chris - "It has a very fast feel, with great access to spin."
Brittany - "It's a very maneuverable racquet with a good combination of power and spin."
Jason - "Maneuverable. Great access to spin. Responsive feel."
Tiffani - "The crisp feel and quick swing. I felt pretty connected to where my shots were going when I was hitting from the baseline."
Dislikes
Chris - "It gets pushed around too much because it's so light, and the sweetspot gets small at mid to high tensions."
Brittany - "I had a slight bit of discomfort when hitting outside the sweetspot. Additionally, this racquet is extremely string sensitive, and I was having trouble finding a string I liked in it."
Jason - "Erratic stringbed. It does get pushed around a bit. String sensitive."
Tiffani - "I can't really think of anything that I dislike. I liked it, not loved it, from all areas of the court."
Comparing it to other racquets they've used, our testers said:
Chris - "This racquet really reminded me of the M3.0 we tested last year. Both feel crisp and are very fast, but they can be unforgiving off center. The feel also reminded me of the Slazenger V100 Team, except the V100 Team felt like it had more weight in the head and slightly better stability."
Brittany - "This racquet played very similarly to its predecessor, the Biomimetic 400. There are a couple small differences. The first is that I found this racquet to be slightly more stable, which I attribute to the added mass in the head. The second difference is that the swingweight is higher, which I actually enjoyed. The higher swingweight added some extra plow through that I felt was missing from the previous version."
Jason - "Similar feel and play to its predecessor, but with a slightly more stable feel. It also reminds me of the Head Graphene Instinct MP."
Tiffani - "I enjoyed this racquet much more than Biomimetic 400. I found more consistent power with this one. This is like a Babolat Pure Drive in many ways, but not as powerful. I tested this alongside the Prince Warrior 100, and these play very similarly in terms of maneuverability, power and spin. For a softer, muted feel, I would go with the Prince. For a crisper feel, go with the Dunlop."
Technical Specifications

Length
27.0 inches
69 centimeters
Head Size
100 square inches
645 square centimeters
Weight
11.0 ounces
312 grams
Balance Point
13.12 inches
33 centimeters
3pts Head Light
Construction
23mm / 24mm / 23.5mm
Composition
Graphite / Brofibre
String Pattern
16 Mains / 19 Crosses

Babolat RDC Ratings

Score

Grade

Flex Rating
68
Range: 0-100
Swing Weight
315
Range: 200-400
Scores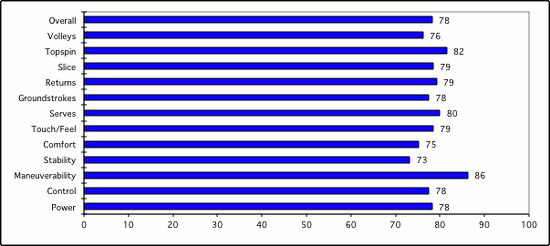 (Scores are determined by averaging individual play test scores)
Chris' Scores
Power
7.5
Serves
7.8
Control
7.6
Groundstrokes
7.6
Maneuverability
8.9
Returns
7.8
Stability
6.7
Slice
8
Comfort
7
Topspin
8.5
Touch/Feel
7.5
Volleys
7.4
Overall
7.6
Brittany's Scores
Power
8.5
Serves
7.9
Control
7.5
Groundstrokes
7.6
Maneuverability
8.7
Returns
7.8
Stability
7.6
Slice
7.7
Comfort
7.5
Topspin
7.5
Touch/Feel
7.6
Volleys
7.1
Overall
7.8
Jason's Scores
Power
7.4
Serves
8.3
Control
8
Groundstrokes
7.7
Maneuverability
8.5
Returns
8
Stability
7.1
Slice
7.9
Comfort
7.8
Topspin
8.4
Touch/Feel
8.4
Volleys
8
Overall
7.8
Tiffani's Scores
Power
7.9
Serves
8
Control
7.9
Groundstrokes
8.1
Maneuverability
8.4
Returns
8.1
Stability
7.9
Slice
7.8
Comfort
7.8
Topspin
8.2
Touch/Feel
7.9
Volleys
8
Overall
8.1
Playtester Profiles
Chris: 5.0 all-court player currently using the Wilson Six.One 95S. Chris uses a full-western forehand grip, has a fast swing style and hits a one-handed backhand.
Brittany: Open level player with a semi-western forehand and a two-handed backhand. She currently plays with the Yonex V-Core 100S.
Jason: 4.0 baseliner with a semi-western forehand and two handed backhand. Currently using a Wilson Steam 99 S.
Tiffani: 4.0 level baseliner with a semiwestern grip on the forehand and hits a two-handed backhand. Currently playing with the Donnay Formula 100.

Review date: January 2014. If you found this review interesting or have further questions or comments please contact us.
All content copyright 2014 Tennis Warehouse.