Dunlop Biomimetic M5.0 Racquet Review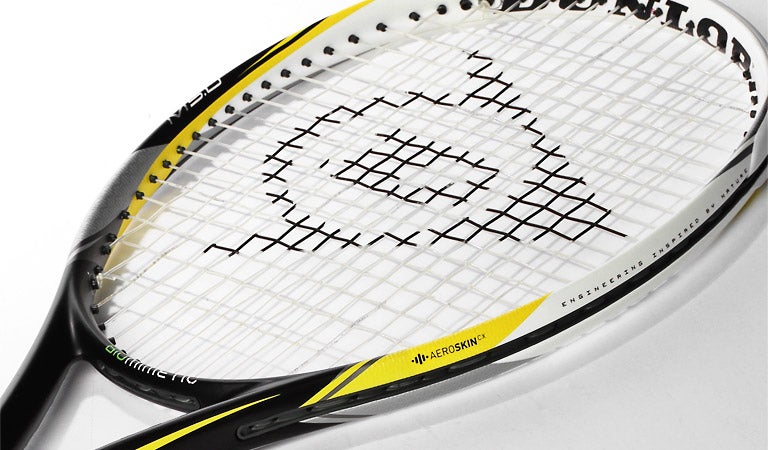 Dunlop Biomimetic M5.0 Scores
Comfort
80
Touch/Feel
81
Serves
82
Groundstrokes
83
Returns
84
Slice
83
Topspin
85
Volleys
81
Overall
84
Upsides
Fast swinging
Solid feel for its weight
Spin-friendly
Powerful
Downsides
Can be pushed around by big hitters
Summary
Our playtesters found the Dunlop Biomimetic M5.0 to be incredibly maneuverable from all areas of the court. Everyone really enjoyed the crisp, fast feel this racquet had to offer and how easy it was to play with. However, the one sentiment that echoed throughout the playtest was the desire for more mass behind the racquet to add to the plow through. From the baseline, our TW playtesters found it very easy to load the ball with spin and power. This racquet seems best suited for counter-punching players who are looking for a fast racquet. This racquet is ideal for fast exchanges at the net and for blocking balls back, rather than adding crushing power. In the department of serves and serve returns, this racquet suited all levels and types of playing styles. It was very maneuverable, and it was easy to swing fast to add pace. Overall, the M5.0 proves to be a high performance racquet in a light package.
Groundstrokes - Score: 83
Right off the bat, the Dunlop Biomimetic M5.0 proved to be maneuverable and quick off the ground. These qualities shone through for Brittany, who said, "Weighing in at 10.4 ounces with a 311 swingweight, this racquet was very easy to swing. I could really get a lot of racquet head speed. This racquet was also very powerful, and I found it to have a fairly large sweetspot. I found success when I had to redirect my groundstrokes using the pace of my opponent, but I found my ball lacked some weight behind it. I thought my slices were OK, but there wasn't any extra plow through to help me really keep the slice low."
Chris agreed about the lightweight quality of this racquet, and said, "It's a light and fast racquet off the ground, so I found it very easy to generate pace and spin. I liked how I could roll the ball deep, snap it cross court or drive the ball with pace. Because the Biomimetic M5.0 was so easy to swing, I could hold my shot until the last possible instant to keep my opponents guessing. The faster I swung the more stable and solid the racquet felt. I thought this racquet was solid and comfortable as long as I kept the racquet tip speed high. On slower swings the racquet lacked the mass needed for effortless depth, but it still felt comfortable. I thought there was a lot of control with a co-poly string in the low to mid-50 lbs range. I really liked stepping inside the court and driving both forehands and backhands with pace and spin. This racquet just felt so good on that kind of shot."
Chiming in on the performance of this Dunlop from the baseline was Karly, who really loved the way this racquet played. "Talk about a great all-around racquet. I was really impressed with how well it played. I loved the maneuverability and had no trouble whatsoever swinging this racquet. It also offered tremendous spin, both topspin and slice. I could easily put a ton of topspin on the ball if I wanted to loop the ball in, and when I sliced the ball my shots had a ton of pace. Not only was it easy to swing and create spin with power, but I thought the stability was great as well. I couldn't believe how crisp and stable my shots felt considering how light the racquet is. There were times, however, when I felt like I was being pushed around and the racquet needed a little more oomph to drive through the ball. I also thought there was a different feel when hitting outside the sweetspot. My shots felt extremely dead, but that wasn't too much of an issue because the racquet had a large sweetspot. I really only had issues when I was playing against very hard hitters and I wasn't hitting the sweetspot as consistently."
Mike found this racquet to be an easy racquet to adapt to, and he found easy access to power off his groundstrokes. He said, "Both my forehand and backhand had exceptional power. The racquet gave me more energy because I did not have to do much of the power hitting. I just had to control the ball, which made me more consistent. The crisp feel and plow through allowed me to really go for my shots, and I was able to hit some angles that I'm not used to hitting."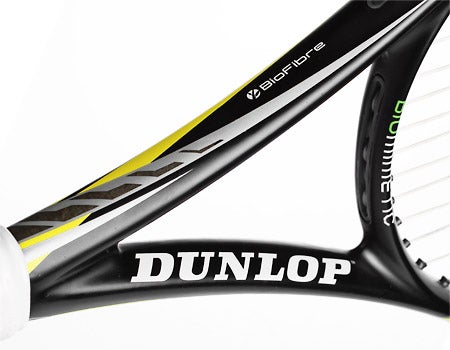 Volleys - Score: 81
The weight of the M5.0 at net had its positives and negatives. Karly continued to enjoy the maneuverability and ease of the M5.0 at the net, saying, "I loved playing with the M5.0 at net because of how fast I could move it. Not only was it a mobile racquet, but I also loved the amount of touch it offered. I could generate good pop and power on volleys, but I was also able to take the pace off the ball and drop it close to net if I wanted to. It was such a fun racquet to volley with because it was so easy to maneuver and change the pace on my shots. I think adding some weight toward the head of the frame could have really helped to prevent the feeling of being pushed around against powerful hitters, though. The racquet needed a little more mass to help drive through the ball with steady momentum."
Mike was pleasantly surprised at the net, having initially been worried the racquet would be too light for him. He said, "When I first hit a few volleys I thought the racquet was going to be too light and was going to get pushed back. Surprisingly, it was very solid, and I was able to hit a few drop shots while still being able to direct the ball anywhere I wanted, which is something you normally don't get with a 'tweener or lighter racquet."
Seeing two sides of this racquet was Brittany. She said, "Volley results were mixed for me. In general, this racquet was very easy to volley with. I had no trouble getting my racquet into position and volleying the ball away. The feeling was surprisingly crisp, and I enjoyed most of my time at net. My one small downside, which I expected due to the weight, was a slight lack of stability. There were a couple times when playing doubles that I thought my racquet was being pushed around."
Elaborating on the sentiments of the other playtesters, Chris said, "Again, this racquet impressed me as I transitioned to the net. I liked the feel and control I had on drop shots and placement volleys. During doubles play the racquet felt very light and fast. I would add some weight to suit my personal tastes. I would have liked more mass when volleying deeper in the court, but I loved the fast feel when I was on top of the net. When reaching up for an overhead, I liked how I could quickly snap this racquet through contact to help me get the ball away."
Serves - Score: 82
Light and maneuverable, the Biomimetic M5.0 allowed our testers to take control with their serves. Mike continued to sing the praises of the racquet, saying, "Usually with these types of racquets (somewhere around 11 ounces) I have to generate my own racquet head speed and power. With this new Dunlop racquet, and I don't know if it was the feel or maneuverability, I was generating tons of pace and hitting some bigger serves than I'm used to."
Agreeing about the performance of this racquet on his serves was Chris, "I liked serving with this racquet. I was able to get the ball to my targets with good spin. I found I had a fairly high margin of error with this racquet. The spin I was getting allowed me to aim high over the net and still get the ball to drop down inside the box. I liked the bite I was getting on my slice serves and I was able to pull my opponent wide off the court on the deuce side. My flatter serves had solid pace but lacked some weight and penetration. I was ok when getting the ball away from my opponents, but anything landing near their strike zone was too hittable. Again, I'd add some lead tape to help me out here."
Versatility on her serves was key for Brittany. She said, "I loved how I could really go after my serve with this racquet. I found I could hit a variety of serves, including flat, slice and kick first serves. It was almost effortless to hit serves with this racquet. I would prefer just a little bit more mass to get a bit more weight behind the ball."
Rounding out the positive feedback for the M5.0's performance on serve was Karly, who said, "My favorite part of serving with this racquet was how light it felt. There was never a time when I had to think about taking some pace off my serve to save my arm from tiring out. It was a piece of cake to swing. I also think that the great maneuverability made it easy to put a ton of spin on the ball. Brushing over the ball to produce a good kick serve came naturally. However, I had to be careful with my control. There was definitely more power than control when serving with this racquet. I had to leave more margin for error when placing my serves because it didn't take much for the ball to get away from me."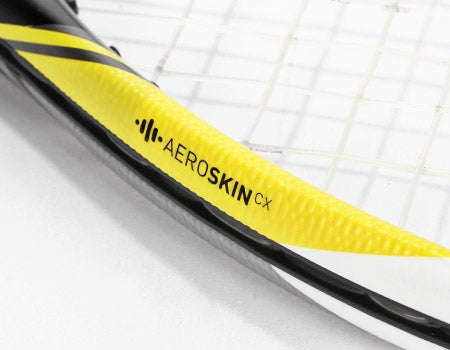 Serve Returns - Score: 84
All of our playtesters really enjoyed this racquet when it came to returning. The return of serve was Chris's favorite shot to hit with the Dunlop M5.0. "I loved the way I could add pace and/or change the direction of the ball with ease. When taking the ball early the racquet responded well. I liked taking a fast swing with a minimal backswing with this racquet because I felt I could accelerate it very easily. That allowed me to take the ball very early and use the server's pace to take reaction time away from him/her. The racquet continued to feel comfortable and the level of spin helped me find all the control I needed."
This racquet's tremendous maneuverability again shone for Karly on her returns. She said, "I absolutely loved how fast I could swing this racquet. The racquet was unbelievably easy to bring around. I never had an issue with getting into position to hit a return because of how quickly I could move the racquet. The only time I had an issue with the racquet was when I was returning a powerful serve. I felt like I was being pushed around and couldn't swing through the ball as easily. I didn't have as much plow through and lost a little bit of control the harder the serves were. I couldn't return fast serves as aggressively as I would've liked with this frame."
Emphasizing the maneuverable feel this racquet offered, Mike said, "I wasn't afraid to really swing fully with this racquet. Thanks to the fast feel I was able to consistently strike the ball and keep my opponents on their toes without sacrificing too many points."
Brittany enjoyed the maneuverability as well, saying, "It was very easy to return serves, and I felt like I was never late for a serve. I could really swing through the ball and be aggressive on second serves. Like my volleys, when returning some first serves I found a lack of stability and the racquet was twisting slightly in my hands."
Overall - Score: 84
Likes
Chris - "I liked the spin, but most of all, I liked the fast and maneuverable feel."
Karly - "There are so many things to choose from! The outstanding maneuverability, great access to spin and power, and the impressive stability for such a light racquet all made the M5.0 a fun racquet to hit with."
Mike - "Power, power, power and maneuverability."
Brittany - "I liked the maneuverability, power and ease of use."
Dislikes
Chris - "No complaints from me. While this racquet is lighter than my ideal spec preference, I really enjoyed this playtest."
Karly - "It was only when I was playing against harder hitters, but I think a little more weight could've help with the plow through."
Mike - "That I liked it too much! Besides that, it felt great."
Brittany - "Just a slight lack of stability on returns and volleys."
Comparing this racquet to others they've tried, our testers said:
Chris - "Not a far departure from the previous 500 series from Dunlop, this one just felt better. For me, this racquet just upped the performance from tip to handle. The Biomimetic M5.0 had better feel and I felt more connected to the ball than I did with the 500 it replaces."
Karly - "I thought it played very similarly to the Slazenger V100 Team. Both racquets are fast, maneuverable, surprisingly stable for how little they weigh and offer a crisp feel. I'd say the biggest difference was comfort; I thought the Dunlop was softer on the arm."
Mike - "This one was a lot like other racquets with similar specs, but this one stood out from those because of its amazing feel. It was easy for me to play well with this racquet."
Brittany - "This racquet played very close to the Slazenger V100 Team in almost all areas. I would say that the Dunlop was more comfortable to play with."
Technical Specifications

Length
27 inches
69 centimeters
Head Size
100 square inches
645 square centimeters
Weight
10.4 ounces
295 grams
Balance Point
13.4 inches
34 centimeters
1pt Head Light
Construction
23mm / 25mm / 25mm
Composition
Biofibre
String Pattern
16 Mains / 19 Crosses

Babolat RDC Ratings

Score

Grade

Flex Rating
71
Range: 0-100
Swing Weight
311
Range: 200-400
Scores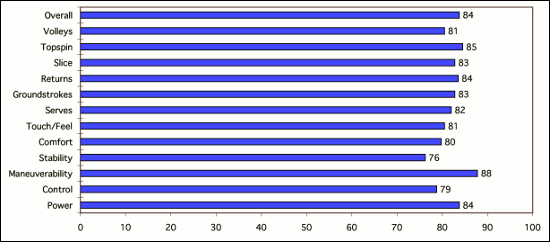 (Scores are determined by averaging individual play test scores)
Chris' Scores
Power
8.1
Serves
8
Control
7.9
Groundstrokes
8.3
Maneuverability
8.7
Returns
8.4
Stability
7.5
Slice
8.2
Comfort
7.7
Topspin
8.6
Touch/Feel
8
Volleys
7.7
Overall
8
Karly's Scores
Power
8.4
Serves
8.5
Control
7.8
Groundstrokes
8.4
Maneuverability
8.7
Returns
8.6
Stability
7.9
Slice
8.5
Comfort
8.1
Topspin
8.6
Touch/Feel
8.3
Volleys
8.5
Overall
8.6
Mike's Scores
Power
8.5
Serves
8.5
Control
8
Groundstrokes
8.5
Maneuverability
9.2
Returns
8.8
Stability
8
Slice
8.9
Comfort
8.1
Topspin
8.8
Touch/Feel
8.3
Volleys
8.5
Overall
8.8
Brittany's Scores
Power
8.5
Serves
7.8
Control
7.8
Groundstrokes
7.9
Maneuverability
8.5
Returns
7.6
Stability
7.1
Slice
7.5
Comfort
8
Topspin
7.8
Touch/Feel
7.6
Volleys
7.5
Overall
8.1
Playtester Profiles
Chris: 5.0 all-court player currently using the Volkl C10 Pro 2012. Chris uses a full-western forehand grip, has a fast swing style and hits a one-handed backhand.
Karly: 4.0 baseline player currently playing with the Wilson nCode nTour. She hits with a semi-western forehand grip and uses a two handed backhand.
Mike: 5.0 baseliner with a semi-western forehand and two-handed backhand. His current racquet of choice is a customized Prince Triple Threat Warrior.
Brittany: Open level player with a semi-western forehand and a two-handed backhand. She currently plays with the Yonex V-Core 100S.

Review date: April 2013. If you found this review interesting or have further questions or comments please contact us.
All content copyright 2013 Tennis Warehouse.