Dunlop Biomimetic 500 Tour Review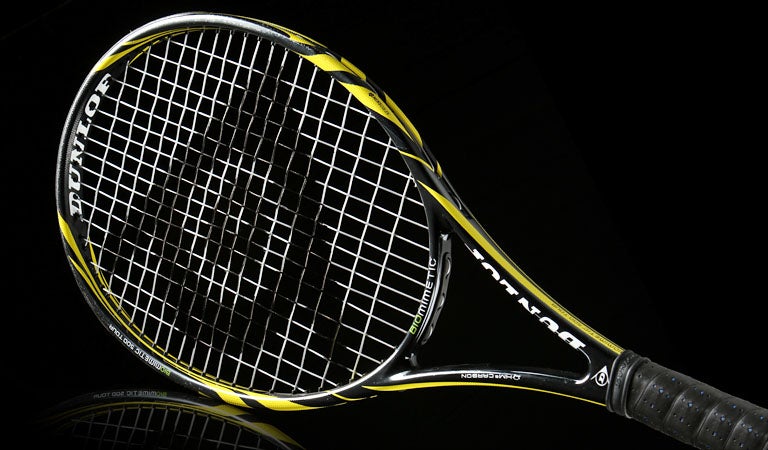 Dunlop Biomimetic 500 Tour Scores
Comfort
78
Touch/Feel
74
Serves
81
Groundstrokes
80
Returns
78
Slice
80
Topspin
84
Volleys
77
Overall
79
Upsides
Spin, spin and more spin!
Maneuverability
Fits just about every playing style
Downsides
Could use some additional weight to add power
Summary
Despite the diversity of playing styles among the members of our test squad, each player found the Biomimetic 500 Tour to work for his game. The manageable weight and maneuverable feel provided plenty of options from the baseline. Whether whipping a controlled cross court angle with plenty of spin or driving a flat one up the line, this racquet helped garner the desired result. The maneuverability and forgiving head size came in handy at the net, allowing for easier racquet positioning and more consistent volleys. Power, spin and forgiveness play a part in all areas of the court, so when it came to serves it was no surprise that our squad was able to produce good power and spin. All in all, it was the versatility of the Biomimetic 500 Tour that impressed all our testers, complementing each of their individual styles.
Versatility.
How many racquets can really make the claim to fit every playing style? Dunlop has not made such a claim with its latest version of its Tour, but in our opinion Dunlop should.
Combining the latest Dunlop technologies in a racquet with an 11-ounce strung weight, a slightly headlight balance and a manageable swingweight, Dunlop has a versatile, all court offering that can be effective for a variety of players. On the pro tour, it is the racquet of choice for Nicolas Almagro, a versatile player who possesses power and touch.
We put the Bimimetic 500 Tour to the test to see how it would hold up for the diverse styles of play of our playtest team. After a month-long play test, our team was impressed. Here is what they had to say:
Groundstrokes - Score: 80
An appealing balance of specs and easy access to spin made this racquet popular on groundstrokes. Happy with the blend of control and power was Chris. He said, "Light, fast and packing some useful pop (when strung in the lower end of the tension range), this was a great stick for setting up a big forehand. I spent most of my time with it just waiting for a ball to tee off on. It was fun to lazily use the spin and easy access to depth to move the ball around the court, then as soon as the short ball came I could just unload with a forehand. The level of control was decent and was really enhanced by all the spin I was getting. I felt comfortable attacking the ball whenever the opportunity arose."
Jackson liked the action he got on the ball with this racquet. He said, "Strung with a co-poly, this racquet changed the way I felt about the 500 line of racquets from Dunlop. This version was less stiff and easier on the arm than previous 500s that I've tried. I got better feel on my groundstrokes and it still had enough pop behind it to hit screaming winners from the baseline. The light swingweight of the stick made it easy to get around the ball, and with the 16X18 string pattern I was able to hit a pretty heavy ball. It did take a while to get used to the power it generated, and I still had a hard time controlling shots on the run at full extension."
Sean was happy with the spin and depth he got from the baseline. He said, "This was a perfect racquet for all court play. I was able to step right into using this stick and felt comfortable from the baseline. With a nice open string pattern everything seemed to drop in the court with ease, and keeping all of my strokes deep in the court was effortless. When hitting any type of slice shot I really felt that the racquet grabbed the ball well and produced the shot I was going for."
Loving the variety of shots he could hit effectively was Spencer. He said, "I liked the balance of specs and the Biomimetic 500 Tour offered a good feel from the baseline. At 11 ounces, swing velocity was easy to generate, allowing good access to spin. The open string pattern helped in that regard as well. It doesn't offer the plow through of a heavier stick, but I thought it was fair, given the static weight. The versatility was the one thing that stood out. I felt comfortable hitting several types of shots off both wings from the baseline."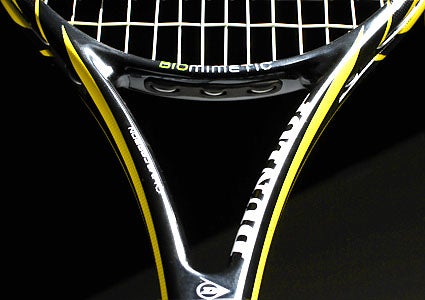 Volleys - Score: 77
A solid feel and excellent maneuverability made for successful volleys. Sean was finding good depth from both sides. He said, "I experienced solid volleys off both wings. I usually have a little trouble finding the power I want off of my backhand volley, but everything went deep into the court. Putting high balls away was a definite plus. When positioned correctly the racquet seemed to do most of the work for me, which was great for keeping my volleys simple."
Noting the fast feel at net was Chris, saying, "I played quite a bit of doubles during this playtest and found this racquet to perform well at net. It was very fast feeling and I liked the feel from the stringbed. I was able to snap the ball away on high volleys, yet I found the touch and control needed to place the ball for an angle. The stability was just okay, and I would beef this one up with some lead tape to make it more solid and to add even more punch."
Jackson hoped for a more consistent response. He said, "I liked the maneuverability of the racquet at the net, along with its put away power, but I had difficulty controlling touch shots with it. Sometimes the stringbed would trampoline the ball high when I was trying to direct it short at an angle, yet other times it grabbed the ball perfectly for a drop shot."
Mobility was a plus for Spencer. He said, "Versatility, again, is a plus with this racquet. Though I would prefer a tad more stability, it offered a solid feel when at net. There's enough power to put away volleys, yet a good amount of feel as well. The maneuverability was also very good, making it easier to get the racquet into proper positioning. This racquet excelled when having to make reaction volleys."
Serves - Score: 81
All our testers agreed that the Biomimetic 500 Tour produced good pace and spin. Jackson had great success with his serve. He said, "This was my favorite aspect of the racquet. The feel was great, the stiffness optimum, and the balance/maneuverability unparalleled. I could direct the ball easily and flatten out my first serves, giving me the confidence to go for the corners. I hit more aces than I have since my days with the Pure Drive +. I was also extremely impressed with the action I got on my second serves, sending corkscrewing balls to my opponents' backhands was never so easy."
Chris was able to dictate play with his serve. He said, "It was easy to find both pace and spin on serves. I felt like I was getting some decent pace down the T, while also moving the ball well out wide with some spin. I also had good success hitting slice serves into the body of the returner. Both when playing singles and doubles, I was serving well enough to dictate play the majority of the time."
Sean had trouble finding consistency. He said, "I had a little bit of trouble finding my timing on my serve, but once I did this racquet provided some serious pace and spin. As with my groundstrokes, depth and power were abundant on my first serves without having to expend too much energy. My second serves were really where I had trouble controlling my shots. Too much spin would cause me to double fault, and if I tried putting a little power on it the ball would fly."
Getting great spin response was Spencer. He said, "I was very happy when serving with this racquet, as I was getting great kick. Being able to put a good swing on it with a polyester string in that string pattern made a noticeable difference when trying to kick one up high. There's enough power to sneak a hard one by my opponent now and again, but I was having such success with getting a high bounce, I tended to stay with it."
Serve Returns - Score: 78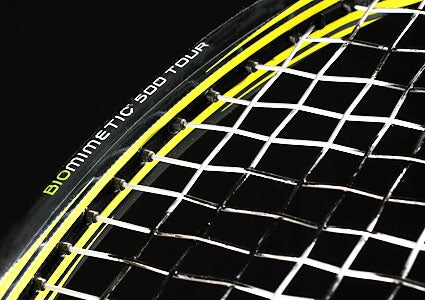 The fast and mobile feel of the Biomimetic 500 Tour came to the forefront again on returns. Spencer liked the options this stick made available to him. He said, "Not to sound like a broken record, but the versatility of this stick comes through again on returns. There's plenty of options when returning with the Biomimetic 500 Tour. I've grown to like a racquet that can handle hard serves, allowing me to slice or block returns back deep. This is one of those racquets."
Garnering good results when returning serve was Chris, who said, "With its light and fast feel, this racquet felt great on returns. I was getting enough spin on my returns to be able to take a good swing at the ball -- especially on the forehand side. I was also really pleased with my backhand slice return. I was able to slice the ball low cross court during doubles play and follow it into the net with good results."
Jackson would've liked more stability. He said, "This is where I felt the racquet could've used more weight. I didn't have a problem with returning against hard servers, and the maneuverability helped me prepare early and direct the ball back with just a simple flick. However, when returning against bombers, I felt the racquet being pushed around much more than I'm comfortable with, which resulted in moonballs that would be easy pickin's for serve and volleyers or more advanced players."
Feeling he could have used more forgiveness was Sean felt he could have used more forgiveness. He said, "I returned well with this racquet mostly because I have to use a lot of slice backhands when the serve gets up too high for me to hit a typical backhand. Forehands were no problem at all, and I felt that I could swing easily and direct the ball back with some of the pace from my opponents serve. If I didn't hit the return right in the middle of the strings this racquet had a tendency to twist in my hand."
Overall - Score: 79
Likes
Chris "I liked the spin and pace I found with this racquet. It felt very maneuverable, and it felt like there was still ample room to add weight without making it feel too hefty."
Jackson "The serves this racquet generated rivaled the Babolat Pure Drive Team+, but with better comfort."
Sean "Solid in all areas of the court and incredibly spin friendly"
Spencer "Surprise...the versatility."
Dislikes
Chris "Anything over mid tension with a poly and the racquet felt under powered. I would probably add some weight to beef it up a bit, but it was ok if strung in the lower half of the tension range."
Jackson "The racquet could've used just a bit more weight to help combat against bombs and hot shot groundstrokes."
Sean "Stiff feeling, smaller sweetspot than I anticipated"
Spencer "A tad stiff. Couple that with a polyester and my elbow gets sore. I know, I know, I shouldn't play with a polyester. Unfortunately, I feel a polyester string set up in this racquet is what makes it perform best."
Technical Specifications

Length
27 inches
69 centimeters
Head Size
100 square inches
645 square centimeters
Weight
11 ounces
312 grams
Balance Point
13.125 inches
33 centimeters
3pts Head Light
Construction
24mm / 25mm / 23mm Tapered Beam
Composition
HM6 Carbon / Aerogel
String Pattern
16 Mains / 18 Crosses

Babolat RDC Ratings

Score

Grade

Flex Rating
65
Range: 0-100
Swing Weight
313
Range: 200-400
Scores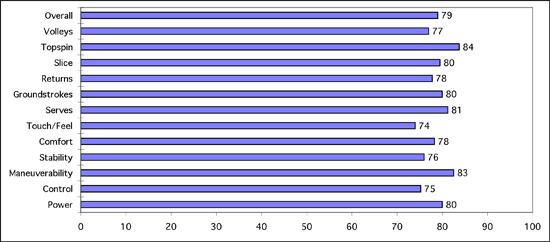 (Scores are determined by averaging individual play test scores)
Chris's Scores
Power
8.2
Serves
7.9
Control
8
Groundstrokes
8
Maneuverability
8.5
Returns
8.3
Stability
7.8
Slice
8
Comfort
7.9
Topspin
8.2
Touch/Feel
8
Volleys
8
Overall
7.9
Jackson's Scores
Power
8.2
Serves
8.4
Control
7
Groundstrokes
8.2
Maneuverability
9.1
Returns
7.1
Stability
6.9
Slice
7.4
Comfort
8.4
Topspin
8.7
Touch/Feel
6.8
Volleys
7.6
Overall
8.3
Sean's Scores
Power
7.6
Serves
7.8
Control
7.4
Groundstrokes
8
Maneuverability
7.2
Returns
7.7
Stability
8
Slice
8.4
Comfort
8
Topspin
8.4
Touch/Feel
7.2
Volleys
7.4
Overall
7.7
Spencer's Scores
Power
8
Serves
8.4
Control
7.7
Groundstrokes
7.8
Maneuverability
8.2
Returns
8
Stability
7.7
Slice
8
Comfort
7
Topspin
8.2
Touch/Feel
7.6
Volleys
7.8
Overall
7.7
Playtester Profiles
Chris: 5.0 all court player currently using the Volkl Power Bridge 10 Mid. Chris uses a full-western forehand grip, has a fast swing style and hits a one-handed backhand.
Jackson: 4.5 All court player currently using a customized Babolat Pure Storm. Jackson uses a semi-western forehand grip and hits with a two-handed backhand.
Sean: 4.5 baseliner using the HEAD Youtek Prestige Pro. Sean has a semi-western forehand, 1 handed backhand.
Spencer: 4.5 baseline player currently using the Prince EXO3 Tour 100 16x18. Spencer uses a semi-western forehand grip, and hits with a one-handed backhand.

Review date: August 2011. If you found this review interesting or have further questions or comments please contact us.
All content copyright 2011 Tennis Warehouse.