Babolat Propulse 4 Women's Shoe Review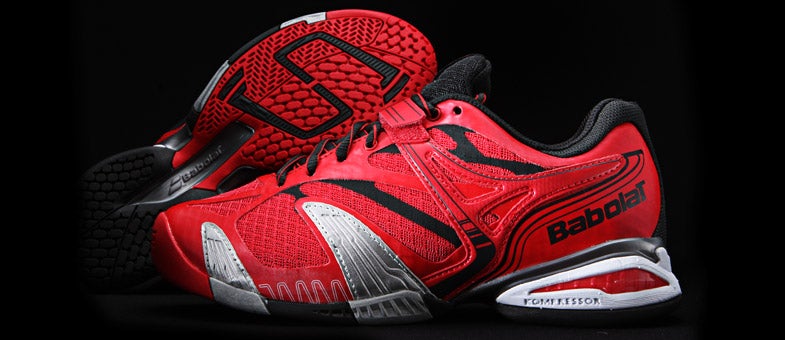 Babolat Propulse 4 Women's Shoe Scores
Comfort
3.8
Ventilation
3.3
Arch Support
3.8
Foot Support/Stability
4.4
Overall Sole Durability
4.3
Toe Durability
4.3
Traction
4.2
Weight
3.7
Overall
4.1
Upsides
Lightweight
Ventilation
Cushioning
Summary
Babolat continues to improve upon their all-surface, high performing women's shoe with the Propulse 4. This comfortable, snug fitting shoe features an optimal tread pattern with a Michelin rubber outsole backed by a six-month durability guarantee. Our playtesters found the durability and traction of this shoe to be outstanding, though they all agreed that these shoes required a break-in period and lacked in breathability. It is also worth noting that the color "Diva Pink" is bold red in color rather than pink. After playing in these shoes for many hours one thing was clear to our playtesters, the Babolat Propulse 4 is a definite improvement over the Propulse 3.
Comfort - Score: 3.8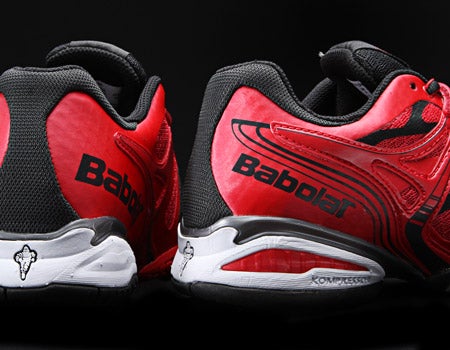 It took a few hours for all of our playtesters to break-in their Babolat Propulse 4s. After overcoming the initial break-in period with these shoes, our playtesters found them to be quite comfortable. Michelle found herself quickly falling for this updated Propulse, saying, "I loved these shoes after I broke them in. They are one of my favorite playtest shoes, though I did need a few hours to feel comfortable in them (for anyone buying these shoes; give them a couple of hitting sessions to break-in). After the break-in period they fit really well and molded to my feet. They provide great all around comfort. I wouldn't say they are overly plush or padded, but there's just enough cushioning in all the right areas for a high performance tennis shoe. I never had any issues with rubbing or poking, and I felt like my feet were secure when moving around."
Carol felt the narrow fit was a little too snug. She offered, "The ortholite insole added extra foam cushioning for my foot. I never experienced any real shock to my feet and felt like there was added cushioning in the high stress and wear areas. I did feel a little too snug in this shoe, especially around the arch."
Having playtested the previous version of this shoe, Brittany enjoyed this updated Propulse from Babolat. She said, "I thought the upper was much softer and there was added cushioning throughout the shoe. Babolat removed the heel strap that was on the previous version, which made it more comfortable, as it was not pinching my heel or causing blisters. My one negative would be that there was some uncomfortable pressure on the side and under my left pinky toe that did not go away for the entire playtest."
Karly was on the same page as Brittany when it came to this updated shoe. Having also playtested the previous version, she agreed these shoes were stiffer than most shoes and required a bit of a break-in period. She stated, "The comfort improved so much from the previous version. Breaking-in these shoes took less than half the time of the 3s, and after about 4 hours the shoes started to loosen up. They were still somewhat stiff, but they weren't uncomfortable. There was plenty of padding within the shoes, it just wasn't extremely cushiony or pillow-like."
Ventilation - Score: 3.3
Our playtest team was in agreement that the Babolat Propulse 4 lacked in the area of ventilation. Ventilation isn't something that usually bothers Karly too much, but that wasn't the case with the Propulse 4s. "They were a very warm pair of shoes that left my feet feeling overheated while playing on court. I was happy to take the shoes off immediately after hitting to let my feet dry and cool."
With the weather getting warmer, ventilation is becoming more of an issue for Brittany, and she commented, "While there is some mesh on the upper, the tongue was very thick and cushioned, and I didn't think these shoe breathed as well as I would have liked. I definitely noticed my feet getting hot as I played. These were one of those shoes that I took off as soon as possible after playing tennis."
Michelle doesn't find ventilation to be a deal breaker for her, but she did agree that this shoe was lacking in breathability. "I wouldn't say the ventilation of this shoe was its strong suit. I don't really mind that issue though. It wasn't something that ever bothered me."
Carol said, "I did feel very hot in this shoe at times. I think breathability was sacrificed for the extra cushioning and shock absorption features. If I hit for a long time, I couldn't wait to get these shoes off."
Arch Support - Score: 3.8
The arch support in this shoe seemed to work well for all four of our playtester's feet. Carol said, "The arch support was adequate for me, more mid range, which I like."
Agreeing with her was Michelle, who chimed in, "The arch was just right for my higher arched foot. I enjoyed how snug my feet felt in this shoe. The arch wasn't too high or too low, but was supportive enough for my feet."
"No issues here when it came to arch support," said Karly. "I don't usually have any problems with my arches and it was no different with this shoe."
Brittany echoed these thoughts, adding, "Like most shoes, I had no problems with the arch support. I could feel the support but it wasn't uncomfortable or bothersome. It was the perfect height and placement for a medium arch like mine."
Foot Support/Stability - Score: 4.4
Stability and support are a strong feature for this Propulse 4. The Velcro strap on top of the shoe provides added support. Brittany was very impressed with the support this shoe offered on the court. "I will first say that I liked the strap on the upper. I felt like it gave a more customized fit, especially because my feet are on the narrow side. I don't think Babolat removing the heel strap impacted the support at all. My foot felt very secure in this shoe and did not more around at all. The ankle collar definitely comes up higher than normal on the ankle so my ankle felt very secure. My one small knock was that the shoe felt a little high off the ground, which diminished the ankle support slightly."
"My foot was very snug in this shoe and didn't move around at all," said Carol. "I felt confident in the support level of this shoe for all movements around the court. It provided great stability."
Karly had a similar experience as Brittany, saying, "I thought the shoe did an excellent job supporting my feet. I never hesitated when moving due to a lack of stability. The newer Propulses may have lost that tight, secure feel of the Propulse 3, but I still thought they excelled in stability."
"Once I broke them in I found them to be really stable and supportive," said Michelle. "I will say that my initial 3 hours in these shoes were a little shaky. While breaking them in I was feeling a little unstable and out of my element. Once I got used to them there were no issues with movement or comfort. I always felt like my ankles were secure and I was never worried about rolling my ankle."
Sole Durability - Score: 4.3
Another strength of the Propulse 4 is how much wear you will get out of the sole. "If you ask me, it was a great decision on Babolat's part to pair up with Michelin to make the outsole for this shoe," commented Karly. "The sole durability was exceptional. I have yet to experience any wear or smoothing to the outsole after about 15 hours of play, and that extra six-month guarantee provides great peace of mind!"
Quick moving Carol found the outsole to be extremely durable, saying, "I'm finding little wear and tear on this shoe. Compared to other shoes I've tested this season, I would call this one the most durable."
Michelle spent extra time in this shoe and really tested the limits of the sole. She said, "I did begin to see wear in the toe area of my sole, where I normally wear out my shoes, but nothing extreme. Because I enjoyed wearing these shoes so much I put some good time in them and expected to see some major wear after 20 hours. There is a six-month durability guarantee with these shoes, so even if you can wear through these soles in six months you are in a good position and have a new pair of shoes coming to you!"
Sole durability was Brittany's favorite feature of this shoe. She offered, "I put fifteen plus hours on this shoe and there is pretty much zero wear on any part of the outsole. I would definitely put this on my top five most durable shoes list. The best part is that there is a six-month outsole durability guarantee for extra reassurance."
Toe Durability - Score: 4.3
"As a toe dragger, having a solid toe bumper really makes the difference in the durability of the upper of my shoes," said Brittany. "The Propulse 4's toe durability was great. The toe bumper protected the shoe from all of my dragging. I really liked the thickness of the bumper, which was not too thick and not too thin. I have many more hours of toe dragging to go before any sort of wear will show up."
Karly agreed, adding, "Like the overall sole durability, the durability of the toe area performed well. I wasn't worried the least bit about wearing through the front of the shoe. The toe bumper coverage was great and the material was tough. There's not much more you could ask for!"
Traction - Score: 4.2
Traction was another strong point of this shoe for our team of playtesters. "All of my movement around the court was supported by the high traction level of this shoe," mentioned Carol. "I didn't feel as if I was sticking to the court or sliding around. I believe the Michelin OCS2 technology was a great feature. I was gliding around the court really well."
"The traction on this shoe was solid for me," said Michelle. "I felt like it was really easy to change direction without worrying about the shoe giving on the court. I liked the grip that the shoes provided, which made it easy to move confidently in them."
Brittany benefited from the new Side 2 Side midsole technology. "I felt very connected to the court. The thing I liked most about the traction was that there was a perfect amount of stick. The sole wasn't so sticky that I felt stuck and not so slick that I was slipping. It had just the right amount of grab."
Karly was pleased with the traction the Propulse 4s provided throughout the playtest. "I hardly noticed any change or loss of traction while testing these shoes. They provided the perfect amount of grip to prevent any slipping without making me feel like I was sticking to the ground."
Weight - Score: 3.7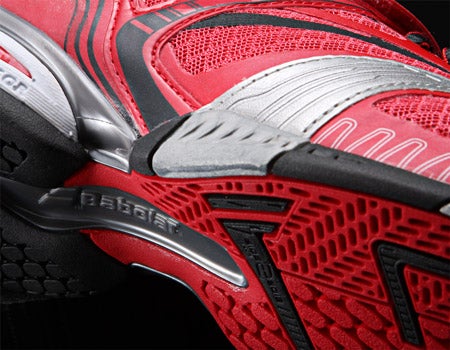 Coming in at just under 13 ounces, these aren't the lightest, nor the heaviest, shoes we have playtested. They are built to be durable, which usually translates into a heavier shoe. Michelle agreed that these shoes were a bit heavier, but added, "I don't mind, as I enjoyed the performance of this shoe. Plus, I'm sure the addition of the Velcro strap adds a bit of weight, but it ensures a great fit. The weight doesn't bother me at all, and they play pretty fast despite what the scale says, in my opinion."
"These may not be the lightest shoes around, but considering how durable and stable they were, I didn't mind their weight," Karly commented. "I didn't feel weighed down at all. I was still able to make fairly quick movements, and if I wasn't able to get to a ball I never thought it was because the shoes were too heavy. If anything, they just felt a little bit on the bulky side."
The weight was great for Carol, considering the extra durability and cushioning they provided. She found the Propulse 4 to be, "a fast playing shoe that doesn't wear you down."
Brittany found this shoe to be a little heavy for her taste, saying, "They felt slightly clunky when moving around the court, and I needed extra time to get used to the weight. as I have been wearing shoes between 10-11.5 ounces. However, sometimes you have to sacrifice weight to get better durability and stability, which is the case with this shoe."
Overall - Score: 4.1
Likes
Brittany - "I loved the support, stability, and traction this shoe offered."
Karly - "The toughness of the outsole. The entire thing was one durable sole that was hard to wear through."
Michelle - "I'm a big fan of Babolat and I love the cosmetics of this shoe; red and black are my colors! I really loved how these shoes molded to my feet once I had worn them in. I enjoy feeling my shoes hug my feet without being too tight or having to tie my shoes super tight, so the fit on these really made the shoes work for me. These have quickly become one of my favorite shoes to play in. Love them!"
Carol - "I really liked the cushioning and shock absorption this shoe provided. These are probably my favorite two qualities, but it is also lightweight with great traction and durability. It's a fast playing shoe and I felt that I moved exceptionally well on the court."
Dislikes
Brittany - "I felt this shoe was a little on the heavier side and a little high off the ground."
Karly - "The lack of ventilation. It took no time at all for me to want to change into a different pair after a hit."
Michelle - "They felt bulky during the first couple of hours that I played in them."
Carol - "I think it felt a little snug, especially around the arch. I also felt a little higher off the ground in this shoe than normal. Breathability was definitely an aspect I didn't like as when I was done hitting I couldn't wait to get this shoe off."
Compared to others:
Brittany - "The Propulse 4 was a definite improvement from the previous version. The upper was softer, which resulted in a shorter break-in period, as the shoe did not pinch my heel like the previous version. Nevertheless, the durability, stability and traction were on par (and very good) with the previous version."
Karly - "Comparing them to the previous version, the Propulse 3s, I thought the biggest difference was the comfort. They reduced the break-in period drastically with the 4s, and that they didn't feel nearly as stiff. This newer version is a much more comfortable pair of shoes to wear."
Michelle - "I would say weight-wise, they are in the same category as the Asic Gel Resolution 5s. I give a slight edge to the Propulse 4, as I prefer the fit and cosmetics. We also just playtested the Wilson Rush Pros, which were in the same weight category as this shoe, and I would say the Propulse 4s don't have the same pillow-like cushioning as the Wilson Rush Pros, but they don't lack in cushioning, either."
Carol - "This is one of the best cushioned shoes I've playtested. Durability ranks up there as well, and I understand why they put the warranty on this shoe Ð it doesn't wear out. It's the fastest playing shoe I have playtested, which was a lot of fun. I think I'd still prefer the Asics Gel Resolution 5 to this shoe, even though they feel a little heavier, because the fit of the Asics was better suited to my feet."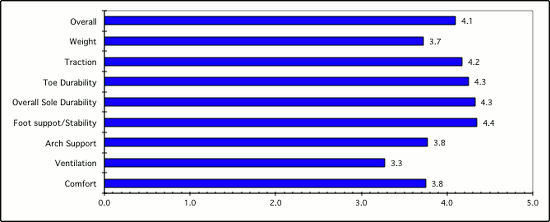 Playtester Foot Types:
Brittany - Narrow width, Medium arch
Karly - Medium width, Medium-low arch
Michelle - Medium width, High arch
Carol - Medium width, Medium arch

Review date: June 2013. If you found this review interesting or have further questions or comments please contact us.
All content copyright 2013 Tennis Warehouse.