Babolat Pure Strike 18x20 Racquet Review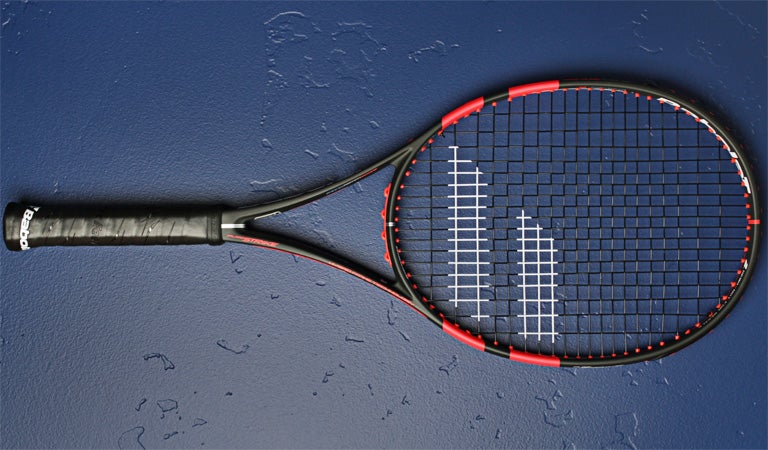 Babolat Pure Strike 18x20 Scores
Power
76
Comfort
78
Touch/Feel
80
Serves
79
Groundstrokes
79
Returns
78
Slice
77
Topspin
76
Volleys
80
Overall
79
Upsides
Lots of control
Fast feeling
Good comfort
Summary
With a striking cosmetic scheme to match their performance, Babolat's new Pure Strike racquets are designed for aggressive players who are looking to strike first during points. The Pure Strike 18x20 is Babolat's answer for players looking for controlled precision in their offensive game, featuring a 98 square inch head and a new frame shape. This Babolat feels more comfortable thanks to a more forgiving off-center response from the new X-Sider technology. The updated Woofer technology was supposed to increase the power with the addition of Pebax material, but our team found the Pure Strike to be lower on the power scale. Our playtesters also noticed a different feel from previous Babolat racquets and found new flex and control when striking balls from the baseline. Overall, our playtesters felt the Pure Strike 18x20 added precision and control to their games, but they were left wanting a little more power and a larger sweetspot.
Groundstrokes - Score: 79
The tight 18x20 string pattern in the Pure Strike added precision to our playtesters' groundstrokes and ended up giving them enough confidence to swing out. However, there was some concern with a slightly small sweetspot, which left some of our bigger hitters craving a bit more from this racquet. Our playtesters were able to experiment with several string setups -- from full beds of poly to multis to hybrids -- to make sure that they got the most out of this playtest.
Chris really enjoyed this racquet from the baseline. He said, "I found excellent control with a very accurate and precise response. The power level was about medium for a player's racquet, and that left me with a lot of confidence to swing aggressively. I loved the way I could take the ball on the rise with this racquet. It just felt very fast and responsive when I moved inside the court. I liked the way I could change the direction of play with it, and it was a great racquet to be aggressive with. The overall response was fast, accurate and surprisingly solid. I could play this racquet with a poly, a poly/multi hybrid or even go with a tightly strung multi -- it was that versatile."
Michelle knew this was going to be a challenging playtest because of the 18x20 string pattern, but as a Pure Drive user with an aggressive game, she was excited to try a racquet designed for first strikers. However, she found less power and a smaller sweetspot from this racquet. She explained, "It's no secret that I'm a big fan of Babolat frames and have used some form of a Pure Drive for more than 12 years. I think the Pure Strike is a move in a different direction for Babolat. There is definitely a flexible feel to this racquet and newfound comfort, which explains why I am seeing players who never would pick up a Babolat racquet really enjoying these Strikes. I have never loved any racquet that has an 18x20 string pattern, so this was a challenge. My groundstrokes felt pretty solid, but I struggled because the sweetspot felt smaller than what I'm used to in my Pure Drive, and there wasn't a consistent feel throughout the stringbed. I like to play offensively from all areas of the court, and this racquet forced me to play slightly smarter and access my defense more. I could still hit a big ball and put balls away, but it wasn't as easy for me to slap a running forehand winner up the line or hit two consistent forehands in a row. I would be interested in a 16x19 version because it may suit the way I play better, but honestly, I think I'll just stick with the Pure Drive line!"
The Pure Strike provided tons of control and precision for Jason's game. He noted, "I was able to hit my targets with ease, and I really enjoyed hitting both inside out and inside in forehands. It was maneuverable enough that I could hit angled shots easily with a flick of the wrist. To be expected, the spin production wasn't the greatest because of the tight string pattern. I did feel quite connected with this racquet, so my drops shots were quite effective. I think my game would benefit more from a 16x19 string pattern in this racquet."
It took Sean some time to find his range. He offered, "I had trouble finding the right depth from the baseline because the sweetspot was somewhat small, and it caused some inconsistencies in how deep my groundstrokes were landing in the court. I also felt that my access to spin was greatly reduced with the dense string pattern. I found the feel to be stable, maneuverable and control-oriented. My ability to redirect deep flat shots from my opponent with ease was one of my favorite aspects of this racquet."
Volleys - Score: 80
The majority of our playtesters found the Pure Strike to be maneuverable and precise at the net. However, Jason's sometimes erratic volleys left him yearning for a larger sweetspot. He said, "Up at net is where I could really feel the small sweetspot. Anytime I hit outside of it my volleys were erratic. Full disclosure: My volleys are typically inconsistent regardless, so take that for what you will. But I did like the feel and touch. It has that nice, responsive feel that traditional Babolats have, just a tad softer."
"I enjoyed this racquet much more at the net than any other area of the court," said Sean. "I was really impressed by the solid, stable feel and mobility that it offered. My touch shots were decent with this racquet, although I found most of my success punching volleys deep into the court and forcing my opponent to react quickly. Because this racquet was so easy to wield at net and because it provided some nice pop on my volleys, my strategy was often to come forward to the net to force the issue."
Michelle echoed the sentiments about the maneuverability and precision, saying, "I enjoyed this racquet at the net. It felt firm, yet it had that flexy feel that made it easy to place my volleys. It is very maneuverable and easy to get into position. Also, I found it simple to carve out touch volleys or punch deeper volleys."
The quick and precise feel continued at net for Chris, and he really found success with this racquet while playing doubles. "It was very easy to get this racquet into position and then punch the ball away with accuracy. I played some very solid doubles with this racquet and really enjoyed attacking the net with it in my hand. I also found myself very willing to serve and volley during singles when hitting with this stick. Add that to how much I enjoyed it when stepping inside the baseline, and I found myself at net more and more. The feel was good, and I was finding my targets on drop volleys and angles. All in all, I thought this was a really nice racquet to volley with."
Serves - Score: 79
"Precise" was the word that rang through when it came to discussing the Pure Strike's performance on serves. The dense string pattern left our playtesters with lower power levels than they are used to and less access to spin, so when it came to serving, flat serves were the name of the game. Sean thought this would be great serving racquet, and he wasn't disappointed. He said, "I felt this racquet had enough mass to feel stable through contact, yet it was light enough to whip through my service motion. Hitting hard, flat first serves was my game plan with this racquet because slice and kick serves weren't as effective. I found that the lack of spin potential made my serves one-dimensional, and I was unable to keep my opponents guessing."
Finding control with this racquet was Michelle, who commented, "This racquet helped me pinpoint my targets really well on serve. I didn't feel like I had massive amounts of power or kick behind my serves, but they weren't weak, either. Like Sean, I didn't find too much extra kick, but I really enjoyed this racquet on my flat and slice serves."
Chris found it easy to swing this racquet fast, and the result was good access to pace and spin. "I was able to find my targets well and enjoyed the crisp and precise response. I wasn't hitting the heaviest of serves, but I was able to mix things up well and keep the returner guessing. I liked the feel of the racquet, and I felt well connected to the ball on both first and second serves."
"More control than power and more consistency than spin" was what Jason found when he stepped up to the line to serve. He continued, "It was easy enough to swing and to get a serve in, but it lacked the power I typically like. I would've liked to have tried serving with some weight added to the hoop."
Serve Returns - Score: 78
Michelle found the denser string pattern and smaller sweetspot affected her return game slightly. She found that she could place the ball exactly where she wanted, but at the expense of power. "I wasn't able to hit as big as I usually do off returns, but placement was precise. I felt like I definitely had more control when hitting my returns with this in hand, but I would stubbornly sacrifice that control for power (go figure - where's my Pure Drive?!)."
With a maneuverable feel and enough weight to redirect heated serves, this racquet performed moderately well for Sean on his returns. He added, "This racquet had a fairly small sweetspot and was unforgiving on shots that didn't end up directly in the middle of the stringbed. I found myself just redirecting everything flatly back to my opponent, and I never had the confidence to really swing out and attack serves."
"Even though it is just slightly over 11 ounces, I found that I could block back serves with some depth," said Jason. "It was stable when I was able to hit in the sweetspot, but there was noticeable lack of torsional stability, power and consistency outside of it. I felt like I could really tee off on slower-hit serves and keep the ball in play."
For Chris, the return was one of the better shots to hit with this racquet. "I found that I could nail some big forehands. I was getting a lot of spin and felt very comfortable swinging out with a lot of racquet head speed. On the backhand side I found good results both when driving and blocking the ball. There was lots of feel, and I felt connected to where my shots were going with this racquet. I hit some great angle returns and some really solid down-the-line returns during this playtest."
Overall - Score: 79
Likes
Chris - "I liked the fast feel and crisp, precise response. This racquet is perfect for stepping inside the court and attacking the ball. It is also a solid option at net."
Michelle - "I love the paint job and the idea behind this frame. I like that this racquet is appealing to players who wouldn't normally choose a Babolat racquet. It's an easy racquet to use, and I'm looking forward to trying the 16x19 string pattern."
Jason - "It has lots of control and is easy enough to swing. Easier on the arm than traditional Babolat models."
Sean - "It's maneuverable and control oriented."
Dislikes
Chris - "None really. The strung weight is a tad light for me, but I was perfectly happy with how I was hitting the ball with the racquet in stock form."
Michelle - "I don't like denser string patterns, so this racquet needed to be amazing to get high praises from me. I will probably be in the minority here, but I miss that firmer, stiffer feel that I'm used to when picking up a Babolat racquet. I was missing a bigger sweetspot, and I found an erratic response from the stringbed."
Jason - "It's underpowered, with a small sweetspot."
Sean - "The sweetspot was very unforgiving, and I thought it had a stiff overall feel. Spin production was also unimpressive with this dense string pattern."
Comparing it to other racquets they've used, our testers said:
Chris - "I would compare this racquet to the Wilson Blade 98 18x20 and the Head Graphene Speed Pro. All three combine a fast and responsive feel with a solid blend of power and control."
Michelle - "I think the obvious comparison here is to the Wilson Blade 98 18x20. I would have to give the edge to the Pure Strike because I find it easier to win points with it compared to the Blade, and I like the cosmetics better on the Strike. Pure Drive users, you will find this racquet gives you a different feel than what you are used to; expect more flex from the racquet and more control from the tighter string pattern, with less power. This playtest made me remember why I love Pure Drives (and Pure Drive Roddicks) so much!"
Jason - "I'd say it fits in the same grouping as a Wilson Blade 98 18x20 and Dunlop Biomimetic F3.0 Tour."
Sean - "Because this racquet had a unique feel for me I had difficulty selecting racquets to compare it to. The Solinco Pro 8 had a stiffer feel upon impact and an unforgiving sweetspot. I also thought the stiff feel of the Wilson Steam 99 was comparable, while still offering good plow through."
Technical Specifications

Length
27.0 inches
69 centimeters
Head Size
98 square inches
632 square centimeters
Weight
11.4 ounces
323 grams
Balance Point
12.9 inches
33 centimeters
5pts Head Light
Construction
21mm / 23mm / 21mm
Composition
Graphite
String Pattern
18 Mains / 20 Crosses

Babolat RDC Ratings

Score

Grade

Flex Rating
66
Range: 0-100
Swing Weight
324
Range: 200-400
Scores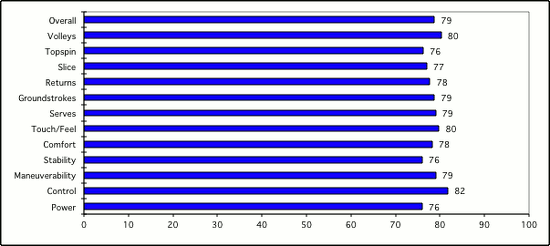 (Scores are determined by averaging individual play test scores)
Chris' Scores
Power
7.8
Serves
8
Control
8.3
Groundstrokes
8.1
Maneuverability
7.9
Returns
8.3
Stability
7.8
Slice
8.4
Comfort
7.8
Topspin
8.2
Touch/Feel
8.3
Volleys
8.1
Overall
8
Michelle's Scores
Power
7.5
Serves
7.8
Control
8
Groundstrokes
7.5
Maneuverability
7.5
Returns
7.5
Stability
7
Slice
7
Comfort
8.5
Topspin
7
Touch/Feel
7.5
Volleys
7.8
Overall
7.8
Jason's Scores
Power
7.7
Serves
7.8
Control
8.4
Groundstrokes
8.1
Maneuverability
8
Returns
8
Stability
8
Slice
7.8
Comfort
8
Topspin
8
Touch/Feel
8.5
Volleys
7.6
Overall
7.9
Sean's Scores
Power
7.4
Serves
7.9
Control
8
Groundstrokes
7.8
Maneuverability
8.2
Returns
7.3
Stability
7.6
Slice
7.6
Comfort
7
Topspin
7.3
Touch/Feel
7.6
Volleys
8.6
Overall
7.8
Playtester Profiles
Chris: 5.0 all-court player currently using the Wilson Six.One 95 S. Chris uses a semi-western forehand grip, has a fast swing style and hits a one-handed backhand.
Michelle: Open level baseline player with a semi-western forehand and a two handed backhand. She currently plays with the Babolat Pure Drive Roddick.
Jason: 4.0 baseliner with a semi-western forehand and two handed backhand. Currently using a Wilson Steam 99 S.
Sean: 4.5 baseliner using the Head YOUTEK Prestige Pro. Sean has a semi-western forehand, 1 handed backhand.

Review date: October 2013. If you found this review interesting or have further questions or comments please contact us.
All content copyright 2013 Tennis Warehouse.