Babolat V-Pro All Court Shoe Review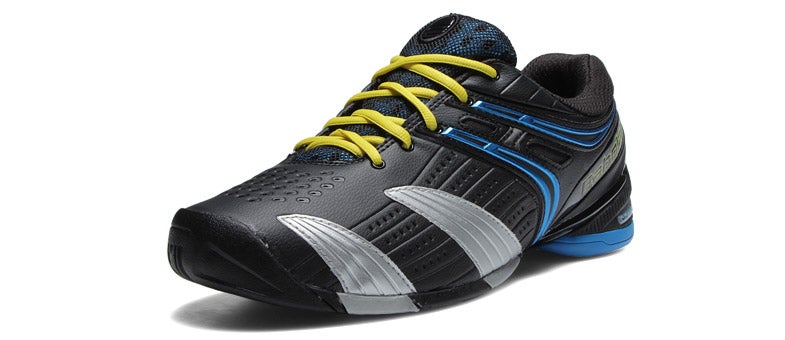 Babolat V-Pro All Court Shoe Scores
Comfort
4.8
Ventilation
4.0
Arch Support
4.0
Foot Support/Stability
2.9
Overall Sole Durability
3.8
Toe Durability
3.0
Traction
4.2
Weight
4.3
Overall
4.1
Upsides
Comfort
Cushioning
Lightweight feel
Speed
Traction
Downsides
Supple uppers might have too much give for hardcore movers
Summary
The light and fast-feeling V-Pro All Court impressed our testers from their first wear 'til their last. This shoe ruled the court when it came to comfort, right out of the box. A solid level of traction kept our testers moving at full speed, while a six-month durability guarantee ensures performance won't be short lived. While the lowish arch support is not ideal for everyone, the low-to-the-ground ride without sacrificing comfort is. All in all, this stylish offering from Babolat should be at the top of your list if you are seeking great performance and excellent on-court comfort.
Today's performance tennis shoes are about speed, durability and support. With promises to get you around the court faster, last longer and keep you strapped in, shoes have evolved to match the ever-increasing pace at which we play.
But what about comfort? Comfort is a huge performance factor that shouldn't be overlooked. How are you going to scramble for that next ball if your dogs are barking? It doesn't matter if your shoes will last forever if you can't stand wearing them. And it doesn't matter how much support you have if you are tip-toeing around the court due to blisters.
Comfort, then, can be the a huge performance factor when it comes to picking the best shoes. Consider a tournament or club function where you will have to play multiple matches in a day. A shoe offering great comfort will have you feeling fresher for the next match. Even on a day with only one match, a long three-setter can be fought harder when you are in a comfortable pair of shoes.
Here we put the comfort factor to the test with Babolat's V-Pro All Court. It might not have the promise of Propulse 3-like speed or the rigid stability of the Team All Court 4, but the soft and supple uppers of the V-Pro All Court make it one of Babolat's comfiest offerings yet. As far as durability goes, the V-Pro All Court is backed up by the same six-month durability guarantee as the Propulse 3 and Team All Court 4.
To see if the comfort of the V-Pro All Court would rise to the top we put testers Jason and Sean in them for a month-long playtest. To find out what they had to say, sit back, get comfortable and read on.
Comfort - Score: 4.8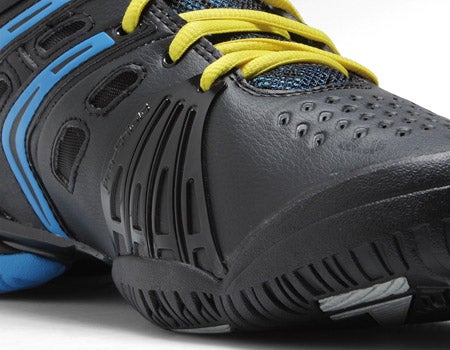 Comfort and cushioning were felt immediately by both testers. Sean said, "From the beginning of my testing until the end, this shoe was one of the most comfortable I've worn in a while. It felt great right out of the box, without any break-in needed at all. I felt that it offered comfort without sacrificing its reputation as more of a player's shoe, which can sometimes happen with shoes that provide a lot of comfort. Overall, I thought this shoe was incredibly comfortable."
Jason concurred, adding, "I immediately noticed the plush cushioning when I first tried on this shoe. It's a very comfortable shoe, thanks to the soft uppers and the cushioning. There was no break-in needed for me. It doesn't offer that responsive cushioning that the Propulse 3 does, but I was ok with that."
Ventilation - Score: 4.0
Perforations and mesh in the uppers helped keep the shoe ventilated. Sean had no complaints. He said, "Although the shoe didn't seem like it was made to be ventilated, I had no problems at all. This particular shoe fit a little more loosely on my foot than some others, which helped my feet breathe well. It also helped that this shoe was incredibly lightweight." Jason felt the ventilation was decent. He said, "The shoe was pretty average in this category. My feet didn't overheat at all, but at the same time, I never thought these shoes were exceptionally cooling either."
Arch Support - Score: 4.0
The low arch received mixed reviews. Jason appreciated the low support. He said, "I was very happy that the arch seemed to be quite low. As the playtest continued the arch became even lower, which was great. My feet and I were very grateful for it." Wishing for a higher arch was Sean. He said, "The arch support seemed to be just a little lower than normal, although it was consistent with all other Babolat shoes I've worn. This shoe had more of the flat, low-to-the-ground feel found in performance shoes made for aggressive play, rather than focusing on a lot of foot support."
Foot Support/Stability - Score: 2.9
Our testers felt the V-Pro All Court lacked the support needed to be a true high performance tennis shoe. Sean said, "The overall support was decent, but not exceptional, with this shoe. Because of its lightweight and soft leather makeup, it definitely didn't have the stability and support of some heavier and stiffer shoes. My feet were also able to move around more in these shoes than others I've tried. This didn't bother me, but could be a problem for those looking for a lot of stability."
"The support and stability was adequate," said Jason, who was looking for more rigidity in the uppers. "There were a few scary moments when I could feel the shoe almost roll over when I tried to stop and change directions. I would've liked more support in the uppers, but I think that would take away from the soft feel. My feet weren't sliding around within the shoe, so that was a positive."
Sole Durability - Score: 3.8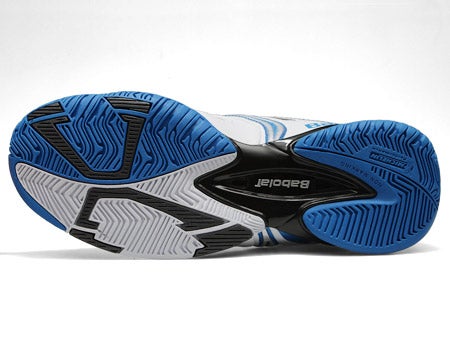 The Michelin rubber outsole received mixed results. Jason quickly wore through the outsole. He said, "I started noticing wear and tear on the outsole after about 10 hours of wear, and I'm not known to be too harsh on outsoles. The most noticeable areas were the medial forefoot and heel, especially on my left foot. They do come with a durability guarantee, so that's comforting."
Sean experienced better durability results. He said, "The outsole held up well throughout my testing. I was definitely glad to see that it came with a durability guarantee, because after a lot of on court hours I could tell most aggressive players would wear through the outsole. It was not quite up to par with shoes such as Nike's Court Ballistecs or adidas' Barricades, but there was more than enough life to please the average player."
Toe Durability - Score: 3.0
The additional material in the toe box was enough for our testers. Jason rarely drags the toe of his shoes. Sean drags his toes more often and he said, "I had no problems when it came to the durability of the toe area, although I'm not the most extreme toe dragger. I usually have trouble with the medial side of the forefoot, but luckily there was an added bumper that helped to buffer the damage. Unless you are a severe toe dragger, this shoe will have enough resilience to last."
Traction - Score: 4.2
Our playtesters were very impressed with how well the outsole worked on hard courts. "There was solid traction without any break-in needed," said Sean, who was confident in his movements. "This shoe grabbed the court well, and I felt sure footed in all areas of the court. The sole durability was good, but as the outsole wore down and the tread disappeared I lost a lot of traction."
Jason didn't have any issues here. He said, "I'm really impressed with the Michelin outsole. I felt the shoe gripped the hard court very well. Whether I was starting, stopping or changing directions, the shoe inspired confidence. There were only a handful of incidents where balls were hit behind me that the shoe gave a bit, but nothing too bad."
Weight - Score: 4.3
At 14.6 ounces (size 10.5), our playtesters loved the lightweight feel of the V-Pro All Court. Jason took note of how the shoe felt on his feet. He said, "The static weight suggests that this is already a lightweight shoe, but once on the court, they play even lighter. I thought the weight was distributed very well across the shoe. Definitely a strong point!"
Sean was in total agreement, adding, "One of the best characteristics of this shoe is its lightweight feel around the court. After testing a lot of heavier shoes I really enjoyed all of my playing time with this pair, since I like to use my speed as a weapon."
Overall - Score: 4.1
Likes
Sean - "Exceptional comfort, lightweight feel and a six-month durability guarantee to boot."
Jason - "The comfort, cushioning and weight."
Dislikes
Sean - "Nothing."
Jason - "I would've liked more support in the uppers and a more durable outsole."
Compared to others:
Sean - "Very similar in fit and feel to the Propulse 3."
Jason - "Supple ride like the Prince T22. Reminds me of the New Balance 900 in many ways."

Playtester Foot Types:
Sean - Medium width, Medium arch
Jason - Wide width, Low arch


Review date: October 2011. If you found this review interesting or have further questions or comments please contact us.
All content copyright 2011 Tennis Warehouse.