Wilson BLX Blade 98 Racquet Review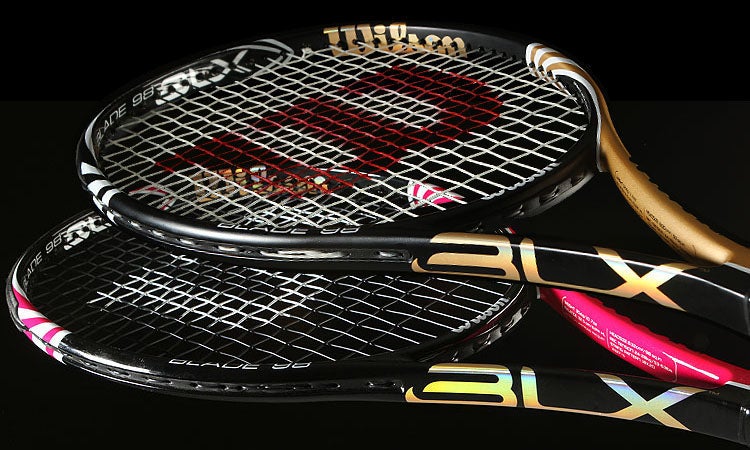 Wilson BLX Blade 98 Scores
Comfort
76
Touch/Feel
80
Serves
84
Groundstrokes
85
Returns
84
Slice
83
Topspin
83
Volleys
83
Overall
83
Upsides
Power
Control
Stability
Feel
Downsides
May be too stiff for those with arm issues
Summary
The Wilson BLX Blade 98 had plenty to offer our playtesters, even with their wide range of playing styles and ability levels. The solid feel and mass had our players hitting shots with pace and depth from the baseline, and they really loved the power they found when it came to volleys. The weight helped them put away shots, while excellent maneuverability was the key to their ability to hit a variety of angles. The racquet really excelled with our team when it came to their serves. They were able to mix it up well, while hitting with great consistency. Across the board, our team found the BLX Blade 98 offered more power than they were used to. Overall, the racquet tested extremely well with our team. The BLX Blade 98 helped their game whether they were exchanging shots from the baseline or serve and volleying, making this a definite demo for intermediate to advanced players, regardless of your style of play.

In just a few short years, the Wilson Blade racquet has gained momentum as one of the most popular models in the Wilson lineup. You'll find it in the hands of ATP and WTA pros Philipp Petzschner, Flavia Pennetta and Melanie Oudin.
This is the third generation of the Blade 98, and its specs remain largely unchanged. It is, however, now available in two colors and has gotten in line for the BLX treatment. Basalt fibers are introduced into the makeup of the hoop and are intended to create a softer feel and provide more comfort. Wilson has rolled out the tennis ball felt psychiatrist's couch to ask, "How does this make you feel?"
Well, we decided to get in touch with our feelings -- for the Wilson BLX Blade 98 at least. After a month of one-on-one time with the Blade 98 our TW playtesters were ready to share their feelings.
Groundstrokes - Score: 85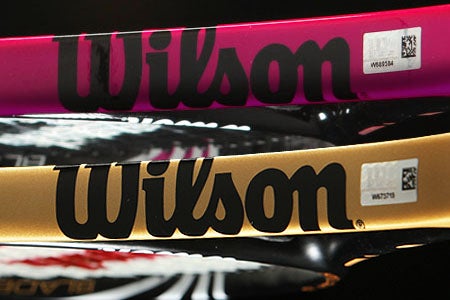 From the baseline the Wilson BLX Blade 98 provided our TW playtesters with plenty of plow through. Chris had only positives to report. He said, "This was a really solid racquet off the ground. It felt very stable and I was impressed with the power I was finding. I felt like I could put a really good swing on the ball and feel very connected to my targeting. The response felt very crisp, and I felt like I could thread the needle when needed on passing shots. I found enough mobility to swing fast for spin and I was getting some nice and controllable topspin. My topspin, combined with some nice plow through from the racquet, helped me push my opponents off the baseline. When slicing, the crisp response had me feeling very dialed into what I wanted to do with the ball."
Spencer agreed, adding, "I was very impressed with the solid response from the baseline. Compared with the previous KBlade version, the BLX offered a beefier feel. I liked the stable feel and was able to hit with both spin and power. A polyester string setup fits the BLX Blade well. There's plenty of power with this stick, and the polyester tames it slightly, while offering excellent access to spin. I was able to hit all shots well from the baseline. Forehands were easy, I could come over the top of backhands and slices were on a rope. There's only one time I can think of when I've hit a clean winner from the baseline with a slice backhand (when my opponent is on the baseline), and it was with this racquet. "
"Right away, I felt at home with this racquet. As soon as I picked it up I could feel the mass in the head," said Troy, who loved the blend of power and control. "Typically, most racquets near 11 ounces feel unstable at contact with the ball. This BLX Blade, with its relatively high swingweight (near 340), has a ton of plow-through on groundstrokes. The basalt that was added to the frame and the added mass in the hoop seemed to improve torsional stability compared to the K Factor Blade. I found the perfect blend of power and control when hitting my groundstrokes. I found good depth, and I was able to consistently hit my shots within a couple feet of the baseline. I felt like this racquet possesses more power than some of its competitors, such as the Head Youtek Radical MP and the Dunlop Biomimetic 300 Tour, while providing similar control to such player's frames as the Head Youtek Prestige MP and the Dunlop Aerogel 4D 200. It has proven to be the ideal blend of specs for my playing style."
Jason hit with nice variety. He offered, "I felt like I could do it all with this racquet. I was pleasantly surprised with how much power this 'control' racquet had. It allowed me to hit some winners and/or put my opponents on the defensive. Accessing spin (especially with a poly) was very easy. Even mis-hit shots that easily could've landed long were landing in. If the power game wasn't working for me, hitting with slice and angles netted great results as well. Aside from the stiffer feel, this is as good as it gets, in my opinion."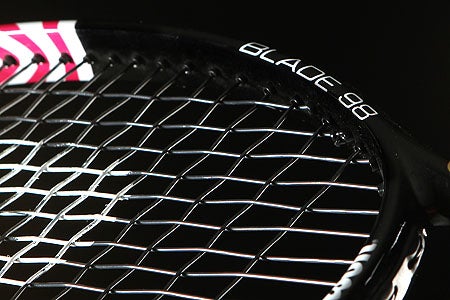 Volleys - Score: 83
Our team enjoyed many aspects of the BLX Blade 98 at the net. Troy was able to volley well, saying, "I was getting plenty of stability against the heaviest of shots being hit at me. The amount of mass that is distributed in the hoop of the frame helps get good penetration on volleys. One downside to having such a high swingweight is that it can make it a bit difficult to get the racquet in position for quick reaction volleys. I found great precision on volleys, hitting the corners of the court with ease. This racquet had a very predictable response and remained stable on off-center hits, which is an improvement from the KBlade 98. With my KBlade 98 I had to add some lead weight tape to the 3 and 9 o'clock positions to increase torsional stability, but I found no need to with this BLX version."
Spencer had similar results to his groundstrokes. He said, "Volleys were rock solid. Though it weighs 11.3 oz, it feels closer to 12 in stability. There's good forgiveness in the stringbed, which helped my confidence, even if it was just based on feel. The off-center volleys are still pretty solid feeling."
Stability was key for Jason. He said, "One of the important things I look for in a racquet when I'm up at net is how torsionally stable it is, especially on off-center shots. This racquet fit the bill! The combination of power and stability meant I was able to get the ball over the net even when I was fully extended."
Chris, who had no problems up at net, said, "I loved the response of this racquet when I was volleying. I was able to punch volleys away with authority. There was enough power to hit winners, yet I still felt like I had a lot of control. The crisp response was great for hitting touch volleys, and the stability enabled me to kill pace while still finding a solid feel."
Serves - Score: 84
Our team was serving with confidence and power. Finding more pace than usual was Spencer. He said, "The power follows suit in this category. I liked the added power the BLX Blade 98 offered on serve. I was winning more points on first serves than I normally do, due to more pace. As much as I loved serving with this stick, and as much as I liked the poly string setup, it did make my elbow a bit tender."
Chris loved the added pop on his serves, saying, "I didn't have to put much effort in to find decent pace and spin with this stick on serves. I'm not the biggest server, so it's nice to get a little help from the racquet. This one offered that elusive blend of power and control, and I was able to hit fast serves without sacrificing consistency."
"This stick gave me a lot of action on my serves. My favorite serve to hit with this racquet was the kicker," said Troy, our resident lefty. "Typically, most of my serves are slices to a right-hand opponent's backhand. This racquet helped me place my kick serve to a right-hand returner's forehand when he began to cheat toward the backhand side. The amount of mass in the head of this racquet added some pop and spin to my serves, which gave me the confidence to go for serves I typically don't hit consistently. Whether going for a flat serve or a spinner, this racquet had great precision. It takes good mechanics to be effective on serve with this stick, but if you are able to generate a lot of racquet head speed, big time serving can be the result."
Jason placed his serves well. He said, "I'm not one to hit hard flat serves very often, but I did find that when I decided to go for a serve, the racquet provided me with the power I needed. Is it more powerful than my own Boris Becker London? I wouldn't say so, but it gives me the power and precision I look for. Since I can't blow opponents off the court, the two most important areas I concentrate on are consistency and placement. And with this racquet, I was able to do both very well."
Serve Returns - Score: 84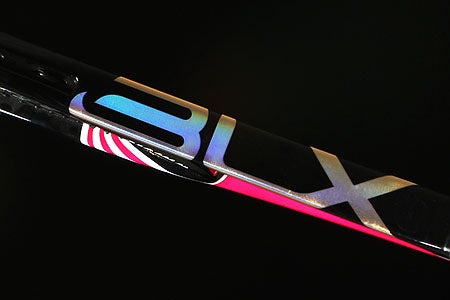 Our TW testers were returning very effectively with the Wilson BLX Blade 98. Loving the versatility of the racquet was Troy. He said, "I enjoyed how the mass of this stick did a lot of the work for me on returns. Against big, fast serves this racquet held its ground and plowed through the ball, which helped me be offensive on my returns. I was controlling my returns well, and was able to hit to either side of the opponent's court, while picking targets for my returns in doubles matches. The backhand slice return had a lot of penetration and stayed really low. I found the mass and dense string pattern of this racquet benefited this shot. It may be hard for players who are not accustomed to such a high swingweight to maneuver this racquet. On the same note, those who like a hefty feeling stick will find the ability to rip returns and punish the serve of an opponent who dares to leave it hanging in the wheelhouse!"
The mass helped Jason's return game. He said, "Even though this isn't a very heavy racquet by player's racquet standards, it certainly has characteristics of one. I thought the racquet handled pace very well, staying stable and putting the ball back in play with depth. I slice a lot of returns on my backhand side, and with this stick I was able to slice returns back with enough depth that I could recover and put myself in a position to play the next ball."
"This was one of my favorite categories with this racquet," said Spencer. "There seemed to be a perfect blend of power, maneuverability and control when returning serve. It didn't seem to matter which type of serve was coming in. Whether the serve was flat, juiced, low or high, the BLX Blade 98 handled them all pretty well."
Chris was returning with no difficulties. He offered, "The same solid and crisp response I found from other areas of the court came to the forefront again when it came to returning serve. I felt connected to where my returns were going, so I was able to take a good cut at the ball without fear of over hitting. When stretched wide I found enough power and stability to get my returns deep enough to stay in the point and try to steal the offensive."
Overall - Score: 83
Likes
Chris "I liked the power, feel, control, spin and stability."
Spencer "Every single category when strung up with a poly."
Troy "Nothing but improvement from the KBlade 98, which has been my stick of choice for the past couple years. The BLX provides better shock absorption and has a higher swingweight than the KBlade 98. It feels like an extension of my arm. If this racquet came with instructions, they would read simply 'GRIP and RIP!'"
Jason "The power, control and feel."
Dislikes
Chris "None, really."
Spencer "As much as I loved the playability, the stiffness combined with polyester made my elbow very tender."
Troy "The Wilson Pro Hybrid Grip tended to get slippery during a long hitting session. I would replace the grip with a TW Private Label Leather Grip and put a Wilson Pro Overgrip on top of that."
Jason "The stiffer feel wasn't the best on my arm."
Technical Specifications

Length
27 inches
69 centimeters
Head Size
98 square inches
632 square centimeters
Weight
11.3 ounces
320 grams
Balance Point
13.25 inches
34 centimeters
2pts Head Light
Construction
22mm / 21mm / 21mm
Composition
Karophite Black / Basalt
String Pattern
18 Mains / 20 Crosses

Babolat RDC Ratings

Score

Grade

Flex Rating
64
Range: 0-100
Swing Weight
335
Range: 200-400
Scores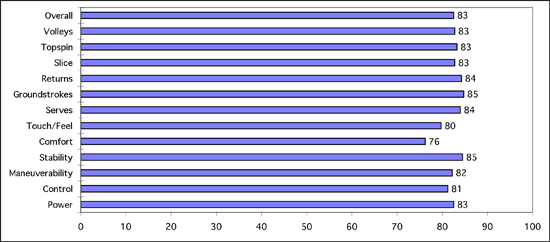 (Scores are determined by averaging individual play test scores)
Chris's Scores
Power
8
Serves
8.2
Control
7.9
Groundstrokes
8.1
Maneuverability
7.8
Returns
8
Stability
8.1
Slice
8.1
Comfort
7.9
Topspin
8.1
Touch/Feel
8
Volleys
8.3
Overall
7.9
Spencer's Scores
Power
8.5
Serves
8.5
Control
8
Groundstrokes
8.2
Maneuverability
8.1
Returns
8.7
Stability
8.6
Slice
8.5
Comfort
7
Topspin
8.5
Touch/Feel
7.6
Volleys
8.3
Overall
8.4
Troy's Scores
Power
8.5
Serves
8.5
Control
8.3
Groundstrokes
8.8
Maneuverability
8.5
Returns
8.7
Stability
8.6
Slice
8.5
Comfort
7.9
Topspin
8.5
Touch/Feel
8
Volleys
8.3
Overall
8.4
Jason's Scores
Power
8
Serves
8.4
Control
8.3
Groundstrokes
8.8
Maneuverability
8.5
Returns
8.3
Stability
8.5
Slice
8
Comfort
7.7
Topspin
8.2
Touch/Feel
8.3
Volleys
8.2
Overall
8.3
Playtester Profiles
Chris: 5.0 all court player currently using the Volkl Power Bridge 10 Mid. Chris uses a full-western forehand grip, has a fast swing style and hits a one-handed backhand.
Spencer: 4.5 baseline player currently using the Prince EXO3 Tour 100 16x18. Spencer uses a semi-western forehand grip, and hits with a one-handed backhand.
Troy: 5.0 lefty all-court player with a full Western Forehand and a two handed backhand. Troy currently plays with the Dunlop M-Fil 300.
Jason: 4.0 baseliner with a semi-western forehand and two handed backhand. Currently using a Boris Becker Delta Core London.

Review date: June 2011. If you found this review interesting or have further questions or comments please contact us.
All content copyright 2011 Tennis Warehouse.