Wilson Blade 93 2013 Racquet Review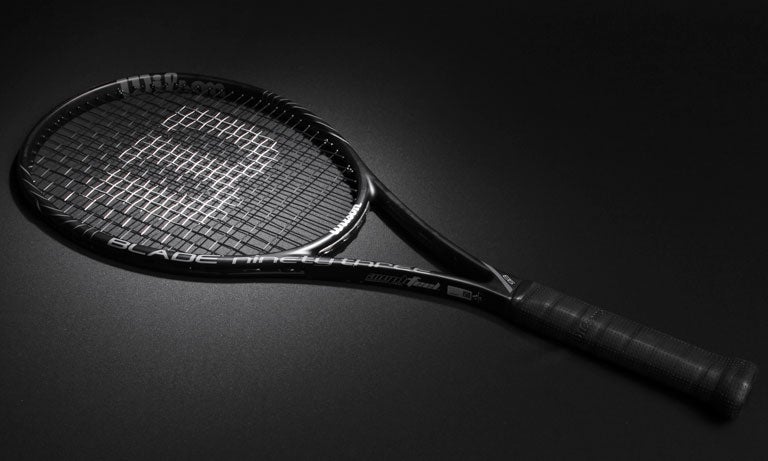 Wilson Blade 93 2013 Scores
Comfort
87
Touch/Feel
85
Serves
82
Groundstrokes
84
Returns
81
Slice
89
Topspin
78
Volleys
87
Overall
87
Downsides
Some might find the mid headsize unforgiving
Summary
Wilson throws a new heavyweight contender into the ring with the
Blade 93
. Our playtest team fell in love as soon as it got into their hands. Finding the perfect blend of stability and maneuverability, everyone was in agreement that this was a top-notch performer from every area of the court. It provided plenty of plow through on groundstrokes, felt rock solid at net and on the return, and was perfect for hitting serves with laser-like precision. Everyone who had tried the previous versions agreed that it was a significant upgrade. World, get ready for another excellent performing midsize racquet!
Groundstrokes - Score: 84
All of our playtesters loved the new Blade 93's stable, plush feel. Chris found this new Blade to be a significant upgrade from the previous version. He said, "I loved the response of this racquet from the baseline. It felt so much plusher and more comfortable than the BLX Blade Tour it replaces, and it offered better feel. I thought the sweetspot felt more generous and the overall response of the stringbed was more predictable. I found the previous version to feel a little brassy off-center, but this racquet had none of that and offered a more comfortable and consistent response. I was getting all the power I needed, and I loved the way I could accelerate this racquet easily through the hitting zone. I was generating good tip speed with this racquet and that translated into good spin and pace. I hit the racquet with a variety of polys and found it played well with both a firmer string and a more modern, softer co-poly. I also hit this racquet with Wilson NXT, and even though I don't usually use multis, with this racquet I found enough control that I could still be very aggressive. My favorite shot off the ground was my topspin backhand. I thought this racquet was a one-hander's dream -- easy to snap through contact and extremely precise."
"Wilson has once again nailed the midsize Blade offering, with added comfort and an even more solid feel than previous versions," Andy said. "This racquet performed great from the baseline, providing that classic solid feel off both wings and also providing enough heft for knifing backhand slices crosscourt. The small headsize made it super maneuverable through the hitting zone, but there was still enough weight in the head to keep it rock solid at impact. Obviously, it's not going to be quite as forgiving as the 98 square inch versions, but this still might have been my favorite of the new Blades."
Enjoying the stability and control on his groundstrokes was Troy, who said, "I enjoyed the stable and plush feel that this racquet provided on groundstrokes. I felt dialed into my shots, and I found that I could place the ball well and go for offensive shots with no reserve. The weight and balance of this racquet made it easy to whip, and it had enough mass in the hoop to get good plow through. I loved hitting my backhand slice with this stick; I was generating a very low penetrating slice that was creating a difficult return for my opponents. This racquet felt less powerful than my Wilson BLX Six.One 95 (18x20). I wasn't quite getting the pop that is evident with my racquet."
Rounding out the crew's approval of this racquet was Mark, who offered, "I have, so far, put about a dozen hours on this racquet over a period of 6 or 7 sessions, and groundstrokes were an easy transition for me (I usually play with a Prestige MP) from the start. I like the way the frame cuts through the air, and the way it feels when the Blade 93 connects with the ball off both wings. My topspin backhand had a bit more depth than usual, which I enjoyed immensely. My backhand slice was pretty effective, too. Overall, it's a fantastic racquet from the backcourt."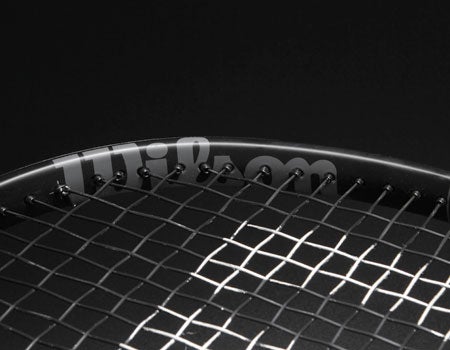 Volleys - Score: 87
Once again the Blade 93 shone, this time in the forecourt on volleys and overheads. It fulfilled every one of Andy's needs at net. He said, "The classic midsize feel felt wonderful on volleys and overheads. It was rock solid at contact and provided excellent ball feel for touch volleys. The tight string pattern also enabled me to have the precision to put the ball on a dime. It felt super maneuverable for when the ball was hit well at me, yet had enough heft for putting away overheads and volleys above the level of the net."
Mark was up to any challenge thrown his way as he moved forward against his opponents with this racquet. He said, "Half volleys, mid-court volleys and any other volley off both wings were a pleasure because the weight and balance of the new Blade 93 were near perfect for me. Even volleys on the stretch were doable due to plenty of weight in the hoop."
Chris thought that the racquet struck a balance of characteristics at net that most frames struggle to find. He said, "The precision I found at the baseline continued at net. I felt completely dialed in on my volleys. I was punching the ball with confidence and found myself constantly tempted to push the boundaries of what was possible, such was the precise response. I loved the feel on touch shots and hit some great angles and drop volleys during this playtest. I was finding that elusive blend of stability and maneuverability that had the racquet feeling fast in my hand but rock solid at impact. I loved it."
Troy liked the feel and control he found on volleys, but he would have preferred a crisper feel. He said, "I found great control when I came to the net with this racquet in hand. I could carve some sharp angles when I needed to, allowing me to hit all corners of the court. I was finding good depth on my volleys, and the mass allowed for plenty of stability against heavy hitters. The feel of this racquet is more dampened than my Six.One 95, and I think I prefer the crisp response of the Six.One 95. I found good touch and feel, just not quite the crispness that I favor in my own racquet."
Serves - Score: 82
"Control" was the word that best described the new Blade 93 on serves, and all the testers felt confident going for their serves with this racquet. Chris found it very natural and easy to serve with, saying, "This racquet doesn't offer a thick, stiff beam for power, nor does it provide a large headsize for a powerful stringbed, but none of that matters. The reason? I simply found it very easy to accelerate through the strike zone, so I could get all the pace and spin I wanted. The racquet also offered some nice mass behind the ball to help me get pace. The maneuverability and punch from the weight made this a very effortless racquet to serve with. I really could let the racquet do most of the work. I wasn't getting quite the pace I find from one of my beloved, old-school Prestige Pro 600s, but I got better spin with this racquet, and that allowed me to be aggressive with added consistency. I was definitely more aggressive hitting my second serve with the Blade 93, and just like at net, I found myself comfortable pushing my boundaries."
Mark felt good on serve. He offered, "A good balance between the amount and distribution of frame materials, along with the beam's firmness, created a lot of confidence on my serve. Directional change was good for me, and the extra pop on my serve was welcomed."
"Serving was an absolute pleasure with this racquet!" said Andy, who loved the blend of power and control. "The excellent heft and plow through provided lots of pop, and the small head and tight string pattern gave me pinpoint control. I felt like I could go for every serve in my arsenal with supreme confidence, and that I could put the ball on a dime at will. The only downside for me was the amount of spin I was able to generate compared to the larger-headed Blades. I felt I couldn't get quite as much action on the ball as I could with the 98s, but I'd trade that extra spin potential for the laser-like precision any day."
Troy also liked the control, but like on volleys, he desired a more crisp, powerful feel. He said, "Control was superb when serving with this racquet. I could easily go for a flat serve down the middle and then transition to a kick serve out wide. The low-powered feel of this racquet allowed me to attack with my serve, which I feel will be beneficial for servers with a lively arm. Not having a huge serve, I felt that power was lacking a bit in comparison to my Six.One 95."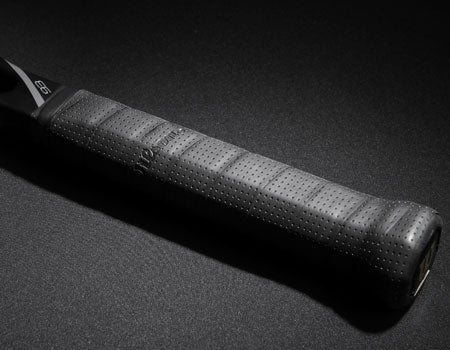 Serve Returns - Score: 81
Once again the stability and great feel were on display, but our playtesters had some mixed feelings in this area. Mark loved returning with this racquet, where all the attributes that he enjoyed about the frame continued to shine through. "Same story here," he said. "Just like on the volley, it's a near perfect blend of weight and balance. I mostly block my returns back, so that type of return was very stable and reliable, and for the rare occasion that I took a full swing at the return, the result was top notch as well."
Chris loved the new Blade on his service returns. He offered, "What a classy stick. Everything just came together on the return for me. I was finding great pace and control, and a rock solid feel. I loved attacking the incoming serve with this racquet and found it also helped me keep my defensive returns solid. I liked the comfort I found as well, and it helped take the sting out of a full stretch return when all I could do was get the tip of the racquet on the fast approaching ball."
Troy loved the control and was feeling confident returning serve as well, but once again felt the lack of power. He said, "I loved the control on my return of serves. It allowed me to take a big rip at the ball and put pressure on the server. I was also pleased with how stable this racquet was when coming in contact with big first serves. I could chip my slice backhand return easily, and the mass of the racquet did much of the work for me. A great racquet for the return specialist, but don't expect any free power ... you have to supply it yourself."
Andy liked the feel on the chip return but felt a little uneasy going into overdrive on his aggressive returns. He said, "This was the one area where I preferred the other new Blades to this midsize offering. I like to take aggressive cuts at the ball on the return, and I like having a little forgiveness on my forehand side, where I have more of an extreme grip. When I shortened up my swing, got my contact out in front, and just used the server's pace the racquet felt great. However, when attacking the return a little more I found myself shanking a few more than I'd like. However, this is only a personal preference of a larger headsize and not the fault of the racquet. On another note, this new Blade felt awesome when chipping the return. It stays stable at impact, and the heft allows you to bunt the chip return back deep quite easily."
Overall - Score: 87
Likes
Chris - "I loved the power, spin, control, feel, stability and maneuverability. You might be getting the picture by now that I really liked this racquet! I think Wilson nailed it, and for me this is the best midsize Blade yet. A fantastic racquet. Oh, and the cosmetic is bad ass, too."
Andy - "I think Wilson nailed this midsize offering, and it was my favorite of the four new Blades. It's simply a great feeling midsize frame. It's rock solid all over the court, providing great pop and plow through while also offering pinpoint precision on every shot. Wilson got it right on the feel of the racquet too, as it finds that nice balance between being solid and lively without losing the great ball feel that the classic midsize racquets have. Wilson got it right with this one, and the paint job is sweet too!"
Troy - "The stability and pinpoint precision from all areas of the court. The flat-black finish is sweet!"
Mark - "Darth Vader paint scheme, nice sized sweetspot for an 18x20 / 93 square inch hoop size, firm, but not stiff beam, stock black replacement grip, its overall weight, balance, etc...what's not to like?"
Dislikes
Chris - "None. This racquet is an absolute gem."
Andy - "It's not very forgiving for players with big swings, but that's what you have to expect with a racquet this size. It does feel alright on off-center hits, but the sweetspot is small for those who take big swings with extreme grips (like me on the forehand). But once again, that's not necessarily a fault of the racquet, but just what you have to expect from a midsize frame."
Troy - "It's lacking a bit of power and has a more muted feel than my BLX Six.One 95 (18x20) 2012."
Mark - "It was not available to me before now."
Comparing the racquet to others they've tried, our testers said:
Chris - "The best Blade mid yet thanks to its blend of power, comfort, feel, precision and stability. I thought this was a very forgiving mid and it had that easy to maneuver yet solid feel I found in the Volkl Powerbridge 10 Mid. It is way more forgiving and easier to use than the Six.One Tour and has a livelier and more modern feel to it than the Youtek IG Prestige Mid. It simply blows the BLX Blade Tour racquet away with superior comfort, better feel and a larger and more forgiving sweetspot."
Andy - "It's definitely an improvement from the midsize Blade it replaces. It's much more solid and has much better feel, though it will feel pretty similar in your hand because of the similar weighting. I'd put this in the same category as any Prestige Mid, as the weighting and shape of the head felt similar. However, I think the Blade has a little more pop and a little more lively feel. Overall, this is an excellent racquet and this was a very enjoyable playtest for me!"
Troy - "I felt that this update to the Blade Tour had similar characteristics to both of the previous versions. This version maneuvered like the previous BLX version but had a bit more feel and response. I found the KBlade Tour to provide the most feel and is my favorite of the three versions. I also found a comparison to my old Dunlop M-Fil 200, as well as the Gamma Tour 340X. This racquet feels slightly lower in power than my BLX Six.One 95 (18x20) 2012, and it feels a bit more muted."
Mark - "Both the Prestige mid and midplus come to mind, a slightly heavier/ more forgiving Slazenger Pro Braided, a firmer Pro Kennex Q Tour, and somewhat similar to the Biomimetic 200, but the Blade 93 has a bit firmer/crisper feel. Honestly, the prior BLX Blade Tour was not the frame for me, and on paper they are very close to each other (it cannot just be the cool paint scheme). I have to include the previous model, but they did not feel like they played similarly."
Technical Specifications

Length
27 inches
69 centimeters
Head Size
93 square inches
600 square centimeters
Weight
12.03 ounces
341 grams
Balance Point
12.75 inches
32 centimeters
6 Pts Head Light
Construction
21mm / 21mm / 21mm Straight Beam
Composition
Basalt
String Pattern
18 Mains / 20 Crosses

Babolat RDC Ratings

Score

Grade

Flex Rating
67
Range: 0-100
Swing Weight
333
Range: 200-400
Scores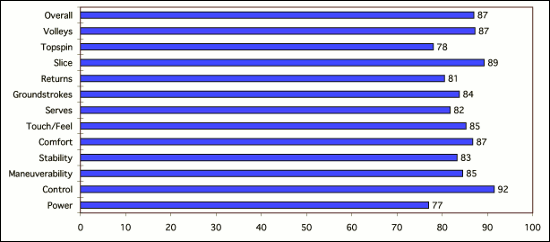 (Scores are determined by averaging individual play test scores)
Chris' Scores
Power
8.3
Serves
8.4
Control
8.6
Groundstrokes
8.2
Maneuverability
8.3
Returns
8.3
Stability
8.3
Slice
8.4
Comfort
8.3
Topspin
8.1
Touch/Feel
8.6
Volleys
8.4
Overall
8.5
Andy's Scores
Power
7
Serves
8
Control
9.5
Groundstrokes
7.5
Maneuverability
8.5
Returns
6.5
Stability
8
Slice
9
Comfort
8.5
Topspin
7
Touch/Feel
8.5
Volleys
8.5
Overall
8.5
Troy's Scores
Power
7.2
Serves
8.3
Control
9.5
Groundstrokes
8.8
Maneuverability
9
Returns
8.9
Stability
8.5
Slice
9.3
Comfort
8.9
Topspin
8
Touch/Feel
8
Volleys
8.5
Overall
8.6
Mark's Scores
Power
8.3
Serves
8
Control
9
Groundstrokes
9
Maneuverability
8
Returns
8.5
Stability
8.5
Slice
9
Comfort
9
Topspin
8.1
Touch/Feel
9
Volleys
9.5
Overall
9.2
Playtester Profiles
Chris: 5.0 all-court player currently using the Volkl C10 Pro 2012. Chris uses a full-western forehand grip, has a fast swing style and hits a one-handed backhand.
Andy: Open level all court player with a semi-western forehand grip and a two handed backhand. Andy currently using a Yonex RDiS 100 Mid.
Troy: 5.0 lefty all-court player with a full Western Forehand and a two-handed backhand. Troy currently plays with a Wilson BLX Six.One 95 18x20 (2012 version).
Mark: 5.0 lefty all-court player with a one-handed backhand. He currently plays with the Dunlop Aerogel 4D 200.

Review date: November 2012. If you found this review interesting or have further questions or comments please contact us.
All content copyright 2012 Tennis Warehouse.