Wilson Blade 104 2013 Racquet Review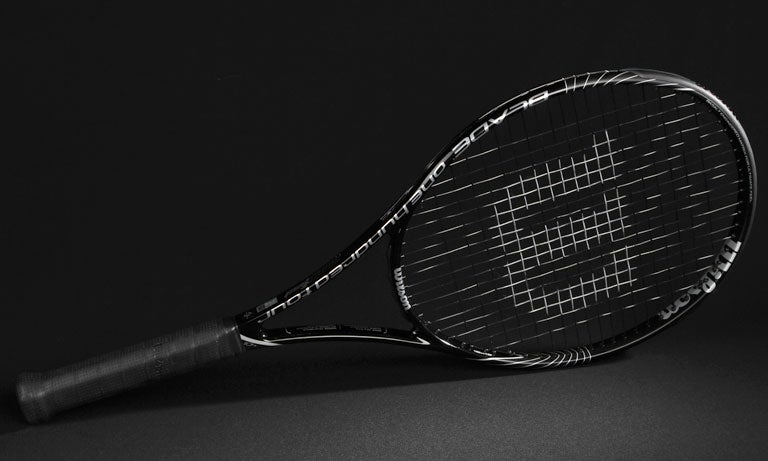 Wilson Blade 104 2013 Scores
Comfort
78
Touch/Feel
78
Serves
82
Groundstrokes
83
Returns
82
Slice
79
Topspin
82
Volleys
77
Overall
82
Upsides
Maneuverability
Easy power
Comfort
Downsides
Instability against big hitters
Summary
The racquet of choice for the Williams sisters,
Venus
and
Serena
, the Blade 104 is Wilson's update to the BLX Blade Team. This new and improved
Blade 104
is sporting a new coat and improved feel with Amplifeel technology in the handle. Offering a look as black as the night with silver highlights, this
Blade 104
pleased our playtesters with its power and maneuverability. Most of the testers found great spin production, and they all commented on the comfort of the racquet. Some of our playtesters noticed some instability, but they also found a powerful punch with this racquet. While the power and instability led to a loss of control at times, the racquet managed to impress even our big-hitting advanced players with its easy power, easy maneuverability and comfort.
Groundstrokes - Score: 83
Maneuverable and powerful, this Blade 104 had our playtesters feeling comfortable and aggressive from the baseline. "This racquet suits my game style perfectly," said Brittany. "When I paired it with a full bed of poly I gained some of the control I needed to keep the ball in the court while still maintaining comfort. Powerful and maneuverable, this racquet helped me hit some of my biggest backhands down the line. I did find, however, that my shots weren't as heavy, and spin production was just average for me. I struggled to hit low, penetrating slices and found them to float a bit more than normal."
Having played four years of college with an earlier version of the Blade Team, Siobhan felt right at home. She said, "First off, LOVE the new paint job. On court I really liked it from the baseline. I enjoy the power and spin production that comes with my faster strokes. To me, the headsize is really comfortable because it gives me a large sweetspot and plenty of opportunity to find the power and heavy spin that I like. The comfort level is also high, and I think the maneuverability is great. This racquet whips through the air pretty fast, allowing me to create my spin and get the control I like. I did struggle a little with the stability, particularly when trying to swing a bit faster or when returning a harder hit ball. I think the frame, in comparison to other racquets I've been hitting, just feels a little flimsy, and because I don't generate a lot of power I sometimes need the racquet to work overtime for me. I do love the feel, and when you add that a polyester string and Amplifeel you have a really great racquet and setup."
Tiffani used the power to hit the ball deeper into the court. She said, "I played pretty well with this racquet off the baseline, and I found better depth off my forehand than I usually do. I struggled initially with the feel of the Power Hole grommets because it felt like the racquet launched the ball off the stringbed. I came to appreciate that extra power, especially when reaching for a ball, as I was able to hit balls over the net when I had no business doing so. Spin was easy enough to generate, and I liked going to my slice backhand a lot. The only real downside was that I tended to go for too much on my forehand because I thought I could be a bigger hitter with this racquet."
Loving the short adjustment period and great playability was Karly, who said, "Talk about an easy racquet to switch to! The transitional period was minimal for me. I prefer playing with frames that have headsizes just under 100 square inches, so I was expecting it to take slightly longer to get used to playing with the Blade 104. With the amount of control I had on my shots I thought it played more like a racquet with a smaller headsize of around 98 to 100 square inches. I had more precision than I usually do with larger headsizes. The spin factor was also great. It was an easy racquet to swing and it was easy to produce a ton of spin, especially topspin. It didn't take much effort at all to hit loopy balls with a tremendous amount of spin to keep them from going long. The two things that I would change if I could would be the plow through and the instability when hitting outside of the sweetspot. I think this racquet could've benefited greatly if it were a little more head heavy. It was a little difficult keeping my swing momentum up when making contact with the ball because of the lack of plow through. There was also a distinct lack of stability when the ball was hit out of the sweetspot."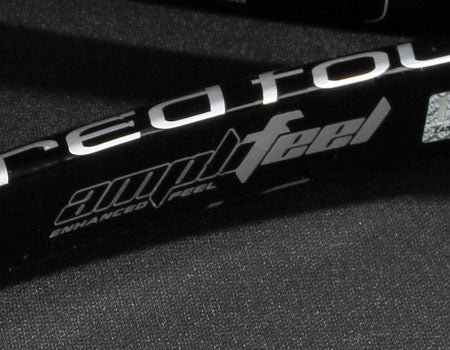 Volleys - Score: 77
Our team noticed great racquet maneuverability at the net, but some struggled with a little loss of control and stability. Karly offered great feedback, saying, "The racquet felt great up at net! My volleys felt crisp and had a ton of pop behind them, not to mention the good maneuverability made it extremely easy to swing. I could move the racquet effortlessly and switch directions quickly during fast paced rallies. I didn't notice as much of the instability with volleys, but the control that I had at the baseline seemed to disappear up at net. With that extra pace and pop I really had to focus on my shots, and the racquet played more like its actual headsize."
Tiffani felt comfortable at net but could have used a little more control. She said, "The Blade 104 felt pretty solid at net, and it was mobile enough for me to have the confidence to approach the net. I struggled a little bit with my placement because of the trampoline-like feel, but I struck the ball with authority, and there was good put-away power."
Brittany thought the maneuverability up at net was excellent, saying, "When playing doubles with this racquet I found it very easy to reflex volleys back (shout out to my doubles partner, Spencer!). The stability was OK, especially for being such a lightweight racquet, but I was craving more, especially when bigger, heavier balls were coming at me. I also struggled finding my touch and angles with this racquet."
Siobhan liked the way the racquet whipped around but struggled with the torsional stability. She offered, "Maneuverability was high here, and I really liked how easy it was to get into position. It was comfortable, but I could have used more control and I really felt the instability. It's the same as on groundstrokes, particularly when the ball comes faster. The racquet just doesn't feel like it has enough mass behind it to really help you punch through the volley. This isn't new to this version of the Blade, though, I just either need bigger muscles to really keep the racquet stable or a little more mass and momentum."
Serves - Score: 82
Finding herself to be the Queen of the Slice Serve was Tiffani. "I thought I saw a little more action on my slice serves than usual, and pace was easy to achieve. I did notice, however, that if I played tentatively at all and didn't swing properly the racquet didn't feel as stable. I actually liked that because it rewarded me for keeping my swing speed up."
Finding plenty of pace behind her shots was Brittany, saying, "It was very easy to generate power on my serve using the Blade 104. It was really easy to hit a flatter first serve and then take a little pace off and add some spin for an effective second serve. The maneuverability and comfort were an added bonus on serves."
Instead of dropping sets, Karly dropped bombs on her serve. She said, "Like the volleys, the Blade 104 packed a ton of power behind my serves, and I mean a ton. I could hit bombs without putting much effort into my serve, though with all that power came little control. I had a hard time hitting my spots and sent some of my serves sailing long. It took some time to adjust and aim lower than I normally do."
Siobhan really found her comfort zone on serves with the 104. She said, "I like serving with the Blade 104 because I find the power accessible, the racquet extremely spin friendly and I'm able to hit all types of serves. It's not too stiff, and I really like how it whips through the air."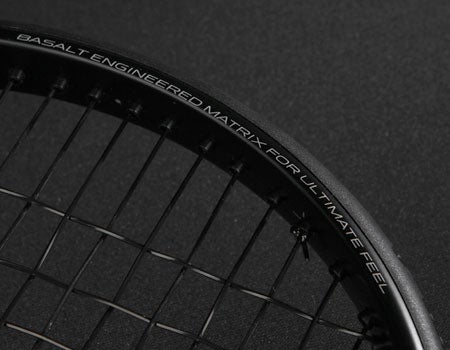 Serve Returns - Score: 82
With the Blade 104's power level and ease of maneuverability, our testers felt they could go for their returns. "I can be really aggressive here with a shorter swing," said Siobhan. "I found the power easily, and by using spin to gain control I was able to hit strong returns. I found I was really able to hit my spots, both down the line and cross court, and start the point off in an offensive position."
Returns were Brittany's favorite shot with the Blade 104. She explained, "The maneuverability helped me take aggressive cuts at the serve that put me into an offensive position to start the point. However, because this racquet is very powerful I had to hold back at times and add some extra spin to keep my return in the court. The lack of stability came into play when returning first serves, as the racquet would sometimes get pushed around."
Karly let her aggressive side come out to play with the Blade 104, saying, "I loved how easy it was to be aggressive with this racquet. It didn't take much effort to swing, and I thought I got a great combination of control and power. I could hit my marks with pace without worrying about the ball sailing long. Although, lack of plow through and instability came into play again. I had to really make sure to follow through with my strokes to get good depth, and if I were to hit anywhere near the frame the unstable feel made it clear that I didn't hit the sweetspot."
Tiffani liked the way the racquet whipped through the air. She offered, "The ease of swing really came into play here. The Blade 104 swings very quickly, and I noticed that I was standing in closer to the baseline than usual to return serves. That gave me more of an opportunity to be the aggressor."
Overall - Score: 82
Likes
Siobhan - "Power and access to spin, which I think comes from the maneuverability and the ability of the racquet to whip through the air."
Brittany - "I liked the power and maneuverability on my groundstrokes, serve returns and serves. I love the sleek black cosmetic."
Karly - "The control and spin on my groundstrokes, and the power and maneuverability on my serves and volleys."
Tiffani - "I liked being able to take a fast swing, the easy power and the comfort."
Dislikes
Siobhan - "The feeling that it was lacking in torsional stability."
Brittany - "I'm not the biggest fan of the feel, and I found some instability at times."
Karly - "The lack of plow through and the instability when I hit outside the sweetspot."
Tiffani - "The launchpad feel was a struggle for me, and I tended to overhit."
Comparing the racquet to others they've tried, our testers said:
Siobhan - "Four years with the KBlade Team had me comparing the two. These racquets were extremely similar (as they were designed to be), except the Amplifeel with this new update makes it a little more comfortable, with a cleaner, clearer response."
Brittany - "This racquet to plays a lot like the previous version (Wilson BLX Blade Team). With the addition of Amplifeel technology I found I got more feedback when hitting the ball."
Karly - "The racquet reminded me of the Head IG Radical OS in terms of the user friendliness of the frames. Even though they have somewhat larger headsizes, they were very easy to switch to from smaller headsizes because of the good control they offer. They were also easy to maneuver and pack a lot of spin."
Tiffani - "I am actually reminded of an oversize racquet when I hit with the Blade 104 because of the easy power I found. The Head YOUTEK IG Radical Oversize has a 107 sq. in. headsize, and I think has similar power potential and comfort. Both are great for spin, too."
Technical Specifications

Length
27.5 inches
70 centimeters
Head Size
104 square inches
671 square centimeters
Weight
10.7 ounces
303 grams
Balance Point
13 inches
33 centimeters
5 Pts Head Light
Construction
22.5mm Straight Beam
Composition
Basalt
String Pattern
18 Mains / 19 Crosses

Babolat RDC Ratings

Score

Grade

Flex Rating
60
Range: 0-100
Swing Weight
308
Range: 200-400
Scores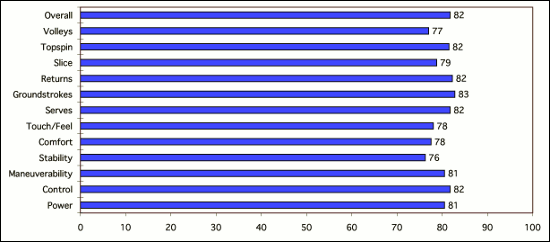 (Scores are determined by averaging individual play test scores)
Siobhan's Scores
Power
8.5
Serves
8.8
Control
8.3
Groundstrokes
9
Maneuverability
8.5
Returns
8.8
Stability
7.5
Slice
7.5
Comfort
8
Topspin
8.5
Touch/Feel
8
Volleys
7.5
Overall
8.7
Brittany's Scores
Power
7.5
Serves
8.2
Control
8.4
Groundstrokes
8.1
Maneuverability
7.5
Returns
8.1
Stability
7.9
Slice
7.6
Comfort
7.4
Topspin
7.7
Touch/Feel
8
Volleys
7.5
Overall
7.8
Tiffani's Scores
Power
8.1
Serves
8
Control
7.7
Groundstrokes
7.9
Maneuverability
8.4
Returns
7.8
Stability
7.7
Slice
8.3
Comfort
8.1
Topspin
8
Touch/Feel
7.6
Volleys
7.8
Overall
8
Karly's Scores
Power
8.1
Serves
7.7
Control
8.3
Groundstrokes
8.1
Maneuverability
7.8
Returns
8.2
Stability
7.4
Slice
8.1
Comfort
7.5
Topspin
8.4
Touch/Feel
7.6
Volleys
8
Overall
8.2
Playtester Profiles
Siobhan's: Open level player with a semi western forehand and a two-handed backhand. She currently plays Wilson KBlade Team.
Brittany's: Open level player with a semi-western forehand and a two-handed backhand. She currently plays with the Yonex V-Core 100S.
Tiffani's: 4.0 level baseliner with a semiwestern grip on the forehand and hits a two-handed backhand. Currently playing with the Tecnifibre Rebound Pro.
Karly's: 4.0 baseline player currently playing with the Wilson nCode nTour. She hits with a semi-western forehand grip and uses a two handed backhand.

Review date: November 2012. If you found this review interesting or have further questions or comments please contact us.
All content copyright 2012 Tennis Warehouse.