Boris Becker NYC Racquet Review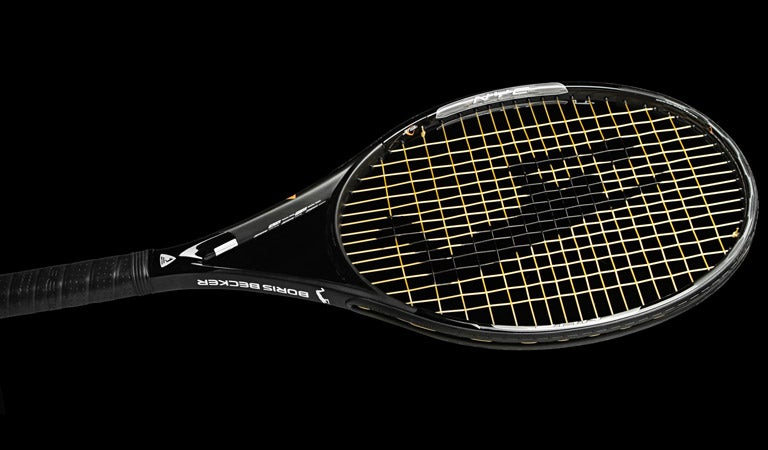 Boris Becker NYC Scores
Comfort
80
Touch/Feel
75
Serves
80
Groundstrokes
77
Returns
79
Slice
78
Topspin
85
Volleys
81
Overall
79
Upsides
Easy access to spin
Maneuverable
Control
Feel
Downsides
Lacks plow through
Unstable against big hitters
Summary
As Boris Becker jet sets the world from Grand Slam city to Grand Slam city with his racquet names (Melbourne, London), we next land in NYC. Sporting an all black cosmetic befitting Gotham City, the Boris Becker NYC is impressive even at first glance. When it came to performance, our TW testers found the maneuverability and access to spin to be outstanding. Control, too, was excellent, and our players could hit their targets from any area of the court. It was power where our team had divergent opinions. Our big hitting testers weren't getting the plow through they were accustomed to from the 10.8 ounce (strung) NYC. The light weight and head-light balance also led to some issues with stability for them. However, with a sub-11 ounce strung weight this NYC is easily customizable and well worth the effort, our team found, because of the impressive control, ease of swing and spin potential.
Groundstrokes - Score: 77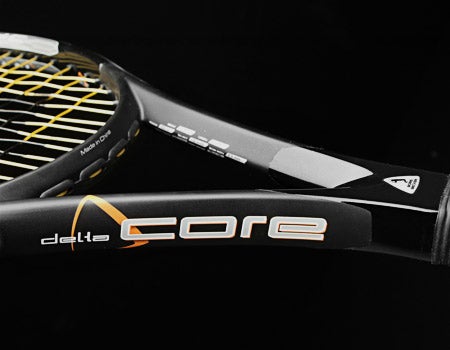 Easy to swing and offering plenty of control, the NYC provided ample spin for offensive baseline play. Chris found that the right string setup really helped with this racquet's performance. He offered, "It took me some time to find the right string setup to feel comfortable off the ground with this racquet. It responded best for me when I used a very fast swing speed. On slower swings, when I was looking to hit a touch shot or just place the ball, I found the racquet to lack stability. When banging the ball with big spin and power, the racquet responded immensely better and felt much more solid. Toward the end of the test we put some Polyfibre TCS 16 string in the racquet, and it took the performance to a new level for me. The softer response of the TCS improved the comfort immensely, and I was getting better spin, more touch and all the control needed to allow me to confidently stay on the gas."
The NYC provided ample control on groundstrokes for Carol. She said, "The racquet was easy on the arm and didn't have a shock factor. I had an adjustment issue with the head light balance (6pts HL vs. my normal 10 pts HL) and low weight (10.8 vs 12.2 ounces strung). Although I had great control with this racquet and was able to place my shots around the court with ease, I had little pop behind my shots. I definitely found myself having to hit an extra ball to put points away or just not being able to be as offensive as I like. I loved the great placement, but with my game style and physical size, I need my racquet to provide a little more power."
Jason enjoyed the power, spin and general playability from the baseline. He said, "This was such an easy racquet to swing! I loved the maneuverability and how it allowed me to successfully hit some angled shots from both wings. I felt like my topspin forehands had more bite and kick than usual and I was able to hit my backhand slice effectively. I was surprised by the power because it is only 10.8 ounces strung. I found plenty of pop to help me play more offensively. I will admit that I would've liked the overall weight to be increased about half an ounce to help it against the two big hitting opponents I face on a regular basis: Carol and Brittany. "
Jose agreed with Jason. He added, "It was really easy to generate racquet speed from the baseline. The only issue I had was depth. I had a hard time hitting the ball deep in the court. "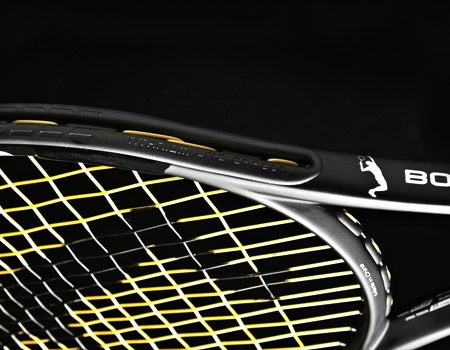 Volleys - Score: 81
The light weight and maneuverability of the NYC was apparent at net, although some testers experienced a little instability. Wanting to add a little more weight was Chris. He said, "Light and fast feeling, I found this racquet very easy to get into position at net. I would definitely add some weight to this one to improve stability. When I was punching volleys, the racquet felt good. It was when I had to absorb pace or looked to drop the ball short with a very soft grip on the racquet that I had issues with stability. A little lead tape would fix this one up for me, and in stock form I'd call this one a good platform for weight/balance customization."
Jose enjoyed the NYC at net, finding good directional control. He said, "Since the racquet is light and maneuverable I had a fun time with volleys. It was easy to direct the ball in any direction. Once again the only issue I came across was hitting the ball deep in the court."
Jason really liked the NYC up at net for both volleying and overheads, saying, "Again, the mobility made it great for reflex volleys, especially the ones right at the body. I also found nice touch with the open string pattern. I did notice some torsional instability when I was at full stretch, trying to get to a ball."
Carol found herself struggling with power at net. She said, "The racquet provided control and consistency, but very little pop. I also wasn't able to change the pace of the ball with the ease I usually have. When I come to the net it's to end the point, and I need the confidence that my racquet will provide control and stick. I think it is missing the stick part."
Serves - Score: 80
While most of the testers found good spin and pace, they all enjoyed good placement and consistency. Jason offered, "The combination of power and spin I found on my serve was amazing, especially when it was strung up with Polyfibre TCS. This racquet even inspired enough confidence that I started trying to hit kick serves in games. I'm not saying they were the most successful serves, but at least I felt like I could hit them. Placement and targeting were solid as well. "
Accuracy was key for Carol. She said, "Again, I was hitting all my targets with ease, and the racquet was very comfortable and easy on the arm. I really enjoyed the maneuverability and whip of the racquet on this shot, but I needed more pop."
Jose found spin production to be high, saying, "I notice some extra spin on my kicker and extra power on my flat serve. It was easy to generate the racquet speed, which allowed me to get that bite on the ball."
Also finding good pace and spin was Chris. He said, "I served pretty well with this racquet. I wouldn't say I was hitting the heaviest ball, but I was finding my targets and keeping the returner guessing. I liked the angles I could find on spin serves and found I could quickly dial in my targeting and find more of an angle without sacrificing consistency. On second serves I was getting enough spin that I could inject more pace to keep me on the offensive."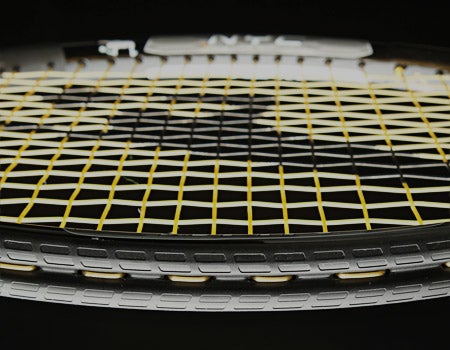 Serve Returns - Score: 79
All playtesters noticed the lack of weight on serve returns. Although they enjoyed the control and spin, they found the racquet got pushed around a little more than they would have liked. Needing a little more oomph was Carol. She said, "I'm very aggressive with my serve return, so I really rely on a racquet that provides me with a lot of control. I loved being able to hit my targets and get myself in an offensive position, but wish I had a little more pop on the ball."
Jason would have liked more mass, too, as he got caught out on really aggressive serves. He explained, "Unlike with my serves, I really would've liked more mass for my returns. It felt like the NYC got pushed around more in this area, and especially so on my weaker side, the backhand. When I had opportunities to be aggressive with my return I really enjoyed it. I loved being able to take full cuts at the ball and have it land in because of the heavy spin."
Chris returned well with this racquet, especially in doubles. He said, "I was able to get lots of spin and I was hitting cross court angles very well. I would have liked a little more mass behind the ball to really drive a hard flat return as the crisp response and precise feel was there. As from other areas of the court, the racquet felt good, but I knew it could feel even better with the addition of some lead weight."
Jose struggled with being aggressive, saying, "It was easy getting a racquet on most serves to get them back in play. I did have a difficult time being offensive on any return."
Overall - Score: 79
Likes
Chris - "I love the cosmetic, the crisp response and the access to spin."
Jason - "Almost everything! Power, spin, maneuverability and cosmetics!"
Carol - "I really enjoyed the control and comfortable feel of this racquet. Lighter racquets tend to irritate my arm, but I felt great with this one."
Jose - "The maneuverability of the racquet was amazing. Good blend of power and control on the frame."
Dislikes
Chris - "It lacked a little comfort, depending on the string, and it just wasn't stable enough for me."
Jason - "It could've used slightly more mass."
Carol - "I need more power than this racquet provides. Other than that, I have no complaints."
Jose - "The swingweight was too low for me. It didn't provided the plow through that I look for in a racquet."
Comparing the racquet to others they've tried, our testers said:
Chris - "The light, fast and spin-friendly response reminded me of the Becker Pro I used to use. I customized my Becker Pros with weight and really enjoyed them. I'd do the same with this racquet to improve its plow through."
Jason - "I feel like this could basically be called the Boris Becker London 2. Loved the London, but it needed weight. Love the NYC, but it needs weight."
Carol - "I think the Boris Becker Delta Core London Tour complemented my style of play much more than this racquet."
Jose - "Head Youtek IG Instinct, I would say, is the closest comparison. They're really similar in every aspect, other than I felt that the NYC gave me a little more power than the Instinct."
Technical Specifications

Length
27.25 inches
69 centimeters
Head Size
100 square inches
645 square centimeters
Weight
10.8 ounces
306 grams
Balance Point
12.88 inches
33 centimeters
6pts Head Light
Construction
23mm / 23mm / 23mm Straight Beam
Composition
Graphite / Delta Core
String Pattern
16 Mains / 18 Crosses

Babolat RDC Ratings

Score

Grade

Flex Rating
68
Range: 0-100
Swing Weight
304
Range: 200-400
Scores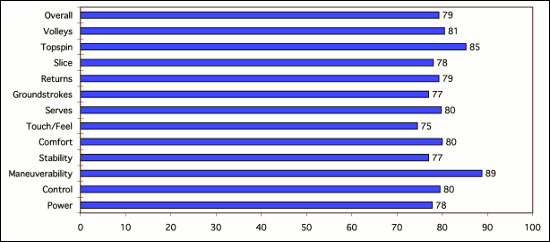 (Scores are determined by averaging individual play test scores)
Chris's Scores
Power
7.7
Serves
8
Control
8
Groundstrokes
7.8
Maneuverability
8.5
Returns
7.7
Stability
7.4
Slice
8.4
Comfort
7.6
Topspin
8.6
Touch/Feel
7.8
Volleys
7.8
Overall
7.8
Jason's Scores
Power
8.4
Serves
8.5
Control
8.2
Groundstrokes
8.6
Maneuverability
9.5
Returns
7.8
Stability
7.9
Slice
8.7
Comfort
8.2
Topspin
9
Touch/Feel
8.1
Volleys
8
Overall
8.6
Carol's Scores
Power
7
Serves
7.4
Control
8.6
Groundstrokes
6.8
Maneuverability
8.5
Returns
8.2
Stability
8
Slice
6.2
Comfort
8.2
Topspin
8.5
Touch/Feel
6.5
Volleys
7.4
Overall
7.4
Jose's Scores
Power
8
Serves
8
Control
7
Groundstrokes
7.6
Maneuverability
9
Returns
8
Stability
7.5
Slice
7.9
Comfort
8
Topspin
8
Touch/Feel
7.4
Volleys
9
Overall
7.9
Playtester Profiles
Chris: 5.0 all-court player currently using the HEAD Youtek IG Prestige Midplus. Chris uses a full-western forehand grip, has a fast swing style and hits a one-handed backhand.
Jason: 4.0 baseliner with a semi-western forehand and two handed backhand. Currently using a Boris Becker Delta Core London.
Carol: Open level baseliner currently using a Wilson BLX Six.One 95 (16x18). Carol is an aggressive player who uses an eastern forehand grip and a two handed backhand.
Jose: 5.0 baseliner with a semi-western forehand with a 2 handed backhand. Currently using the Prince EXO3 Tour 18x20.

Review date: June 2012. If you found this review interesting or have further questions or comments please contact us.
All content copyright 2012 Tennis Warehouse.