Boris Becker Delta Core London Tour Racquet Review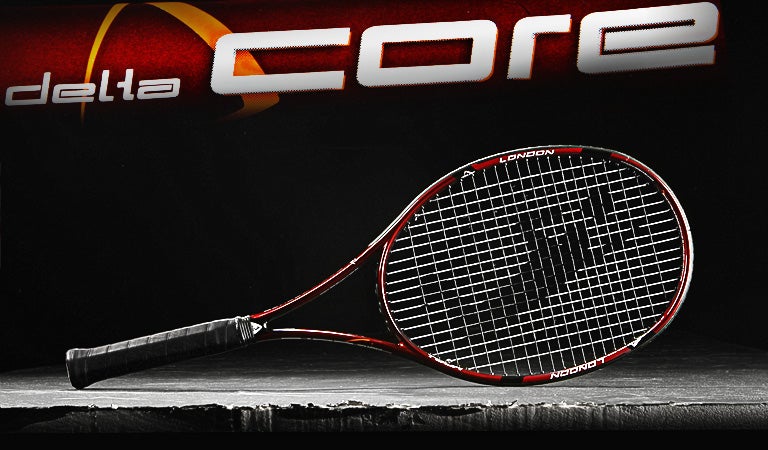 Boris Becker Delta Core London Tour Scores
Comfort
82
Touch/Feel
82
Serves
77
Groundstrokes
78
Returns
79
Slice
81
Topspin
74
Volleys
79
Overall
76
Upsides
Control
Feel
Precision
Comfort
Downsides
Small sweetspot
Lack of power towards the tip
Summary
Becker introduces a new, midsize player's racquet to its line up with the Delta Core London Tour. Featuring an 18x20 string pattern, this 93 square-inch player's racquet offered our testers lots of feel and precision from all areas of the court. Power was most impressive on serve, but our testers found this racquet slightly lacking when trading groundstrokes. Most felt adding weight to the hoop of the racquet improved the size of the sweetspot and added needed power and stability. In stock form, this racquet offers the kind of control and touch advanced players will love. As Jason mentions in his comments, it's also the perfect starting point for weight and balance customization.
Groundstrokes - Score: 78
Our team enjoyed the maneuverability and control the London Tour offered, but some felt like it was a bit underpowered. Chris loved to hit some wicked slice with this racquet. He said, "From the baseline I found this racquet to be very soft and comfortable. Any power came from using the mass of the racquet to drive the ball, as the tight stringbed did not offer a lively feel. My favorite shot with it was my backhand slice. On slice the racquet offered decent plow through and some nice grip on the ball. Feel was excellent, and I felt like I could control depth and direction at will. On topspin strokes the racquet was decent, but not great. Whereas my Volkl Powerbridge 10 Mid feels great in stock form, this racquet cries out for customization. The upper hoop felt too flexible to me, but could easily be fixed with some lead tape at the tip. Adding a little weight to the handle and a leather grip made this a better feeling racquet for me."
Loving the specs was Spencer. He said, "Of all the Becker racquets I've hit with, the Delta Core London Tour has been my favorite. For a player's stick, the London Tour has a very manageable swingweight, and I could get good racquet head speed. I found I was able to whip this racquet around on my groundies, which helped me get a fair amount of depth along with some surprising spin (for having an 18x20 string pattern). True to form for a 93 square inch head, when I hit the sweetspot my shots were just that, sweet. I really enjoyed the control and feel I was getting from both wings. If there was one characteristic that wasn't quite there for a 93 square inch player's stick, it was the plow through. The ball didn't seem to penetrate the court with any heaviness behind it."
Jason had his ups and downs. He said, "I had some mixed feelings here. Because of the weight and thin beam I felt like I was able to slice the ball very well. I also loved the directional control; I could easily guide a shot down the line and just as easily hit a sharp cross-court shot because of the maneuverability. But, I thought the racquet was underpowered. The combination of the small headsize, low swingweight, tight string pattern and low stiffness had me swinging out of my shoes, and my shots were still landing much shorter in the court than I wanted."
"This racquet provided a lot of control, but not very much power," said Carol, who loves to hit flat, penetrating shots. "The head of the racquet is small, with an even smaller sweetspot, but because I'm a flat ball hitter I think it complemented my style of play. As long as I hit the sweetspot consistently and did not deviate from it, the racquet felt great. If I did hit off mark, even by a millimeter, the feel would change and control would decrease. This meant that adding spin was tricky! The racquet felt heavier to me when I was swinging it than it did just sitting in my hand. While swinging, I felt that the racquet really brought my whole body all the way through the ball, which I loved."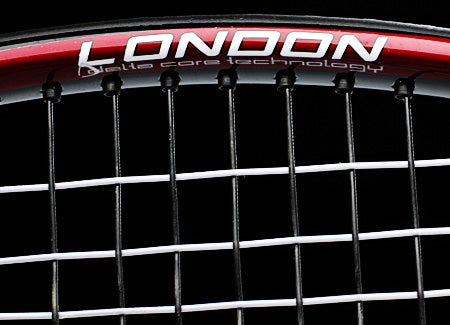 Volleys - Score: 79
The hefty weight of the racquet, combined with the head light balance, translated to solid volleys at net. Volleying well in both singles and doubles was Spencer. He said, "The mobility and feel were very apparent at net. I played some doubles with this racquet and felt very confident when volleying. Though the sweetspot is on the small side, the maneuverability made up for it, allowing me to get the racquet where it needed to be. It had a wonderful feel, giving me more confidence on touch shots."
Carol hit some controlled volleys. She said, "This racquet provided a great deal of "stick" to my volleys without taking away the feel. The racquet seemed to absorb the power coming at me and allowed me to control my shot with better precision."
Jason fared better with his volleys. "The racquet felt good up at net," he said. "Because I could rely on my opponent to supply the power I could just stick the racquet out, and the low-powered feel I experienced on my groundstrokes wasn't as exposed here. Maneuverability was also a plus. However, I would've appreciated a larger headsize and more stability for those times when I was stretched out wide."
Chris agreed. He added, "I liked the racquet more at net than from the baseline. Touch and feel on volleys was excellent. Again, a little bit more weight would help when looking for power, but even in stock form the racquet felt pretty good. The sweetspot felt smaller than the sweetspot on my racquet, and the additional flex in the upper hoop made the racquet feel less forgiving."
Serves - Score: 77
Once again, our team of testers found the Delta Core London Tour to add tons of control. Serving at a high percentage was Jason. He said, "For a 'tour' racquet, it was easy to serve with. I felt like I could hit my spots accurately and with decent spin. The problem was that, again, I couldn't get much pace on my shots. I enjoyed it for the consistency. I think this racquet would really benefit from some lead tape in the hoop, upping the swingweight a bit and helping add some more mass behind each serve."
Spencer was hitting his targets. He said, "I was very happy with how I served with this stick. There was ample power, but it was the placement I was getting that made my serves effective. This racquet allowed me to mix up my serves with placement, pace and spin."
"I have always liked how a midsize racquet comes through the air on serves, and this one felt really good," said Chris. "I was able to swing this racquet fast enough to get ample pace and spin. Both first and second serves felt good. I didn't serve quite as well as I do with my regular racquet, but it was very, very close."
Hitting flat serves yielded the best results for Carol. She said, "Again, I bring up the swingweight. I felt that the swingweight really brought me through the ball on the serve with a lot of pop. I had to be careful about adding spin because if I was a little bit off that sweetspot I lost control and power."
Serve Returns - Score: 79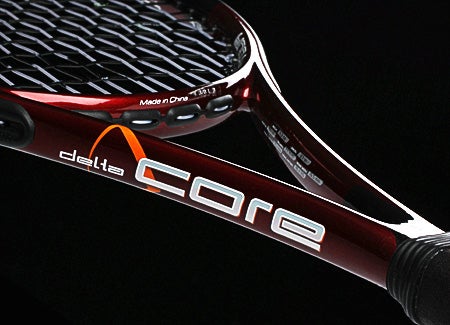 The low powered response allowed our TW playtesters to take big cuts at the ball and take the offensive when returning serve. Carol excelled with this racquet, saying, "I think this was my favorite shot with this racquet. Again, the racquet absorbed a lot of power, and with my flat hitting style this racquet really complemented the way I return."
The mobility allowed Spencer to return well. He said, "As with volleys, the low swingweight allowed me to be more effective and hit solid returns. If there was a weakness here, other than my game, it was when hitting a bit off center. The return would be short and get eaten up by my opponent."
Jason could be aggressive. He said, "The low-powered response was actually somewhat beneficial here. I was able to swing out a little more than usual because I knew that the racquet was underpowered. This allowed me to be more aggressive while returning. I did find myself struggling to get depth on the backhand side, though, but that is more about me than the racquet."
Returning serves with successful variety was Chris, who said, "I liked the control and feel I found on returns. I was able to be aggressive and take a good cut at the ball without worrying about over-hitting. Both when driving slice backhand returns and topspin forehands, I was swinging with confidence. Again, I felt a drop in power toward the tip of the racquet that occasionally had my returns landing shorter than intended."
Overall - Score: 76
Likes
Jason - "It was comfortable and control-oriented. Slicing groundstrokes felt great. This would make a good starting point for those who like to tinker with lead tape."
Carol - "I liked the fact that the racquet gave me a lot of control. Again, it complemented my game as a flat ball hitter. I think the serve return was my favorite shot with this racquet, with volleys being a close second."
Chris - "I liked the touch, feel and the response on slice the most from the baseline. At net was where I was happiest with this racquet, as it offered lots of feel and control on volleys. It is also a beautiful racquet with the best cosmetic I've seen in years."
Spencer - "I liked the control, feel and comfort."
Dislikes
Jason - "It felt underpowered. It needed to be either stiffer or have more weight in the head."
Carol - "Adding spin was definitely difficult! Every player has to add spin to the ball at some point during playing, and I don't think this racquet complements this. It has a very small sweetspot, typical of a 93 inch frame. You have to be very precise to hit this spot each time. I also think the string pattern of 18x20 was a bit much for me."
Chris - "For me this racquet definitely requires some customization. A racquet this soft and flexible toward the top of the hoop needs to be heavier to maintain stability and power. In stock form it felt good, but slightly lacking. Just a little more weight in the hoop, with some counter balancing in the handle, was all that was needed to bring this one up to spec for me."
Spencer - "I don't like the handle shape."
Technical Specifications

Length
27 inches
69 centimeters
Head Size
93 square inches
600 square centimeters
Weight
11.6 ounces
329 grams
Balance Point
12.75 inches
32 centimeters
6pts Head Light
Construction
19.5mm Straight Beam
Composition
Delta Core / Carbon-Graphite / Fiberglass
String Pattern
18 Mains / 20 Crosses

Babolat RDC Ratings

Score

Grade

Flex Rating
55
Range: 0-100
Swing Weight
308
Range: 200-400
Scores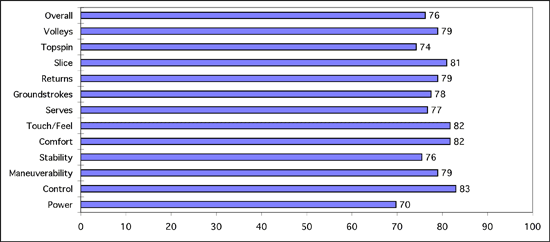 (Scores are determined by averaging individual play test scores)
Jason's Scores
Power
6.7
Serves
7.7
Control
8.3
Groundstrokes
7.5
Maneuverability
8.5
Returns
7.9
Stability
7.9
Slice
8.2
Comfort
8.2
Topspin
7.7
Touch/Feel
8
Volleys
7.7
Overall
7.6
Carol's Scores
Power
6.5
Serves
7.2
Control
8
Groundstrokes
7.2
Maneuverability
7
Returns
8
Stability
7
Slice
7.5
Comfort
7.6
Topspin
6.5
Touch/Feel
7.7
Volleys
7.2
Overall
7.2
Chris's Scores
Power
7.5
Serves
8
Control
8.3
Groundstrokes
7.7
Maneuverability
7.8
Returns
7.8
Stability
7.5
Slice
8.2
Comfort
8.3
Topspin
7.8
Touch/Feel
8.5
Volleys
8.5
Overall
7.7
Spencer's Scores
Power
7.2
Serves
7.8
Control
8.6
Groundstrokes
8.6
Maneuverability
8.3
Returns
7.9
Stability
7.8
Slice
8.5
Comfort
8.6
Topspin
7.7
Touch/Feel
8.5
Volleys
8.2
Overall
8
Playtester Profiles
Jason: 4.0 baseliner with a semi-western forehand and two handed backhand. Currently using a Boris Becker Delta Core London.
Carol: Open level baseliner currently using a Wilson BLX Six.One 95 (16x18). Carol is an aggressive player who uses an eastern forehand grip and a two handed backhand.
Chris: 5.0 all court player currently using the Volkl Power Bridge 10 Mid. Chris uses a full-western forehand grip, has a fast swing style and hits a one-handed backhand.
Spencer: 4.5 baseline player currently using the Prince EXO3 Tour 100 16x18. Spencer uses a semi-western forehand grip, and hits with a one-handed backhand.

Review date: November 2011. If you found this review interesting or have further questions or comments please contact us.
All content copyright 2011 Tennis Warehouse.