Babolat AeroPro Drive Cortex Tennis Racquet Review
When we reviewed the Babolat AeroPro Drive and AeroPro Drive Plus back in February of 2005, Rafael Nadal was on the rise as an up and coming player to watch. At that time he was ranked as high as 18th in the world. Over the next two years we have watched Rafa climb and settle into the number 2 position while dissecting most of his opponents with the AeroPro Drive. Still improving and hitting astonishing groundstrokes with regularity, would wielding the new AeroPro Drive Cortex help or hinder his game?
Sporting the new black, white and yellow of the AeroPro Drive Cortex, Rafa successfully defended his French Open crown in dominating fashion, gaining his third consecutive title.
Along with the new colors of this latest AeroPro Drive comes Babolat's new and improved feel technology called Cortex - already a proven success in the Pure Drive line. Both the Aero Modular and Woofer technology remain for increased swing speed and improved comfort, respectively. All other aspects of the AeroPro Drive racquets remain unchanged.
To go along with Rafa's three French Opens, would the new Cortex technology give the AeroPro Drive racquets the technological Triple Crown? We decided to hand the racquets to our in-house playtest team - a rabid bunch of tennis enthusiasts ready to hit the courts at the drop of a hat.
Babolat AeroPro Drive Cortex Standard
Groundstrokes
From the baseline, our testing crew was in agreement that the AeroPro Drive Cortex offered a solid, controlled feel. Getting the same solid feel from both sides was Ryan K. "This racquet was extremely solid for me on my groundstrokes. Whether I was hitting my forehand or two handed backhand, it felt like I could always find the sweetspot on this racquet. With the awesome amount of topspin I was able to create, I never felt like this racquet had too much power. I felt in control and was able to hit shots I wouldn't usually go for, unlike the more flexible player styled racquet I usually play with. It felt very easy for me to set up for a shot and the racquet felt very maneuverable." Granville quickly found the groove with this racquet. "It took just a few crisp forehands to discover this racquet is at its best when smacking the ball like Nadal. Its soft feel translates into being able to simply crush the ball, knowing it will land deep into your opponent's territory. Hitting it out/long will take some effort! Same on the backhand side - hitting out is the way to play with this racquet."
Giving top marks to the AeroPro Drive Cortex Standard from the baseline was Jason. "A real treat for the baseliner. I feel this is one of the best, if not the best, racquets for hitting groundstrokes. By taking full, loopy swings I could really take advantage of the open string pattern. The tremendous amount of topspin I found kept the ball deep and in play. A very stable and maneuverable racquet. I had no problems taking balls early, even with my one handed backhand. Control was fantastic and I really felt that I could precisely control the direction of my ball as well as the depth." Ryan S. was in agreement. "Wow! What a great racquet to hit groundstrokes with! Very, very impressive. I can't remember hitting a better racquet from the baseline. Slices, heavy topspin, flat shots, everything seemed to be just awesome with this racquet. The only racquet I remember hitting with that had as much pop and control as I had with this racquet was the Head Agassi Limited Edition Radical. I was really able to "hit out" with this racquet and it felt really good to just whip around forehand after forehand, turning the ball into a heavy spinning monster! I loved this racquet from the baseline."
Chris experienced more comfort with the addition of the Cortex. "As with the previous version of this stick, I found excellent access to spin and some solid pace off the ground. Noticeably absent from the first hit was the raw feel of the original AeroPro Drive. With this Cortex version I found the feel to be plush and comfortable. The racquet still felt firm, but without the sharper edge of its predecessor. For such a maneuverable racquet I was able to hit a heavy ball, thanks to easy access to spin. I really liked the performance of this racquet with a co-polyester string in it, like Babolat Pro Hurricane Tour or Polyfibre TCS. These new age co-polys with their softer feel really worked great in this stick. I was able to be much more aggressive and really take advantage of the power of the racquet without losing control, thanks to the co-polyester stringbed. Ripping forehands was lots of fun, and I pretty much looked to do that whenever the opportunity arose." Finding an abundance of control was Spencer. "Hitting with the Aeropro Drive sparingly in the past, I came into the test with an open mind. Being able to put a little more time in with the Cortex version, I became very impressed with the amount of spin and control on my groundstrokes. The solid feel, especially on off-center shots, certainly helped my confidence. The balls seemed to have a bit more bounce as they were really jumping upon landing in my opponent's court. I really enjoyed my hitting sessions (especially when strung up with polyester). My expectations were certainly exceeded with both forehands and backhands with this racquet. Gaining confidence with each stroke, I felt I was able to "zero in" and hit more winners than usual."
Volleys
Providing surprising stability at only 11.3 ounces, the AeroPro Drive Cortex was quite maneuverable while offering nice touch. This frame had the right characteristics for net play according to Chris. "At net the racquet felt firm, but comfortable. I found all the power I could want to help me get my volleys away. Maneuverability was impressive, and I felt like I was moving well when reaction time was limited. I had no problems feathering the ball short for drop volleys and angles or utilizing the power of the racquet to punch volleys deep. I kind of preferred the raw feel of the original at net, but was able to hit the same shots with this one - it was just that the feel was different." Granville was impressed with the maneuverability of the racquet. "A generous hoop/stringbed provided the AeroPro Drive Cortex with a comfortable sweetspot. Combined with the headlight balance and solid 11.3 ounce weight, I really got a sense of control and maneuverability when at net. Despite the mass and maneuverability, the racquet felt very different than my regular 95 square inch headsize racquet. I wouldn't say it was better or worse - just different."
Ryan K. liked the attributes offered by the Cortex when volleying. "The standard length and generous head size for a mid-plus racquet made for a very comfortable feel at the net. The new Cortex made my volleys feel crisp, unlike the older model which had a "twangy" feel. The maneuverability was excellent. I always felt like the racquet was right there with me and I didn't feel rushed setting up each volley." Ryan S. enjoyed the stability and crisp feel. "Volleys were also fairly impressive with this one. Maneuverability was good. Volleys were crisp at contact. I found good stability and there wasn't any twisting action on my wrist. I liked volleying with this stick."
Not disappointed, yet not thrilled with this racquet's net play was Jason. "I liked it, but didn't love it. Putting away easy shots and overheads was not a problem, but I felt the racquet was a bit sluggish hitting pick up volleys and shots directed at my body. However, the racquet did feel stable and torque was minimal." Spencer had similar sentiments. "I liked the stability. Maneuverability was decent, but I was more impressed with the crisp feel and how the racquet didn't waver upon contact. I was able to put away sitters with pace and the touch was nice, also."
Serves
Though spin and power seemed to be enjoyed by most, serving consistency was a bit of a mixed bag with the AeroPro Drive Cortex. Spencer had issues finding the groove. "Though groundstrokes were great, it took me awhile to get a comfortable feel on the serve. I can't exactly place my finger on it, maybe the swingweight, but I couldn't get any consistency at the beginning. However, I did adjust to it, and once in a groove I found I could generate some good spin. That would be the highpoint in this category. Definitely not my first choice when serving." Ryan S. was in agreement. "Serving was my least favorite shot with this racquet, even though I enjoyed it very much. I had a little bit of trouble finding a groove with this racquet. I'm not sure what attributed to that, but when I was on, it was really good. Spin was extremely easy to come by. My kick serve had plenty of kick. The nice thing is that there was good power out of this racquet to go with the impressive spin. If it wasn't for my trouble in being consistent with this racquet, meaning I would be long one serve and then I would be short and in the net, I would have enjoyed serving with it much more. So, finding that sweetspot on serve was a bit more difficult than usual for me."
Having difficulties maximizing performance was Granville "I served well with the AeroPro Drive Standard Cortex but feel I would need extended practice to take full advantage of the performance of the racquet. My balls were coming in with good power and I could place the ball where I had intended. My kickers seemed to have the same "action" as with my normal racquet, but the lack of "crispness" offered a bit less feedback than I am accustomed to." Jason enjoyed the spin and control but felt the racquet lacked power. "If I had to nitpick and choose one thing I didn't like about this racquet, serving would be it. But not all serves, just first serves. I couldn't generate the power that I would've liked on a hard, flat first serve. Slices and kick serves were great. I could really put some action on the ball and get it to go in the general direction I wanted."
Ryan K. found immediate comfort with this racquet. "I could tell after only a couple serves that this racquet created great power and spin on my serves. I could see that the stiffness of the racquet was helping me generate more power, but with the Cortex system it felt like I was hitting with a more flexible frame. I had no arm shock, even though I was playing with a 16 gauge polyester. There were no adjustments needed in my serve, I just picked it up and was instantly comfortable with it." Feeling similarities to his usual racquet of choice was Chris "My serves had plenty of power and plenty of spin. I was also serving with good consistency. I found this stick to perform similar to my Pure Drive Roddick on serve - one of the reasons I love my current stick! Again, I had the best results when using a co-polyester string, and I was able to find a little extra kick on spin serves."
Serve Returns
As with groundstrokes, the versatility of the AeroPro Drive Cortex allowed many options while returning serve. Ryan S. felt the racquet allowed him to return aggressively. "Returning serves was great. Like with my groundstrokes, I found it very easy to be aggressive with this racquet. There was some good stability from the racquet on heavy serves. Also, a key contrast in this racquet from it's predecessor is that there wasn't any jarring on my arm from impact with the ball. The previous version felt more jarring - not so with this one. Just a great racquet to hit with." Chris liked the control from the stringbed. "I was returning aggressively with this stick. I was able to find my targets consistently and had lots of confidence, which allowed me to really go after my shots. With plenty of bite coming from the stringbed and a nice dose of power, I was able to rip some cross court returns with lots of pace and spin. I also liked the level of power when blocking returns. I was able to guide the ball with good depth and use my opponent's pace to neutralize the serve."
Ryan K. had confidence attacking off the return. "My serve returns were solid, like every other shot with this racquet. I felt like I could be very aggressive with my returns and never felt a loss of control." Jason raved about the large sweetspot and maneuverability. "Very similar to groundstrokes, rock solid! Not only was I able to block shots back on big serves, but occasionally I was even able to put pace on the ball as well."
Granville enjoyed the many options he had with this racquet when returning. "With good mass and a 100 sq. inch head you will enjoy many options when returning serve. If you have time to set-up and get over the ball you'll be able to put the ball left, right or up the middle with good pace. If defensive, as long as you can get the stringbed on the ball you can get the ball back over the net. You can bleed off the pace and drop it low to your opponent's feet or simply block it back safely." Spencer agreed. "A lot of options on return of serve. The racquet is strong enough to block back a serve with some depth. I was also able to hit some well paced penetrating returns without a ton of effort when opportunities presented themselves."
Overall
As our three-week playtest came to a close, our crew concluded that the AeroPro Drive Cortex is a legitimate update to the former version. Adding the Cortex technology to the AeroPro Drive Standard makes a noticeable difference in how this racquet feels when making contact with the ball. While opinions varied in some categories while testing, overall the general consensus was very positive. Groundstrokes seemed to be the biggest hit (no pun intended), receiving the most praise from our crew. With the amazing spin and control we generated with this stick (especially strung with a co-poly), it's only natural to want to shout "Vamos!" when hitting that big spinning forehand for a winner.
Last Shots from our playtesters
Ryan K. "The new Cortex technology is a great addition to this already popular racquet. If I had to describe the new Cortex addition in one word, I would use the word "crisp". It was such a solid racquet and I know I will be hitting with this frame over and over again."
Granville "There are several very subtle differences in playability when comparing this to a standard player's spec racquet. The aerodynamic shape of the shaft does seem to bring the racquet through the air more quickly. I found myself changing my game to better conform to the strengths of the racquet; more power, less touch and finesse. While firmly planted in the player's spec range - the AeroPro Drive Cortex offers one of the largest sweetspots in the game."
Jason "A great successor to the popular Aeropro Drive. The added Cortex technology really put this racquet over the top for me. It filtered out the vibration without taking away from the feel and feedback. A great racquet choice for intermediate players, and especially for those who do most of their battling on the baseline."
Chris "I like the raw feel of the previous version, but this one offers all the performance with more comfort. In the end, I found myself liking both the new Cortex version and the old version for different reasons. It was difficult to pick one over the other as they are both great racquets."
Spencer "If I had to choose between the AeroPro Drive Cortex Standard, the AeroPro Drive Cortex Plus and both the AeroPro Drives without Cortex, this would be my pick. Just like the playtest we did with the Pure Drives, the Cortex makes a big difference for me, as I love the dampened feel. To me it makes the racquet feel very solid and stable."
Ryan S. "This is my pick of the two AeroPro Drive Cortex racquets. I felt really good with this racquet, despite the wind we've been having lately, and can definitely understand why Nadal uses this racquet. In fact, maybe I was Nadal-esque out there?! Well, minus the big muscles and pirate pants - oh yeah, and the game. Oh well, I still felt really good out there with this racquet."
Babolat AeroPro Drive Cortex Standard scores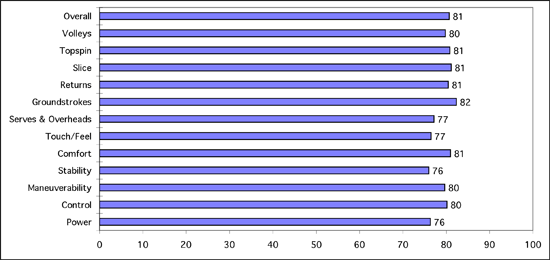 (Scores are determined by averaging individual play test scores)
Technical Specifications

Length
27 inches
69 centimeters
Head Size
100 square inches
645 square centimeters
Weight
11.3 ounces
320 grams
Balance Point
12.875 inches
33 centimeters
5pts Head Light
Construction
23-26 mm
Composition
High Modulus Graphite
String Pattern
16 Mains / 19 Crosses

Babolat RDC Ratings

Score

Grade

Flex Rating
67
Range: 0-100
Swing Weight
324
Range: 200-400
Babolat AeroPro Drive Cortex Plus
Groundstrokes
It was no surprise that the AeroPro Drive Cortex Plus offered some extra pop and spin from the baseline. Chris enjoyed hitting groundstrokes from both sides. "I've never been a fan of longer racquets, but sticks like this one make me rethink my preferences. While it took me awhile to adjust to the length, once I made the adjustment I really liked hitting groundies with this racquet. With the extra length and the beefier swingweight I was able to take a good crack at some forehands with this stick. I also preferred this one off the backhand wing, as it gave me a little more pop when going crosscourt. As with the standard length version, I was finding lots of spin off both wings. I also found this one to respond well to co-polyester strings, as it allowed for lots of control from the stringbed." Liking the combination of spin and power was Jason. "This racquet does not disappoint from the ground. Solid spin was produced and plenty of power was available. Maybe a bit too much power, at least for me. When going for winners, I kept finding myself over-hitting the ball and having it land on the wrong side of the baseline. But when I got hold of the ball and hit it cleanly, it definitely had more zip than the standard length version."
Ryan K. had mixed feelings on groundstrokes. "The extended length was nice when I felt like I would usually have to be stretching out to make a shot. I found a great, solid feel with it from the baseline, but at times felt like I needed to maneuver myself more than usual to setup for a shot." Granville enjoyed maintaining control while taking full cuts at the ball. "The Plus version of the AeroPro Drive Cortex offered the same solid feel and soft response as the AeroPro Drive Cortex Standard. The extra length did nothing to diminish my desire to just punish the ball with this racquet in my hand. The soft and controlled response is easy on the arm and good for the confidence, as I could swing away without having to worry about hitting long."
Spencer liked the added zip, once he made adjustments. "The Plus version felt just as solid as the Standard, but with a little added pop. The extra half inch made a big difference, not only with the power of the racquet but with my footwork, as well. I felt a bit awkward, feeling "hand-cuffed" when swinging, until I adjusted to the length. Once the adjustments were made the racquet felt solid on both forehands and backhands." Ryan S. noticed quite a bit of difference in power. "This version was also great on groundstrokes. The extra length really made a big difference. On some racquets I don't find more racquet head speed equating to more power and spin, but in this racquet, wow! The Plus version was much more powerful from the baseline. I couldn't "hit out" as well, but when I did hit it perfectly in the sweetspot it was almost untouchable. Very good feel and stability along with great comfort made this one of the best extended length racquets I've ever hit groundstrokes with."
Volleys
Our team found plenty of power to put away volleys and a beefier feel at net with the longer AeroPro Drive Cortex Plus. Granville was impressed with the combination of touch and power. "A very slight shift in balance seemed to neutralize the effect of the added length, and this racquet offered a very capable performance at net. I found some soft response on the bread & butter volleys, with the security of knowing I could unleash some power if the moment presented itself." Chris felt the comfort the Cortex provided at net. "I noticed more comfort and a plusher feel at net with this new Cortex version of the AeroPro Drive. I enjoyed punching volleys deep and found a solid response from this racquet. Stability was very impressive and I liked the level of power. Overall, I thought the response was firm but comfortable. The difference in performance between this racquet and the previous version came down to feel for me. With the Cortex, this racquet offers a plusher feel."
Feeling the AeroPro Drive Plus hampered his consistency at net was Ryan S. "This is the one area where I struggled. Volleying with this racquet was difficult. I struggled a lot with the maneuverability of the racquet. I just couldn't "stick" volleys with any consistency. I was hoping I wouldn't feel the extra length too much and would volley well, but I really felt the extra length on this one." Ryan K. was troubled with the lack of maneuverability. "I felt the extended length was too much at net. It felt like I was dragging the racquet around and it felt a little sluggish. When I was in position, it did feel very solid and overheads were an easy kill."
Jason preferred the Standard length racquet when volleying. "I could really feel the difference in maneuverability between this racquet and the shorter AeroPro Drive Cortex Standard. I had a tough time getting this racquet to where I needed it to go. On the plus side, putting away overheads was as easy as a snap of the wrist." Spencer agreed. "Though my volleys felt crisp, the racquet lacked a bit in maneuverability. The extra reach was nice for those stretched out volleys, but overall I still preferred the AeroPro Drive Cortex Standard."
Serves
With the added length providing more leverage, the Plus version added some extra velocity on serve. For Ryan K, serving was the highpoint with this racquet. "The extra length felt solid on the serves, I had extra height on my serve and it was an improvement over the standard. The power and spin I found was excellent, and serving was by far my favorite shot with this racquet." Chris found a lot of confidence serving with the racquet. "This racquet was an absolute blast to serve with. I was finding incredibly easy access to pace when going for some heat down the 'T' of both service boxes. I was also able to coax some added spin on kick serves, and I was seeing a lot more twist and action on kickers out wide to the ad side. I thoroughly enjoyed serving with this racquet. I felt like it maximized my service options and definitely increased my confidence on serve."
Feeling the impact of the extra length was Spencer. "This is where that 1/2 inch had the most impact, in my opinion. I noticed a noticeable difference in the power while maintaining a nice amount of spin. In the fantasy tennis world, I would serve with the Plus version, then play the rest of the point with the Standard." Ryan S. had plenty of consistency with the Plus. "Maybe the high point for this racquet for me was serving. I found plenty of power - even more than the standard. Spin was still easy to generate, and once I adjusted to the extra length in the motion of my serve, it was very impressive. I served more consistently with this version than I did with the other. I felt like I could serve where I wanted and get it there with great pace. All in all, a very nice racquet to serve with."
Jason felt he gained velocity, but at the expense of control. "Although I felt a bit more power off the 1st serve, the trade off was control. Hitting slices and kick serves still produced positive results, adding a bit more spin than the standard length AeroPro Drive Cortex." Granville served well but felt the racquet was missing the crisp feel he likes. "The AeroPro Drive Cortex Plus had that nice "thud" sound when I really cracked the serve. If I hear that sound while serving I know I'm doing something right. The sweetspot seemed spring-loaded. I was kicking my serves to either side with little problem. Power was there, but it was so soft that it lacked that "crisp" feeling I like so much. I think I could adjust the string and/or tension for a better fit to my game."
Serve Returns
Experiencing a solid feel, our team found plenty of options when returning. Finding the racquet close to perfection when returning was Ryan S. "Again, as with groundstrokes, this racquet did very well when I was returning serve. Except for a few miscues where I was just over-hitting, this racquet was almost perfect. Nothing more needs to be said." Jason was thrilled with the length and power. "This was where I enjoyed having a bit more length. It allowed me to get a hold of some out wide kick serves that I otherwise would've framed. Blocking hard first serves back was a breeze, the racquet provided plenty of pop to get the ball over the net."
Able to return with plenty of spin was Ryan K. "The Plus felt very comfortable on serve returns for me, I was able to be aggressive and put an impressive amount of topspin on the ball. Even though I preferred the Standard for the serve returns, the Plus offered more spin potential." Granville was pleased with the stability and solid feel. "As with the standard version, if I caught the ball out in front I could do what I wanted with it. It offered a very solid and stable platform to drive the ball to my target zone."
Chris found his returns getting more dialed in the more he used the racquet. "My return game probably took the longest to adjust and was something I still felt needed perfecting when the test came to an end. I was hitting good returns with this racquet, but I felt there was some performance still left on the table. Every once in awhile I'd crack a big return and get a taste of what was possible. Defensive returns were easy to hit and it felt like getting the ball to my intended target was as easy as pointing the strings in the right direction. The power level of the racquet and the solid feel at impact seemed to take care of the rest." Spencer added, "As with the volleys, I felt maneuverability suffered a bit. Though this racquet made some of the wide serves more retrievable, I still had more trouble than not with adjustments. I was okay with slower serves that I had time to react to, but the serves into the body with more pace caused a bit more trouble."
Overall
We came away impressed by the access to power from all areas of the court with the AeroPro Drive Cortex Plus - no doubt partly from its extra 1/2 inch of length. Though the majority of our playtest team are not extended racquet fans, there was plenty of optimism after hitting with the AeroPro Drive Cortex Plus. Many of our testers noted performance offerings not present with the Standard. The extra leverage seemed to have the most to offer on serves and groundstrokes. There was some added mass to this racquet once in motion, giving long fast swings plenty of stability and plough through. Overall, this one is well worth a hit for those looking to put even more secret sauce on every shot than offered by the already impressive standard length AeroPro Drive Cortex.
Last Shots from our playtesters
Ryan K. "I felt the added length gave me an advantage on serves and with spin potential. A very impressive racquet. The Cortex technology is just another great improvement from Babolat."
Granville "I have never been a fan of "longer" racquets. However, after just a few games I had forgotten this was a longer stick and was enjoying the benefits of the AeroPro Drive Cortex Plus."
Jason "What a difference 1/2 inch makes! It's probably a combination of the additional length and the fact that I'm used to a 27 inch racquet that makes me enjoy the AeroPro Drive Cortex Standard better. But for those players who want a bit more court coverage and more pop for their dollar, this is the stick for you!"
Chris "Another enjoyable playtest and one I'm tempted to prolong. At the end of the test I still felt like I hadn't maximized the potential of this stick when returning serves and hitting groundstrokes. I had periods where everything started to click, but I wasn't able to get in the comfort zone I have with my regular stick. When it came to playing points, I absolutely loved serving with this racquet and I think it took my service game up a notch. Not love at first sight here, but I think I might have to keep one in the bag awhile and see how things turn out."
Spencer "The one thing I liked about the Plus was the extra pop. Other than that, I still prefer the AeroPro Drive Cortex Standard. There aren't enough available advantages for my game to use the extra 1/2 inch."
Ryan S. "I don't usually like extended length racquets much, but this one changed my opinion a bit. I liked the power and control that I got from this frame. Volleys let me down a bit, but if I didn't volley much, it wouldn't be a big deal. However, I do volley a lot, so this racquet falls a little short for me."
AeroPro Drive Cortex Plus scores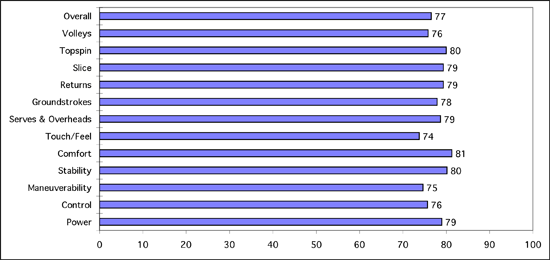 (Scores are determined by averaging individual play test scores)
Technical Specifications

Length
27.5 inches
70 centimeters
Head Size
100 square inches
645 square centimeters
Weight
11.3 ounces
320 grams
Balance Point
13 inches
33 centimeters
6pts Head Light
Construction
23-26 mm
Composition
High Modulus Graphite
String Pattern
16 Mains / 19 Crosses

Babolat RDC Ratings

Score

Grade

Flex Rating
67
Range: 0-100
Swing Weight
335
Range: 200-400
Playtester Profiles

Ryan K.
4.0 all court player currently using a Wilson ProStaff 6.0 Classic. Ryan uses a full-western forehand grip and a two-handed backhand.
Chris
5.0 baseline player now using the Babolat Pure Drive Roddick. Chris uses a full-western forehand grip, has a fast swing style and hits a two-handed backhand.
Granville
Granville 5.5 all-court player currently using a Wilson Hyper ProStaff 6.1. Granville is an aggressive player who uses an eastern forehand grip and goes continental on everything else, hits with a flat swing and a one-handed backhand.
Jason
4.0 baseliner currently using a Head Flexpoint Radical Midplus. Jason has a fairly aggressive semi-western topspin forehand and hits a one-handed backhand.
Ryan S.
4.5 all court player currently using a Slazenger Pro Braided Henman racquet. Ryan uses a semi-western forehand grip, a one-handed backhand and has a long swing style.
Spencer
4.5 Baseline player currently using a Tecnifibre TFlash 310. Spencer uses a full-western forehand grip, and hits with a one-handed backhand.
Review date: July 2007. If you found this review interesting or have further questions or comments please contact us.
All content copyright 2007 Tennis Warehouse.