Wilson Blade 98 (18x20) 2013 Racquet Review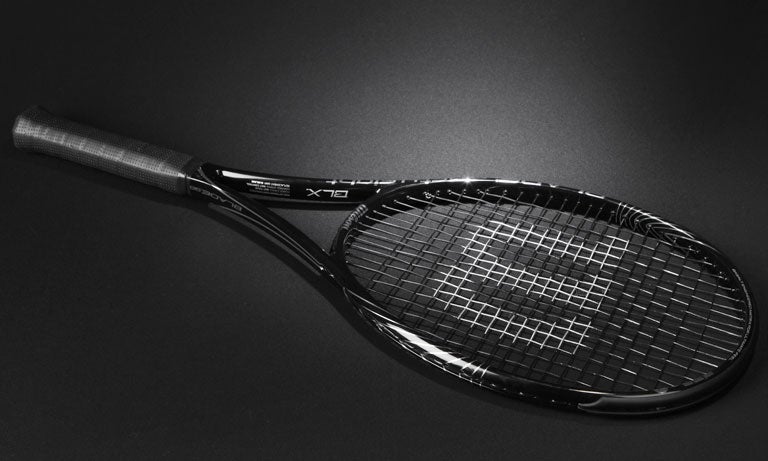 Wilson Blade 98 (18x20) 2013 Scores
Comfort
82
Touch/Feel
83
Serves
82
Groundstrokes
84
Returns
82
Slice
80
Topspin
79
Volleys
82
Overall
82
Upsides
Solid feel
Control
Good plow through
Downsides
Nothing we could agree on
Summary
With its clean response and control from every corner of the court, the Wilson Blade 98 (18x20) offers an updated feel to Wilson's previous BLX Blade 98. With consistently positive comments on the solid feel we can infer that the new Amplifeel technology was a successful update. Our playtesters also really enjoyed the control offered by this racquet, as well as the ability to dictate play and continuously place the ball wherever they liked. From the baseline, the team noticed the plow through and the hefty response that the racquet provided. Our testers found a comfortable level of maneuverability despite this racquet's swingweight. At net, everyone enjoyed lots control and a solid feel, although some felt the maneuverability was a little lacking. All of our testers were confident in the plow through and stability they found from all areas of the court. With its high level of control and improved feel this racquet is well suited to the advanced player who likes to attack from all areas of the court.
Groundstrokes - Score: 84
All of our playtesters flourished from the baseline with the 18x20. The team had positive feedback about the plow through and feel, including Jason, who had high expectations going into this playtest. He said, "I really enjoyed the previous BLX Blade 98, but I must confess that I like this version better. Even at just over 11 ounces, this racquet provided nice plow through and stability. In a lot of ways this newer version performed like the previous one, but the feel is much improved. With the Amplifeel in the handle the response is cleaner and provides greater feedback. I actually didn't mind the mid-320s swingweight, even though it's slightly higher than I'm typically comfortable with. The one shot I did struggle with was the inside-out forehand; for some reason I wasn't able to get the angles I wanted."
Chris liked the level of control he found, saying, "I was able to move the ball around, change the direction of the rally and swing aggressively while still finding my targets. I liked taking the ball early with this racquet, using its control to quickly drive the ball to my target and take time away from my opponent. If I had to knock this racquet, and it is a very minor knock, it would be its lack of maneuverability. While the racquet didn't feel too hefty, it simply did not feel as fast through contact as the Blade 93. The Blade 93 felt like it cut through the air faster, as well as being better balanced for tip speed. This racquet wasn't as fast as my Head Youtek IG Prestige Midplus, either, although I felt I could still drive the ball very well with it, as I was getting some nice power from its weight. The level of control and power really reminded me of the ProKennex Q Tour, which is another great player's racquet."
Loving the confident and aggressive baseline play he was able to access was Andy, who offered, "I really enjoyed this version of the new Blade from the baseline. The 98 square inch headsize made it very forgiving, so I could really hit my shots and be confident I was going to make solid contact. The tight string pattern provided the control I needed to consistently put the ball where I wanted. Furthermore, the confidence I gained from the added control let me swing out on the ball, and thus get lots of spin. My only (slight) knock is that the 98 square inch headsize, coupled with the slightly wider beam, made the racquet feel a little bit clunky through the air. I want to emphasize 'a little bit'! Overall, it's a really enjoyable racquet to crush some groundstrokes with."
"Truly a solid player's racquet," said Sean. "With Wilson's upgrades this racquet has a muted and very dampened feel on impact, with enough control to keep big hitters happy. I felt like I could stay in the point without fear of overhitting or leaving a ball short in the court. I was extremely happy with the consistency off both wings, although the racquet felt a little clubby at times when I needed a fast, whippy swing."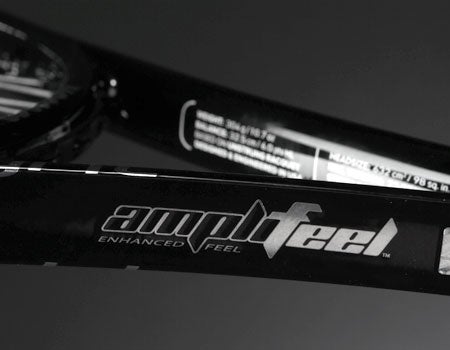 Volleys - Score: 82
Our playtesters enjoyed the control and solid feel of the racquet at the net. Chris also liked the comfort. He said, "Control was good, and I was able to find my targets with ease. I really liked the comfortable response and was surprised at how plush the racquet felt considering the tight stringbed. I was able to punch deep volleys with confidence, and I enjoyed the feel, as well as the forgiving 98 square inch headsize, on touch shots. The feel wasn't as crisp as the previous version, but I was able to fine-tune that with a crisper string."
Sean struggled with depth but found his comfort zone at net. He explained, "Unlike the open pattern Blade, I didn't find depth as easy to achieve with this racquet. On the other hand, my control, touch and feel around the net were much improved with this version, which gave me a huge confidence boost when it came to my net play. Unfortunately, I again felt the racquet's maneuverability was its downfall and kept me from approaching the net too often. Luckily, this racquet played so well from the baseline I felt comfortable finishing off the point from there."
On the contrary, Jason attacked the net with a new sense of confidence, saying, "I really enjoyed this racquet at net! As I continue to work on my net game I can appreciate more and more the smaller differences between racquets. I thought this Blade was torsionally stable for those off-center shots and provided the punch needed to put away shots. It was maneuverable enough that hitting reflex volleys wasn't a problem."
"The racquet performed just as well up around the net as it did from the baseline," said Andy. "The rock solid feel was evident on all my volleys and overheads, along with the improved feel that provided a great connection between player and ball. The tight string pattern once again provided control, and the weighting was just right for locking my wrist in place, even when I was stretched out of position. To me, midplus-sized frames can lose the touch and feel that smaller frames have around the net, but this Blade maintains that great, soft feel while providing lots of forgiveness with the larger headsize."
Serves - Score: 82
Most of our playtesters continued to find a solid response when serving with the Blade 98 18x20, and all commented on how the great control made serving with this racquet fun. Sean found power and placement on his serve with the 18x20. He said, "The frame offered great control on all serves, whether I wanted to hit a safe kick serve or put some extra power into it. The dense pattern didn't offer as much spin, but my directional control was fantastic and I had the ability to put the ball anywhere in the box. Even with the dense pattern I found decent power throughout my testing, probably due to its slightly heavy feel."
Andy had only nice things to say about serving with this racquet. He offered, "Serving was awesome with this Blade! The tighter string pattern provided me with the control I wanted, and the larger headsize provided nice pop and explosiveness. I couldn't quite generate as much action on my serves as I could with the 16x19 version, but as a trade-off I got the control I wanted, and I'd take that trade any day. I want to feel like I can place my serves the way the SF Giants located their pitches in the recent World Series, and this Blade gave me that feeling."
Jason enjoyed the control and consistency. He said, "I thought the power and spin were average, but what it did well, and what it allowed me to do well, was be consistent. I didn't double fault much with this stick, and anytime I don't give free points out is a win for me. I had very few issues with placing shots in the vicinity of where I intended them to go, so targeting was solid."
Chris liked the response, as well as the combination of pace and placement. He said, "A solid blend of power and control made this a rewarding racquet on serve. I did not feel as dialed in as I did with the Blade 93 because I couldn't whip this one through as well, but I still felt like I served well. The stringbed felt forgiving, and I was serving consistently and finding a comfortable response. I had much more control on serve than I had with the open patterned version -- especially on flatter serves."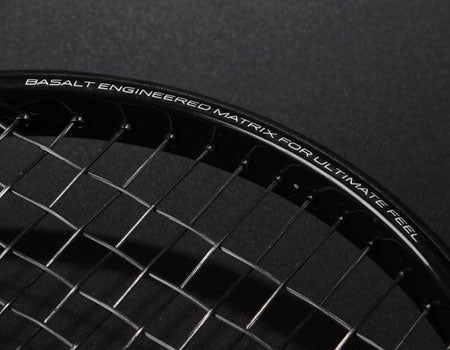 Serve Returns - Score: 82
The plow through and the stability bolstered the confidence of our playtesters. Andy explored the relationship between the maneuverability and heft of the 18x20. He offered, "This was my favorite of the new Blades to return with. The tight pattern gave me the control and the 98 square inch head gave me the pop and forgiveness I needed to feel confident taking big cuts at the ball. The heft in the hoop gave it great plow through when I was using the server's pace or was stretched out wide. Furthermore, it still felt maneuverable enough to where I could whip it around my body with ease. Serve returns were my favorite shot with this Blade!"
"I enjoyed the dense string pattern on returns, as it helped me find lots of control when returning a fast serve," said Chris. "I was able to drive the ball pretty flat and still find all the control I needed. I was finding lots of bite from the stringbed when going for spin. I was especially happy with my backhand slice return, and felt in complete control with that shot."
Jason enjoyed the 18x20's stable and solid response. He said, "When going up against bigger servers I really appreciated the racquet's ability to absorb pace well. It remained stable on contact, and I could get the ball back with some depth. When I did have time to take an aggressive shot at the ball, the racquet did that well, too. Angles were tougher to come by, but I had success in going down the line. My slice returns netted pretty good results as well, but they aren't nearly as 'knifing' as a Chris Edwards slice."
The dense string pattern gave Sean a lot of confidence when hitting aggressive returns. He said, "My returns were finding the same depth into the court, but my direction and accuracy were much improved over the 16x19 Blade. My only issue was the hefty swingweight that really slowed my swing down and prevented me from maneuvering the racquet as I needed on big serves. As long as I had a little time to prepare my stroke I had no problem putting the shot where I needed."
Overall - Score: 82
Likes
Chris - "I liked the control. This was my favorite of the two Blade 98s, and I felt more confident playing aggressive tennis with it."
Jason - "The improved feel, control and stability. The new cosmetics are awesome!"
Sean - "The consistent feel and results from all areas of the court. A solid, dampened feel."
Andy - "It's the perfect blend of power and control. The larger headsize is forgiving enough for me to take big cuts at the ball with aplomb. Furthermore, it has that great improved feel that all the new Blades have."
Dislikes
Chris - "A nice stick, but not as sweet as the Blade 93 for me."
Jason - "The grip was too slick after just a few minutes of hitting."
Sean - "My only issue was this racquet's lack of maneuverability and overall heavier feel compared to past versions."
Andy - "Not much to dislike about this racquet. It gets a little bit flimsy outside of the sweetspot, but it's really not that bad. I enjoyed this racquet thoroughly."
Comparing the racquet to others they've tried, our testers said:
Chris - "I would say Wilson has improved the comfort compared with the previous version. However, the update is subtle, and I think players will find it easy to transition into this one if they are coming from an older Blade model. Compared with the 16x19 version, I found more control but less power. I also found more power here than with the Head YOUTEK IG Speed, and I thought this one was more in line with the ProKennex Q Tour."
Jason - "It plays with more feel than the previous model, but it still performs like a Blade 98."
Sean - "I'd closely compare this frame to both the Dunlop Biomimetic 300 Tour and the older Volkl Power Bridge 10 325g. They all have a control-oriented feel, with the Blade being the more comfortable and slightly heavier feeling hit."
Andy - "The Blade 93 was just so comfortable to hit with, but the 98 18x20 was a very close second in my preference of the Blades. It has much improved feel and plow through over the previous versions. It feels similar to the IG Speed and IG Radical lines by Head, but has more heft and plow through than they do, which makes it more stable and solid. This is an awesome racquet to complement the modern all-court player."
Technical Specifications

Length
27 inches
69 centimeters
Head Size
98 square inches
632 square centimeters
Weight
11.4 ounces
318 grams
Balance Point
13.22 inches
34 centimeters
2 Pts Head Light
Construction
21.5mm Straight Beam
Composition
Basalt
String Pattern
18 Mains / 20 Crosses

Babolat RDC Ratings

Score

Grade

Flex Rating
65
Range: 0-100
Swing Weight
330
Range: 200-400
Scores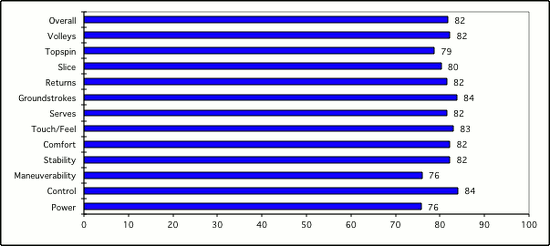 (Scores are determined by averaging individual play test scores)
Chris' Scores
Power
7.6
Serves
8
Control
8.4
Groundstrokes
8.1
Maneuverability
7.5
Returns
8.3
Stability
8.2
Slice
8.6
Comfort
8.2
Topspin
8
Touch/Feel
8.3
Volleys
8.4
Overall
8
Jason's Scores
Power
8
Serves
8.4
Control
8.2
Groundstrokes
8.5
Maneuverability
7.9
Returns
8
Stability
8.5
Slice
8
Comfort
7.8
Topspin
8
Touch/Feel
8.8
Volleys
8.1
Overall
8.4
Sean's Scores
Power
7.5
Serves
8.25
Control
8.25
Groundstrokes
8.25
Maneuverability
8.25
Returns
8.25
Stability
8.25
Slice
8.5
Comfort
9
Topspin
8.5
Touch/Feel
8.5
Volleys
8.75
Overall
8.5
Andy's Scores
Power
7.5
Serves
8
Control
9
Groundstrokes
8.5
Maneuverability
8
Returns
8.5
Stability
8
Slice
7.5
Comfort
8.5
Topspin
7.5
Touch/Feel
8.5
Volleys
8.5
Overall
8.4
Playtester Profiles
Chris: 5.0 all-court player currently using the Volkl C10 Pro 2012. Chris uses a full-western forehand grip, has a fast swing style and hits a one-handed backhand.
Jason: 4.0 baseliner with a semi-western forehand and two handed backhand. Currently using a customized Boris Becker Delta Core NYC.
Sean: 4.5 baseliner using the HEAD Youtek Prestige Pro. Sean has a semi-western forehand, 1 handed backhand.
Andy: Open level all court player with a semi-western forehand grip and a two handed backhand. Andy currently using a Yonex RDiS 100 Mid.

Review date: November 2012. If you found this review interesting or have further questions or comments please contact us.
All content copyright 2012 Tennis Warehouse.