Wilson Blade 98 16x19 Racquet Review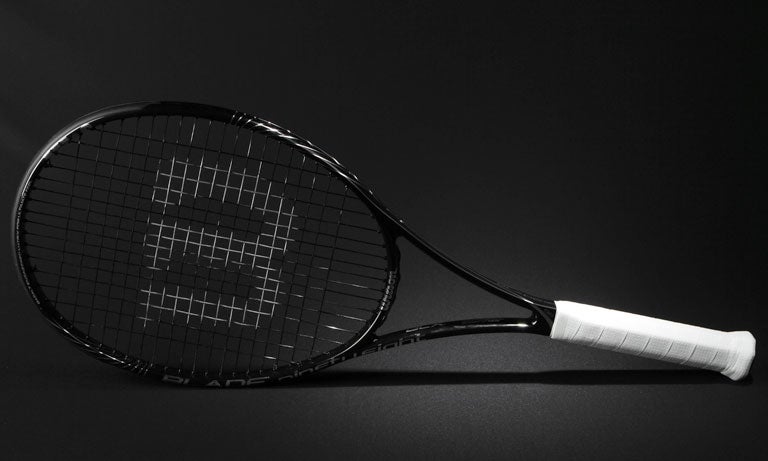 Wilson Blade 98 16x19 Scores
Comfort
82
Touch/Feel
80
Serves
79
Groundstrokes
79
Returns
77
Slice
78
Topspin
83
Volleys
79
Overall
78
Upsides
Improved feel over previous Blades
More power than 18x20 version
Great spin potential
Downsides
Less control than 18x20 version
Summary
The anticipation for the open-patterned
Wilson Blade 98
has built and built, and now it's finally here. However, there's more to look forward to in this new generation Blade than just the 16x19 string pattern. Wilson has re-engineered the racquet, making it more solid and comfortable. The racquet plows through the ball on groundstrokes like a bulldozer, while providing more forgiveness than its midsize (93 square inch) cousin. The open string pattern provides noticeably more pop and access to spin than the Blade 98 18x20 version, so much so that our playtesters sometimes found control to be an issue. This new open string patterned Blade provides an explosive, lively feel. If you are looking for some additional power and easy access to topspin from a control-oriented racquet, this one is definitely worth a try!
Groundstrokes - Score: 79
The new and improved feel from the new Blades was apparent from the baseline, and all of our playtesters agreed that the open string pattern enabled them to get tons of action on the ball. Jason sensed the extra pop right away from the 16x19 setup. He said, "I was already a fan of the 18x20 BLX Blade 98, but this new 16x19 open pattern has taken this franchise to a new level. A better level in my opinion. The 16x19 offers more pop, ball pocketing and spin than the new Blade 98 18x20. I also thought it felt more maneuverable and slightly easier to swing. I did feel the 16x19 wasn't as torsionally stable and lacked some plow through, but there is still plenty of mass there. I love how the racquet feels with the new Amplifeel in the handle."
After a bit of an adjustment period, Sean began dialing in the extra power and spin he was receiving. He offered, "It took me a bit of time to adjust to this open pattern version of the Blade 98, although once I found the range I had a lot of success battling from the baseline. The amount of spin and power was definitely an upgrade and a nice option for those looking for some extra pop. Both topspin and slice shots were very effective, always staying deep in the court and keeping opponents in a defensive position. I also enjoyed being able to unload on my groundstrokes, knowing that I could get the ball to drop in the court."
Andy felt the added liveliness but thought it affected the amount of control a little too much. He said, "The new Blade 98 felt rock solid from the baseline, and the open string pattern gave it a super lively feel. It's on the heavier side, which gave it great plow through, even on the off-center hits. I was getting tons of weight on my shots, as the heft and the open string pattern allowed me to generate tons of spin. However, I felt the control suffered. I could hit the ball big but couldn't locate it consistently where I wanted. The racquet felt great from the baseline, as I was hitting big groundstrokes, but the lack of control was the lasting impression for me."
Chris also found a significant increase in power and a loss of control with the open string pattern. He said, "I found quite a bump in the liveliness of the feel of this version of the Blade 98 over the denser 18x20 version. I was getting lots of topspin and the ball was really jumping off the stringbed. This is definitely a racquet where I feel I would have to play around with higher tensions to bring more control to my shots. It is more natural for me to flatten out my approach shots and I could hit long fairly easily with this racquet if I was not careful. On the other hand, I was finding lots of spin when rolling an angle or lob, so there was some trade-off. If you've ever wanted a Blade with more spin and power then you should definitely give this one a try, as I found it to really deliver in those departments."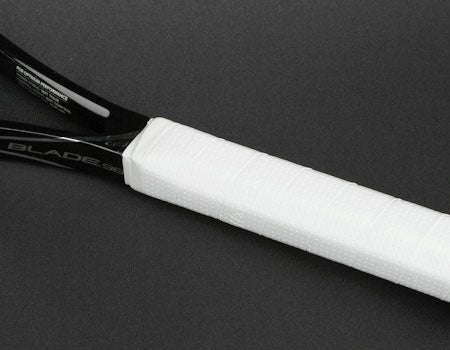 Volleys - Score: 79
Our playtesters actually had some differing opinions about the Blade 98 16x19 around the net, except that everyone once again felt the extra action they could get on the ball. "The racquet really shined around the net," said Andy, who enjoyed the maneuverability and stability it offered. "The heft provided great stability on volleys and overheads, and I found it to maneuver quite well when I needed to move quickly. The weighting of the racquet allowed me to lock my wrist in place and keep it there with confidence. The open string pattern allowed me to knife my volleys when I really stuck them, but once again the lack of control was apparent when going for a touch shot or when the ball was hit really well at me. The ball would sometimes fly, and I didn't know what kind of response I was going to get off the stringbed. With that said, the frame provides excellent ball feel, and there's a great connection between the ball, racquet and player, which is important around the net."
Chris also enjoyed the added pop around the net and felt in total control of his volleys. He offered, "I was punching volleys away with ease with this racquet. The feel off the stringbed was lively, and that enabled me to add some nice pace to volleys. I was able to find control on angle volleys and drop volleys by cutting under the ball and adding some slice -- something that was very easy to do with this racquet. I also thought the feel of the racquet was pretty clean, so even though it was lively I felt like I always knew where the ball was going."
Sean liked the solid feel and pop he received but felt the racquet didn't maneuver well when he needed to move quickly. He said, "I found that I had more than enough power at my disposal to keep the ball deep in the court, even when digging out low balls from off my shoelaces. This racquet felt extremely solid and made put-away volleys a breeze when given the opportunity. Although getting the ball deep into the court was an easy task, my touch and feel around the net suffered a little with this racquet, and I would have liked more maneuverability."
Jason liked the pop, maneuverability and spin he could get, but felt the racquet wasn't stable enough when he made contact outside of the sweetspot. He offered, "When I was able to hit the ball cleanly, I really enjoyed it. But when I didn't (which is more often than I care to admit), this racquet did flutter a bit in my hand. There was enough mass to put shots away, however, and the spin was excellent. The great maneuverability allowed me to get the racquet on those quick reaction shots."
Serves - Score: 79
Power and spin were the themes for our playtest team while serving with the new open-patterned Blade 98. Sean felt great right away on serve, utilizing the power and spin to get himself lots of free points. He said, "Surprisingly, my serve seemed dialed in from the start, even with a bit higher swingweight to deal with on this racquet than I'm used to. The open string pattern really impressed me with its ability to grab the ball and generate a ton of spin. Kick and slice serves produced great results, with the action on the ball causing some problems for opponents. I also found that power was easy to come by when some extra pop was needed to put a serve through the box for a quick point."
Chris used the added power and spin to serve effectively, although he couldn't find the desired control on his flat serve. He said, "The power and spin I could find on serve with this racquet was impressive. However, I gave up some control over the 18x20 version, so I found myself laying off my flat serve. Regardless, I was getting ample spin and pace to serve aggressively with my spin serves, and I felt like I was serving well."
"Spinning it in was the name of the game for me," said Jason. "I loved how easily I was able to get spin on my serves. The combination of the open string pattern and swingweight meant I could get more action on my serves. I didn't find that I was getting more power on my serves than I typically do, but that's OK since I rarely go for a hard flat serve."
Noticing the extra pop and spin was Andy, but once again he found himself desiring more control. He said, "I really enjoyed serving with this Blade 98, mostly because of the amount of pop and action I could get on my serves. Slices were diving off the court and kick serves were jumping like crazy. The open string pattern also provided a super lively feel that had the ball exploding off the racquet. But once again, with all that power I was in need of a little more control, especially on flatter serves that didn't have the spin to keep the ball in the court. I felt good knowing I could blast the serve, but never felt totally confident that I could put it where I wanted."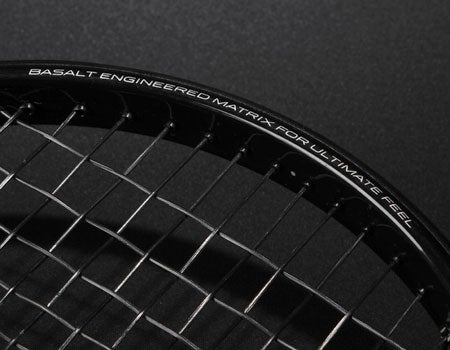 Serve Returns - Score: 77
Our team continued to detect the extra power and spin, but the lack of control was most apparent on the return of serve. Andy enjoyed the forgiveness of the larger frame but craved more precision out of this racquet. He said, "Returns are where I preferred the Blade 98 over the 93. The larger headsize provided me with enough margin for error to take big cuts at the ball and still find the sweetspot. With that said, the critique remains the same. I liked the lively feel and the action I could get on the ball, but the open string pattern didn't give me enough control to feel confident about 'letting it go' on my returns."
Chris used the extra action from the open string pattern to get more topspin and slice on his returns. He said, "When hitting a topspin return I found I could drive the ball with lots of pace and spin. I never felt quite as dialed in as I did with both the Blade 93 and the 18x20 version of this racquet, but I'm splitting hairs here (and trust me, I don't have many left to split) as I returned well with this one, too. When playing doubles I found I was able to get some nice angle on my returns and keep things tough for the serving team. My slice returns tended to float a little, but higher tensions and a slight adjustment solved that issue."
Sean had to resort to the chip return more with this racquet. He said, "I never felt completely in control of my returns off either wing because of the power offered by this racquet. When I was facing a larger serve I was forced to concentrate on shortening my swing to ensure my shots didn't fly long. Against most serves I was able to put a little extra spin on the ball to bring it down into the court, but this was not a racquet I could swing out with unless I had perfect timing. My slice returns became an effective weapon to turn to when my topspin drives failed me."
"In a word, solid," Jason said about returning with this racquet. "I didn't notice the instability as much here, even when returning the harder hit serves. I really enjoyed hitting aggressive returns, as I could not only hit it with pace, but the spin imparted on my shots had them dropping inside the baseline."
Overall - Score: 78
Likes
Chris - "I liked the pace and spin I could generate with this racquet."
Andy - "These new Blades have an improved feel that is lively yet comfortable. The heft provides great plow through, and the larger headsize makes it very forgiving, especially on off-center hits."
Jason - "The improved feel, power, access to spin and maneuverability."
Sean - "Great spin potential and solid feel on impact."
Dislikes
Chris - "I liked this racquet, but just not as much as the other Blades. The open string pattern played ever so slightly more erratic for me, and I just enjoyed the more uniform response of the 93 and the 98 18x20 more."
Andy - "This open string pattered version didn't give me nearly enough control to feel confident in going for all my shots. I found myself missing long quite often because the ball just exploded off the stringbed. But on second thought, I guess that could be fixed by increasing the string tension a couple of pounds."
Jason - "The stock grip gets slippery during play."
Sean - "Less maneuverability than previous versions, making it feel somewhat clumsy at times."
Comparing the racquet to others they've tried, our testers said:
Chris - "This racquet offers a different feel than the the Six.One 95 16x18, in that it has a modern response. By that I mean the racquet feels crisper, faster and I get lots of zip on my shots. The response is also livelier than the 18x20 version and should please those who are looking for maximum pace and spin from a control-oriented racquet. I would say a comparable racquet would be the Tecnifibre T-Fight 320 and the Volkl Organix 10 Midplus, both of which offer control, stability and an open and lively string pattern like this one."
Andy - "This new offering of the Blade has a much improved feel from the last one, with it being more solid and more comfortable. It has the plow through that the previous version didn't. It feels kind of like the IG Speed or IG Radical, but has a little more to it than those. This Blade has more heft than the Head racquets, which gives it a more solid feel."
Jason - "It's an easier to swing, more powerful version of the Blade 98. Also reminded me of the Dunlop Biomimetic 400 Tour."
Sean - "This open pattern version really reminded me of a solid feeling Pure Drive with its power and spin potential. The Head Extreme series is also fairly close in feel, although I think the Blade outperforms both of these racquets with its solid feel from all areas of the court."
Technical Specifications

Length
27 inches
69 centimeters
Head Size
98 square inches
632 square centimeters
Weight
11.2 ounces
318 grams
Balance Point
13.375 inches
34 centimeters
1 Pts Head Light
Construction
21.5mm Straight Beam
Composition
Basalt
String Pattern
16 Mains / 19 Crosses

Babolat RDC Ratings

Score

Grade

Flex Rating
66
Range: 0-100
Swing Weight
331
Range: 200-400
Scores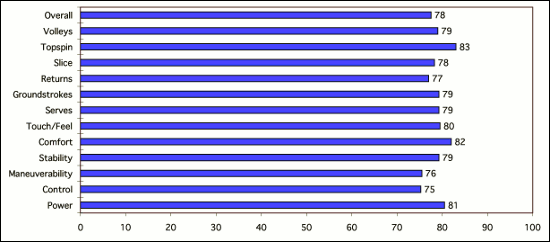 (Scores are determined by averaging individual play test scores)
Chris's Scores
Power
8.2
Serves
8.2
Control
7.7
Groundstrokes
8
Maneuverability
7.6
Returns
8.2
Stability
8.2
Slice
8
Comfort
8.4
Topspin
8.5
Touch/Feel
7.8
Volleys
8.3
Overall
7.8
Andy's Scores
Power
8.5
Serves
7
Control
7
Groundstrokes
7
Maneuverability
7.5
Returns
7
Stability
7.5
Slice
7
Comfort
8.5
Topspin
8.5
Touch/Feel
8
Volleys
8
Overall
7
Jason's Scores
Power
7.9
Serves
8.3
Control
8.2
Groundstrokes
8.5
Maneuverability
8.1
Returns
8.1
Stability
8
Slice
8.1
Comfort
7.9
Topspin
8.2
Touch/Feel
8.8
Volleys
7.8
Overall
8.5
Sean's Scores
Power
7.6
Serves
8.2
Control
7.2
Groundstrokes
8.2
Maneuverability
7
Returns
7.5
Stability
8
Slice
8.2
Comfort
8
Topspin
8
Touch/Feel
7.2
Volleys
7.5
Overall
7.7
Playtester Profiles
Chris: 5.0 all-court player currently using the Volkl C10 Pro 2012. Chris uses a full-western forehand grip, has a fast swing style and hits a one-handed backhand.
Andy: Open level all court player with a semi-western forehand grip and a two handed backhand. Andy currently using a Yonex RDiS 100 Mid.
Jason: 4.0 baseliner with a semi-western forehand and two handed backhand. Currently using a customized Boris Becker Delta Core NYC.
Sean: 4.5 baseliner using the HEAD Youtek Prestige Pro. Sean has a semi-western forehand, 1 handed backhand.

Review date: November 2012. If you found this review interesting or have further questions or comments please contact us.
All content copyright 2012 Tennis Warehouse.