Boris Becker 11 Tennis Racquet Review
The Boris Becker 11 racquet comes backed up by some pretty intense development. How intense? Well, the primary playtester and the racquet's namesake is a former World Number 1 player, a six-time Grand Slam singles champion, an Olympic gold medalist, and the youngest ever winner of the Men's Singles title at Wimbledon at the age of 17.
Although the Boris Becker racquet line is all new for 2007, considering the man behind the brand, we'd say the Becker 11, reviewed here, has instant heritage.
Developed as a player's racquet (intended to meet the needs of advanced level players), the Becker 11 blends performance for both power and touch play. A weighty, yet soft flexing, frame complements a 98 sq. inch headsize and an 18/20 string pattern. Volkl's Sensor Plus handle system is utilized for comfort, while Volkl's ultra-strong DNX material is utilized on the outside of the racquet hoop at 3 & 9 o'clock for improved stability.
Any racquet given the approval of a player like Boris Becker would automatically find itself at the top of our playtest schedule. With a tasty looking player's spec included, our team couldn't wait to hit the courts with the Becker 11.
For this racquet review we also added an all new feature. Be sure to check out our new video review segment, with TW's very own Marian.
Groundstrokes
Our team found a control oriented response that was loaded with feel when hitting groundstrokes with the Becker 11. Enjoying a high level of feel and control with the racquet was Granville "Now we're talkin'! Finally, a racquet worthy of the Becker name. At 12 ounces, it packs the right amount of mass to transfer energy to the ball rather than the inverse. If you've got the game, you will power through the groundies like the proverbial warm knife through butter. The Becker 11 has a nice soft feel and delivers that sense of control offered by only the finest performance racquets." Spencer was also impressed by the response of the racquet. "The Becker 11 is an excellent feeling racquet from the baseline. A nice heft to the racquet makes stroking the ball very stable and smooth, giving me good feel and control. I felt comfortable hitting consistent forehands while hitting excellent feeling low to the ground slices or controlled topspin backhands. I usually prefer a 16 main string pattern, but I felt very comfortable with the tighter string pattern of the Becker 11."
Enjoying a high level of comfort was Ryan S. "I really enjoyed hitting from the baseline with this racquet. This racquet was super comfortable and plowed through the ball really well. Consistency was very easy to find with this racquet. Power was pretty low, but not as low as you would think for a heavier, player oriented racquet. Slice backhands did tend to float a bit at first, but that was easily corrected. Even though the string pattern was dense, I really generated a fair amount of spin on the ball. A very nice racquet to hit with from the baseline."
Finding his comfort level with the racquet improving with every hit was Jason. "Initially, I felt that the racquet was a tad too heavy for my game. There was definitely an adjustment period where I had to get used to the heft of the racquet. Once I was comfortable with it and started to let loose on some of my forehands, I enjoyed it quite a bit. The balls were penetrating and produced an unexpected amount of spin. Control was fantastic and was most noticeable when hitting back heavy, fast paced balls. Timing was an issue on the backhand side. I found myself having to start my forward swing a bit sooner so I could make up for the weight. Again, once I was comfortable the shots I was hitting were consistent and I felt that I could really control my slices, keeping them nice and low with some sharp angles."
Perhaps enjoying the feel and control from the racquet the most off the ground was Chris. "This racquet offered a ton of feel and control off the ground. I was finding that classic, silky smooth Volkl feel on every shot. This stick is much more control oriented than my Babolat Pure Drive Roddick and I felt very connected to my shots. I was working the ball around the court with good topspin and finding my targets very well. The response on slice backhands was great and I found all the feel and control I could want. Out of all the racquets we've tested in 2007, this was my favorite from the baseline. If I could find the power from this one that I get from my regular stick, I'd be all over the Becker 11."
Volleys
Our playtesters fell in love with the solid feel of the Becker 11 at net. Finding it best to let the racquet do the work at net was Spencer. "The Becker 11 felt very solid at net. I liked the maneuverability for a 12 ounce racquet, and the volleys I hit were firm and controlled. Where the ball actually landed compared to where I wanted it to land weren't very far off. I only found trouble when trying to put one away, or punch one with a lot of pace. I found more success when letting this racquet do the work for me." Granville found the specs well suited to his game. "I love the solid feel of a properly struck ball with a racquet at 12+ ounces - it just feels right. Some racquets exude an aura of invincibility when you hold them in your hand. Like a scalpel, this racquet is controlled and precise from every corner of the court and especially at the net."
Finding the racquet very well suited to net play was Chris. "This racquet came into its own at net. I've not found a better responding stick when it comes to volleys. The level of feel and control was outstanding. Stability and comfort were also impressive. The weight and balance was a perfect fit for my game. I found the racquet to remain stable during heavy exchanges, yet it also felt mobile and easy to get around. During doubles play I was hitting lots of touch and angle volley winners. I felt like I could put the ball on a dime with this one." Jason was also impressed with the response of the racquet. "In a word, solid. The weight of the racquet really helped diffuse the balls that were hit with pace, while the maneuverability allowed me to adjust to different shots quickly and effectively. In this category, I would've liked to have had a bigger head size for a bit more court coverage as well as a more forgiving stringbed."
Also enjoying the solid response of the racquet was Ryan S. "This was a great racquet to volley with. The weight kept it stable through contact and its narrow beam width helped with comfort at net. It was not the most crisp racquet I have volleyed with, however, I was able to get pretty decent depth when I was in good position. I think it handled itself really well at net overall."
Serves
Our team found a very control oriented response while serving with the Becker 11. Quickly finding his targets was Chris "I loved the level of control with this racquet. I was able to find my targets with very good consistency. Spin production was decent and very controllable. I was getting some nice pace on my slice serves and had fun going wide on the deuce side, then sliding one down the 'T' on the ad side." Granville also found an immediate level of success on serve with this racquet. "This racquet very closely matches the specs of my regular racquet, just a bit less head light than what I am accustomed to. That did not give me any hesitation when serving. While I don't think the racquet offered any extra power, I did enjoy the same control and feel for precise placement. I would be comfortable walking onto a court and playing a match with this racquet right off the wall."
Focusing on targeting over pace was Jason. "For me, this racquet was all about placement. I couldn't really generate the speed I wanted on first serves, but I could place it where I wanted. I was hitting second serves with positive results. The slice serve didn't have as much spin as I was expecting, especially after seeing what it could do with groundstrokes, but it was consistent." Finding some weight on his serves with the Becker 11 was Spencer. "I felt the control was decent but the racquet lacked a bit in the spin department when serving. However, the weight of the racquet helps plough through the ball, offering a bit more velocity with a smoother, less aggressive swing. Perhaps producing a 'heavier' ball. Enjoying the comfortable response of the racquet was Ryan S. "Serving with this racquet was what I expected. It was a little heavy, but the rewards for doing everything right were very good. Spin was not super easy to find, but was enough for the kick serve to kick well. Power was good. Comfort, again, was really a high point of this racquet."
Serve Returns
Our testers put the heft of the Becker 11 to good use when returning serve. Finding the weight of the racquet to provide some stable control when up against heavily hit serves was Ryan S. "Returning serve was really good. The weight of the racquet made controlling heavy serves easier. The swing weight was also a factor in this, as it was not overbearing and my swing still felt quick enough to keep up. Control, overall, was also very easy to find." Granville was also loving the mass of the Becker 11. "I know I've said this before, but I'll say it again - the more mass you can deliver to the ball, the better. The Becker 11 is very stable and can get you out of some trouble due to the lively response - and again, racquet mass." Spencer "The issues that I suffered with timing (against a hard server) were made up for with good stability. The racquet handled the ball, not the other way around.
Jason found good depth on his returns thanks to the solid and stable response of the racquet. "There was enough weight behind blocked returns that balls landed with some depth, allowing me time to scramble back to the center of the court. It was nice to see that the racquet was fairly stable, even when returning big first serves. I found that I couldn't get the racquet in front of me quickly enough on a few occasions on backhand returns, which resulted in balls landing wide. As far as taking some bigger cuts on second serves, I enjoyed it. I liked the maneuverability of the racquet, which allowed me to hit some sharp cross court shots." Enjoying lots of variety when returning was Chris. "I had a lot of confidence returning serve with this stick. The response was buttery soft and was loaded with feel. I was taking big cuts at the ball with confidence that I wouldn't over-hit. I also liked the response from this stick when blocking the ball back. The level of control and feel enabled me to punch the ball low and angled or with depth, with equal consistency."
Overall
We were very impressed with the level of control from the Becker 11. The stable response from all areas of the court was a hit with our testers. The solid blend of comfort and feel makes this racquet a great choice for players with the strength and technique to swing it. At net we found lots of control to help find our targets. The stable response provided lots of comfort at impact, resulting in a pleasingly solid pop on punch volleys. As far as spin production on groundstrokes and serves, the Becker 11 proves you don't need a racquet with an open string pattern to hit with lots of spin. Impressing from all areas of the court, the Becker 11 is a must hit for 4.5+ level players seeking a control oriented player's racquet.
Last Shots from our playtesters
Jason - "A definite 'must try' for the strong advanced player or even a strong intermediate player who's willing to work into a player's frame. For me, a player who doesn't use dampeners, the feel and feedback was tremendous. The tight string pattern added to the great control this racquet provided but did not really hinder the power and access to spin. Overall, a solid stick."

Granville - "Nice to see the Becker name on a Becker spec racquet! It's nice to see the pendulum has swung back to the more performance end of the spectrum. This racquet ranks among the five or six true performance sticks available. Becker's influence on this new line is evident and welcome."

Chris - "The most enjoyable playtest for me this year. The level of feel and control from the Becker 11 was fantastic. Not enough power to tempt me away from my Pure Drive Roddick, but I've not found a better doubles stick than this one."

Spencer - "This racquet makes for quite an enjoyable hit. Though I don't usually prefer racquets weighing over 12 ounces, the Becker 11 took no time getting used to. The stability helped keep the ball on track with it's intended target. Thus, great control.

Ryan S. - "Overall, I really liked this racquet. I think this is probably my favorite racquet from Volkl. In the past I never found a Volkl racquet that I really liked. However, I really liked this racquet. It might be a bit heavy if not playing everyday, but otherwise it's an awesome blend of comfort and control. Solid racquet all around."
Boris Becker 11 scores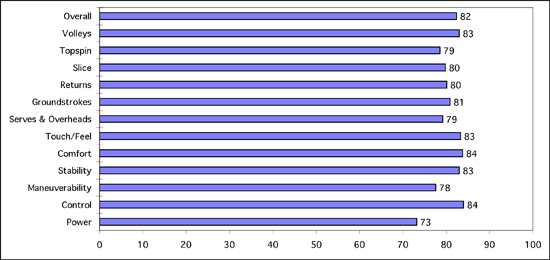 (Scores are determined by averaging individual play test scores)
Technical Specifications

Length
27 inches
69 centimeters
Head Size
98 square inches
632 square centimeters
Weight
12 ounces
340 grams
Balance Point
12.875 inches
33 centimeters
5pts Head Light
Construction
20 mm Straight Beam
Composition
High Modulus Graphite w/ DNX Technology
String Pattern
18 Mains / 20 Crosses

Babolat RDC Ratings

Score

Grade

Flex Rating
61
Range: 0-100
Swing Weight
337
Range: 200-400
Playtester Profiles

Chris
5.0 baseline player currently using the Babolat Pure Drive Roddick. Chris uses a full-western forehand grip, has a fast swing style and hits a two-handed and a one-handed backhand.
Granville
5.5 all-court player currently using a Wilson K Factor Six-One Tour 95. Granville is an aggressive player who uses an eastern forehand grip and goes continental on everything else, hits with a flat swing and a one-handed backhand.
Jason
4.0 baseliner currently using a Head Flexpoint Radical Midplus. Jason has a fairly aggressive semi-western topspin forehand and hits a one-handed backhand.
Ryan S.
4.5 all court player currently using a Slazenger Pro Braided Henman racquet. Ryan uses a semi-western forehand grip, a one-handed backhand and has a long swing style.
Spencer
4.5 Baseline player currently using a Tecnifibre TFlash 310. Spencer uses a full-western forehand grip, and hits with a one-handed backhand.
Review date: Sept 2007. If you found this review interesting or have further questions or comments please contact us.
All content copyright 2007 Tennis Warehouse.