Asics Gel Resolution 5 Women's Shoe Review

Asics Gel Resolution 5 Women's Shoe Scores
Comfort
4.3
Ventilation
3.3
Arch Support
3.7
Foot Support/Stability
4.4
Overall Sole Durability
4.6
Toe Durability
4.2
Traction
4.4
Weight
3.9
Overall
4.3
Upsides
Comfort
Stability
Durability
Traction
Summary
Asics continues to impress us with this update to the Gel Resolution series of high performance tennis shoes. After hours of rigorous play, the Gel Resolution 5 proves to be a clear favorite with our playtest team. With an updated fit and new color options, these super durable shoes provide ample cushioning and support on the court. With a six month durability guarantee, these comfortable shoes offer an on-court experience unlike any other, complete with a plush and fast feel.
Comfort - Score: 4.3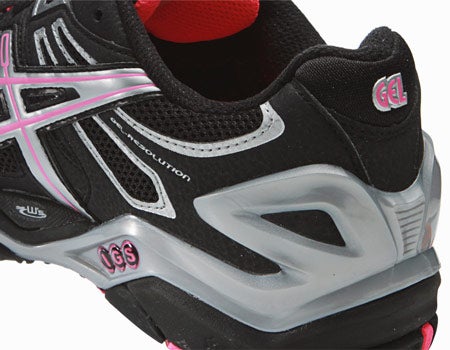 Carol found complete comfort right out of the box from the Gel Resolution 5. She said, "These shoes fit my feet perfectly! They molded to the structure of my feet and almost felt as if they was made for me. They were extremely comfortable, with no poking, pinching, or rubbing. I have always been a big fan of the gel cushioning that Asics uses in their shoes, and I really feel the extra comfort and flexibility it provides on and off the court. My heels definitely felt the benefits the cushioning added, which created greater comfort on the court."
Singing the praises of this shoe was Karly saying, "With every step, the inside of the shoe felt plush and compressed gently to the shape of my foot. The padding was unbelievably soft and made for quite a comfortable pair of shoes. At first I thought the shoes were going to take quite a bit of time to soften up, however the break-in period was minimal. Out of the box the shoes were fairly stiff, but after the first two hours of wearing them they felt completely broken-in. For me the only downside with comfort was the fit. The toebox was a little too narrow for my medium-wide foot. Once I started moving around in them I felt a lot of pressure on the sides of my toes, which was uncomfortable if I tied my laces too tight or wore socks that were too thick."
Michelle had to really break these shoes in to enjoy the full comforts of this Asics offering. She said, "I really enjoyed the way these shoes fit and hugged my feet, however, I did struggle with some comfort issues for the first couple of weeks that I wore them. I experienced numbness under my toes, which I think is due to a tighter toe box than what I am used to. I enjoy my shoes snug, but the toe box in these shoes might have been too tight and may have caused the problem. It took me a while to really break these shoes in, but after two weeks this issue went away. After that I had no issues with the comfort. I enjoyed the gel-like cushioning these shoes offered me on the court."
Brittany agreed that this shoe has a slightly longer break-in period (about 3 hours on court), but stated that it is well worth the wait. "When I first put these shoes on the uppers were a little stiff, but they loosened up rather quickly. I found the upper to be softer than the previous version. The standout feature was the cushioning, as it was really plush and pillow-like throughout the shoe. I actually thought there was almost too much padding in the heel, which made me feel like my foot was sitting high in the shoe."
Ventilation - Score: 3.3
Because these Asics Gel Resolution 5 shoes are quite durable and supportive, a little ventilation has been compromised. This wasn't an issue with our playtest team, but they did take note of it. Ventilation isnÕt a big priority for Brittany, as she normally takes her tennis shoes off pretty quickly after she plays. "I did notice that these tend to run a little on the hotter side. I could definitely feel my feet warming up while I was playing, but I wasn't concerned. There is some mesh on the upper, and I found ventilation to be about average for me."
Carol thought the ventilation was adequate with this shoe, but not a standout feature. She said, "This shoe makes up for its lack of ventilation by being so fast. My feet never felt overheated, but they also didnÕt have the breathability that some of the other shoes out this season provided."
The ventilation was just mediocre for Karly, but it didnÕt take away from the performance of the shoe. "It wasn't something that distracted me, but toward the end of the hit my feet felt a little overheated. I usually wanted to take my shoes off right when the hit was over because of how damp and warm my feet were."
Michelle didnÕt find these shoes to be strongly ventilated, but she also didnÕt mind it. "I didnÕt find the 5s to be super ventilated, but they didnÕt cause my feet to overheat either. They seemed just fine in this area."
Arch Support - Score: 3.7
Michelle, who has a slightly higher than average arch, didnÕt find the arch to be that high or supportive, but it didnÕt bother her. She said, "For me, the arch support on this shoe was slightly low, but it was never a problem for me because the shoe was so comfortable and stable."
Completely agreeing with Michelle was Carol, who said, "The arch was a little lower than I usually like, but I think the great fit and extra cushioning in the heel provided a great counter to this. I never felt uncomfortable from the slightly lower arch."
"Having a medium arch, I can pretty much wear any shoe without problem," said Brittany, "Even though this shoe has lower than medium arch support, I could still feel that support when I played. I would like to note that the arch support did sit towards the back of my arch. While I did feel it, it wasnÕt painful and didnÕt cause any other problems."
Karly was in unison with the rest of the playtesters, adding, "The shoes fell just shy of having a medium arch. The support was a little bit on the lower side, but I didn't have any complaints with it. Because the insoles were so well cushioned they molded to the shape of my feet, which helped prevent any pain."
Foot Support/Stability - Score: 4.4
The low cut of the Gel Resolution 5 made Karly a little hesitant to move at first, but she found good stability once she started. She said, "I was impressed with the support these shoes offered considering how low they fit around my ankles. Once I started moving around on the court my hesitations disappeared. The shoe had a very snug fit so I never experienced any sliding, and I felt very secure during aggressive movements."
Michelle really enjoyed the low-to-the-ground feel that these shoes offered compared to some of the bulkier shoes she has been wearing on the courts. She offered, "My feet felt really stable in these shoes. They fit true to size for me and I felt comfortable moving side to side and up and back. I didn't have to worry about rolling an ankle or anything. The stability was awesome, and despite not being super lightweight, they were a fast and performance oriented shoe. I always felt supported and comfortable."
"The Gel Resolution 5 did not disappoint," said Brittany, who has playtested the two previous versions of this shoe. "My foot felt secure and snug, with no movement. I found that the shoe hit low on my ankle, which I think is caused by all the cushioning in the heel. However, I never felt like I was going to roll an ankle and I had full confidence when moving around."
Finding the Gel Resolution 5 to be one of the best shoes she has ever playtested in terms of support and stability, Carol said, "My feet stayed firmly in place whether my movements were subtle or highly intense. My feet felt completely secure on the court, and I knew I could depend on the shoe to support my ankles on wide plants. This foot support and stability did not take away from the flexibility of the shoe, which allowed me to move with better comfort. Overall, the shoe provided very low impact with great stability and flexibility."
Overall Sole Durability - Score: 4.6
As far as durability goes, the Asics Gel Resolution 5 shoes held up well to the strenuous court time that our playtest team put them through. All of our playtesters were more than happy with how well this shoe held up, and it comes with a six-month warranty. This shoe sets a high standard for other durability shoes. "I will say this is one of the more durable shoes I have worn in a while," stated Brittany. "The durability held up great after 15-20 hours on the court, and I saw almost no wear. I would say it had equal, or possibly even better, durability than the previous versions (Gel Resolution 3 and 4). I also find it such a bonus that the shoe comes with a sixth-month outsole durability guarantee."
Michelle enjoyed the bright colors of the Gel Resolution 5 and took advantage of every opportunity she had to play in them. She surpassed 20 hours on the court in them. She said, "The durability of these shoes was a huge plus for me. I spent many hours play testing these shoes and the soles still look great and are holding up really well. Even the areas I normally wear out, under the toes, are in great shape."
Carol also chimed in, saying, "After 16-18 hours of playtesting they still look brand new. I am seeing no real signs of wear out. The AHAR technology that Asics uses on the outsole for durability is great."
Karly echoed the sentiments of the other playtesters, saying "The durability was definitely one of the highlight features of the Resolution 5s. It took about 10 hours of wear before I could notice even the tiniest bit of wear to the outsole. With my style of play, it'll be tough to wear through them in time to redeem the six month durability guarantee. I have nothing but praise for the durability of this shoe."
Toe Durability - Score: 4.2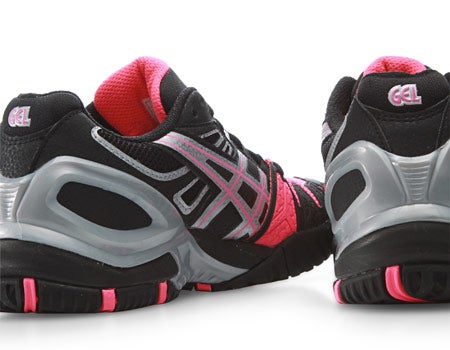 Our toe draggers praised the toe durability of this shoe and were very satisfied with the toe-box protection. "There was no wear through in the toe area with this tough shoe," said Karly. "I'm a slight toe dragger, but with the hefty coverage there were no concerns about wearing through the material around the toes."
Brittany concurred, saying, "Just like the outsole, the toe durability was great. The bumper guard offers full protection from toe dragging. I canÕt see any wear after the playtest, and I have many more hours of protection. I have no complaints about toe durability."
Traction - Score: 4.4
With its modified tread pattern, the Gel Resolution 5 offered ample grip on the hard court. Carol found these shoes to have great traction, saying, "I wasnÕt sliding around at all on the court, and I felt the tread pattern and outsole technology really helped with this. Even with the great traction this shoe felt light, and I never felt tied down to the court."
These shoes provided solid traction for Michelle, and she found it easy to trust these shoes when changing direction or sprinting for a ball. She said, "Because the sole is so durable the tread on the shoe didnÕt wear down at all, and remained a strong part of this shoe. It was easy to move and change directions on the court with these shoes on."
The traction was spot on for Karly, who said, "I loved the grip I had on the court, and with the outstanding sole durability I never experienced any loss of traction. I was able to plant my feet aggressively without experiencing the slightest bit of sliding, and there still was enough give to where I didn't feel like I was stuck when I had to make a hard stop."
With more positives for these Asics, Brittany offered, "Just like the support, stability, durability, and comfort, I thought the traction was great. Even though the shoe does not have a low to the ground feel for me, I still felt connected to the ground while I was playing. When moving in any direction, whether forwards and back or side to side, I never had any problems with sliding or slipping, and I could easily grip the court throughout the playtest."
Weight - Score: 3.9
Being so durable and stable, the Asics Gel Resolution 5s were bound to be on the heavier side. However, these shoes never felt bulky. Karly never felt her movements were hindered, saying, "I was still able to move really well and I didn't think they weighed me down at all, which could be attributed to the shoe's great stability and traction. They felt heavier than most shoes, but I didn't think the weight was much of an issue."
Carol wasnÕt bothered at all by the heavier weight of this shoe. She said, "I loved how lightweight this shoe felt. It is really geared towards players like myself, who have aggressive movements on the court. The lightweight feel really enabled me to move around the court with ease without feeling tied down. I loved this feature!"
A big fan of the lighter weight shoes on the market now, Brittany agreed that the Gel Resolution 5 came in a little on the heavier side, but once she wore the shoes for about a week, she said, "the little extra weight wasnÕt noticeable to me. I could still move around the court with ease and the shoe didnÕt feel clunky or cumbersome."
Michelle added, "They definitely didnÕt feel heavy, but they didnÕt feel like a lightweight shoe to me, either. IÕm surprised at how heavy they actually are (13.7 ounces), as I never felt like I was wearing a heavy shoe. I am playtesting another pair of shoes that are physically lighter than these but feel a bit heavier. What I think makes this shoe great is that it's durable without weighing me down."
Overall - Score: 4.3
Likes
Karly Š "The cushioning and durability. The Gel Resolution 5s had some of the softest padding I've ever felt in a shoe, and with its exceptional durability I didn't have the slightest concern about wearing through it quickly."
Michelle Š "I love the cosmetics and color options that Asics continues to provide. I also really enjoy the fast feel of these shoes. I have been wearing them a ton and they arenÕt showing much wear in the sole, which is a definite plus for anyone who spends a lot of time on the court."
Brittany Š "I liked so many things about this shoe that I'm not sure I can name them all- comfort, durability, support, stability, and cosmetics!"
Carol Š "I loved the fit this shoe provided. I found it extremely comfortable, flexible and stable at the same time. Traction was fabulous and this felt like a lightweight shoe that I felt I could play in for hours."
Dislikes
Karly Š "The only thing that I would have liked to have changed is the fit. The narrow and shallow toe-box fit really tightly around my medium-wide forefoot, which put a lot of pressure on the sides of my forefoot."
Michelle Š "I didnÕt love the numbness I was experiencing when wearing these in the beginning of my playtest, which I assume was a result of a snugger fitting toe-box. I wouldnÕt mind if the arch support was a bit higher."
Brittany Š "The ventilation wasnÕt the greatest and the weight was a tad on the heavier side for me."
Carol Š "I really have no complaints, but one aspect that I felt was lacking a little was the breathability. It didnÕt hamper my comfort on or off the court, though."
Comparing this shoe to other shoes they've worn our testers said:
Karly Š "I thought they played similarly to the New Balance 996s in terms of the low to the ground feel, stability and exceptional durability. I think the biggest differences were the cushioning and weight. The Resolution 5s felt heavier, but the padding was so much softer and more plush than the 996s."
Michelle Š "Compared to the Gel Resolution 4, the 5 runs truer to size in length but the toe box is definitely smaller. The 5s also seem to be a bit more flexible than the 4s. Compared to the Babolat Propulses, another heavier and durable shoe, these Asics feel lower to the ground and feel a bit faster out of the box. They also feel lighter, even though they weigh more."
Brittany Š "I have worn the two previous Resolutions (3 and the 4), and this is my favorite of the three. I thought Asics improved the fit tremendously. While the toe box is still on the narrower side, it fit my foot much better and I was able to wear my true size. I thought the softer upper created a shorter break-in period and more flexibility for comfort. I would compare it to the Babolat Propulse 4 and the Nike Air Max Cage."
Carol Š "This shoe now becomes my favorite playtest shoe. IÕve playtested the Asics Gel Resolution 4 and the Asics Gel Solution Speed and prefer this new Asics Gel Resolution 5 hands down. Asics really improved the flexibility and cushioning aspects in the heel, but not at the expense of added weight. As in all the Asics shoes I have playtested, the fit is great and I love that the shoe adjusts to my feet instead of me having to adjust to the shoe. Durability is great, but I think the other Asics have shown great durability as well. I understand why they offer the six-month guarantee Š these shoes do not wear out. Overall, this Asics Gel Resolution 5 is my favorite playtest shoe thus far!"

Playtester Foot Types:
Karly - Medium width, Medium-low arch
Michelle - Medium width, High arch
Brittany - Narrow width, Medium arch
Carol - Medium width, Medium arch

Review date: May 2013. If you found this review interesting or have further questions or comments please contact us.
All content copyright 2013 Tennis Warehouse.