Asics Gel Solution Speed Men's Shoe Review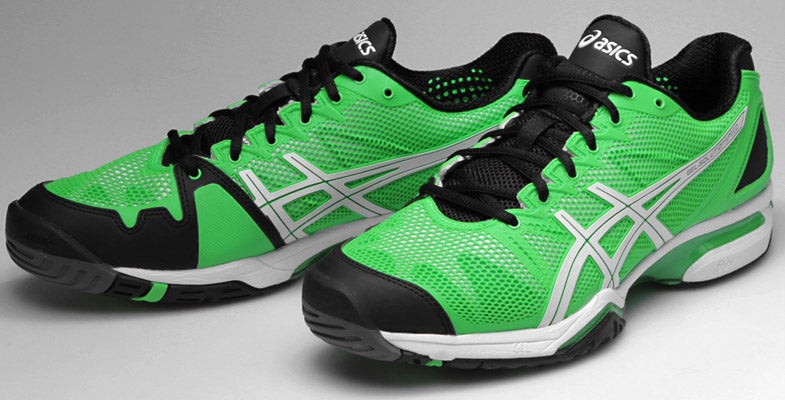 Asics Gel Solution Speed Men's Shoe Scores
Comfort
4.6
Ventilation
4.5
Arch Support
4.0
Foot Support/Stability
3.8
Overall Sole Durability
3.9
Toe Durability
4.4
Traction
2.9
Weight
4.7
Overall
4.1
Upsides
No break-in
Lightweight
Comfort
Ventilation
Summary
The introduction of the Gel Solution Speed marks Asics' entry into the lightweight speed tennis shoe segment. While most speed-oriented shoes are best saved for match play (lacking the durability for repeated long training sessions), Asics has set the bench mark for durability in a speed shoe with the Gel Solution Speed. Both the outsole and the toe durability defied the lightweight feel of this shoe, matching the durability of much heavier offerings. Whether they were wearing this shoe through a long match, walking around the TW offices or hitting the gym, our testers found it to be supremely comfortable. There was enough support and stability for our testers to play as hard as they could, but they were held back by the traction. Each of our testers felt some slippage in these shoes. While some got used to the slippage and were able to adapt, the traction was simply not up to the level of the Gel Resolution series of shoes. Still, this shoe proved very popular with our testers, as it excelled in every other area.
Comfort - Score: 4.6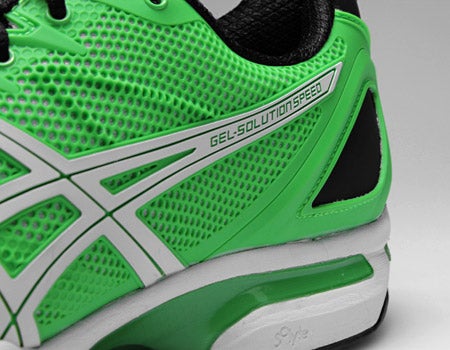 The Asics Gel Solution Speed impressed our testers with its high level of comfort right out of box. Chris absolutely loved the fit and feel. He said, "I found these shoes ready to rock and roll the moment I put them on. I expect some kind of break-in period with any shoe, but these offered excellent comfort from the get-go. The level of cushioning felt perfect. The ride was plush and comfortable, but I did not feel too elevated from the court. The uppers were soft and supple. I never felt any pinching or discomfort of any kind. This has to be the most comfortable tennis shoe I've ever worn, and I scored it top marks."
These shoes suited Granville. He said, "The Gel Solution Speed fit my foot very well right out of the box and seemed very similar in fit to the Gel Resolution 3. With or without my ankle braces, they had a nice, contoured fit and feel. I felt there was adequate cushioning with the provided insoles and adequate arch support for my foot."
Jason enjoyed the high level of comfort. He said, "Asics has always delivered for me in this section and continues to do so with this Gel Solution Speed. It was very comfortable right from the box, but it got even more comfortable for me with a few hours on it because the toe box widened up slightly. Cushioning was nice and plush, which surprised me a bit because it's such a lightweight shoe."
"A very soft, breathable upper made for no break-in comfort," said Spencer. "Slipper-like would be the term I'd use for this lightweight offering. The shoes flexed and creased well with my feet, so there was no pinching or poking. Right out of the box they offered good comfort, and that transitioned onto the court. They were supportively snug and sustained that feel throughout the playtest."
Ventilation - Score: 4.5
The playtest team loved the breathability. Jason gave high marks. He said, "I haven't played in a more breathable shoe since the Wilson Tour Spin II. With all the perforations in the upper my feet never got too hot or sweaty."
Loving the breathable and stable feel was Spencer. He said, "No problems here. The upper provided more than enough ventilation to keep my feet cool and airy, yet still managed to maintain good support."
Chris had no criticisms here, either. He said, "Another top score from me here. The ventilation felt great. It gave the shoe a light and airy feel, which was in perfect sync with the overall light and fast feel of the shoe."
Granville said, "My feet and shoes stayed cool (although I'm hitting mostly indoors right now). I didn't feel air flowing throughout the shoes, though."
Arch Support - Score: 4.0
With its medium arch support, the Gel Solution Speed was able to please our playtest team. The arch ran true for Spencer. He said, "With a medium arch, I didn't notice any discomfort or abnormalities. Like I always say, if the arch is correct, it won't be noticed."
Chris agreed, adding, "The arch support was spot on. The height was adequate for my medium to high arches, and there was enough stability to protect my arches. I was able to sprint around the court with confidence and was impressed by how supported my arches felt considering the light and flexible feel of the shoes."
Granville added his own insole for a better fit. He said, "It is a fairly typical arch support and insole - no bells and whistles to speak of. I pulled the thin strips out and placed my contoured (Superfeet) insoles into the shoe as soon as they were out of the box. Much better!"
The medium arch didn't really bother Jason, who has rather flat feet. "Surprisingly, the medium arch didn't make my arches too sore. The more I wore it, the more I liked it, because it flattened out. It's like a good wine, it only got better with time."
Foot Support/Stability - Score: 3.8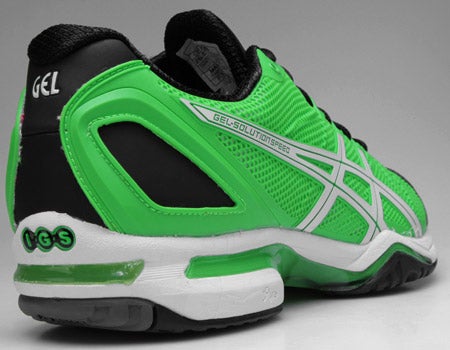 The uppers provided enough support and stability for most of our team. The support was a highlight for Granville. He said, "Perhaps the best feature of this shoe is its light weight and stability. It hits both marks spot on. At 12.6 ounces (size 10.5), the Gel Solution Speed is well within my 16 oz. per foot rule. The tough rubber upper materials are very stable, yet flexible (and is seen now on several offerings from other shoe makers)."
Spencer was amazed at the level of support. He said, "I was pleasantly surprised with the support and stability, given the weight of the shoe. It's not uncommon to sacrifice these assets when dropping weight in footwear, but the Gel Solution Speed offered plenty. I felt quite comfortable going full speed and changing direction laterally. I never once experienced any indication of a rollover."
"On my first few outings I was wondering how the shoes would hold up for support and stability, due to their light feel," said Chris, who acclimated quickly. "This shoe offers some flex to it, and I was wondering if it would be too much. However, I learned to trust the shoes and found I could play as hard as possible in them and get all the support I needed. The more I wore them, the more I liked them, and I was already in love with their comfort and speed."
Jason didn't see eye to eye with the other testers. He said, "I guess this is the trade-off for such a supple upper. I could feel the uppers give and flex every time I planted my foot. I never felt 100% confident to make a hard cut because of that soft upper. My wide foot might have something to do with it. To its credit, I never came close to rolling my ankle."
Overall Sole Durability - Score: 3.9
The Gel Solution Speed offered excellent durability for a lightweight speed shoe. Chris was amazed with the shoe's durability. He said, "Considering this is a speed shoe, the durability is excellent. Put it up against tennis shoes in general, and it is still pretty good. While not as durable as a guaranteed shoe like the Gel Resolution 4, this shoe held up well. I put a hole through the outsole of my right shoe under my big toe. This is where I'm hardest on shoes, since I drag that part on both serves and forehands, and I have to say I was impressed at how long these lasted in that area."
Spencer agreed. He said, "Though I wouldn't put it in the same durability category as a Nike Courtballistec or adidas Barricade, it certainly holds its own. For a lightweight speed shoe, it offers very good durability."
"This is a tough one for me to score," said Jason. "On the one hand, these shoes weren't as durable as I would've liked and have come to expect from Asics. On the other, when comparing them to other lightweight shoes, the Gel Solution Speed is very durable. I put about 12 hours on them before I noticed some balding on the medial forefoot."
Toe Durability - Score: 4.4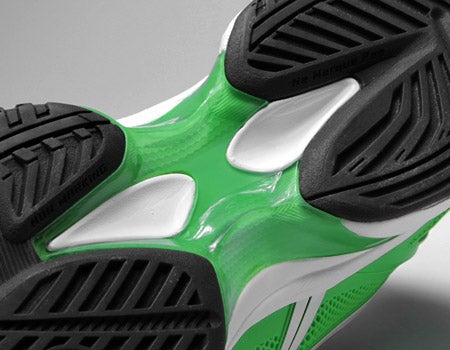 Our toe-dragging tester gave this shoe high praise in this category. In fact, the toe durability left Chris dumbfounded. He said, "The toe tip of each shoe proved to be very durable. I drag my toes a lot, and the toe bumpers held up very well. Factoring in how light, fast and comfortable this shoe is, the toe durability seems to defy logic. This shoe simply should not be this durable."
Traction - Score: 2.9
This is one area where our entire team felt the shoe needed improvement. Granville noticed the lack of traction. He said, "The one big drawback during my testing is the less sticky feel on the court (compared to the Gel Res. 4). The outsole has a harder feel and a sandy sound on the court."
Spencer had similar findings. He said, "This is the only area where I felt there could be some improvement. The outsole felt a little hard compared to the Gel Resolution 4. It gave a 'slappy' type feel on court, and I seemed to lose traction on the more urgent stops and starts. It did seem to gain a bit more traction as the playtest progressed, though still not to the level I would want in a top performance shoe."
Once acclimated, Chris was comfortable with the traction. He said, "Throughout the test I was sliding some in this shoe. It was most noticeable on lateral cuts. Right when I would load up my outside foot to make a change of direction, I would find the outsole losing traction slightly. The sliding remained consistent throughout the test, and I quickly got it dialed in and made allowances for it. The outsoles gripped much better when sprinting or stopping forward, and slipping was minimal."
Jason struggled to get a grip on the court. He said, "I noticed the slipping and sliding issue from the very first playtest, but thought it'd get better after the initial hit. It didn't. There wasn't a specific movement or action that triggered the sliding; I experienced it while changing direction, stopping and starting. I was very disappointed in the traction."
Weight - Score: 4.7
True to its "speed" name, the shoe felt lightweight and fast. This shoe was second to none for Granville. He said, "It's an excellent speed shoe at 12.6 ounces, and the best of the Speed lightweight offerings I've tested."
It was the right mix for Spencer. He said, "There's no doubt the weight was light and fast on the court. Again, I loved the combination of support and stability offered in such a lightweight shoe."
Jason was thoroughly impressed. He said, "The shoes felt light and responsive. I felt like these shoes really helped me with my court coverage and overall speed. Static weight aside, this is one of the lightest feeling shoes I've tested in quite sometime."
"The shoes felt light and fast, yet provided adequate support and impressive toe durability," said Chris. "I was very, very impressed with the level of performance considering how light and fast the shoes feel."
Overall - Score: 4.1
Likes
Chris - "I liked the no break-in comfort, the fast feel and the cushioning. I thought they looked great, too."
Granville - "Great fit and feel right out of the box. Good looking shoe - even when green."
Jason - "The cosmetics, weight, comfort and ventilation are what really did it for me."
Spencer - "The fit, comfort, weight and cosmetic."
Dislikes
Chris - "My only knock is the level of lateral traction. Even though I adjusted to the amount of slide I was finding in these shoes, I'd rather not have to make any adjustment at all."
Granville - "The outsole is less sticky than I'm accustomed to from Asics."
Jason - "The support lacked a bit, and I was disappointed in the traction."
Spencer - "The traction could be improved."
Comparing the Gel Solution Speed to other shoes they've worn, our testers said:
Chris - "This shoe offers more support, comfort, cushioning and durability than most of the other light and fast shoes I've tested. This shoe is better cushioned and more durable than a New Balance 851. It also feels faster than the Nike Lunar Vapor 8, yet is more durable. It has become one of my favorite shoes to play in."
Granville - "For those who prefer a light shoe for speed - this offers good performance to match."
Jason - "It feels like a much, much, much better version of the Wilson Tour Spin II. Comparable to the Vapor series from Nike."
Spencer - "I suppose I would compare it with the likes of the adizero Feather, Nike Vapor 9 and New Balance 851. Each of these shoes has its assets, but the Gel Solution Speed is more comfortable than the Feather, more durable than the Vapor and more supportive and stable than the 851."
Playtester Foot Types:
Chris - Narrow width / Medium arch
Granville - Narrow width / Low arch
Jason - Wide width / Low arch
Spencer - Medium width / Medium arch

Review date: March 2012. If you found this review interesting or have further questions or comments please contact us.
All content copyright 2012 Tennis Warehouse.