adidas Response CC Rally Men's Shoe Review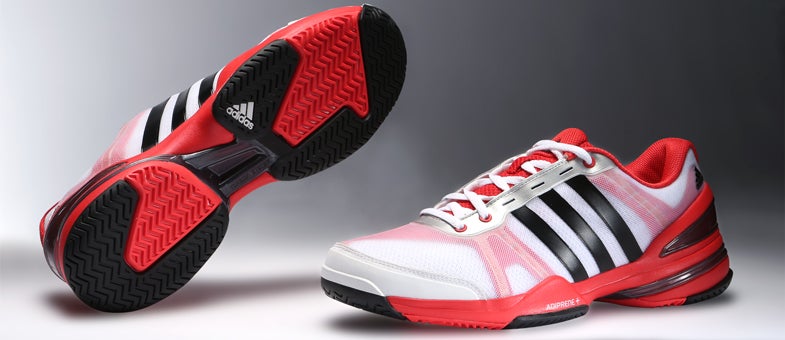 adidas Response CC Rally Men's Shoe Scores
Comfort
4.8
Ventilation
4.9
Arch Support
4.3
Foot Support/Stability
2.7
Overall Sole Durability
3.0
Toe Durability
2.2
Traction
4.3
Weight
4.9
Overall
4.0
Upsides
Lightweight
Comfortable
Well ventilated
Works as a cross trainer
Downsides
Low durability
Not suited for heavy-duty hitting
Summary
Is it a running shoe? Is it a slipper? Is it a sock? No, it's the new CC Rally, adidas' latest ultra lightweight shoe designed for the minimalistic type of player. Granted, this is a bit more like a cross-training shoe than a tennis shoe, but from the instant we put on the CC Rally it was comfortable and cushioned and did we mention lightweight? ClimaCool mesh wraps the forefoot to provide unmatched ventilation, keeping your feet cool and dry even on the hottest days. We wouldn't choose this shoe for any intense on-court hitting sessions or tournament play, but when it comes to a light hit, a workout in the gym or even walking around town, the CC Rally is a great-looking and super comfortable choice.
Comfort - Score: 4.8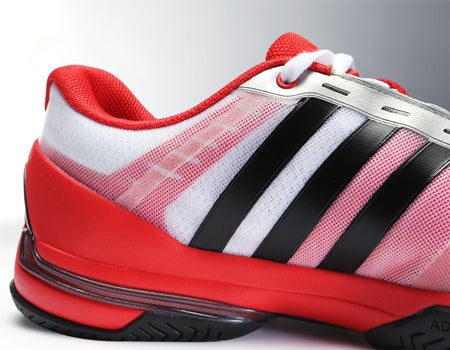 The CC Rally nearly received a perfect score when it came to comfort. Chris explains what made this shoe so pleasurable to wear, saying, "I gave these shoes top marks in comfort. The fit and feel were excellent. The shoes felt very flexible, the cushioning was great and they required zero break-in. To me, the feel of the uppers was more like a running shoe than a tennis shoe. The cushioning was more tennis-like, as it was lower and offered some court feel. However, I much preferred working out in these shoes than playing tennis in them. They are so comfortable they've become my go to training shoes for the gym or a light run."
"This shoe feels like a slipper when you put it on," said Andy. "So comfortable! It's super lightweight, and the soft upper hugs my foot nice and snug. There isn't a whole lot of cushioning, but I don't need it when the shoe is so light and fits so well. One of the strengths of this shoe is how comfortable it is."
The toughest part of wearing this shoe for Mark was when he had to take them off. He raved, "It's an incredible shoe in terms of comfort, and from the moment I slipped them on my feet, I loved them. It is difficult for me to conjure up a memory of a tennis shoe more comfortable than the CC Rally."
Ventilation - Score: 4.9
adidas is setting the bar when it comes to breathability in its lightweight shoes, and the CC Rally is no exception. Giving it almost perfect marks, Andy said, "The signature ClimaCool mesh wraps around the entire upper, providing exceptional ventilation and breathability. My feet felt cool and dry even in the warmest of conditions."
Mark gushed about the breathability as well and attributed it to the ClimaCool technology. He explained, "The top-notch ventilation comes from the generous use of adidas' unique mesh material throughout the upper. I also liked that the shoe did not feature a vent on the bottom of the tread, which I feel gets clogged up with debris and makes me have to avoid all puddles."
"The ventilation was excellent," Chris agreed. "With the ClimaCool technology adidas is unrivaled in shoe ventilation, and this shoe further proved the point. Just like I found from the adizero CC Feather II we tested, this shoe felt cool and my feet never got too hot and sweaty."
Arch Support - Score: 4.3
For as lightweight and minimalistic as the shoe is, the CC Rally proved to have more than enough arch support to keep our testers happy. It fit Mark's foot perfectly, which was an improvement over his previous experience in a ClimaCool shoe. He said, "The arch support was located a bit too far forward in the CC Genius, but the CC Rally seems to have a middle of the road level of arch height, which is centered perfectly for the arches of my feet."
Chris also found more than enough support for his slightly higher than average arches. He said, "The insole of the shoe molded nicely to the shape of my arches and offered a good fit. The shoe flexed in the right places and my arches felt secure and safe. Considering how light, comfortable and flexible the shoes are, I was surprised at how safe and comfortable my arches felt."
Andy agreed with the group, finding plenty of arch support as well. He explained, "My arches felt adequate support, and only started aching if I wore the shoe for a long, long time, but I guess that will happen with most shoes. It's a very low-profile shoe, so instead of it being ultra supportive it's resting on more of a 'minimalist' premise. With that said, my arches were happy."
Foot Support/Stability - Score: 2.7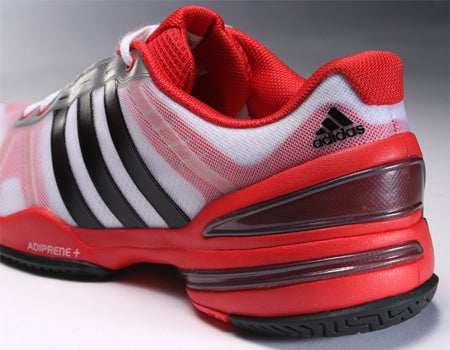 All of our testers agreed the CC Rally just didn't possess enough support and stability to keep them confident moving around aggressively on court. However, for the recreational player looking for a super comfortable and lightweight shoe or the teaching pro who is not putting loads of stress on his shoes, this shoe would be ideal. Mark said, "Forward motion/net rushing is fine with the CC Rally, but tennis, for many, is primarily a lateral movement activity, and this was the aspect of the shoe that was not quite equal up to its high level of comfort and ventilation. On a hard court the traction was great, but the upper of the shoe was not firm enough to keep my outside foot from sliding, a little, over the tread of the shoe on quick lateral stops."
Andy had trouble getting into top gear with these shoes, and he lacked the confidence that it would hold up during aggressive cuts on court. He said, "Given how lightweight and low-profile this shoe is, the support and stability really suffered. It feels almost like a running shoe when you put it on, which on one hand is extremely comfortable, but on the other hand is not very stable. I did not feel that the shoe could be supportive enough for me to test it at full speed."
There wasn't enough support for Chris to put the shoe to the test on court, but he loved it for the gym or a light run. He explained, "This shoe simply does not offer the support and stability needed for aggressive hitting. It is fine for a light hit or some social doubles. It should also work for a player who is not sprinting around aggressively and wants maximum comfort. However, this shoe is more of a workout shoe, and in that regard it is excellent. It offered me more support than a running shoe and was perfect for when my workouts included speed drills and lifting weights. I loved how I could be comfortable in the gym, with ample support for doing squats and lunges, etc., and then head out for a light run to cool down without having to change shoes."
Overall Sole Durability - Score: 3.0
Along with support and stability, durability suffered in this featherlight offering from adidas. Because he enjoyed wearing the shoes so much, Chris had to cut his playtest short so he wouldn't wear through the outsole of the shoe. He explained, "I would blow through this outsole very quickly on hard courts. I actually stopped hitting in the shoes because I didn't want to wear them out. I'm saving them for the gym and footwork drills. If I kept hitting in them, I'd be through the outsole too quickly and out of a pair of great workout shoes."
Mark also found a lack of durability, but he thinks it would hold up fine for the right type of player. He said, "The main story for the CC Rally is not going to be durability the way it is for a shoe like the Barricade 7 or 8. However, for a teaching pro who is on the court all day or the more casual player, the level of durability you will get from the CC Rally is fine."
Andy didn't feel the outsole would hold up well enough for this to become his training shoe. He said, "adidas definitely took a lot of rubber out of the outsole to make this shoe as light as it is, and the durability takes a hit. It wouldn't take me long to wear through the outsole."
Toe Durability - Score: 2.2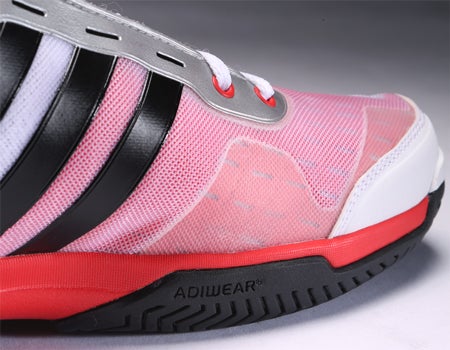 Just like the outsole, our playtesters found that the toe durability of the CC Rally just didn't hold up to some tough hours on court. Andy usually doesn't put the toe protection of the shoe to the test, but he was able to see some decent wear in that area after a short period of time. He said, "I'm not even a toe dragger, and I was still able to do some damage to the toe area of the shoe. It didn't wear completely through, but the little patch of what looks like synthetic leather right above the toe guard (which is low to begin with) is almost worn through. A couple more wide backhand slices, where I drag my toe behind me, and I'd probably have a small hole."
Chris is one of our most extreme toe draggers, so the shoe stood no chance against the demands he put on it. He explained, "The toe durability is practically non-existent. After my first hit I had heavy scuffing to the upper around the toe tip. It simply wouldn't be more than a week's worth of hitting for me to be through the toe of this shoe."
Traction - Score: 4.3
Traction was on the mark for the CC Rally, and in turn it received high marks from our testers. Chris thought the rubber compound was spot on, just like another adidas shoe we recently tried. He said, "The level of grip from this shoe was perfect. This is perhaps the ultimate shoe for doing footwork drills. It offered me a ton of grip, which combined with adequate support for sprinting and working on my speed. When I hit in the shoes the combination of grab and give was perfect. As with the Barricade 8 we recently tested, when it comes to traction, adidas has it dialed in."
Mark thought the traction was good, saying, "All of the tennis time spent wearing the CC Rally was on hard courts, and the grip between the shoe and court was impeccable. Although the traction was great in every direction, I was prone to sliding around a little inside the shoe due to the lack of support."
Andy had no complaints about the traction, saying, "Traction was fine. Nothing really to report, which is a good thing. I never felt I was sticking or sliding when I shouldn't have on the hard courts."
Weight - Score: 4.9
The super lightweight feel is one of the strengths of the CC Rally that our playtest team grew to love. Andy really enjoyed this aspect of the shoe, saying, "This is an ultra lightweight shoe! It's slipper-like in its feel, and you barely feel like you have anything on when you're wearing them. I could be on the court for hours and not have to worry about my feet getting fatigued."
Chris concurred, explaining, "For what the shoe is, I thought the weight was perfect. I think adidas could add some weight to beef up the on court suitability without taking much away from the fast feel of the shoe. Again, when doing any kind of drill involving a sprint or heavy cardio exercises like an Insanity workout, this shoe was perfect. It always felt very light and fast."
Also in agreement was Mark, who added, "As of this writing I don't have an exact figure for the overall mass of the CC Rally, but they are definitely light. They feel like a 12-14 ounce shoe, which is pretty darn light."
Overall - Score: 4.0
Likes
Chris - "I loved working out in these shoes, and they are my favorite shoes to take to the gym. This is the perfect shoe if my workout consists of a mix of cardio and lifting. I also enjoyed them when having a light hit on the court."
Mark - "The comfort, ventilation and traction all rate as being top notch, and I would be lying if I said that aesthetics do not count for me; these are some of the best shoes for starting up a conversation with strangers, and everyone who saw them had a comment on how cool they are."
Andy - "Loved the comfort and lightweight feel, along with the cosmetics. They look great and are awesome to wear on and off the court!"
Dislikes
Chris - "Not enough support and durability for aggressive play, but then, that is not the intended use for this shoe."
Mark - "If I went into this test thinking that the CC Rally was going to fit and perform like the Barricade 7 or 8, then I would be disappointed; parents sponsoring their kids for competitive play should maybe go with a more durable option. If I make a well informed purchase, then the adidas CC Rallys are among my favorites."
Andy - "There wasn't enough support, stability or durability for me to feel comfortable taking them into the heat of battle in tough competition. I wouldn't be competing or training hard in them."
Comparing this shoe to other shoes they've worn our testers said:
Chris - "This shoe was very similar to the old adidas CYD and Barricade Trainer in fit, feel and intended use -- working out rather than playing. It is also better than doing footwork drills in a cross trainer, as this one won't mark the court."
Mark - "The only other shoe I can think of that felt similar to the CC Rally, was the adipure Pro Lux, which I loved as well for a high-end recreational, great off-court shoe. It had the leather upper, with the ultra-plush feel, right out of the box."
Andy - "Honestly, they feel more like a minimalist running or training shoe than a tennis shoe. They are so comfortable to wear that they have become one of my favorite shoes to just kick around town in. Since they have the tennis-specific outsole they would be perfect for teaching pros who aren't putting a whole lot of stress on their shoes and don't need a ton of support."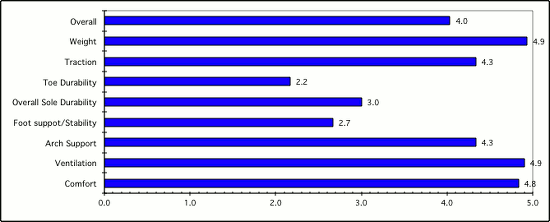 Playtester Foot Types:
Chris - Narrow width / Medium arch
Mark - Medium width / Medium arch
Andy - Medium width / Low arch

Review date: July 2013. If you found this review interesting or have further questions or comments please contact us.
All content copyright 2013 Tennis Warehouse.