Asics Gel Resolution 4 Men's Shoe Review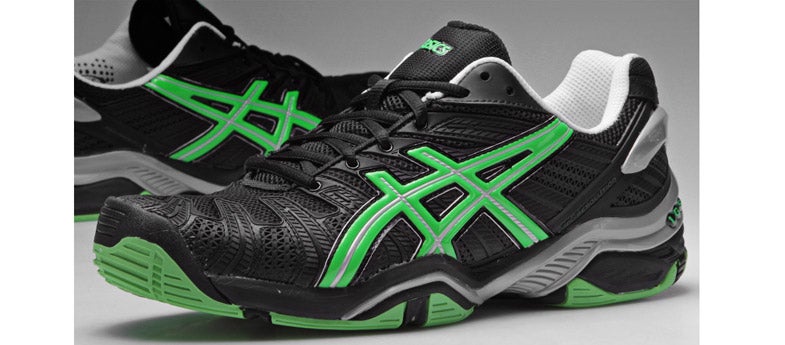 Asics Gel Resolution 4 Men's Shoe Scores
Comfort
4.3
Ventilation
4.0
Arch Support
3.8
Foot Support/Stability
4.7
Overall Sole Durability
3.7
Toe Durability
5.0
Traction
4.7
Weight
4.5
Overall
4.5
Upsides
Support
Cushioning
Traction
Durability guarantee
Summary
Anticipation levels and expectations have grown with each new iteration of Gel Resolution, so it was easy to see why our playtesters were chomping at the bit to get these shoes on their feet. Though there was a slight sizing issue, it was quickly remedied by our testers going down a half-size for the correct fit (for example, if you wear a size 10.5, order a size 10 in this shoe). Once our testers were in the right size shoe, there were no surprises when it came to comfort and performance. But comfort is only part of the battle. A high-end shoe needs to perform as well, and perform it did. The stability held up to the most rigorous changes in direction, and the outsole proved to have the perfect blend of tack and durability. The AHAR outsole yielded two perfect scores from our team with its degree of traction, and the durability fared very well. It comes with a durability guarantee, to boot. When it was all said and done, the Gel Resolution 4 lived up to its heritage. It performed at a high level and offered excellent comfort, making it a player favorite.
Comfort - Score: 4.3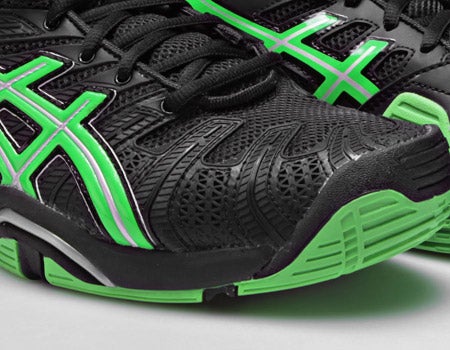 In past versions of the Resolution, Asics has done a great job of combining comfort with performance, and the Gel Resolution 4 is no exception. Chris was impressed with the cushioned response. He said, "Like the rest of our crew, I found the shoes to fit a half-size long. Once adjusted down, the shoes fit perfectly. They broke in nicely during the first hour of play and only became more comfortable from there on out. Just as I've found from every Gel Resolution so far, the level of cushioning was great. The uppers felt supportive without pinching my feet in any way, and I could cinch the lace system without any undue pressure on my feet. These shoes were very comfortable."
Finding immediate comfort was Granville. He said, "Right out of the box these are very comfortable shoes. With the sizing adjusted, they fit my feet very well. Cushioning was adequate, as in most performance shoes. I also liked the fact that I didn't have to fight the laces to get in and out quickly before and after matches, as they were easy to cinch up and loosen."
Jose experienced the same good comfort he's had with past models. He said, "Asics has always had a great cushioning system, and the Gel Resolution 4 is no different. I've always thought they've provided the best comfort. I usually have to break in my shoes at least a week before taking them to the courts, but the flexible upper in this shoe provided comfort right out of the box."
Ventilation - Score: 4.0
There was plenty of mesh throughout the upper and tongue, giving the Gel Resolution 4 more than enough ventilation. Finding the mesh to help breathability was Jose, who said, "I didn't have any issues at all with overheating. The upper part of the shoe has plenty of mesh to provide good ventilation."
Chris never felt his feet overheating, either. He added, "The level of ventilation felt very good. My feet never overheated in these shoes. There seems to be enough mesh and perforations to let cool air in and hot air out."
"While the shoe does have some mesh panels, the word ventilated does not come to mind when I think Gel Resolution 4," said Granville. "Knowing this, ventilation is not on my short list of important features when it comes to tennis shoes. I wear these on match days primarily."
Arch Support - Score: 3.8
Though the support differed for each tester, none of them had any issues with lack of support or discomfort. With higher arches, Chris had no problems with the lower support level. He said, "During the first couple of wears the arch support felt a tad low. However, once the footbed started to mold to the shape of my feet the shoe was hitting me in all the right places. The midfoot shank did its job in keeping my arches protected when I was sprinting around the court, and I was able to play worry free."
As usual, Granville relied on his aftermarket insoles. He said, "Arch support is another feature that is largely overlooked by all manufacturers. These Resolutions 4s are, again, just adequate. I put Superfeet insoles in all my tennis shoes for real arch support."
The arch support was initially stiff for Jose. He said, "I didn't have any discomfort with the arch support, but I did feel the arch support was too stiff at first. After a few wears the arches molded to my feet, and I no longer noticed them."
Foot Support/Stability - Score: 4.7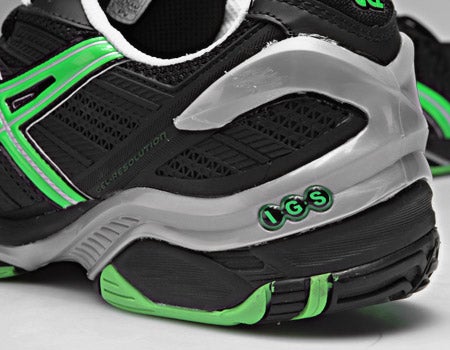 Support and stability are the true tests of high performance tennis shoes, and the Gel Resolution 4 passed with flying colors. Granville enjoyed the reliability of performance. He said, "Bam! Now we are getting to the heart of the shoe. This shoe feels like supple armor on my feet. There are those occasions when design, materials and fit come together in the same shoe. The Gel Resolution 4 is that shoe for me. I just have that extra level of confidence that my shoes are going to last through a tournament or two before I have to buy a new pair. This shoe is an excellent value when all the features and benefits are taken into consideration."
Chris agreed, saying, "I really liked how this shoe held my feet and prevented them from sliding around inside the shoes. I was getting all the support I needed to play all out and not have to worry about my shoes. Likewise, stability was very impressive. The shoes flexed in all the right areas, yet were stable where they needed to be. I liked how the shoe felt flexible through the vamp and toe box -- allowing for a fast step -- yet supported my feet during aggressive lateral cuts."
Having to wear two pairs of socks, or having to cinch the laces for ideal support, was Jose. He said, "Stability was solid, and I didn't have any issues with support. I did tie my shoe laces really tight when I played, and even though I went half a size down, I still had room in my shoe. If I didn't tighten my shoe laces my foot would slide around. Double socks and cinching the laces worked for me. Those are minor issues, as the overall support was good."
Overall Sole Durability - Score: 3.7
To meet the needs of hard court players, the Gel Resolution 4 features a durability guarantee. Granville was thrilled with the longevity of this shoe. He said, "After two tournaments and four events, this shoe still has life! The Gel Resolution 4 is one of the toughest shoes I've tested or worn for competition in a very long time. It remains my go-to shoe."
Liking the durability guarantee was Chris. He said, "I saw wear in the usual areas, but nothing excessive. The durability guarantee is a nice touch since I play only on hard courts, and I would buy more pairs based on that aspect alone. Pack in all the other impressive performance aspects of this shoe, and I feel like I have found a great hard court shoe in the Gel Resolution 4."
Jose felt there was room for improvement, saying, "I thought the durability of the outsole was this shoe's achilles heel, but with a six-month durability guarantee it wasn't really a concern."
Toe Durability - Score: 5.0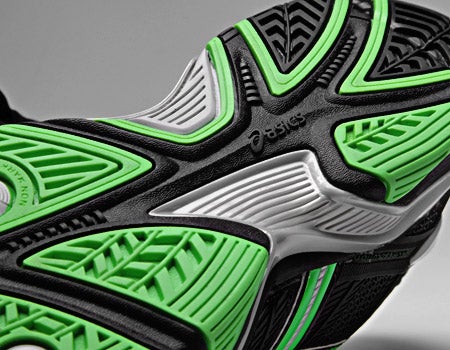 Our lone toe-dragging tester felt Asics did a top-notch job with toe protection. Chris said, "I drag the toe of my shoes a lot, but I had no issues. The toe tip proved very durable, and I was impressed because the flex and comfort was also top notch in that area. Those two attributes often don't go hand in hand, but Asics has it nailed in the Gel Resolution 4."
Traction - Score: 4.7
The AHAR (Asics High Abrasion Rubber) outsole proved popular with our crew, resulting in two perfect scores. Finding a perfect blend of grip and give was Chris. He said, "I thought the hard court traction was perfect and scored this shoe top marks. The level of grip was there when I needed to push off aggressively, yet there was also enough give to make the shoes forgiving and not tough on my ankles. These shoes grip way better than the Gel Solution Speed we recently tested. For me, these offered the perfect blend of grip and give."
Granville was so impressed he offered up his first perfect score. He said, "OK, here it is: My first 5 score for any shoe. Yup. This outsole is just right. It's not so sticky that I can't slide when needed, yet it's supple enough to offer good traction from the baseline to the net. It's durable, too!"
Jose felt the traction waned as the outsole wore. He said, "The Gel Resolution 4 responded well to stopping, starting and changing directions. I could also slide on the hard courts when looking to do so. After a month of playing with the shoe I did notice a lot of wear impacting the traction of the shoe. The traction was still good, but not as great as it was straight out of the box."
Weight - Score: 4.5
The Gel Resolution 4 offered the ideal combination of lightweight feel with good support and stability. Chris felt the weight was perfect. He said, "Weight was not an issue for me at all. With the great fit and the shoe flexing and feeling fast up toward the toe, I felt very light and fast. It wasn't until I was forced into a hard lunge or heavy cut that I would be reminded of the beefy heel support, and in those instances I was glad it was there. Considering how the shoe felt on court, I would say it is weighted perfectly."
Happy with this shoe passing his "under a pound" test was Granville. He said, "Once again, the Gel Resolution 4 hits my mark of less than a pound per shoe. They're not too light that they would be easily torn up and not too heavy that I think about them."
Jose found the weight-to-support ratio to be reasonable. He said, "Having the shoe weigh 15.4 ounces (size 10.5) was really reasonable for what I got out of the shoe. I did play with the previous version, and I think this shoe is lighter, with more ventilation. I can live with the weight as long as I get the comfort and support I need."
Overall - Score: 4.5
Likes
Chris - "Simply put, I liked everything about this shoe; the grip, support, comfort and cushioning, even the cosmetics were great. Along with the Prince Rebel 2, this is one of my favorite shoes to wear."
Granville - "Solid fit right out of the box. Good durability and traction. Nice cosmetic (yes, it grew on me)."
Jose - "I love the comfort and support of the shoe. I would take comfort and light weight over durability any day."
Dislikes
Chris - "Once I moved down a half-size, everything was perfect."
Granville - "Just a bit too roomy in the toe box, and I had to wear two pair of socks with my ankle braces."
Jose - "Durability. For a high end shoe that's in the same category as the adidas Barricades and Nike Ballistecs, I would expect it to compete in durability as well."
Comparing the Gel Resolution to other shoes they've worn, our testers said:
Chris - "The fit needs adjustment, which was a first for me in the Gel Resolution series. Once adjusted down a half-size, I preferred this shoe over every previous version, and I have tested them all. The feel is really unique, and can only be compared to other Asics shoes. For me, Asics provides a blend of comfort and support with cushioning and court feel that makes them unique among competing brands."
Granville - "All things considered, this is the best shoe I've worn in several years (bye bye Barricades)."
Jose "The best comparison would be with the Asics Gel Resolution 3, but with better ventilation and lighter weight."

Playtester Foot Types:
Chris - Narrow width / Medium arch
Granville - Narrow width / Low arch
Jose - Medium to narrow width / Lower than medium arch

Review date: March 2012. If you found this review interesting or have further questions or comments please contact us.
All content copyright 2012 Tennis Warehouse.