Luxilon ALU Power Spin String Review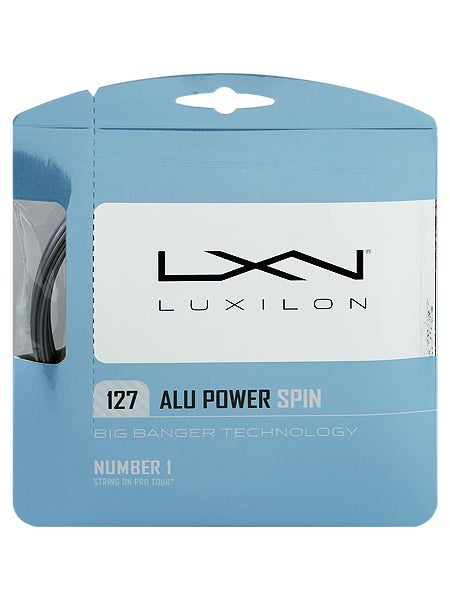 Luxilon ALU Power Spin String Scores
Power
58
Spin
93
Comfort
60
Control
88
Touch
87
String Movement
89
Playability Duration
75
Durability
79
Overall
91
Upsides
Spin
Control
Great feel for a firm monofilament
Downsides
Too firm and underpowered for beginners
Summary
ALU Power Spin is the shaped version of Luxilon's iconic ALU Power, one of the most revered strings of the modern tennis era. For our playtest team this five-sided co-poly had the same phenomenal precision and feel of the round version. It also proved to be quite versatile, in that it managed to keep our biggest shots inside the lines while never feeling dead on shorter strokes or volleys (unlike many of the stiffer, traditional polys). Not surprisingly, ALU Power Spin, with its sharp edges and impressive "snapback," earned a near perfect score for spin. Factor in the ultra-predictable response on fast swings, and you have a recipe for explosive topspin and aggressive targeting. As for the downside, our biggest hitter (Andy) broke this admittedly pricey poly a little quicker than usual. Ultimately, though, for the advanced player who wants exceptional command over the ball along with impressive feel for a poly, ALU Power Spin is one of the best options available.
Power - Score: 58
Neither too dead nor too lively, ALU Power Spin's controllable power and predictable trajectory proved ideal for Andy's strokes. He said, "In my opinion, the round version of this string has almost the perfect power level, and ALU Spin is no different. It packs enough of a punch that I don't feel like I have to slug the ball, but it's low-powered enough that I always feel in control. Compared with other polyesters, it's medium-to-high powered, but never unpredictable."
Brittany also appreciated the very manageable power level, saying, "I was excited to see how Luxilon ALU Power Spin would play in my trusty Yonex VCORE 100 S. I have hit with the standard ALU Power several times throughout the years (mostly in hybrids), and I was excited to try out this shaped version. I found it to have slightly above medium power for a polyester, and I had a little more pop coming off the strings than I expected. However, I would rate this on the lower end of the power spectrum when compared to all string types. This is a control string."
Spin - Score: 93
Our team reported huge spin potential with ALU Power Spin. Even our flat ball hitter, Brittany, was able to take advantage of this string's bite. She said, "There is definitely a lot of spin potential with this string. I really enjoyed the bite I was getting on the ball. This helped most on defense, especially when I was on the run. An example would be when I was playing Chris and he hit an approach slice backhand up the line to my forehand. I sprinted toward the ball and took a full out swing (adding a little spin), hitting the ball up the line. Let's just say Chris didn't go for the ball, and the ball dropped in nicely right in front of the baseline."
For Andy, the spin was simply phenomenal. He said, "An already spin-friendly string is taken to the next level by giving it a shaped profile. The string now grabs the ball even more and sends it off with crazy spin. Topspin jumps and slice hugs the court. With the confidence-instilling power level and excellent access to spin, you feel like you can get the ball to do just about whatever you want."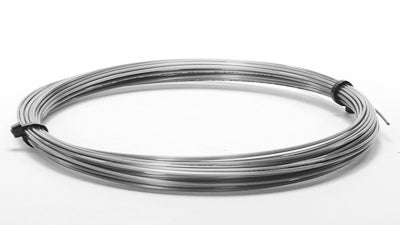 Comfort - Score: 60
As a firm monofilament, ALU Power Spin is not intended for players who require a soft and forgiving response on off-center hits. However, for an advanced player like Andy, this string felt just fine. He said, "The crisp feel was never a burden on my arm. The ball seems to come off the stringbed with lots of life, and I never felt like I had to swing overly hard to get the ball moving. It's not the softest string around, but I only found it to be uncomfortable at unusually high tensions."
"Having no arm, wrist or elbows issues in my tennis history, comfort for me is sometimes hard to judge," said Brittany. "I'd say it's more comfortable than a lot of polys I have hit with, but there are definitely a couple of polys, like Polyfibre TCS, that are softer. It is definitely a firm string, which was fine by me. I enjoyed the solid feel as I felt I really could connect with the ball."
Control - Score: 88
With its uniquely precise feel and extremely predictable trajectory, ALU Power Spin gave our team outstanding control. Brittany was impressed, saying, "I actually appreciated the large amount of control I received from this string. I was really able to swing out, knowing that my shots would stay in the court because of the spin I could generate. This helped me be more aggressive. I felt very comfortable aiming closer to the lines because I felt my placement was nicely dialed in."
In total agreement with Brittany, Andy said, "Like I previously stated, the medium power level allows for very good control. In addition, the string is very responsive, and I always felt like I had great command over the ball. ALU Power's (in my opinion) unmatched feel for a co-poly gives the string superb control."
Playability Duration - Score: 75
Our team had varying opinions on the longevity of ALU Power Spin. For Brittany, this one definitely went the distance. She said, "I thought playability duration was one of this string's strongest characteristics. The longer this string was in my racquet the better I liked it. I playtested the string for more than two weeks, and I still feel like I have many hitting sessions left. For me, I didn't really feel any significant change in control or comfort during the playtest."
"Good, not great," said Andy, whose big strokes were eventually able to wear this string down. "It stood up to the standard two-week test for polys, but then the tension dropped and the string lost playability. Pretty middle of the road here."
Overall - Score: 91
Likes
Brittany - "I liked the spin, control, and durability that this string offered."
Andy - "Exceptional feel/responsiveness for a polyester string, lots of spin potential and a perfect blend of power and control."
Dislikes
Brittany - "Nothing at all."
Andy - "Not a whole lot. Playability could've lasted longer and durability could've been better, but this is now my favorite poly on the market."
Comparing the string to others they've tried, our testers said:
Brittany - "It is most similar to Luxilon ALU Power. It does have a little bit of extra spin built in, but it has very similar feel, control, comfort and durability."
Andy - "This feels very similar to ALU Power Silver, with a little more ball grab and spin potential. It's livelier than Cyclone and RPM Blast but deader than Black Widow or Big Hitter Black 7."
Scores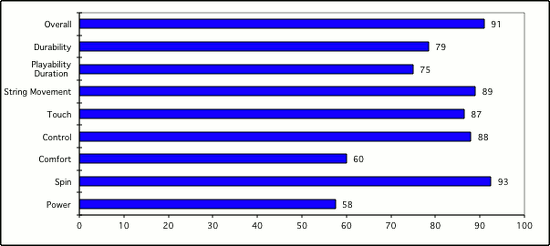 (Scores are determined by averaging individual play test scores)
Andy's Scores
Power
5
Playability Duration
6
Spin
9.5
Durability
7
Comfort
5
Control
9
Touch
9
String Movement
9
Overall
9.5
Brittany's Scores
Power
6.5
Playability Duration
9
Spin
9
Durability
8.7
Comfort
7
Control
8.6
Touch
8.3
String Movement
8.8
Overall
8.7
Playtester String Setups
Andy:
Playtest Racquet: Wilson Blade 98 18x20
Playtest Tension: 56 lbs
Typical String: Volkl Cyclone 17
Brittany:
Playtest Racquet: Yonex VCORE 100S
Playtest Tension: 56 lbs
Typical String: Polyester 16g

Review date: November 2013. If you found this review interesting or have further questions or comments please contact us.
All content copyright 2013 Tennis Warehouse.