Wilson Six.One Tour BLX Review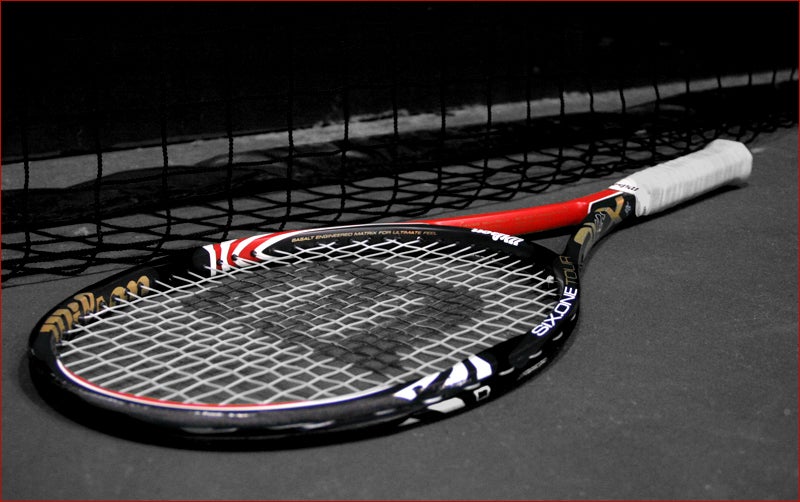 As if he needed any more of an advantage over his opponents on the ATP Tour, Roger Federer has a new and improved racquet.
Since his switch from the discontinued Prostaff Original 85, Federer's racquet of choice has always been the flagship Wilson Tour 90. Now he's using the Wilson Six.One Tour BLX. This version of the 90 gets Wilson's new BLX treatment, which involves weaving Basalt fibers into the composition for improved vibration resistance. Wilson claims its BLX technology allows a smoother signal to reach the player after impact for cleaner feedback and the "perfect feel."
Is it fair to give Federer, AKA the Magician of Precision, even more feel? If you play on the ATP Tour, your answer is likely no.
However, for us mere mortals, we'll take all of the additional feel we can get. When the feel is added to a racquet as impressive as the Tour 90 series, more feel sounds pretty darn good to us.
While we can't dominate like Federer, we hit the courts with the Wilson Six.One Tour BLX to see if we could find some magic and precision of our own.
Groundstrokes - Score: 84
From the baseline, the Six.One Tour BLX provided excellent stability and plow-through. Our testers were pleased with the court penetration they were finding.
"When I strike the ball with this racquet I know instantly where the ball is going," said Granville who was finding his usual accuracy. "No guesswork here, if I was prepared and in position, I was loving this racquet. There was simply great plow-through without a moment of hesitation. I could feel the strings elongating, then launching the ball unlike any other racquet. Truly a performance stick for the ages, it felt very much like its predecessor, but with a better cosmetic."
Spencer left us all wondering if he was getting any plow-through from the racquet? He said, "Plow-through, plow-through and more plow-through. To no surprise, this stick had tremendous stability. Forehands were pretty easy to dial in from the baseline. Shots penetrated the court well, and put-aways were more frequent. It was such a solid, plush feel when striking the ball with a smooth swing. With a static weight of 12.7 ounces and a swingweight of 333, this racquet took a while to get used to on my backhand side. Once adjusted, though, I really enjoyed the outstanding stability when coming over the top of the ball. The sweetspot isn't the largest, however, when hitting it in the middle the solid feel was second to none. I found my slice was divine, as this stick sliced through the ball like a hot knife through butter. The Six.One Tour BLX also handled hard hit shots quite well. If there was one downfall for me, it would be the difficulty I had getting the racquet into position when having to whip it around on a reaction shot."
Chris said, "Like its predecessors, this racquet offers excellent plow-through. I was able to generate a lot of pace and penetration with this racquet. Everything from slice to topspin was zinging. Interestingly, I used to struggle with this series from Wilson, but since switching to a two-handed backhand they seem much more manageable and easier to maneuver. Compared to the KFactor and nCode versions, the feel is more muted. I wouldn't say it was any more solid, just more dampened. On the feel front, I am more a fan of the KFactor version, as I felt more connected to the interaction between the ball and the strings."
Danny was very impressed. He said, "My first impressions of the Six.One Tour BLX were amazing. I didn't remember the KSix-One Tour 90 being as solid from the baseline as this one, so I had to make a revisit. I realized the difference between the old model and the new was minimal. I think the Basalt adds a slightly larger sweetspot and the feel is slightly more dampened. Overall, I thought my groundstrokes with the Six.One Tour BLX were amazing. I had great control, great plow-through and my backhand was rock solid. Due to the heavy weight and feel, having better racquet preparation helped. If I caught the ball a little late, it was at times somewhat jarring on my wrists when strung with a co-poly string."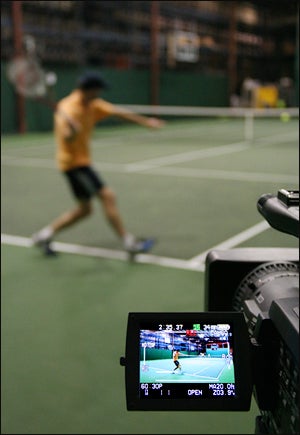 Volleys - Score: 84
Federer likes to attack the net more than most on a Tour dominated by baseliners. However, if he agrees with our playtesters on the performance of the Six.One Tour BLX, he needs to get to net even more. Needless to say, our team was very impressed at net.
Danny's love for the Six.One Tour BLX continued at net. He said, "I loved this racquet at net. It was very firm, crisp, solid and consistent, and it offered great feel. If I could maneuver the racquet as fast as I would have liked, I would say that this was the best racquet out there for me at net. I had my good and bad days with this one. Some days my reactions were good and other days they were noticeably slower. I found the maneuverability similar to the KFactor version. If you are a customer who is moving from the old version to the newer version, then you should have no problem."
Finding the racquet to do the work for him was Spencer, saying, "At net, the mass of the racquet helped not only put balls away, but did it with direction and precision. There's not a whole lot of movement needed to be effective with this stick. As long as the racquet was in position, it essentially did the work for me. I felt the racquet was more effective at net in singles than in doubles. In doubles, the lack of maneuverability hurt my reaction volley attempts during heated exchanges."
"During doubles play I volleyed with authority," said Chris, who was very impressed at net. "I was punching the ball through opponents and loving the solidness of this racquet. The mass came in handy in defensive situations, too. I was able to still hit solid volleys even when stretched wide or forced to pick the ball up around my feet. Touch and feel were impressive as well. The feel was firm and crisp, but not as sharp edged as the KSix-One 90. This version felt a little more muted, and I just prefer the feel with the KSix-One Tour 90."
Granville said, "This racquet seems custom built for the volley. It has to be among the most stable racquets at net for me EVER. I found both extreme touch to bleed off the speed of a ball and enough punch to crush a penetrating volley deep to the corner. I could tell I was playing with a smaller head as opposed to my regular 95 head size, as about one in every four shots of my video footage were slightly off-center. When everything came together it was tennis nirvana. Yes, this one is a scalpel."
Serves - Score: 80
The Six.One Tour BLX continued to impress our testers when it came to serving. The combination of some useful mass and ample bite from the stringbed had our testers serving well.
"This was a nice racquet to serve with," said Chris. "The mass helped me hit a heavy, fast serve. I was able to get enough bite from the stringbed for spin so I was able to move the ball around well. It was not as fast feeling as my Volkl Powerbridge 10 Mid through the air, but it felt like I was getting some additional mass behind the ball."
Granville found precision over power with the Six.One Tour BLX, saying, "Here it got interesting. It was heavy enough to give me some pause and I was consciously holding on to the racquet a little tighter so it didn't fly out of my hand. Once I had become accustomed to the weight, I was placing the serves into the corners, just as I do with my regular stick. At this point I am unable to get any more MPH out of my serve - with practice, maybe. I'll take the precision and feel of this racquet over any extra power anyway. It was comforting to hold a massive racquet in my hand - it felt like the weapon it is."
Spencer struggled slightly with the mass of the racquet on serve. He said, "I never seemed to get comfortable with the weight of this stick when serving. Usually with heavier racquets, I'll look for a smoother motion while letting the racquet do the work. I didn't serve terribly with it, but I didn't find that comfortable 'go to' groove I was looking for. Not to mention, I wasn't feeling I was hitting as heavy a serve as I did with the KSix-One Tour 90."
Danny continued to be very happy with his level of play. He offered, "I loved serving with the Six.One Tour BLX! My first serve consistency was awesome. My deuce wide, deuce tee and advantage tee serves were consistent and accurate. They didn't have the speed of my normal first serves, but I didn't mind. When serving, I really focused on my technique and toss and I let the racquet do the rest."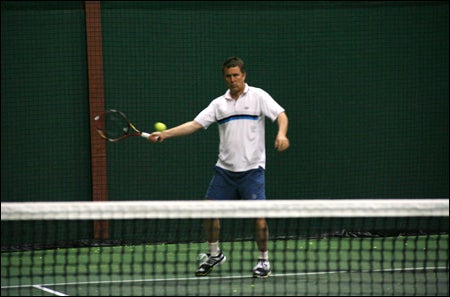 Serve Returns - Score: 82
With ample weight, solid stability and lots of control, the Six.One Tour BLX proved to be the ultimate tool for returning serves.
"Shorter, more compact strokes, along with the heft of this racquet were the key for my returns," said Spencer. "It was a catch-22 with the racquet. It handled hard serves quite well, however, when I had to move the racquet a longer distance, the weight kept me from getting the racquet where it needed to be, causing a miss-hit or shank."
Chris found better results in defensive situations, saying, "The stability and solid feel impressed me on returns, and I was pleased with my results. I had success both driving the ball and blocking the ball back. I was very pleased with my ability to control the ball. The mass definitely helped me out when I was at full stretch as it helped the racquet stay stable and allowed some power to still be there."
"Swing away! That was my philosophy when returning serves," said Danny, who enjoyed stepping up to the plate with the Six.One Tour BLX. "Any deuce tee serve to my backhand was crushed! Overall, I thought the Six.One Tour BLX was great for returning. It was very consistent and solid when taking big cuts at the ball. I loved it!"
Granville exclaimed, "It is easy to return serves with more mass! Wow, I was taking huge swings and ripping shots. More mass equaled less effort, assuming the basics of technique were in place. Whether taking a defensive 'punch volley' style swing on the return or a full swing to take the offensive, this racquet was an effective multipurpose tool."
Overall - Score: 84
As with other heavy racquets -- take the KProStaff 88 as an example -- you have to be able to utilize the mass of the racquet for the best results. With good preparation and technique, our testers found excellent control, power and spin with this racquet. The stability from all areas of the court came to the forefront of performance, with all of our testers singing praise for the plow-through capabilities of the Six.One Tour BLX. If you've tried previous versions of the Tour 90 series, you'll be happy to know Wilson has closely followed the performance characteristics, making switching between models easy. Playing most similar to the previous KFactor version, the Six.One Tour BLX offers a slightly different feel, with everything else being very comparable. Put one at the top of your demo list and feel the difference for yourself.
Likes
Chris - "I liked the level of power and control I was finding. As with previous versions, this one was rock solid and offered plenty of plow-through. I absolutely loved playing doubles with this stick. My volleys had so much punch to them."
Spencer "I liked the stability and plow-through power."
Danny "I liked the racquet from the baseline the most. I don't know? I liked a lot of things about this racquet. I think the Basalt is a good addition to the frame and I liked the stable feel."
Granville "I like the updated cosmetic. As always, I like the mass and balance, and if I am on my game, the 90 head size feels like 'buttah'!"
Dislikes
Chris - "I didn't feel as connected to the ball as I did with the KSix-One Tour 90. Out of all the versions of this racquet, the KFactor is still my favorite."
Spencer "The weight of this racquet makes it tough to wield at times."
Danny "The only thing that I would have to knock is the maneuverability."
Granville "I could use just a point or two more head light balance to enhance maneuverability."
Technical Specifications

Length
27 inches
69 centimeters
Head Size
90 square inches
581 square centimeters
Weight
12.5 ounces
354 grams
Balance Point
12.375 inches
31 centimeters
9pts Head Light
Construction
17.5mm Straight Beam
Composition
Karophite Black / Basalt
String Pattern
16 Mains / 19 Crosses

Babolat RDC Ratings

Score
Grade
Flex Rating
65
Range: 0-100
Swing Weight
333
Range: 200-400
Wilson Six.One Tour BLX Scores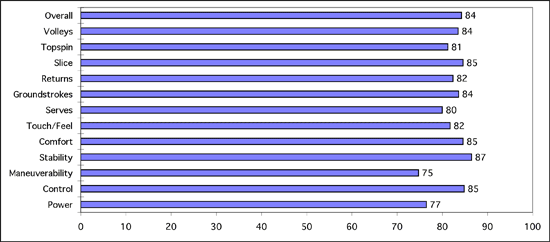 (Scores are determined by averaging individual play test scores)
| Chris' Scores | | | |
| --- | --- | --- | --- |
| Power | 7.6 | Serves | 7.7 |
| Control | 8.1 | Groundstrokes | 7.7 |
| Maneuverability | 7.5 | Returns | 8 |
| Stability | 8.4 | Slice | 7.9 |
| Comfort | 8.2 | Topspin | 7.9 |
| Touch/Feel | 7.7 | Volleys | 8.3 |
| | | Overall | 8 |
Spencer's Scores
Power
7.6
Serves
7.4
Control
8.6
Groundstrokes
8.5
Maneuverability
7.5
Returns
7.7
Stability
8.9
Slice
8.7
Comfort
8.2
Topspin
8
Touch/Feel
7.8
Volleys
8
Overall
8.3
Danny's Scores
Power
8.4
Serves
8.4
Control
8.5
Groundstrokes
8.5
Maneuverability
7.4
Returns
8.5
Stability
8.3
Slice
8.5
Comfort
8.2
Topspin
7.6
Touch/Feel
8.2
Volleys
8.1
Overall
8.4
Granville's Scores
Power
7
Serves
8.5
Control
8.75
Groundstrokes
8.75
Maneuverability
7.5
Returns
8.75
Stability
9
Slice
8.75
Comfort
9.25
Topspin
9
Touch/Feel
9
Volleys
9
Overall
9
Playtester Profiles
Chris: 5.0 All court player currently using the Volkl Power Bridge 10 Mid. Chris uses a full-western forehand grip, has a fast swing style and hits a one-handed backhand.
Spencer: 4.5 Baseline player currently using a Wilson K-Blade Tour. Spencer uses a semi-western forehand grip, and hits with a one-handed backhand.
Danny: Open baseline player currently using a Volkl Power Bridge 10 Mid. Danny uses a semi-western forehand grip, a two-handed backhand and has a long swing style.
Granville: 5.5 all-court player currently using a Wilson K Factor Six-One 95. Granville is an aggressive player who uses an eastern forehand grip and goes continental on everything else, hits with a flat swing and a one-handed backhand.

Review date: December 2009. If you found this review interesting or have further questions or comments please contact us.
All content copyright 2009 Tennis Warehouse.