Wilson BLX Six.One 95 16x18 Racquet Review


When you have a long running, very popular racquet line, it's tough to make updates. Make any drastic changes and you risk alienating loyal players.
The smart thing to do is to ensure any update is a subtle one. Such has been Wilson's approach with the Six.One (6.1) 95 line. Almost since its inception, the Six.One 95 has been a benchmark racquet. Players constantly compare racquets to it when talking about their performance. They say imitation is a sincere form of flattery, and the Six.One 95 has seen its share of compliments, becoming the target for countless copies.
If you're an intermediate through advanced level player and haven't been living under a rock for the last 20 years, chances are you've hit with at least hit two iterations of Wilson's Six.One 95. No matter if you've hit with one of the Classic, Hyper, nCode or KFactor versions, you will have found similar performance traits.
Here we put the latest version to the test, the Six.One 95 16x18 BLX. In this update to the KFactor version, Wilson has added Basalt fibers to the construction of the Six.One 95 by weaving it with [K]arophite Black. Wilson claims the result is incredible vibration resistance for a smoother feel and cleaner feedback for the player.
As with the KFactor version, the racquet comes in two string patterns. Here we test the 16x18 version. Be sure to check out our review of the 18x20 version to see how the tighter string pattern held up with our testers.
From the KFactor version to this one, the general specs are virtually unchanged. Picking up the racquet, Six.One fans will be greeted by a pleasingly familiar feel in the hand.
To see how the Six.One 95 BLX 16x18 fared on court, we sent our team out for a month-long playtest.
Groundstrokes - Score: 82
From the baseline the Six.One 95 BLX 16x18 lived up to its heritage by impressing out entire team. Granville, our longstanding Six.One user said, "The racquet seemed to have an enhanced feel with a soft, deeper pocket, and some added power compared to previous versions. Perhaps the BLX lay-up is the reason? The benefit was apparent, as I could take huge swipes at the ball with no fear of hitting the ball long. With all that control I felt more confident with this racquet in my hand."
Chris found plenty of power from the open string pattern, saying, "With a solid feel off both wings, I was happy to rally away with this racquet. Compared to the 18x20 version, I was finding more pace off the stringbed. I had to be careful when stepping inside the court to hit short balls and approach shots as it was easier for me to hit long with this version of the racquet. On the plus side, there was more natural power from the racquet. The only issue was, I lacked the confidence to exploit it and found myself playing less aggressively with this one compared to the 18x20 version."
Having good success with his backhand slice was Danny. He said, "From the baseline, I found the 16X18 pattern to offer slightly more power and spin potential compared to the 18X20. I thought this racquet was easy on the arm, and it felt very stable. One thing I would like to point out is my backhand slice. For some reason, my backhand slice was more controllable and penetrating with the 16X18 versus the 18X20. Overall, I thought this stick was solid from the baseline."
Happy with depth and spin when hitting groundies was Spencer, who said, "This racquet offers a nice blend of attributes for the intermediate to advanced player. The over 12-ounce weight provides good stability and a solid feel when coming through the ball. Most times, I prefer racquets with a tighter string pattern, but in this case I was extremely happy with this open patterned model. As long as I was putting a full swing on the ball, I was rewarded with depth as well as good action. I found the 16x18 pattern to offer nice pop, but not too much to the point of feeling erratic."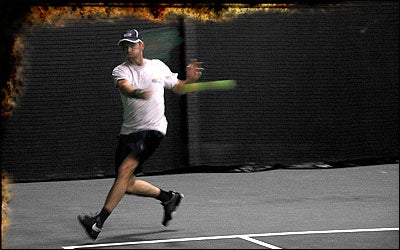 Volleys - Score: 80
The Six.One 95 BLX 16x18 continued to impress our testers at net. Granville enjoyed the stable response on volleys, saying, "I thought the specs were in perfect balance with the performance of this racquet. The solid mass makes for a very stable racquet at net, and there really is nothing it can't do, as any Six.One player knows. That slightly softer touch was evident when driving a decisive volley. Overheads were awesome, powerful and on target."
Agreeing with Granville's thoughts on stability was Spencer. He said, "The headlight balance helped with maneuverability, but it was the heft of the racquet that stood out, providing excellent stability at net. This helped me hit penetrating volleys, which I found to be particularly effective when playing doubles."
"I was much happier with the pop from the stringbed on volleys," said Chris. "The stability of this racquet was great and I was able to punch volleys with authority. I also found enough bite when looking to cut the ball at an angle."
Having to adjust to the added power was Danny. He said, "I had a hard time finding consistency with this racquet when volleying. It felt like the added power was the cause of my decrease in accuracy and consistency. To gain some of that back I had to cut the ball more when volleying. Normally, I like to stick the ball. However, I still think people are going to enjoy this racquet more than the KFactor model due to the more solid feel."
Serves - Score: 82
On serve the Six.One 95 BLX 16x18 proved to offer a solid blend of power, spin and consistency. Danny found more power serving with the open string pattern. He said, "I thought my serves and overheads were solid with both string patterns. If I had to give an edge to one it would be this one. I had more double faults with the 18X20 pattern, with most of my errors falling short in the net. I found an increase in power and spin potential with the 16X18, which worked well for me when serving."
"I found decent pace and spin but struggled to be as consistent with this one as I was with the 18x20 version," said Chris. "Both racquets felt very good, but in the higher stress situation of match play I just wasn't quite as confident using the open string pattern. Again, the racquet felt very solid and I was impressed by the comfort and the generous feeling sweetspot."
Contemplating a change of string pattern from his current racquet was Granville, saying, "Here is where I noticed the biggest improvement over my current Six.One, and it forces me to take another look at my string pattern choice. The 16x18 seemed to help me hit a bigger ball than the 18x20. I did hit with more power, a bit more comfort, and with excellent targeting. On the new testing court here at TW, the surface is extremely rough/slow. Aces are few due to the slow speed, so you know you are hitting with power when you can get a few aces."
"I found the open string pattern and the weight provided nice action on the ball," said Spencer, who was pleased with the spin he could produce. "I felt that trying not to do too much with the racquet worked best for me. I tried to keep my swing very fluid and focused on that, letting the racquet do most of the work."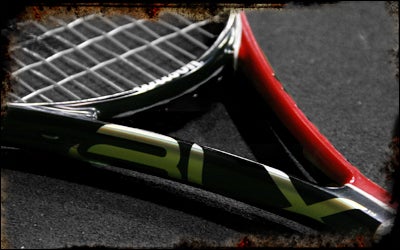 Serve Returns - Score: 82
The racquet was a hit with our testers when it came to returning serve. Spencer liked the solid feel with shorter strokes, saying, "I liked returning with this racquet. With the solid feel and heft of this stick, there was no need for a lot of wind up. I felt I was able to hit effective returns without the need for a big backswing."
Chris also enjoyed the performance of the racquet. He said, "This racquet offered a nice solid feel for returning serves. I enjoyed the stability, and it definitely helped me return powerful serves. I felt in control of most of my shots and was able to attack and block serves back well. When given the chance to take a swing at a serve, spin came easily and there was power on tap to add pace."
"Both models worked well for me when returning," said Danny. "If I had to give an edge to one of the racquets in this department, I would have to give it to the 18X20 pattern. I would give the nod to the 18X20 pattern mainly because of the accuracy. I thought my consistency with both string patterns was good."
Stability and comfort were stand out features for Granville. He said, "Same solid and comfortable feel on the returns. For me, these Six.Ones are among the most stable and softest hitting performance racquets available. I felt a slightly larger sweetspot with the 16x18 pattern, which helped on the wide returns off either side with some added response. It helped me reduce that 'dead' feeling, when you know the ball will to be lucky to reach the net."
Overall - Score: 81
Fans of the Six.One will find an easy transition into this latest version. Our testers found the same qualities of control, stability, precision and weight that have long impressed advanced level players, with a more solid feel thrown in for good measure. All our testers found easy access to spin from the open string pattern, with some good action on groundstrokes and serves. At net the solid feel shined through, with all our testers finding the racquet to be very stable and comfortable. All in all, an impressive update to the Six.One line. A must try for Six.One fans and highly recommended for advanced players seeking a very solid, control-oriented racquet.
Likes
Chris - "I found some good power and stability from this racquet. I was also impressed with the comfortable feel. It definitely felt like a Wilson Six.One."
Danny - "Overall, I thought the 16X18 is an upgrade from the KFactor model. I think it is softer on the arm and more stable. I liked this model from the baseline, and I also liked it when serving."
Granville - "Great new cosmetic. BLX may in fact be an asset to this otherwise already perfect racquet for me. Updates in spec and performance are so subtle that they can be easily overcome with revised string tension or type."
Spencer - "This racquet felt very good in the hand and I liked the liveliness of the open string pattern."
Dislikes
Chris - "I didn't find as much control as I did with the 18x20, with the same string and tension used. I was still impressed by the racquet, just not as impressed as I was with the tighter string pattern."
Danny - "The only area on the court that I didn't like the 16X18 was at net. I had a tough time controlling my volleys for touch and stick."
Granville - "Call me old fashioned - I like a leather grip, so I would have to replace the grip on this racquet. This may be a good thing, as leather will be a bit heavier and enhance the head-light balance."
Spencer - "I didn't feel I could get good consistency because of the lively feel."
Technical Specifications

Length
27 inches
69 centimeters
Head Size
95 square inches
613 square centimeters
Weight
12.23 ounces
347 grams
Balance Point
12.5 inches
31.75 centimeters
8pts Head Light
Construction
22mm Straight Beam
Composition
Karophite Black / Basalt
String Pattern
16 Mains / 18 Crosses

Babolat RDC Ratings

Score
Grade
Flex Rating
67
Range: 0-100
Swing Weight
338
Range: 200-400
Wilson BLX Six.One 95 16x18 Scores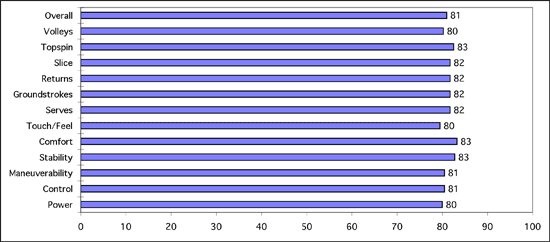 (Scores are determined by averaging individual play test scores)
Chris' Scores
Power
8
Serves
7.7
Control
7.5
Groundstrokes
7.6
Maneuverability
7.7
Returns
7.7
Stability
7.9
Slice
7.8
Comfort
8.3
Topspin
7.9
Touch/Feel
7.5
Volleys
8
Overall
7.7
Danny's Scores
Power
8
Serves
8
Control
7.6
Groundstrokes
8
Maneuverability
8.1
Returns
8
Stability
8
Slice
8.1
Comfort
8.1
Topspin
8.1
Touch/Feel
7.5
Volleys
7.4
Overall
7.7
Granville's Scores
Power
8.2
Serves
9.5
Control
9.2
Groundstrokes
9.2
Maneuverability
9
Returns
9.2
Stability
9.2
Slice
9
Comfort
9.2
Topspin
9.2
Touch/Feel
9.2
Volleys
9.2
Overall
9.2
Spencer's Scores
Power
7.8
Serves
7.5
Control
7.9
Groundstrokes
7.9
Maneuverability
7.4
Returns
7.8
Stability
8
Slice
7.8
Comfort
7.7
Topspin
7.8
Touch/Feel
7.6
Volleys
7.5
Overall
7.8
Playtester Profiles
Chris: 5.0 All court player currently using the Volkl Power Bridge 10 Mid. Chris uses a full-western forehand grip, has a fast swing style and hits a two-handed backhand.
Danny: Open baseline player currently using a Volkl Power Bridge 10 Mid. Danny uses a semi-western forehand grip, a two-handed backhand and has a long swing style.
Granville: 5.5 all-court player currently using a Wilson K Factor Six-One 95. Granville is an aggressive player who uses an eastern forehand grip and goes continental on everything else, hits with a flat swing and a one-handed backhand.
Spencer: 4.5 Baseline player currently using a Wilson K-Blade Tour. Spencer uses a semi-western forehand grip, and hits with a one-handed backhand.

Review date: March 2010. If you found this review interesting or have further questions or comments please contact us.
All content copyright 2010 Tennis Warehouse.