Wilson Six.One 95 18x20 Racquet Review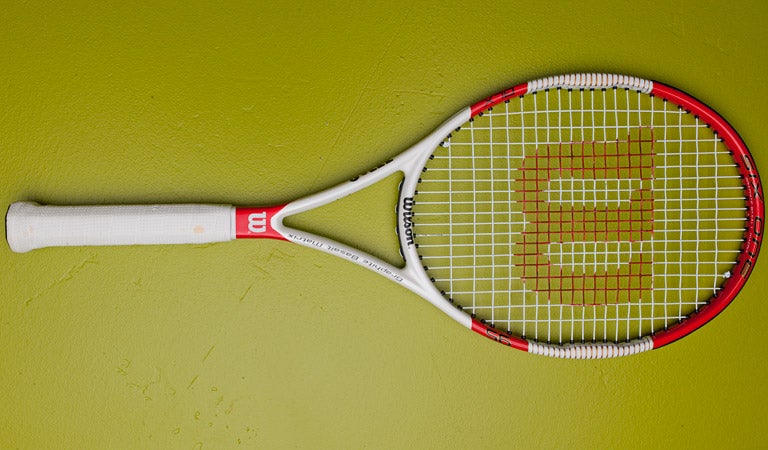 Wilson Six.One 95 18x20 Scores
Power
81
Comfort
83
Touch/Feel
89
Serves
87
Groundstrokes
86
Returns
84
Slice
90
Topspin
77
Volleys
88
Overall
85
Upsides
Stability
Feel
Control
Plow Through
Downsides
Not for the faint of heart
Summary
Known for its reliable plow through and precise response, the Wilson Six.One 95 18x20 just keeps getting better. This iteration debuts Wilson's Parallel Drilling, which improves the feel, power and forgiveness of this racquet. Our playtest team stepped into this review eager to try out a classic racquet with updated technology. Right off the bat, the dense 18x20 string pattern gave our playtesters the freedom to swing away and pinpoint their targets. With the racquet's mass playing to an offensive game style, our testers played confidently and aggressively. Touch, feel, pace and precision were in ample supply when each of our playtesters took to the net, and serves were what tennis players' dreams are made of. This heavy racquet required a bit of an adjustment period when returning, but that just reminded our playtesters that the best returns are hit out in front with short backswings. Fans of the previous Wilson Six.One 95s, beware, this racquet may be a game-changer for you.
Groundstrokes - Score: 86
High expectations were already in place for the Wilson Six.One 95 18x20, and those expectations were quickly exceeded from the baseline. Boasting power, stability, control and precision, the Six.One 95 didn't seem to have any shortcomings for Chris. He said, "I simply loved the response of this racquet off the ground. The level of control, power, stability and maneuverability was perfectly aligned with what I want from a racquet. This immediately became one of my favorite racquets to hit a slice backhand with. I was able to use the mass of the racquet to knife through the ball, and the tight string pattern enabled me to hit aggressively without fear of hitting long. The level of touch and feel on drop shots and angles was also extremely good. I used both poly monofilament strings and multifilament, and I preferred the polys. I was able to get more topspin from the racquet with a poly in it, and the level of control was even higher. Luxilon ALU Power felt great in this racquet."
"It felt rock solid from the baseline!" said Andy. "Get the mass of the racquet going through the air and you can produce some seriously heavy groundstrokes." This racquet isn't the easiest to maneuver or the most forgiving with its 95 square inch head, so Andy found that he had to concentrate more with the Six.One 95 in hand. He explained, "I really had to focus and shorten up my swing to hit the sweetspot, but when I did, watch out! I also felt in total control, especially with the tighter 18x20 string pattern."
Troy, who has been using the previous generation of this racquet for the past year, felt this update was very similar to his racquet. He said, "Initially, I thought the beam felt slightly thicker, which made the racquet a bit slower through the air. As the playtest went on I found the racquet to feel more and more like an extension of my arm. I think the beam thickness was just an illusion from the new paint job. The balance of power and control I got out of this racquet felt just right for me. Anytime my opponent hit a short ball I could step inside the baseline and take a big cut at the ball without fear. My backhand slice penetrated the court with ease. The downside to a dense string pattern is creating sharp cross-court angles requires perfect timing and a ton of racquet head speed. When I needed to hit the ball with depth or put the short ball away, this racquet was there for me."
After playing with his racquet of choice, the Wilson Steam 99S, and some other, ultra open string patterned racquets, this racquet was a change up for Mark. "I wasn't scared, but I didn't expect to get any free access to spin, either," he said. "So I was surprised at how much dip I was getting on my shots. I did have to follow through in a more vertical direction to get some height and depth on the ball. The ball came off the stringbed at a slightly different angle compared to my 16x15 patterned 99S."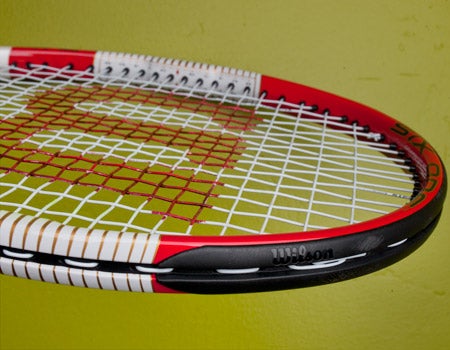 Volleys - Score: 88
When our playtesters took to the net they all found the Wilson Six.One 95 18x20 to perform flawlessly. Mark loved volleying with this racquet and said, "I hardly had to make any adjustments to get a favorable result off either wing."
Troy referenced veteran playtester Granville and compared this racquet to a scalpel at the net. He went on to say, "When at the net I could carve the ball around the court, putting a lot of stick and slice on my volleys. Deft drop volleys felt natural with this racquet in hand. Quick reactions are needed to get this hefty racquet into place, but when I used it properly I was rewarded with a super-stable response and easy depth on my volleys."
"I felt 100 percent connected to the ball when volleying with this racquet," said Chris, who found his volleying experience to be, in a word, perfect. "The level of control was sublime and the touch and feel exceptional, whether I was punching the ball deep or caressing a delicate drop volley. The head-light balance had the racquet feeling maneuverable in my hand, yet there was ample mass to keep it feeling rock solid. This was just a superb racquet to volley with, and I really couldn't have asked for anything more from the racquet."
"Smooth as butter around the net!" said Andy. "This racquet offers exceptional stability and feel. It packs a big enough punch to stick deep volleys through the court, and plenty of touch and feel for some fancy finesse shots. Once again, it's not forgiving or easy to maneuver, but it makes up for it with its classic feel and precision."
Serves - Score: 87
The already obvious qualities of this racquet continued to shine when it came to the serve. Our team found more pace while being able to hit their targets flawlessly. Troy enjoyed the blend of pop, control and maneuverability, and he felt in command when serving with the Six.One 95 18x20. "The control allowed me to place the ball with precision. I felt a bit more accurate when hitting my flat serve down the middle with the 18x20. I was getting good spin on my slice and kick serves, but I preferred serving with the 18x20 version because it accentuated the amount of spin I could generate. Overall, this racquet was precise on serve, but I really had to stay on the gas to get pace and spin."
Although it took a little extra effort to get the racquet moving, Andy found that he could produce really heavy serves with this racquet. "Once again, the weight of the racquet just takes over and sends the ball screaming to the other side," he said. "I could pinpoint my serve with ease, and I was able to hit all my different serves."
Mark found himself looking forward to serving with the Six.One 95 18x20. He explained, "My confidence was almost brimming after a few 10-point tiebreakers, and I was getting some cheap points on first serves. Even my second serve was reasonably effective."
"My love for this racquet continued on serve," said Chris. "I was getting lots of pace and a ton of control. I like to serve with heavy racquets because they help me find more power and I get more push through the court. This racquet definitely delivered in that regard, and I was hitting a faster and heavier serve because of it. I had success hitting flat serves, and when I added a little slice to them. I could go big down the T to both sides, slide the ball wide or swing it into the returner's body. All of those serves were working better than usual with this racquet. My success on serves alone has me seriously thinking of making a switch to this racquet."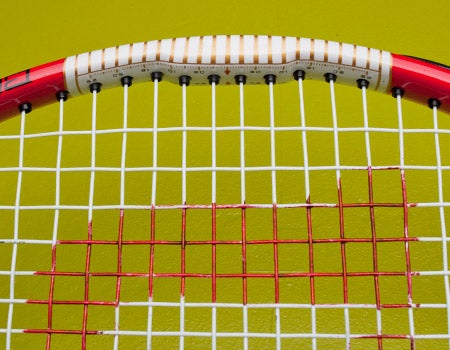 Serve Returns - Score: 84
When it came to returning with the Wilson Six.One 95 18x20, our playtesters were quickly reminded of the fundamentals that are required for the perfect return. Short, compact backswings were crucial in finding success off the return with this racquet. Andy said, "Chip returns were easy, but this racquet isn't for the big swinging returner. Instead, get inside that baseline, use the server's pace and let the racquet do the work."
The Wilson Six.One 95 18x20 felt great to Chris when he hit his returns in front of his body. He did, however, experience a small adjustment period. He explained, "I did get caught late on occasion due to the mass of this racquet, but those instances got more infrequent as I got used to the heft and feel. When I timed a big forehand return I was getting lots of pace and excellent directional control. The racquet felt very stable on slice backhand returns. That stability allowed me to relax my grip for even more feel and control on the ball. With continued adjustment I feel like I would get my returns even more dialed in."
Mark struggled slightly with the mass of this racquet on his returns, explaining, "The same story here: It's a bit too heavy for me to really take a big cut at the ball off the return, but it's so stable that my backhand chip return and squash forehand were pretty effective."
Finding that he could master his returns with the stability, weight and control that this updated Wilson flaunts, Troy said, "This racquet was super stable when I had to block or chip my returns, and it possesses enough mass to rip returns when the ball was in my wheelhouse. Depth came easily with this racquet. Even when I had to chip the return back, oftentimes I could get the ball to land near the opponent's baseline. Against heavy serves I could use the mass of this racquet to plow through the ball and get an offensive return. I like the ease of the backhand slice return, especially when I could get the return down at the feet of my opponent rushing the net in doubles."
Overall - Score: 85
Likes
Chris - "I loved the stability, control, feel and power level. I was hitting just about all of my shots as well as I can and several better than I'd expect thanks to how sweet this racquet felt."
Troy - "The blend of power, control and feel is right where I like it. The amount of precision this racquet possesses allows me to hit close to the lines with confidence. This is one of the few racquets on the market that I wouldn't need to modify with lead tape."
Andy - "Classic, buttery smooth feel with exceptional control and plow through. I could produce really heavy shots from all over the court by simply letting the heft of the racquet do the work for me."
Mark - "I do like the cosmetics, along with the physical details on the frame itself. It plays and looks like a tool or device; it has a very business/professional feel to it. Holding it makes me feel like I am responsible to hit well with it. I found that access to spin is easy, and I do feel like the technology has helped mute the vibration on my off-center hits."
Dislikes
Chris - "My returns required an adjustment but are getting more dialed in as I spend more time with the racquet."
Troy - "I preferred the added spin I could generate on serve and cross-court topspin shots with the 18x20 version. I would add a leather grip."
Andy - "It's a bit heavy and tough to maneuver. It's also not the most forgiving racquet with its 95 square inch head, which nowadays is on the smaller side of the spectrum."
Mark - "I loved the frame, but the overall weight of it makes me feel like I need to do a few more pull-ups and bar-dips before I give it another try."
Comparing it to other racquets they've used, our testers said:
Chris - "This one offers more control than the 16x18 version. It is also better suited to slice thanks to the dense string pattern. My ball didn't jump through the court quite as well but I had more control, and that allowed me to swing more aggressively and with greater confidence more often. I felt this one had a cleaner, more connected response than previous versions. I felt very, very dialed in to where my shots were going. I'm seriously thinking of switching to this racquet, but I'm holding off for now until I've tested everything that's available for 2014. That being said, if I played a tournament tomorrow I'd be perfectly happy with either this, the Six.One 95S or the Prince Graphite 100 in my bag."
Troy - "I felt that this update to the racquet I have used for the past year was a bit more crisp in feel and felt a bit more dampened, possibly due to the expansion of the sweetspot from the parallel drilling. Other than a slight difference in feel, the new update is an easy transition for me to use. Comparable racquets from other brands are the Dunlop F2.0 Tour and Yonex VCORE Tour 97 (330g)."
Andy - "Not much has changed since the iconic original Six.One. You typically know what you are going to get with this line of racquets, and this iteration is no different. Not a lot of frills and thrills, just a rock solid racquet with splendid precision and feel."
Mark - "All the usual suspects: the Pure Storm Tour, Head Prestige, Dunlop 200, Yonex VCORE 97 (330g version) and Pacific X Feel Pro 95 are all close and target the player who loves to be the primary source of pace on the ball. Between this racquet and the VCORE 97 (330), which are my favorites, I could swing the new 95 more effectively."
Technical Specifications

Length
27.0 inches
69 centimeters
Head Size
95 square inches
613 square centimeters
Weight
12.3 ounces
349 grams
Balance Point
12.6 inches
32 centimeters
7pts Head Light
Construction
22mm Straight Beam
Composition
Graphite Basalt Matrix
String Pattern
18 Mains / 20 Crosses

Babolat RDC Ratings

Score

Grade

Flex Rating
66
Range: 0-100
Swing Weight
332
Range: 200-400
Scores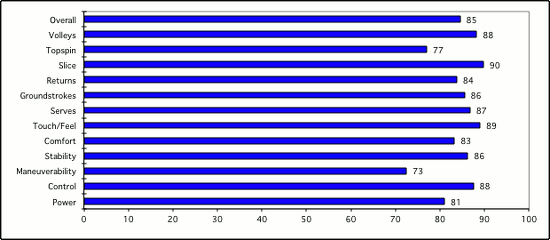 (Scores are determined by averaging individual play test scores)
Chris' Scores
Power
8.1
Serves
8.6
Control
9
Groundstrokes
8.9
Maneuverability
7.5
Returns
8
Stability
8.5
Slice
8.8
Comfort
8
Topspin
8.1
Touch/Feel
8.7
Volleys
8.8
Overall
8.7
Troy's Scores
Power
8.5
Serves
8.6
Control
9
Groundstrokes
8.8
Maneuverability
8.5
Returns
9
Stability
9
Slice
9.1
Comfort
8.8
Topspin
8.2
Touch/Feel
8.9
Volleys
9
Overall
8.8
Andy's Scores
Power
7.8
Serves
8.5
Control
9
Groundstrokes
8.5
Maneuverability
5.5
Returns
8.5
Stability
8.5
Slice
9
Comfort
9
Topspin
7
Touch/Feel
9
Volleys
8.5
Overall
7.8
Mark's Scores
Power
8
Serves
9
Control
8
Groundstrokes
8
Maneuverability
7.5
Returns
8
Stability
8.5
Slice
9
Comfort
7.5
Topspin
7.5
Touch/Feel
9
Volleys
9
Overall
8.5
Playtester Profiles
Chris: 5.0 all-court player currently using the Wilson Six.One 95S. Chris uses a full-western forehand grip, has a fast swing style and hits a one-handed backhand.
Troy: 5.0 lefty all-court player with a full Western Forehand and a two-handed backhand. Troy currently plays with a Wilson BLX Six.One 95.
Andy: Open level all court player with a semi-western forehand grip and a two handed backhand. Andy currently using a Wilson Blade 98 18x20.
Mark: 5.0 lefty all-court player with a one-handed backhand. He currently plays with the Wilson Steam 99S.

Review date: October 2013. If you found this review interesting or have further questions or comments please contact us.
All content copyright 2013 Tennis Warehouse.