Note: Racquets come pre-strung.
The lightest K Factor racquet offered by Wilson, the K Zero offers maximum power for the beginner. The super oversize head provides a larger sweetspot and power. Wilson ensures excellent maneuverability for this game improvement racquet with its [K]ompact Center technology. The industrial design innovation improves handling, maneuverability and provides additional feel and was inspired by Roger Federer. The [K]ontour Yoke offers players enhanced stability at key stress points on the racquet. The racquet doesn't sacrifice any feel, according to Wilson, because of the [K]arophite Black construction. Best suited to beginning players who want a maneuverable racquet that provides control with plenty of power.
Super OS Specs
Head Size:
118 sq. in. / 761 sq. cm.
Length: 27.5 inches / 70 cm
Strung Weight: 9.1oz / 258g
Balance: 4 pts Head Heavy
Swingweight: 298
Stiffness: 70
Beam Width: 26-29 mm Tapered Beam
Composition: 100%[K]arophite Black
Power Level: High
Swing Speed: Slow
Grip Type: [K] Grip
String Pattern:
16 Mains / 19 Crosses
Mains skip: no T's, 5H,7H,9H,11H,12H
One Piece
No shared holes
String Tension: 55-65 pounds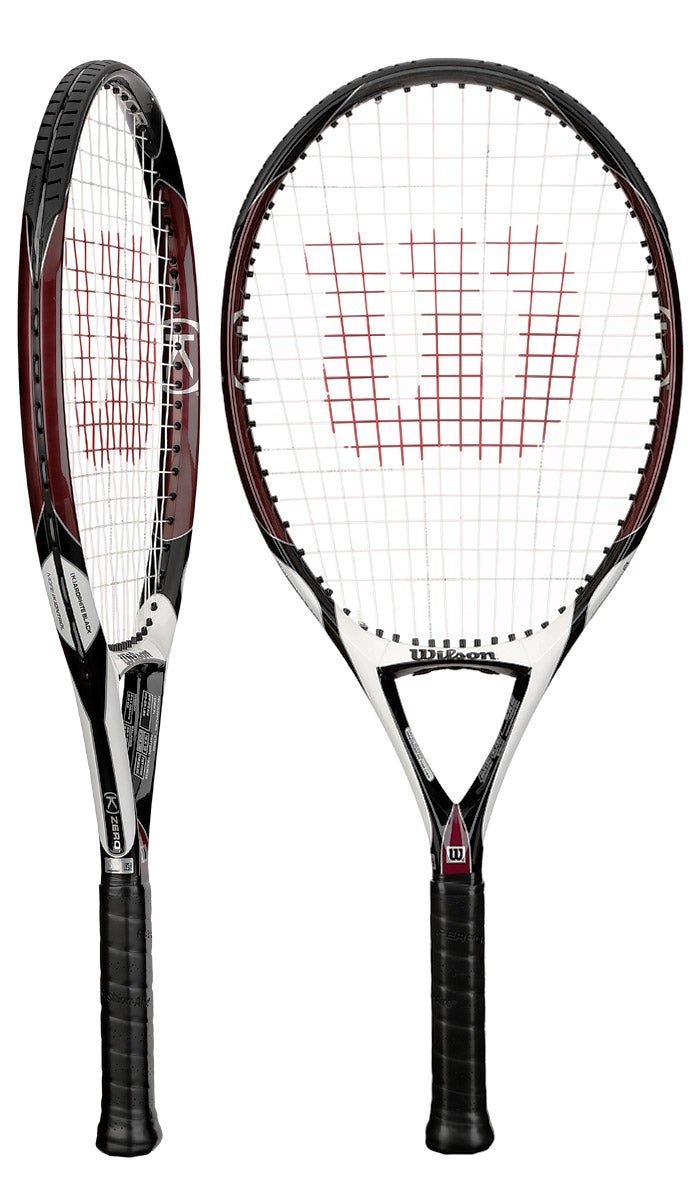 Similar Racquets

Offering major comfort and impressive power, this super oversize racquet delivers a great combination of speed and stability. Headsize: 125 in². Length: 27.5 in. Strung weight: 9.6 oz.

$169.00, Feedback
Buy 2 or more for $159.00 each.


Prince Premier 115 ESP Racquets

Sale Three words: Comfort. Power. Spin. This is a great option for 3.0+ players looking for a luxurious hitting surface that provides easy access to pace and spin. Headsize: 115 in². String Pattern: 14x16. Standard Length

$169.00
Buy 2 or more for $159.00 each.


The most powerful Ki racquet, the Ki 30 is a good fit for beginners to intermediate players who also seek comfort and maneuverability. Headsize: 117 in². Length: 27.5". Strung weight: 9.6 oz.

$179.99, Feedback
Other racquets from this series

Premium quality natural gut for the player who demands the ultimate in feel, response and comfort. In 16-gauge form, Wilson Natural Gut offers both a high level of playability and durability.

$55.00, Feedback

Premium quality natural gut for the player who demands the ultimate in feel, response and comfort. In 17-gauge form, it offers optimum playability with slightly less durability compared to the 15L- and 16-gauge versions.

$55.00, Feedback

Best Seller One the best playing synthetic strings on the market. Multifilament construction that looks, feels, and plays very much like Natural Gut.

Gut like feel and superior tension maintenance come is this 45' / 13.7m long string suitable for Super Oversize racquet heads.

$18.95, Feedback