The E- Zone Ai 98 Lite offers the same outstanding spin potential and controllable power of the heavier version but in a more maneuverable package. This stick comes with Yonex's Dual Shut System which builds some vibration dampening and shock absorption into the grommets and handle. In addition to the comfortable feel the Ai 98 Lite offers a very even and smooth response across the hitting surface. The result is a predictable stringbed with fewer hot spots and dead zones. At under 11 ounces this racquet can be swung fast enough to create vicious spin and decent pace. The 98 square inch head feels extremely precise on full swings, a fact which should embolden aggressive players. At net this one errs on the side of maneuverability, with enough control to flirt with the lines. Ultimately, this versatile offering from Yonex makes a great option for people who want the performance of a modern players racquet in a slightly lighter package.
Head Size:
98 sq. in. / 632.26 sq. cm.
Length: 27in / 68.58cm
Strung Weight: 10.6oz / 300.5g
Balance: 13.5in / 34.29cm / 0 pts EB
Swingweight: 313
Stiffness: 64
Beam Width: 23mm / 24mm / 19.5mm /
Composition: H.M. Graphite
Power Level: Low-Medium
Stroke Style: Medium-Full
Swing Speed: Medium-Fast
Racquet Colors:
Black/ Lime
Grip Type: Yonex Synthetic
String Pattern:
16 Mains / 19 Crosses
Mains skip: 8T 8H
Two Pieces
No Shared Holes
String Tension: 45-60 pounds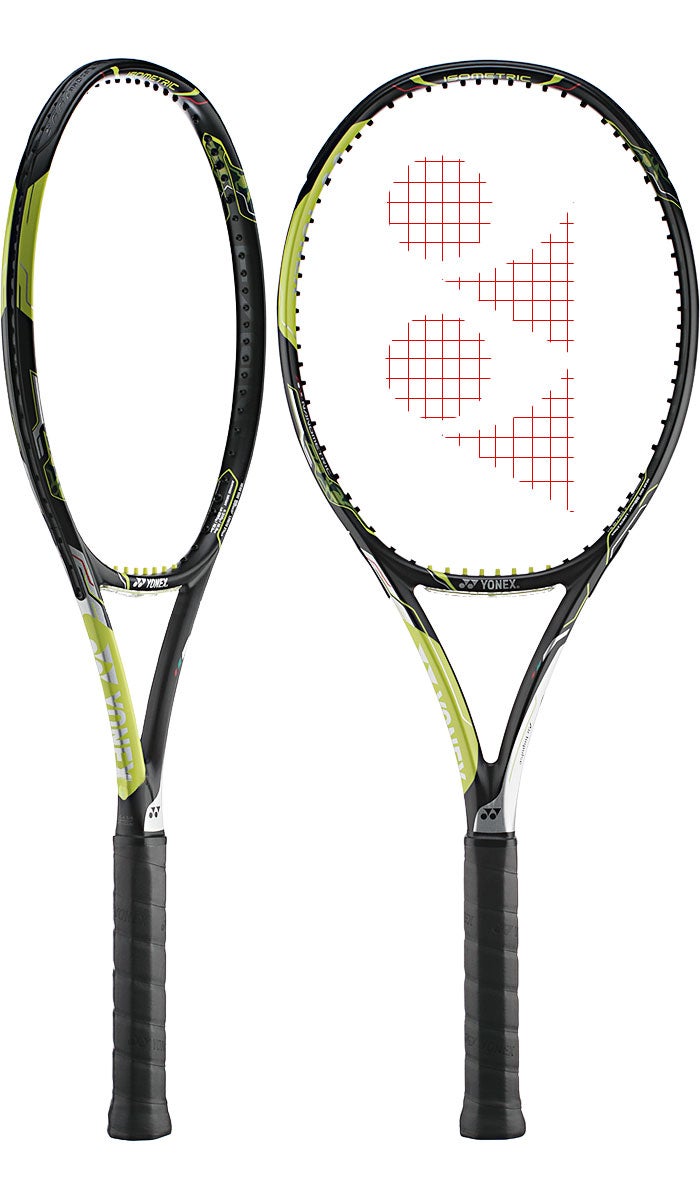 Similar Racquets

Sale A very speedy option for intermediates who want easy access to spin along with controllable power. This one packs some very user- friendly performance into a light package. Strung Weight: 10.8oz. String Pattern: 16x19. Standard Length.

Sale Mobile, comfortable and very precise, the Donnay Formula Lite is a great option for novice to intermediate players who want control from all areas of the court. The fast feel enables great spin, while the head heavy balance provides good stability. Head size: 100 in². Swingweight: 304 (RDC). Pattern: 16x19.

$168.00, Feedback

Best Seller A maneuverable and comfortable racquet offering exceptional control. This one is a great option for players with medium to fast strokes. Headsize: 98 in². Strung weight: 11 oz.

Loaded with comfort, this modern player's stick will give aggressive players the ability to impose their will with pace and spin. Best suited to 4.0+ players. String Pattern: 16x19. Strung Weight: 11.1 oz. Standard Length.

Sale Offering the same precision and feel of the heavier Six.One 95 but in a faster more maneuverable package. Headsize: 95 in². Standard Length. Strung Weight: 10.7 oz.
Other racquets from this series

This one is packed with crisp precision and some serious spin potential. Updated with New Isometric technology for even more comfort. Headsize: 100 in². Strung Weight: 11.2 oz. String Pattern: 16x19.

An ultra light oversize racquet loaded with comfort, precision and plenty of pop. Best suited to 3.5+ level players. Headsize: 108 in². String Pattern: 16x18. Standard Length.

$199.00, Feedback

Precise and spin-friendly, this racquet offers a very smooth impact and enough pop to put your opponent on defense. Headsize: 98 in². Strung Weight: 11.5 oz. Standard Length.

Super Light and ultra fast, this one comes loaded with a forgiving response and impressive control. Best suited to beginners and intermediates looking for a light and user-friendly weapon. Headsize: 102 in². Strung Weight: 9.5 oz. Standard Length.

$159.00, Feedback

Extremely maneuverable and spin friendly, the EZone Ai Lite is great for those who want a fast and responsive stick that offers impressive comfort and a nice balance between power and control. Headsize: 100 in². Strung Weight: 10.2 oz. Standard Length.

$199.00

Extremely maneuverable and spin friendly, the EZone Ai Lite is great for those who want a fast and responsive stick that offers impressive comfort and a nice balance between power and control. Headsize: 100 in². Strung Weight: 10.2 oz. Standard Length.

$199.00