The E- Zone Ai 108 is packed with comfort, power and maneuverability. At 9.6 ounces this racquet will give beginners and intermediates the kind of easy preparation and fast handling that produces effective depth and spin. The E- Zone Ai 108 has a generous sweetspot. It also benefits from Yonex's Dual Shut System which builds some effective vibration dampening and shock absorption into the grommets and handle. From the baseline this one plays light and swings fast. It offers good depth on a medium length strokes along with blistering pace and effecive spin to those who can swing it fast. At net this racquet offers a large and comfortable hitting surface for blocking the ball back. There's also plenty of control for keeping the ball on target. This one also performs well on service returns where the fast feel and forgiving stringbed allows for clean contact contact under pressure. All in all this oversize racquet not only offer exceptional comfort and decent power, but it feels wonderfully precise on full swings. This one is definitely worth a demo for those who want an ultra light and speedy oversize racquet.
Head Size:
108 sq. in. / 696.77 sq. cm.
Length: 27.25in / 69.22cm
Strung Weight: 9.6oz / 272.16g
Balance: 13.6in / 34.54cm / 0 pts EB
Swingweight: 292
Stiffness: 68
Beam Width: 26.5mm / 28.5mm / 24.5mm /
Composition: H.M. Graphite
Power Level: Medium
Stroke Style: Medium
Swing Speed: Medium
Racquet Colors:
White/ Lime/ Black
Grip Type: Yonex Synthetic
String Pattern:
16 Mains / 18 Crosses
Mains skip: 8T 8H
Two Pieces
No Shared Holes
String Tension: 45-60 pounds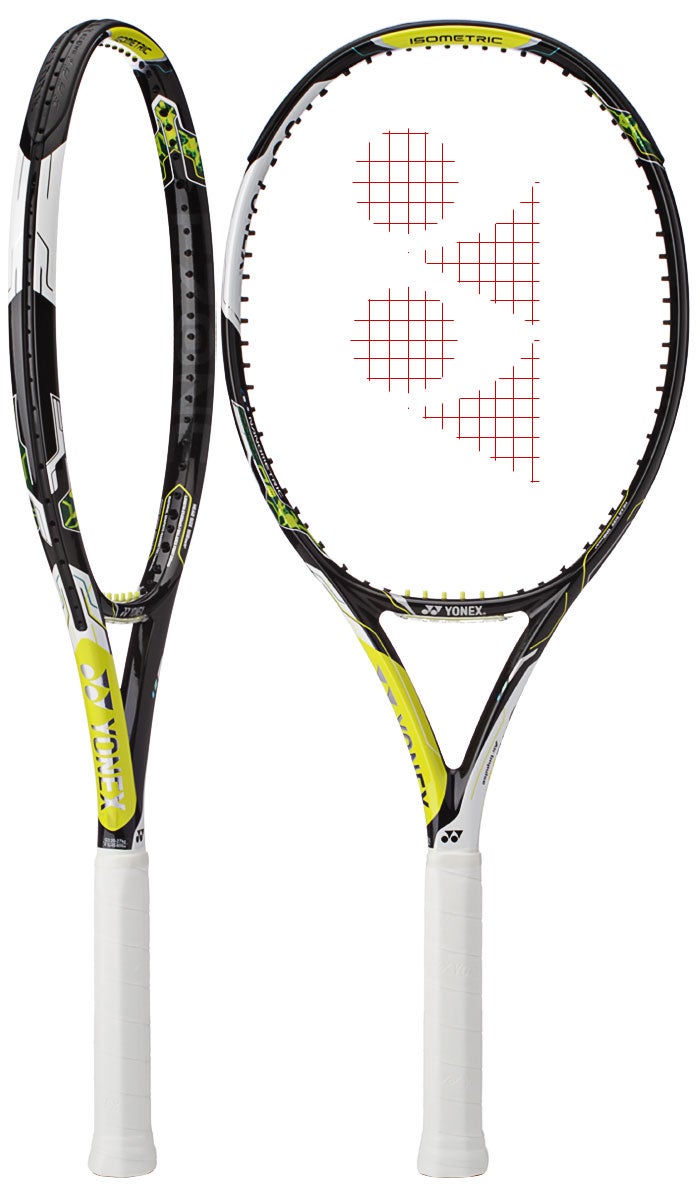 Similar Racquets

New This update to the Pure Drive 110 is lightning fast and loaded with pop. The response is crisp and quite accurate for an oversize racquet. Headsize: 110in². String Pattern: 16x19.

$199.00, Feedback

Sale The iconic Prestige series adds a very maneuverable oversize racquet to the line. This extended length racquet is packed with power, comfort, and spin. Ideal for players with compact to medium strokes. Length: 27.3 inches. Headsize: 107 in². Strung weight: 9.7 ounces.

$179.95, Feedback
Buy 2 or more for $169.95 each.

Other racquets from this series

This one is packed with crisp precision and some serious spin potential. Updated with New Isometric technology for even more comfort. Headsize: 100 in². Strung Weight: 11.2 oz. String Pattern: 16x19.

This one is packed with mobility, control and plenty of bite for ratcheting up the spin. Very smooth impact. A great option for the 4.0+ player. Headsize: 98 in². Strung Weight: 10.6 oz. Standard Length.

$199.00, Feedback

Precise and spin-friendly, this racquet offers a very smooth impact and enough pop to put your opponent on defense. Headsize: 98 in². Strung Weight: 11.5 oz. Standard Length.

Super Light and ultra fast, this one comes loaded with a forgiving response and impressive control. Best suited to beginners and intermediates looking for a light and user-friendly weapon. Headsize: 102 in². Strung Weight: 9.5 oz. Standard Length.

$159.00, Feedback

Extremely maneuverable and spin friendly, the EZone Ai Lite is great for those who want a fast and responsive stick that offers impressive comfort and a nice balance between power and control. Headsize: 100 in². Strung Weight: 10.2 oz. Standard Length.

$199.00

Extremely maneuverable and spin friendly, the EZone Ai Lite is great for those who want a fast and responsive stick that offers impressive comfort and a nice balance between power and control. Headsize: 100 in². Strung Weight: 10.2 oz. Standard Length.

$199.00