The Classic V1 was introduced in 1994 and was one of the original 'tweener racquets featuring "comfort technology." This latest version brings an updated cosmetic but remains a classic for players wanting 'tweener characteristics in a comfortable, standard length racquet. Labeled a "virtual extension of the arm" by TENNIS Magazine in 1995, the Classic V-1 vaulted to popularity throughout the mid-'90s as an "arm saver" and remains one of Volkl's best selling racquets. The first racquet to incorporate Volkl's patented Big Grommets, the Classic V-1 has outstanding maneuverability like a midplus but has the forgiveness of an oversize. Volkl's Dual Damping Grip effectively reduces shock and vibration for a comfortable, dampened response. Indeed, our TW playtesters enjoyed the Classic V-1 for its distinctly cushioned feel and its abilitly to retain touch and some racquet feedback. The Classic V-1 will appeal to a broad cross-section of players. Improving beginners will find adequate power in the 102 sq in head, while intermediate and advanced players can adjust string tension to gain the control they require.
Head Size:
102 sq. in. / 658.06 sq. cm.
Length: 27in / 68.58cm
Strung Weight: 10.8oz / 306.17g
Balance: 1 pts HL
Swingweight: 316
Stiffness: 69
Beam Width: 27mm / 22mm /
Composition: High Modulus Graphite/Kevlar
Power Level: Medium
Stroke Style: Medium-Full
Swing Speed: Moderate
Racquet Colors:
Black w/Yellow Lettering
Grip Type: Dual-Dampening Grip
String Pattern:
16 Mains / 19 Crosses
Mains skip: 8T,8H
One Piece
No Shared Holes
String Tension: 50-60 pounds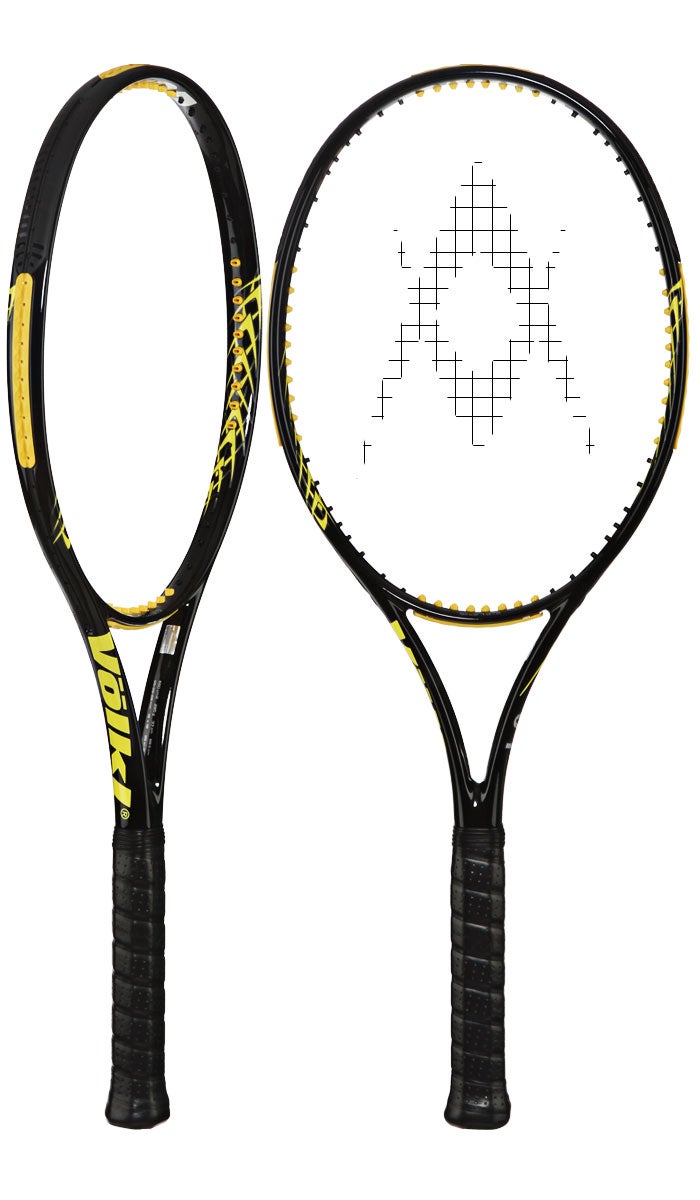 Similar Racquets

ProKennex Kinetic Ki Q5 (295g)

Offering a nice balance between control and power, the Q5 295g is a maneuverable all-court racquet with impressive comfort. A great choice for intermediate singles and doubles players. String pattern: 16x20. Headsize: 100 in². Strung weight: 11 oz.

$179.00, Feedback

A speedy and precise weapon for the player who likes to crank up the power and spin! Crisp, lively and accurate. Headsize: 100 in². String Pattern: 16x19. Strung Weight: 11.2 oz. Standard Length.

In celebration of the American Flag, this limited edition V1 Classic is decked out in red, white & blue. Players looking for an infectious blend of comfort, precision, speed and power should look no further. Headsize: 102 in². Strung weight: 10.8 oz.

$179.99, Feedback

Powerful, maneuverable, comfortable and offering impressive control, this 'tweener racquet fits a variety of playing styles from stronger beginners through advanced level players. Headsize: 102 in². Standard length. Strung weight: 10.5 oz. Balance: 2pts HL.

This one is packed with crisp precision and some serious spin potential. Updated with New Isometric technology for even more comfort. Headsize: 100 in². Strung Weight: 11.2 oz. String Pattern: 16x19.
Other racquets from this series

Volkl celebrates the country where the iconic V1 was born! Featuring the colors of the German flag, this racquet's very cool cosmetic is matched only by its amazing playability.

$169.99, Feedback
Buy 2 or more for $159.99 each.


In celebration of the Japanese Flag, this limited edition V1 Classic is decked out in red and white. Players looking for an infectious blend of comfort, precision, speed and power should look no further. Headsize: 102 in². Strung weight: 10.8 oz.

$179.99, Feedback
Buy 2 or more for $169.99 each.


New In celebration of the Spanish flag, this limited edition V1 Classic is decked out in red and yellow. Players looking for an infectious blend of comfort, precision, speed and power should look no further. Headsize: 102 in². Strung weight: 10.8 oz.

$179.99, Feedback

In celebration of the American Flag, this limited edition V1 Classic is decked out in red, white & blue. Players looking for an infectious blend of comfort, precision, speed and power should look no further. Headsize: 102 in². Strung weight: 10.8 oz.

$179.99, Feedback

Powerful, maneuverable, comfortable and offering impressive control, this 'tweener racquet fits a variety of playing styles from stronger beginners through advanced level players. Headsize: 102 in². Standard length. Strung weight: 10.5 oz. Balance: 2pts HL.

Best Seller Offering all the playability and comfort of the V1 Classic, but with even more control, the V1 Pro is a great option for players who want exceptional precision on their biggest swings. Also delivers impressive comfort and spin. Headsize: 99.5 in². String Pattern: 16x19. Strung weight: 11.3 oz.

New Offering a great blend of maneuverability, spin and controllable power, this version of the V1 MP should appeal to any player who wants amazing playability in a light package. Headsize: 102in². String Pattern: 16x19. Standard Length.

$199.99