Ideal for hitting monster kick serves, topspin groundstrokes and knifing slice shots, the Warrior midplus is ideal for control addicts. The midplus Warrior possesses a balance and weight that synchronizes well with its size and feel. Although an attractive choice for baseline and/or serve and volley players alike, the Warrior's propensity for slice/spin allows for very effective approach shots off weak or short groundstrokes and serves - great for aggressive net players or doubles specialists. The Prince Triple Threat (TT) Warrior has a long standing family tradition, descending from the original Precision Response 660 and Precision Response Titanium, both past choices of former world #1 Patrick Rafter.
Midplus Specs
Head Size:
97 sq. in. / 626 sq. cm.
Length: 27 inches / 69 cm
Strung Weight: 11.3oz / 320g
Balance: 5pts Head Light
Swingweight: 325
Stiffness: 67
Beam Width: 23 mm Straight Beam
Composition: GraphitExtreme / Copper / Tungsten
Power Level: Low-Medium
Swing Speed: Moderate-Fast
Grip Type: Dura Tac
String Pattern:
16 Mains / 20 Crosses
Mains skip: 7T,9T,7H,9H
Two Piece
No shared holes
String Tension: 53-63 pounds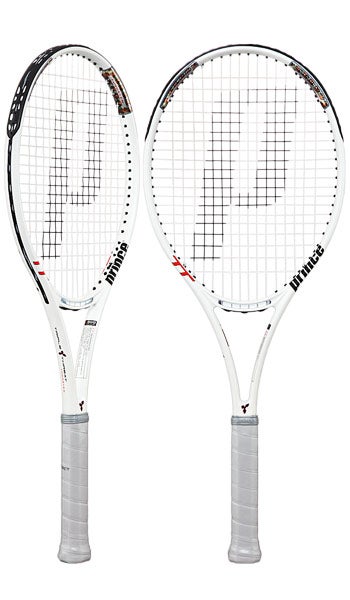 Similar Racquets

Babolat AeroPro Drive GT


The AeroPro Drive GT offers new Graphite Tungsten technology for an even more solid feel. Weight: 11.3 ounces strung. Headsize: 100 square inches. Free Addiction or Hurricane Feel string with purchase.


Gamma Tour 320X


A maneuverable racquet that swings quickly, resulting in a solid blend of power and control. Best suited to 4.0+ players. Standard length. Headsize: 98 sq in. 16/19 string pattern.


ProKennex Kinetic Pro 7G


Similar specs to the Kinetic Pro 5G, but slightly longer (27.5 inches) and heftier for added power and stability. 100 head size. 11.7 ounces.