Buy 2 or more for $109.00 per racquet.
The Wilson Pro Staff 100LS gives intermediate players a lighter, faster option for ripping spin. With its Spin Effect string pattern (16x15), this one not only rips into the felt and imparts some serious rotation to the ball, but it also expands the sweetspot for a livelier and more responsive hitting zone. To top it off, this racquet is a Pro Staff, which means it has the kind of feel, precision and predictability that breeds confidence when attacking the ball. Taken together these features add up to a mobile, user-friendly stick that should give a wide range of players the ability to bring the ball down very effectively. At net this one slices through the air with ease, a fact which should embolden the player looking to get more aggressive and crush some floaters. With it's explosive speed and big bite, serving with the Pro Staff 100LS is an exercise in precision and spin. And with a some weight added to the upper hoop, advanced players will be able to squeeze some serious pop from this one. All in all, this is a great option for the 4.0+ player who wants a light racquet that delivers phenomenal precision and spin along with that classic Pro Staff feel.
Head Size:
100 sq. in. / 645.16 sq. cm.
Length: 27.25in / 68.58cm
Strung Weight: 10.6oz / 300.5g
Balance: 13in / 33.02cm / 4 pts HL
Swingweight: 300
Stiffness: 63
Beam Width: 19mm / 21.5mm / 21mm /
Composition: Graphite/Kevlar/BLX
Power Level: Low-Medium
Stroke Style: Medium-Full
Swing Speed: Fast
Racquet Colors:
White/ Red
Grip Type: Wilson Sublime Grip
String Pattern:
16 Mains / 15 Crosses
Mains skip: 7T,9T,7H,9H
One Piece
No Shared Holes
String Tension: 54-64 pounds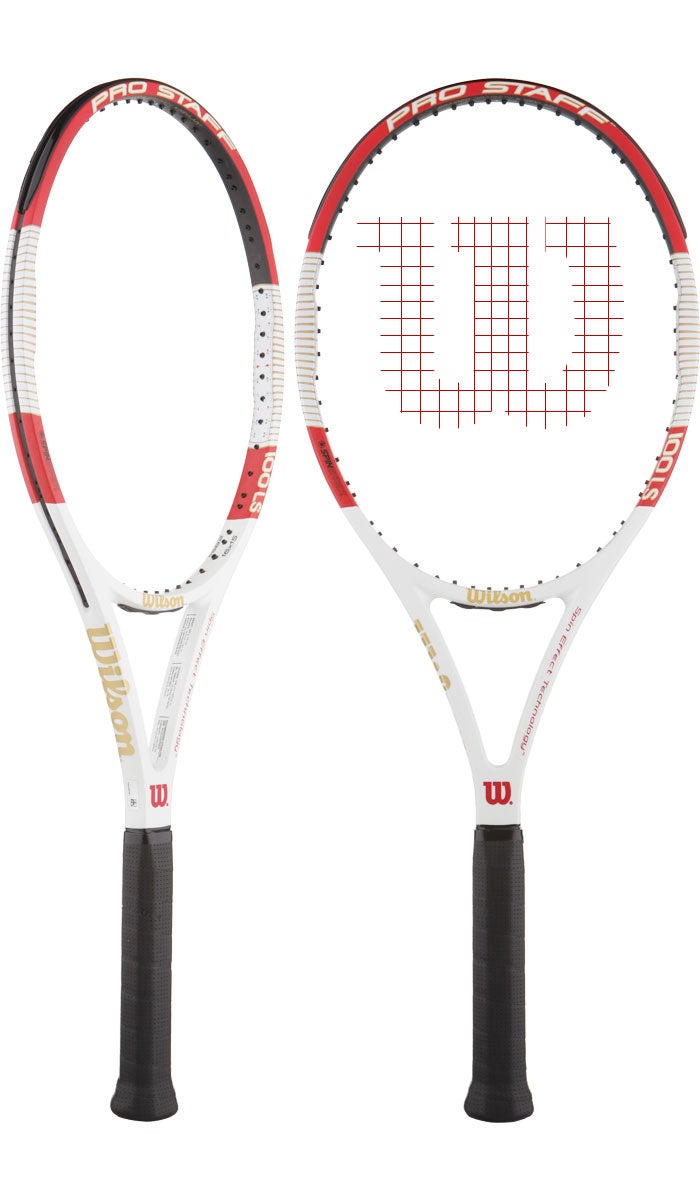 Similar Racquets

Light and speedy, this racquet offers developing players a great mix of maneuverability and stability. Easy access to power and spin. Headsize: 100 in². Strung weight: 9.8 ounces.

$189.00, Feedback

One Strings Spin Deeper 300g Racquet 14x19

A TW Exclusive! This speedy racquet comes preloaded with some serious spin potential and enough pop to put your opponent on defense. Crisp and accurate. Did we mention spin? String Pattern: 14x19! Strung Weight: 11.2 oz. Length: 27.1"

$189.00, Review

Fast swinging intermediates and advanced players should appreciate the exceptional precision and huge spin potential. This one has enough pop to finish points. String Pattern: 16x16. Headsize: 100 in². Strung Weight: 11.1 oz.

Prince Warrior 100L ESP Racquets

Light, comfortable, and spin friendly, this one comes packed with a great mix of pop and precision. Great for 3.5+ players who want easier access to pace and spin. String Pattern: 14x16. Headsize: 100 in². Strung Weight: 9.6 oz.

$199.00, Feedback
Buy 2 or more for $189.00 each.


Sale This versatile stick swings fast and is the perfect weapon for aggressive tennis or consistent grinding. A great option for intermediates or advanced players looking for controllable power and big spin. Headsize: 100 in². Standard length. String pattern: 16x20.

$99.00, Feedback

Extremely maneuverable and spin friendly, the EZone Ai Lite is great for those who want a fast and responsive stick that offers impressive comfort and a nice balance between power and control. Headsize: 100 in². Strung Weight: 10.2 oz. Standard Length.

$199.00
Other racquets from this series

Sale This one whips through the air with tremendous speed while still managing to offer the precision and feel for which Pro Staffs are known. Offers a very predictable response with great spin potential. String Pattern: 16x18. Strung Weight: 10.6 oz. Length: 27.25".

$119.00, Feedback
Buy 2 or more for $109.00 each.


This racquet blends the modern virtues of speed and spin with a classic Pro Staff feel. The exceptional control adds confidence on full swings. Headsize: 95 in². String Pattern: 16x15. Standard Length.

$199.00, Feedback

Best Seller Control meets maneuverability. This light player's racquet has that classic Pro Staff feel with easy access to spin and excellent touch at net. Great all court frame. Strung weight: 11.6 ounces. Swingweight: 308 (RDC). String Pattern: 16x19.

Fast and very spin-friendly, the 97 LS combines easy targeting with a lively response. The maneuverability and controllable power should suit a wide range of ability levels. Headsize: 97 in² String Pattern: 18x16. Standard Length.

A lighter version of Roger Federer's racquet. Perfect for intermediate and advanced players who want the feel and precision of a great player's racquet but in a lighter, faster package. Headsize: 97 in². String Pattern: 16x19. Standard Length.

Wilson Pro Staff RF97 Autograph

Best Seller This very special Pro Staff was designed with the help of Roger Federer. It is solid as a rock and offers an amazing combination of feel, plow-through and precision. Headsize: 97 in². String Pattern: 16x19. Strung Weight: 12.6 oz. Standard Length.