Buy 2 for $109.00 per racquet.
The Prince O3 White lives on! Renamed the O3 White LS, this one has the same target specs as the original O3 White. With its sweetspot expanding O Ports, the O3 White LS offers amazing comfort along with a maneuverable and very spin friendly response. Aggressive all court players should be able to whip up some serious spin and pop with this stick. This racquet's speedy feel makes it a real joy when hitting topspin angles or taking a rip at short balls. A versatile racquet, this one works quite well across different stroke speeds and court scenarios. There is not only enough power to hit penetrating groundies and huge serves, but there's also plenty of feel and control for executing well placed finesse shot. At net the O3 White LS feels very solid and comfortable when blocking the ball back. The maneuverable feel makes this one great on fast exchanges, and the generous sweetspot helps keep defensive stabs deep. All in all, the O3 White LS keeps a good thing going. Fitting nicely between the O3 Red LS and Tour 100 16x18, the O3 White LS favors the player looking for some extra pop and mobility without sacrificing control and placement. All court and doubles players at the 3.5-5.5 level should definitely take this one for a demo.
Head Size:
100 sq. in. / 645.16 sq. cm.
Length: 27in / 68.58cm
Strung Weight: 11.2oz / 317.51g
Balance: 13in / 33.02cm / 4 pts HL
Swingweight: 316
Stiffness: 66
Beam Width: 23mm / 25mm / 22mm /
Composition: GraphiExtreme / Copper / Tiatnium / Tungsten
Power Level: Low-Medium
Stroke Style: Medium-Full
Swing Speed: Medium-Fast
Racquet Colors:
Grip Type: Prince DuraPro +
String Pattern:
16 Mains / 19 Crosses
Mains skip: 7T,9T,7H,9H
One Piece
No Shared Holes
String Tension: 53-63 pounds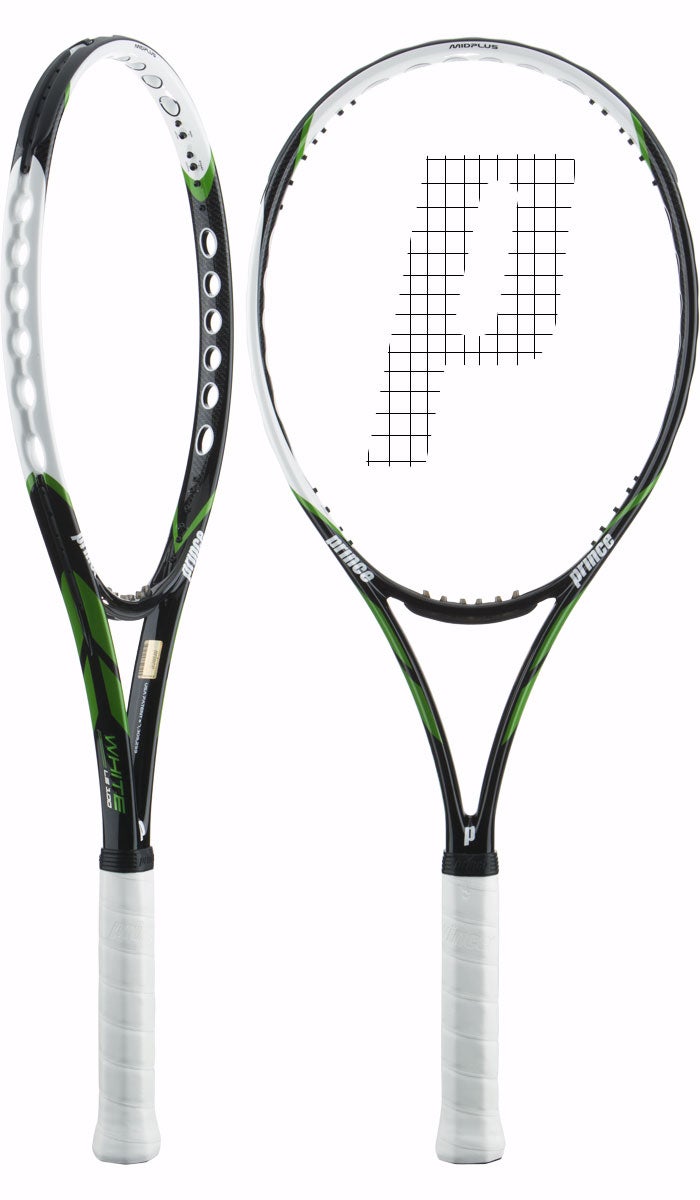 Similar Racquets

Best Seller A maneuverable and comfortable racquet offering exceptional control. This one is a great option for players with medium to fast strokes. Headsize: 98 in². Strung weight: 11 oz.

A very versatile racquet that works just as well for the aggressive topspin player as it does for the consistent grinder. A great option for 4.0+ players looking for a great combination of precision, spin, and pop. Headsize: 100 in². Strung Weight: 11 oz. Standard Length.

Precise, maneuverable and stable. A great option for intermediates and advanced players looking for exceptional spin, control and feel. Headsize: 97 in². Strung weight: 11.5 oz. Swingweight: 314 (RDC).
Other racquets from this series

Sale Players looking for a comfortable ride with easy access to spin and plenty of power should love this extended length racquet. The oversize head provides a very luxurious hitting surface. Length: 27.5 inches. Headsize: 110 in². Strung Weight: 10.1 oz.

$139.00
Buy 2 or more for $129.00 each.


Sale This cosmetic variation of the O3 Red has a hot pink streak and a large sweetspot. Boasting a comfortably dampened feel, this extended length racquet is great for intermediates looking for maneuverability, spin and plenty of pop. Length: 27 inches. String Pattern: 16x19. Strung Weight: 10oz

$119.00
Buy 2 or more for $109.00 each.


Sale The original O3 Red lives on with a slight name change. This update continues to offer the same explosive speed, incredible comfort and controllable power of its very popular predecessor. Length: 27.25". String Pattern: 16x19. Strung Weight: 10.3 oz.

$119.00, Feedback
Buy 2 or more for $109.00 each.


Best Seller With the O3 Silver LS Prince continues its classic, award winning O3 Silver! While the name has changed, the incredible combination of power, comfort and maneuverability has not changed a bit. Length: 27.75 inches. Headsize: 118 in². Strung Weight: 9.6 oz.

$139.00, Feedback
Buy 2 or more for $129.00 each.