ProKennex updates the cosmetics of the Ki 5 315 in this latest version. The great news is that the racquet's solid performance remains unchanged, offering the same solid feeling player's racquet as before. Offering some useful pop and good access to spin, this one also offers some nice mass behind each shot. Everything is kept maneuverable by a player friendly 7 points head light balance. In play, the Ki 5 315 rewards from all areas of the court making it a great choice for the all court player. We found some noticeable power off the ground and on serve, resulting in good pace and weight of shot. When hitting topspin shots with this update to the Pro 5G, we found a little extra kick without any additional effort. Volleys felt crisp and precise with noticeably good stability and comfort. Player's looking for an arm friendly racquet with plenty to offer from all areas of the court should definitely take the Ki 5 315 for a test drive. Best suited to 4.0 to 7.0 level players.
This racquet does not come with a cover
Head Size:
100 sq. in. / 645.16 sq. cm.
Length: 27in / 68.58cm
Strung Weight: 11.8oz / 334.52g
Balance: 7 pts HL
Swingweight: 325
Stiffness: 61
Beam Width: 22mm / 22mm / 22mm /
Composition: 100% Ultra Modulus Graphite with Kinetic System Technology
Power Level: Low-Medium
Stroke Style: Medium-Full
Swing Speed: Medium-Fast
Racquet Colors:
Black/ White
Grip Type: ProKennex Synthetic
String Pattern:
16 Mains / 20 Crosses
Mains skip: 8T 8H
One Piece
No Shared Holes
String Tension: 52-68 pounds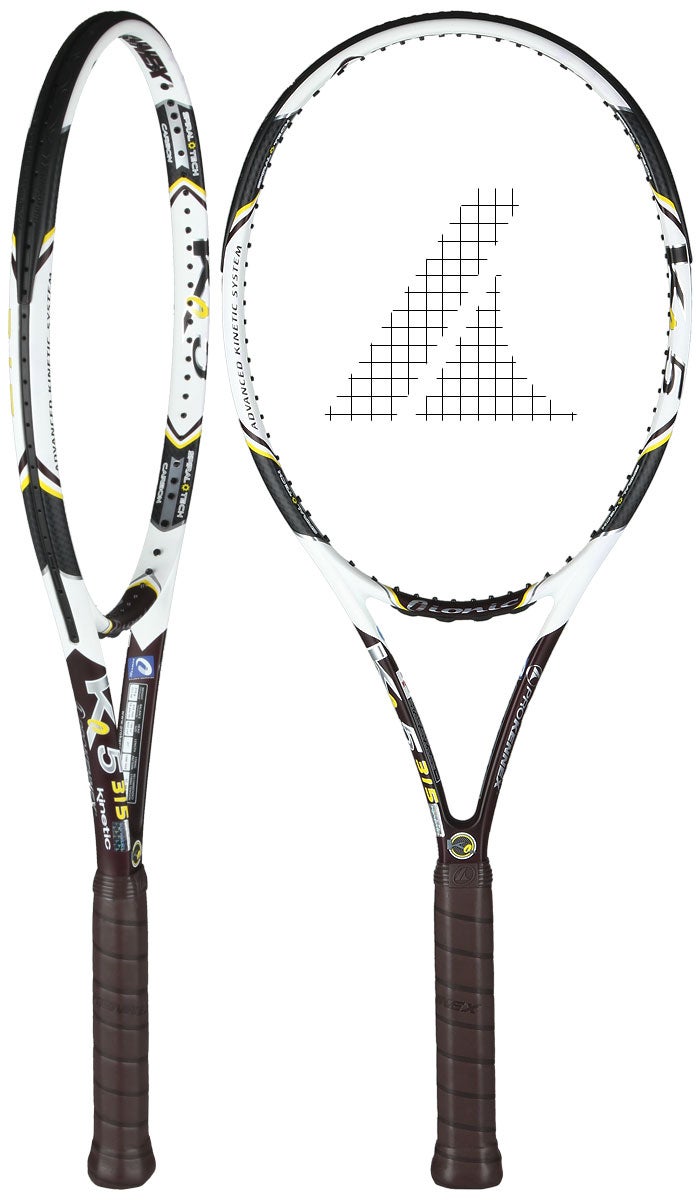 Similar Racquets

Sale An impressive combination of speed, stability and control. A nice option for the 4.5+ player who places a premium on feel. There's also plenty of spin available. String Pattern: 16x20. Strung Weight: 11.8. Standard Length.

Prince Classic Graphite 100 Racquets

Sale FINALLY! Prince puts its Original Graphite recipe into a standard length midplus package. Offering absolutely amazing feel and precision, this 100% graphite racquet is 100% classic. Headsize: 100 in². Standard Length. Strung Weight: 11.7 oz.

Prince Tour 100 (16x18) Racquets

Best Seller A modern player's racquet with easy access to power and spin. Aggressive players will be able to do some damage with this plush and lively racquet. Headsize: 100 in². String Pattern:16x18. Standard Length.

ProKennex Kinetic Pro 5G Classic

Best Seller The most popular Kinetic racquet. Offers lots of control and maneuverability, but still has good power for a player's racquet. The Kinetic mass dampens shock and offers relief to hard hitters with joint problems.

$119.00, Feedback

Sale The fast, powerful and comfortable Yonex E-Zone Xi 98 offers lots of performance for a variety of players and impresses with its stable, yet flexible and forgiving feel. String Pattern: 16x19. Standard length.

$99.00, Feedback

This one packs a great blend of maneuverability and stability. The response is comfortable, precise and very spin friendly. A great option for 4.0+ players. Headsize: 97 in². Strung Weight: 11.6 oz. Standard Length.
Other racquets from this series

A solid choice for the all court player or the doubles specialist looking for maneuverability and power. The extended length helps with swing speed and reach. Headsize: 105 in². Pattern: 16x19. Length: 27.5 inches.

$149.00, Feedback

The Ionic Ki 15 PSE gets an updated cosmetic but still offers the same stability, comfort and control. Headsize: 105 in². Length: 27.25". Strung weight: 11.5 oz.

$149.00, Feedback

The new Pro Special Edition of the Ki 20 features an updated cosmetic while offering excellent stability with more plough through than the non-PSE version. This racquet is well suited for intermediate to advanced players.

$159.00, Feedback

Light, comfortable, stable and powerful - what more could you ask for? The Ki 20 is a smooth playing racquet that deserves a test drive. Length: 27.5 inches, Strung Weight: 9.3 oz, Head Size: 110 in².

$159.99, Feedback

The most powerful Ki racquet, the Ki 30 is a good fit for beginners to intermediate players who also seek comfort and maneuverability. Headsize: 117 in². Length: 27.5". Strung weight: 9.6 oz.

$179.99, Feedback

A hefty player's racquet offering excellent comfort and good power. Features: 100 in² headsize, standard 27 inch length, 16x20 string pattern, 12.9 oz strung weight.

$129.95, Feedback

Offers some nice pop, is solid and stable. An excellent choice for players looking for a comfortable, control oriented extended length racquet. Features: 100 in² headsize, 27.5 inch length, 9 points head light balance, 16x20 string pattern.

$149.99, Feedback