Find the same impressive power in this cosmetic update of the Ionic Ki 30. ProKennex's most powerful Ki offering, the Ki 30 offers plenty of pop in a very light and maneuverable package. The Kinetic system, ProKennex says, allows l lightweight racquets such as the Ki 30 to produce the power of a much heavier traditional racquet. The Ki 30 features ProKennex's Advanced Ionic Kinetic System designed to further increase the comfortable feel that made the ProKennex "G" series racquets popular. Our TW playtesters found that players with compact strokes will find it easy to hit deep shots from the baseline with this one. At net the Ki 30 is lightning fast making it a great choice for the 2.0 to 3.5 doubles player. The powerful Ki 30 also makes hitting deep and penetrating serves a snap. With an open 16/19 string pattern, players will find plenty of grip from the stringbed and easy access to spin. If you're looking for a lightweight and powerful racquet, the Ki 30 is well worth a demo. Best suited to 2.0 to 3.5 level players.
Please note: ProKennex racquets come with a nylon draw-string sack rather than a traditional racquet cover.
Super OS Specs
Head Size:
117 sq. in. / 755 sq. cm.
Length: 27.5 inches / 70 cm
Strung Weight: 9.6oz / 272g
Balance: 1pts Head Light
Swingweight: 302
Stiffness: 69
Beam Width: 27 mm Head/26.5 mm Shaft
Composition: 100% High Modulus Graphite w / Ionic Advanced Kinetic System
Power Level: High
Swing Speed: Slow-Moderate
Grip Type: Perf Cushion Grip
String Pattern:
16 Mains / 19 Crosses
Mains skip: 7T,9T,8H
Two Piece
No shared holes
String Tension: 52-68 pounds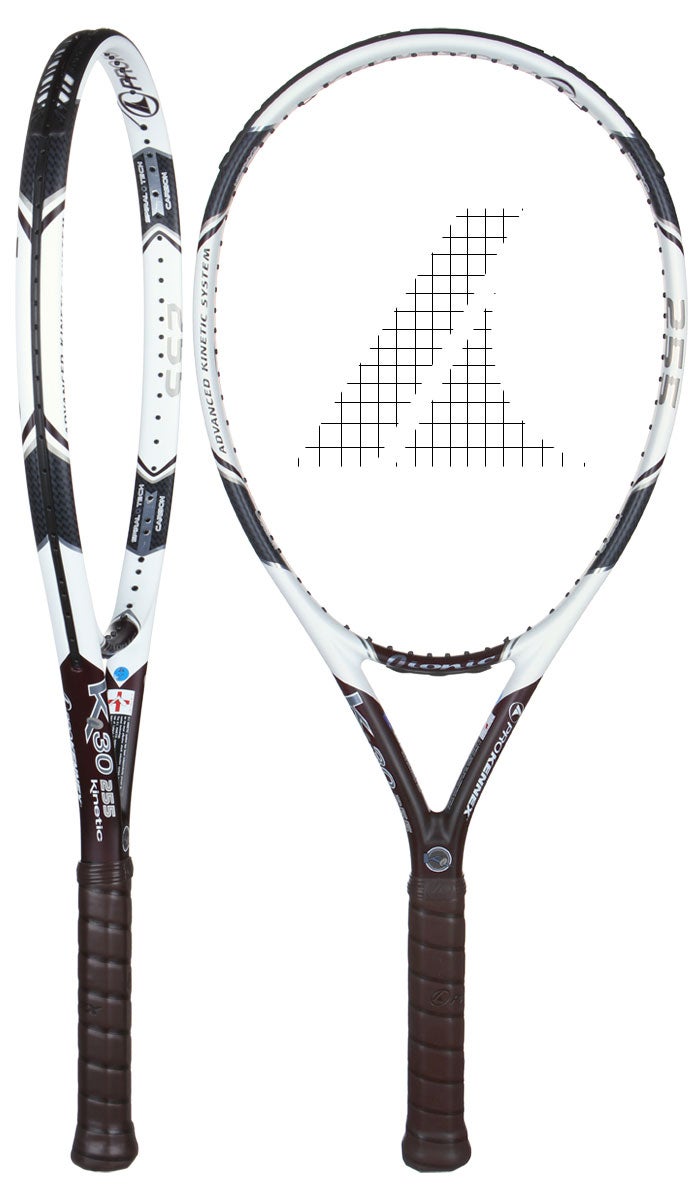 Similar Racquets

Sale This extended length racquet is ideal for beginners and intermediates looking for power and comfort. Pace and spin come very easy with this one. Length: 27.7 inches. Headsize: 115 in². Strung weight: 8.6 ounces.

$149.95, Feedback
Buy 2 or more for $139.95 each.


Sale A great choice for beginners seeking a game improvement racquet. The KZero is the lightest racquet in the K Factor line. Impressive power and control. Super oversize head: 118 in². Length: 27.5 inches.

$99.00, Feedback
Other racquets from this series

A solid choice for the all court player or the doubles specialist looking for maneuverability and power. The extended length helps with swing speed and reach. Headsize: 105 in². Pattern: 16x19. Length: 27.5 inches.

$149.00, Feedback

The Ionic Ki 15 PSE gets an updated cosmetic but still offers the same stability, comfort and control. Headsize: 105 in². Length: 27.25". Strung weight: 11.5 oz.

$149.00, Feedback

The new Pro Special Edition of the Ki 20 features an updated cosmetic while offering excellent stability with more plough through than the non-PSE version. This racquet is well suited for intermediate to advanced players.

$159.00, Feedback

Light, comfortable, stable and powerful - what more could you ask for? The Ki 20 is a smooth playing racquet that deserves a test drive. Length: 27.5 inches, Strung Weight: 9.3 oz, Head Size: 110 in².

$159.99, Feedback

Best Seller Exceptional power, spin and plow-though. Great from all areas of the court! Headsize: 100 in². Pattern: 16x20. Strung weight: 11.8 oz.

$149.99, Feedback

A hefty player's racquet offering excellent comfort and good power. Features: 100 in² headsize, standard 27 inch length, 16x20 string pattern, 12.9 oz strung weight.

$129.95, Feedback

Offers some nice pop, is solid and stable. An excellent choice for players looking for a comfortable, control oriented extended length racquet. Features: 100 in² headsize, 27.5 inch length, 9 points head light balance, 16x20 string pattern.

$149.99, Feedback