Intermediates looking for a powerful and spin friendly racquet with a generous hitting surface should like this impressive update to the Juice 108. With its oversize head, wide beam, and grippy 16x19 string pattern, this racquet makes it very easy to add pace and spin to the ball. At 27.25" the Juice 108 provides some extra leverage so the player can accelerate more powerfully through contact. Taken together, these features make this racquet great for beginners in need of a generous hitting zone and easy depth. It's also not bad for the advanced player looking to regain a lost step. New to this version is Wilson's Parallel Drilling technology which reduces the friction between string and frame in key locations to expand the sweetspot. Wilson also loads this one with its Amplifeel 360handle system in order to ensure a cleaner feel. From the baseline the Juice 108 provides shorter strokes with easier depth. There's also plenty of spin to be had. At net the oversize head provides a luxurious surface for making clean and powerful contact with the ball. Doubles specialist will definitely appreciate the mobility and put-away power of this one. The extra length comes in handy on serves where power abounds. Ultimately, this is a must demo for anyone who wants a powerful oversize racquet that swings easy and offers impressive performance from all areas of the court.
Head Size:
108 sq. in. / 696.77 sq. cm.
Length: 27.25in / 69.22cm
Strung Weight: 10.5oz / 297.67g
Balance: 13.66in / 34.7cm / 0 pts EB
Swingweight: 318
Stiffness: 72
Beam Width: 26mm / 26mm / 26mm /
Composition: Basalt Fibers woven w/[K]arophite Black
Power Level: High
Stroke Style: Compact
Swing Speed: Slow
Racquet Colors:
Navy Blue/ White/ Yellow/ Light Blue
Grip Type: Wilson Sublime Grip
String Pattern:
16 Mains / 19 Crosses
Mains skip: 7T,9T,7H,9H
One Piece
No Shared Holes
String Tension: 51-61 pounds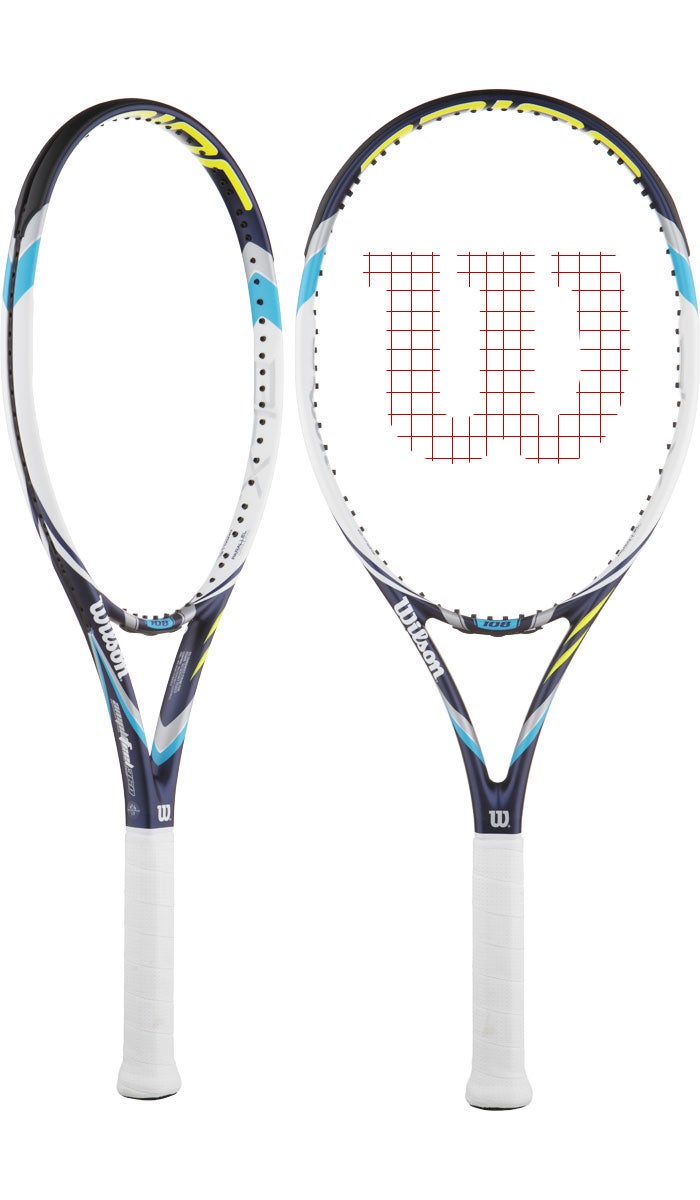 Similar Racquets

Sale Already a favorite of intermediate players for its combination of comfort, power and spin, this updated 2012 version gets improved feel. Headsize: 107 in². Strung weight: 10.4 oz. String pattern: 16x19.

$149.00, Feedback

New This update to the Pure Drive 110 is lightning fast and loaded with pop. The response is crisp and quite accurate for an oversize racquet. Headsize: 110in². String Pattern: 16x19.

$199.00, Feedback

Packed with comfort and power, the Force 105 swings fast and offers penetrating depth. A great option for beginners and intermediates looking for the whole package. Headsize: 105 in². String Pattern: 16x19. Length: Standard or 27.5"

Sale The iconic Prestige series adds a very maneuverable oversize racquet to the line. This extended length racquet is packed with power, comfort, and spin. Ideal for players with compact to medium strokes. Length: 27.3 inches. Headsize: 107 in². Strung weight: 9.7 ounces.

$179.95, Feedback
Buy 2 or more for $169.95 each.


Sale Lots of power and comfort make this a great option for beginners through intermediates. The large sweetspot, mobile feel and added length make it both singles and doubles friendly. Headsize: 110 in². Length: 27.6 inches. Balance: 3pts HL. Strung weight: 10.4 oz.

$149.00, Feedback
Buy 2 or more for $139.00 each.


An ultra light oversize racquet loaded with comfort, precision and plenty of pop. Best suited to 3.5+ level players. Headsize: 108 in². String Pattern: 16x18. Standard Length.

$199.00, Feedback
Other racquets from this series

This racquet offers a very effective combination of pace and spin in a maneuverable package. Also surprisingly stable for its weight. Headsize: 100 in². Strung Weight: 10.5 ounces. Standard Length.

$189.00, Feedback

The Juice 100S is a dangerous weapon in the hands of any player who likes hitting powerful, spin loaded balls. Depth comes easy with this one. String Pattern: 16x15. Headsize: 100 in². Strung Weight: 11.2oz.

At under 10 ounces, this is the lightest Juice available. Beginners and intermediates looking for easy access to pace and spin should give this racquet a serious look. Crisp and precise. Headsize: 100 in². String Pattern:16x18. Standard Length

$179.00

Powerful and spin friendly, this racquet suits today's modern power player. Intermediate to advanced players can swing this racquet fast to hit big from all areas of the court. Strung weight: 11.3 oz. Swingweight: 318 RDC. Standard length.