The RZR 100 M updates the RZR 100 with a very cool looking black matte finish. It also comes with a boost in swingweight (324 RDC) which translates into additional plow through and a tad more stability at impact. This impressive update provides intermediate and advanced players with crisp response and plenty of pop. At 11.2 ounces the RZR 100 M swings fast and provides easy access to pace and spin. The open 16x18 string pattern gives the player plenty of bite for ratcheting up the spin. From the baseline fast swings are rewarded with penetrating depth along with heavy spin-loaded balls that explode off the court. The feel is decidedly crisp and the feedback makes the player feel very connected to the ball. At net this one is speedy enough for high paced exchanges, and there's plenty of power for putting the ball away. Aggressive servers will have the needed control to confidently work the service box with power and spin. All in all, this is a great option for the 4.0+ player looking for a precise response with all the ingredients needed to hit a heavy ball.
Head Size:
100 sq. in. / 645.16 sq. cm.
Length: 27in / 68.58cm
Strung Weight: 11.2oz / 317.51g
Balance: 13.13in / 33.35cm / 3 pts HL
Swingweight: 324
Stiffness: 67
Beam Width: 24mm / 25.5mm / 22mm /
Composition: Graphite
Power Level: Low-Medium
Stroke Style: Medium-Full
Swing Speed: Medium-Fast
Racquet Colors:
Black w/white lettering
Grip Type: Gamma RZR Tac
String Pattern:
16 Mains / 18 Crosses
Mains skip: 7T,9T,7H,9H
One Piece
No Shared Holes
String Tension: 55-62 pounds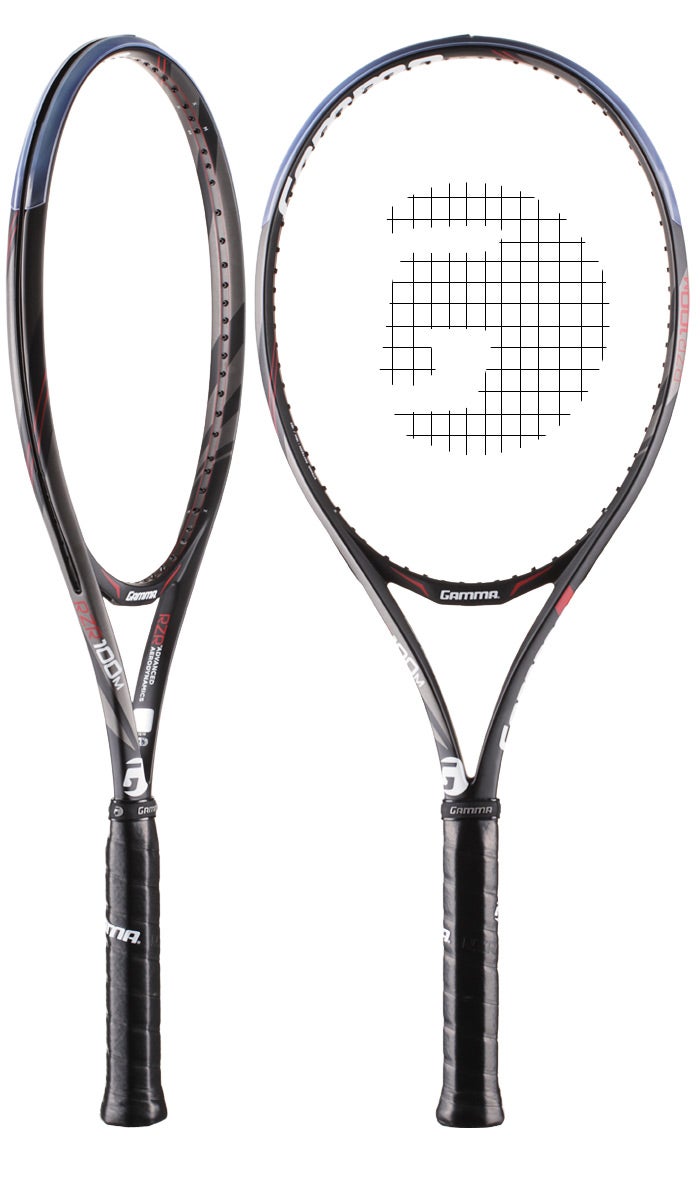 Similar Racquets

Best Seller A maneuverable and comfortable racquet offering exceptional control. This one is a great option for players with medium to fast strokes. Headsize: 98 in². Strung weight: 11 oz.

Best Seller A solid choice for intermediate and advanced players looking for the precision and feel of a player's racquet in a maneuverable package. Easy access to spin and power. Headsize: 100 in². Strung weight: 11 ounces. Swingweight: 320 (RDC).

Fast, precise and very spin friendly, this is a great option for the 4.0+ player looking for a serious groundstroke weapon. String Pattern: 16x19. Strung Weight: 11.1 oz. Standard Length

$179.99, Review
Buy 2 or more for $169.00 each.

Other racquets from this series

Crushing power and plow through meets crisp precision in this racquet. Add to that it is spin-friendly and you have a very useful tool in the right hands. Those hands had better be strong to handle the 351 (RDC) swingweight and close to 12oz strung weight. Standard length. Stiffness: 75 RA.

The RZR 100 offers loads of spin potential and easy access to power. Intermediate to advanced level players will enjoy the versatility and user-friendly feel. Headsize: 100 in². Strung weight: 10.8 oz. String pattern: 16x18.

A powerful and spin-friendly racquet ideal for intermediate through advanced player levels. Offers a crisp and solid feel from all areas of the court. Length: 27.25 inches. Balance: 1 pt Head Light. Swingweight: 322 (RDC).

Slightly extended at 27.25" and with a big sweetspot, this oversize RZR loads up on power and spin. A great option for players looking to maximize output from an easy swing. Headsize: 110 in². Strung weight: 10.2 oz. String pattern: 16x19.

$199.95

Perfect for intermediate through advanced players seeking nice power, mobility and a crisp response. This one delivers easy spin and explosive bounces. Standard length. Strung Weight: 11.5oz. Balance: 8 points Head Light.

Crisp and precise, this one offers controllable power and big spin to players who like to swing fast. Headsize: 98 in². Strung Weight: 11.4 oz. Standard Length

$159.95, Feedback

Best suited to advanced level players, this racquet packs massive plow through power that is complimented by a crisp and precise feel. The open string pattern provides great access to spin. Headsize: 98s in². Standard length. Swingweight: 356. Strung weight: 12.1oz.

A great choice for intermediate through advanced level players, this one blends control-oriented feel with spin and maneuverability. Headsize: 98 in². Standard length. Swingweight: 317. Strung weight: 11.2 oz.

Gamma delivers a smaller and more surgical Bubba. This one swings fast, but does not skimp on comfort, stability or power.

$194.95, Feedback

An extended length, super oversize racquet offering comfort, power and surprising control. A great choice for beginners looking for easier stroke production or senior players looking to replace some lost power and reach. Headsize: 137 in². Length: 29 inches. Strung weight: 10.4 oz.

$199.95, Feedback