Gamma updates the king of super oversize racquets. With its extended 29 inch length, you cannot get more reach legally. The 137 square inch headsize gives the RZR Bubba a massive sweetspot with very little off-center shock. Ideal for players with shorter strokes, Gamma uses the RZR Advanced Aerodynamics technology to make this one easy to swing. With the extended length, large stringbed and high swingweight (412 RDC), this racquet has all the ingredients for raw power. Surprisingly, for all its pop, our TW playtesters discovered exceptional control from the baseline, even when they swung big. And swinging big was no problem for our testers because this one definitely plays lighter than its beefy swingweight. With its extra length, the RZR Bubba provides major leverage on serves with easy access to spin and pace. Volleys feel extremely stable and powerful, with enough reach for defensive stabs and enough power for easy put-aways. Beginners in search of a very user-friendly racquet or older players who may have lost a step should definitely give this one a serious look.
Note: Due to the super oversize head, please order 2 sets of string.
Head Size:
137 sq. in. / 883.87 sq. cm.
Length: 29in / 73.66cm
Strung Weight: 10.4oz / 294.84g
Balance: 7 pts HH
Swingweight: 412
Stiffness: 64
Beam Width: 22mm / 24mm / 22mm /
Composition: 100% Graphite
Power Level: High
Stroke Style: Compact
Swing Speed: Slow
Racquet Colors:
Black/ White
Grip Type: RZR Tac
String Pattern:
18 Mains / 21 Crosses
Mains skip: 7T,9T,11T & 9H
One Piece
No Shared Holes
String Tension: 50-65 pounds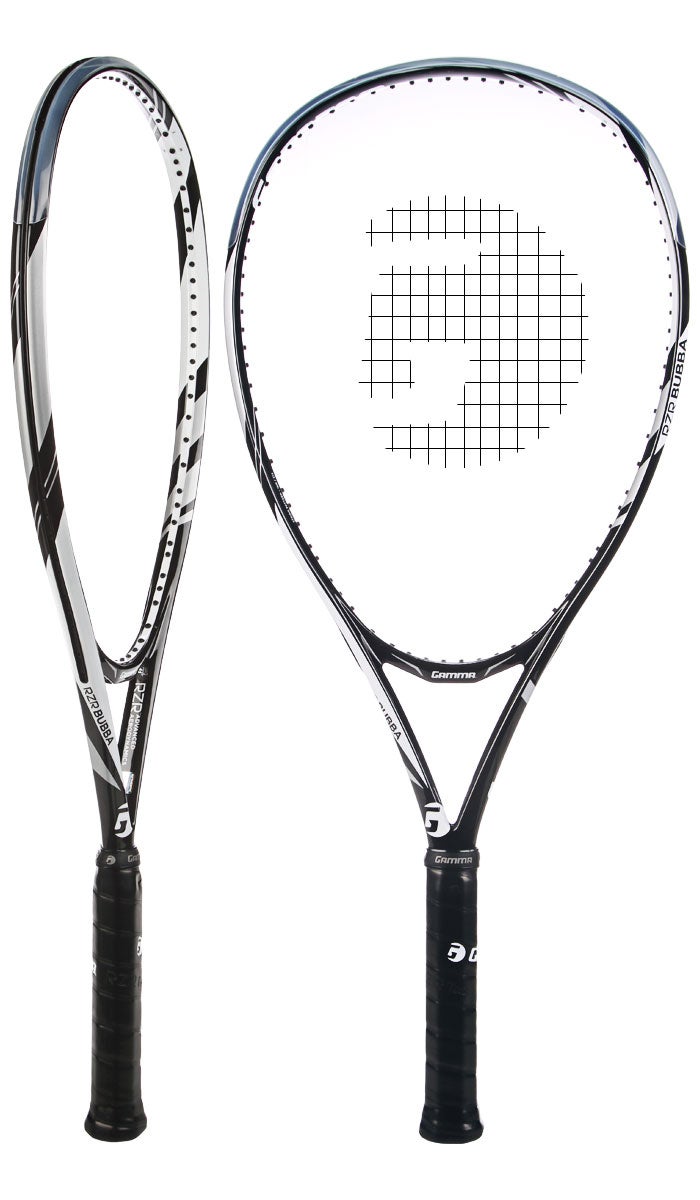 Other racquets from this series

This versatile racquet offers a crisp response and a nice blend of spin and pop. Full strokes deliver penetrating depth. Strung Weight: 11.2oz. String Pattern: 16x18. Standard Length

$179.95, Feedback

Crushing power and plow through meets crisp precision in this racquet. Add to that it is spin-friendly and you have a very useful tool in the right hands. Those hands had better be strong to handle the 351 (RDC) swingweight and close to 12oz strung weight. Standard length. Stiffness: 75 RA.

The RZR 100 offers loads of spin potential and easy access to power. Intermediate to advanced level players will enjoy the versatility and user-friendly feel. Headsize: 100 in². Strung weight: 10.8 oz. String pattern: 16x18.

A powerful and spin-friendly racquet ideal for intermediate through advanced player levels. Offers a crisp and solid feel from all areas of the court. Length: 27.25 inches. Balance: 1 pt Head Light. Swingweight: 322 (RDC).

Slightly extended at 27.25" and with a big sweetspot, this oversize RZR loads up on power and spin. A great option for players looking to maximize output from an easy swing. Headsize: 110 in². Strung weight: 10.2 oz. String pattern: 16x19.

$199.95

Perfect for intermediate through advanced players seeking nice power, mobility and a crisp response. This one delivers easy spin and explosive bounces. Standard length. Strung Weight: 11.5oz. Balance: 8 points Head Light.

Crisp and precise, this one offers controllable power and big spin to players who like to swing fast. Headsize: 98 in². Strung Weight: 11.4 oz. Standard Length

$159.95, Feedback

Best suited to advanced level players, this racquet packs massive plow through power that is complimented by a crisp and precise feel. The open string pattern provides great access to spin. Headsize: 98s in². Standard length. Swingweight: 356. Strung weight: 12.1oz.

A great choice for intermediate through advanced level players, this one blends control-oriented feel with spin and maneuverability. Headsize: 98 in². Standard length. Swingweight: 317. Strung weight: 11.2 oz.

Gamma delivers a smaller and more surgical Bubba. This one swings fast, but does not skimp on comfort, stability or power.

$194.95, Feedback