Buy 2 or more for $89.00 per racquet.
Tecnifibre have reengineered the frame design of the TFight 320 and produced a livelier, more responsive racquet. Still offering exceptional control and feel, the TFight 320 now comes with a more maneuverable feel and a crisper, more powerful feel. Our TW playtesters found some added zip on shots without any loss in control compared to the original version. From the baseline and on serve the TFight 320 now provides better access to both spin and pace. At net the racquet feel maneuverable, with a crisp response at impact. There's ample mass to punch volleys deep and enough control fort deft, touch volleys. Advanced level players with long, fast swings will get the most out of this stick thanks to its control oriented nature. All in all an impressive offering from Tecnifibre and an excellent update to the TFight 320 line.
Note: Tennis Warehouse lists the tension range higher than what is shown on the racquets. This does not void the warranty, Tecnifibre is aware and has confirmed the tension range to be ok.
Midplus Specs
Head Size:
95 sq. in. / 613 sq. cm.
Length: 27 inches / 69 cm
Strung Weight: 11.9oz / 337g
Balance: 7pts Head Light
Swingweight: 324
Stiffness: 66
Beam Width: 22 mm Straight Beam
Composition: Graphite & Texalium
Power Level: Low
Swing Speed: Fast
Grip Type: Tec Dry
String Pattern:
16 Mains / 19 Crosses
Mains skip: 7T,9T,7H,9H
Two Piece
No shared holes
String Tension: 55-65 pounds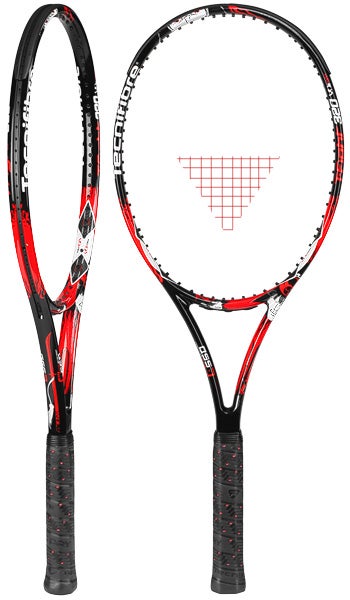 Similar Racquets
Boris Becker Delta Core Legend
Sale Only. Boris Becker's racquet of choice. This midplus player's racquet offers an abundance of feel and control for the advanced player. Some useful mass provides ample power for stronger players. Headsize: 98sq. in. Strung weight: 11.9oz. Flex: 62 (RA).
$69.99, Feedback
Other racquets from this series

Best Seller Probably the most comfortable and responsive 16 gauge string available.

Rated #1 best overall performance string in 1999 USRSA String Survey. The next best string to natural gut. Superior feel, power and comfort.

$16.95, Feedback
Buy 4 or more for $10.95 each.


Tecnifibre Pro Red Code 16 String

Best Seller Offering a crisp and solid feel, this co-poly monofilament offers excellent ball bite for control and spin. Red Code also offers impressive durability.

$10.95, Feedback

Tecnifibre Pro Red Code 17 String

Best Seller Slightly livelier than the 16 gauge version, but still very much a control oriented string. Offers excellent ball bite and spin potential.

$10.95, Feedback

Tecnifibre Pro Red Code 18 String

Best Seller This thin, 18 gauge polyester string from Tecnifibre gives great access to spin and power.

$10.95, Feedback

Pre-stretched multi-filament for minimal tension loss. Anti-abrasion coating makes this string extremely durable for a multi.

$17.50, Feedback

Tecnifibre X-One Biphase 16 String

With its gut like feel, this high-end multifilament offers exceptional power, comfort and ball pocketing.

Tecnifibre X-One Biphase 17 String

With its gut like feel, this high-end multifilament offers exceptional power, comfort and ball pocketing. Plays with a slightly livelier feel compared to the 16 gauge version.