Volkl updates the extended length Organix 4 with its Super G grommet system. By adding a uniquely flexible material called V-Sponse to their Speedgrommets, Volkl has increased the stringbed's capacity to absorb harsh vibration and transfer energy to the ball. Even with its soft and lively response, the Organix 4 Super G still manages to deliver excellent control. From the baseline, this one possesses above average maneuverability for an extended length racquet. The open 16x19 string pattern supplies all the bite needed to bring the ball down sharply. Up at net the 105 square inch head provides a very luxurious platform for blocking the ball back. The fast feel and extra reach make this a great option for aggressive doubles players who like to move forward and take control of the net. The added length also comes in handy on serves where this racquet's power and accuracy results in plenty of free points. From strong beginners all the way to crafty seniors, this is a great stick for anyone who wants an easier path to spin and controllable power.
Head Size:
105 sq. in. / 677.42 sq. cm.
Length: 27.6in / 70.1cm
Strung Weight: 10.1oz / 286.33g
Balance: 13.38in / 33.99cm / 3 pts HL
Swingweight: 309
Stiffness: 66
Beam Width: 25mm / 25mm / 25mm /
Composition: Organix / Carbon / Fiberglass
Power Level: Medium-High
Stroke Style: Medium
Swing Speed: Medium-Fast
Racquet Colors:
Black/ Red
Grip Type: Volkl Synthetic
String Pattern:
16 Mains / 19 Crosses
Mains skip: 8T 8H
One Piece
No Shared Holes
String Tension: 46-60 pounds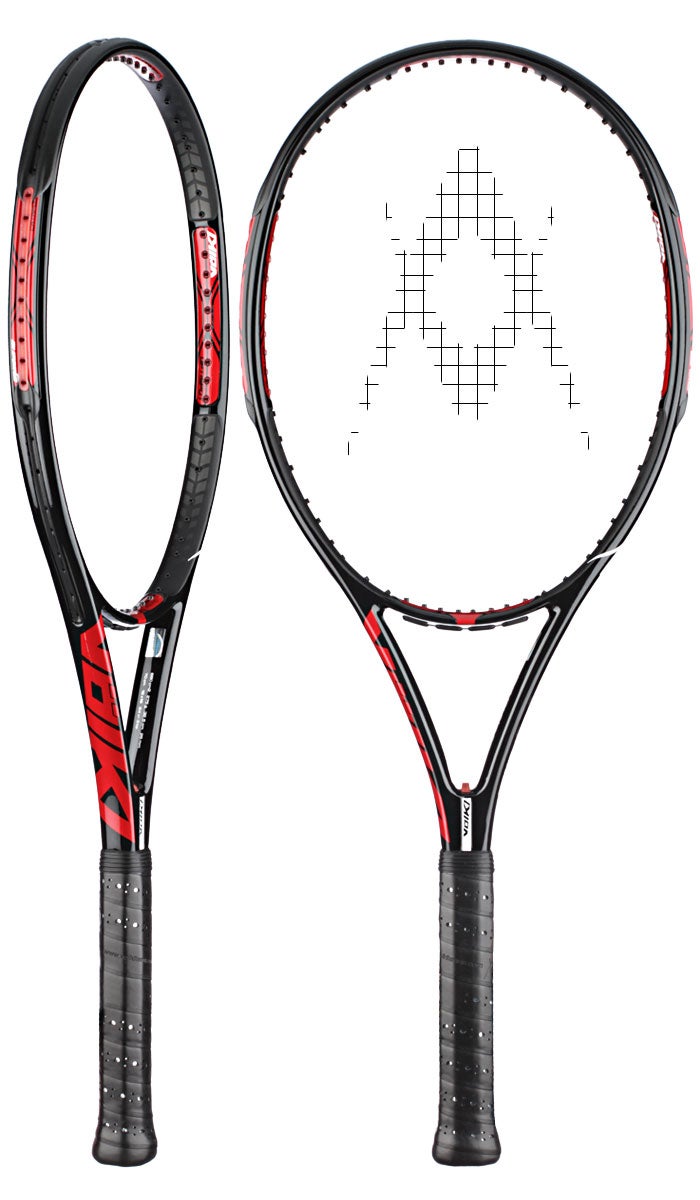 Similar Racquets

This extended length racquet swings very fast and provides easy access to spin and pace. Stability is pretty impressive for a light racquet. Length: 27.25 inches. Headsize: 105 in².

$149.00, Feedback

A powerful and spin-friendly racquet ideal for intermediate through advanced player levels. Offers a crisp and solid feel from all areas of the court. Length: 27.25 inches. Balance: 1 pt Head Light. Swingweight: 322 (RDC).

Prince Premier 105 ESP Racquets

Sale Big comfort and power awaits! With its slightly extended length, this racquet will add some serious zip to your shots. Also has massive spin potential. String Pattern:14x16. Extended Length: 27.25 Headsize: 105 in².

$169.00, Feedback
Buy 2 or more for $159.00 each.

Other racquets from this series

New Offering a great blend of maneuverability, spin and controllable power, this version of the V1 MP should appeal to any player who wants amazing playability in a light package. Headsize: 102in². String Pattern: 16x19. Standard Length.
Exclusive Demo Offer!

New A comfortable and powerful option for beginner and intermediate level play. The extended length, fast feel and large sweetspot make this a very user-friendly stick for both singles and doubles. Headsize: 110in². Length: 27.6". String Pattern: 16x19.
Exclusive Demo Offer!

$199.99

Updated with a more comfortable and powerful feel, this lightweight racquet has an impressive combination of speed and precision. Headsize: 100 in². Standard Length. String Pattern: 16x18.

$169.99

A very comfortable racquet with plenty of spin potential and enough pop to keep the ball deep. Great for a wide range of ability levels, 3.5 and up. String Pattern: 16x18. Strung Weight: 10.1oz. Standard Length.

$179.99, Feedback

New Fast, crisp and comfortable, the Super G 7 has the precision, spin-potential and pop of a modern player's racquet but with a slightly larger, more generous hitting area. Headsize: 104in². String Pattern: 16x19. Standard Length.

$189.99, Feedback