With the 2013 version, the TFight 295 TP blends maneuverability with stability, power, comfort and control. Tecnifibre updates this one with its Tour Prepared Technology, which utilizes silicone in the handle for more speed and power with fewer vibrations. This racquet is an ideal choice for players who like to step into the court and attack the ball. Fast swings open up the spin capabilities for both topspin and slice hitting with this fast feeling racquet. From the baseline our TW playtesters were impressed with the control and spin they could find. Plenty of bite from the stringbed ensure that shots stay on target, even when the pace picks up. Approach shots and short put away shots can be dispatched with an aggressive swing without fear of over- hitting. The mobile feel of the racquet makes it ideal for players who like to attach the net. Doubles specialists will appreciate the mobile response on both serve and volley as well as return and volley situations. A must demo for 4.0+ level players, this one is versatile enough to be ideal aggressive baselines, all court players and doubles players.
Note: Tennis Warehouse lists the tension range higher than what is shown on the racquets. This does not void the warranty, Tecnifibre is aware and has confirmed the tension range to be ok.
Head Size:
95 sq. in. / 612.9 sq. cm.
Length: 27in / 68.58cm
Strung Weight: 10.9oz / 309.01g
Balance: 3 pts HL
Swingweight: 309
Stiffness: 69
Beam Width: 22.5mm / 22.5mm / 22.5mm /
Composition: Graphite & Texalium
Power Level: Low-Medium
Stroke Style: Medium-Full
Swing Speed: Medium-Fast
Racquet Colors:
Black & Red w/White Lettering
Grip Type: Tecmifibre X-tra Feel
String Pattern:
16 Mains / 19 Crosses
Mains skip: 7T 9T 7H 9H
Two Pieces
No Shared Holes
String Tension: 55-65 pounds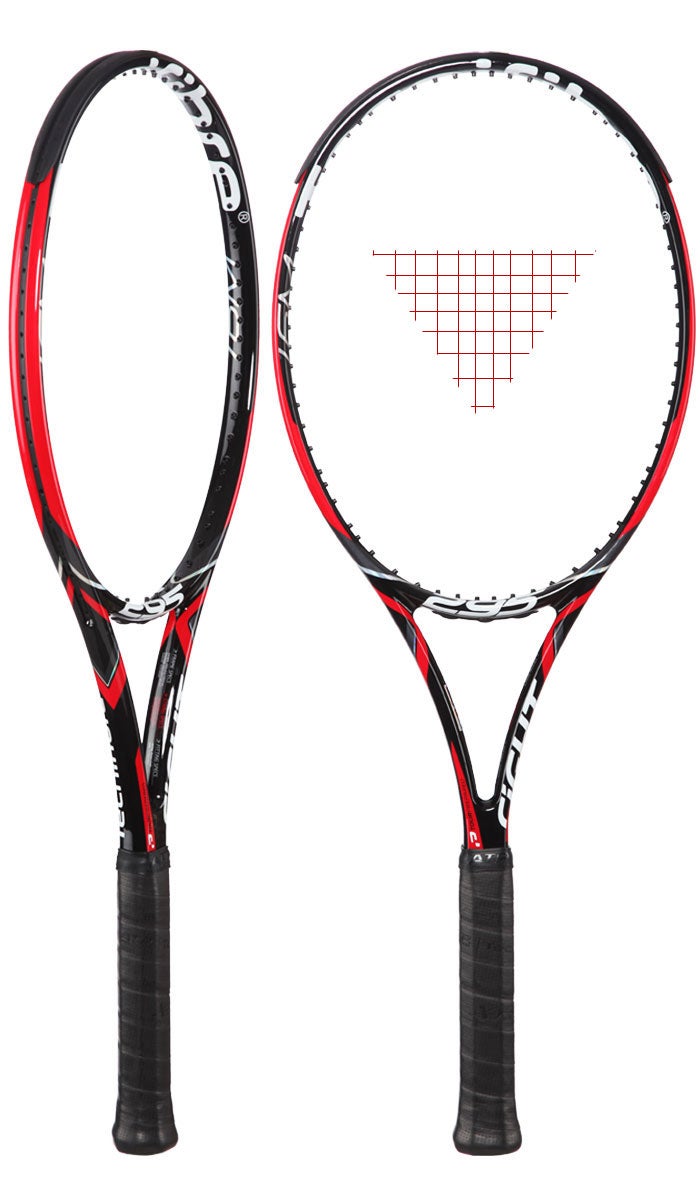 Similar Racquets
Sale On the lighter side of the player's racquet spec range, this one offers excellent access to spin on groundstrokes and serves. Impressive touch and feel at net makes this one an excellent choice for the all court player. Strung weight: 11.5oz. Swingweight: 306 RDC. Flex: 62 RA.
Other racquets from this series

Sale This versatile stick swings fast and is the perfect weapon for aggressive tennis or consistent grinding. A great option for intermediates or advanced players looking for controllable power and big spin. Headsize: 100 in². Standard length. String pattern: 16x20.

$99.00, Feedback

Tecnifibre TFight 315 Ltd. TP ATP 16 Main

A fast and spin friendly stick loaded with equal parts power and precision. Perfect for the attacking all-court player or doubles specialist. Headsize: 98 in². Balance: 7pts Head light. Strung weight: 11.6 oz.

Tecnifibre TFight 315 Ltd. TP ATP 18 Main

This maneuverable racquet offers an impressive combination of control, spin and feel. Great for the intermediate or advanced player looking for a lighter player's racquet. String Pattern: 18x20. Swingweight: 309 (RDC). Headsize: 98 in².

Sale Offering great access to pace and spin without any loss of precision, this is a great option for the intermediate through advanced level player. Headsize: 95 in². Strung weight: 11.8 oz.

$109.00, Feedback

Sale Racquet of choice for ATP pro Janko Tipsarevic. This livelier and more responsive update to the TFight 320 offers better access to pace and spin without any loss in precision. Headsize: 95sq. in. Strung weight: 11.8oz

$99.00, Feedback
Buy 2 or more for $89.00 each.


Sale This racquet offers a great mix of precision, spin, control and feel. A player's racquet with impressive maneuverability and maximum directional control. Headsize: 95 in². Strung weight: 12.1 oz. String pattern: 18x19.

$109.00, Feedback